POV Holder:
?
Next POV
29
POV Used
?
POV Ceremony
March 31
HOH Winner:
Canada
Next HOH:
Apr 3
Original Nominations:
?
Current Nominations:
?
Have Nots
Jon and Adel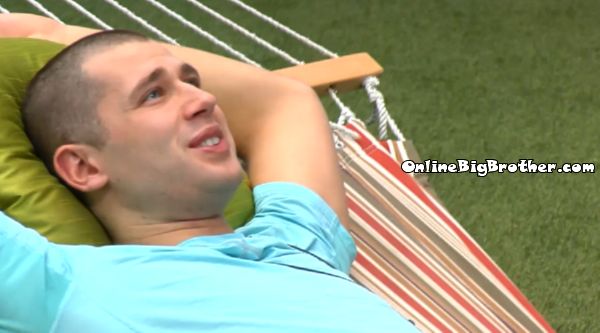 11:12pm Sarah and Arlie Hammock
Sarah says she has been trying to get to know the people he is close to. She's been trying to get close to Heather and she loves Jon.
Arlie says he's unsure about Heather for the long term but right now she's fine. Arlie thinks they will have to cut Heather before she makes her move, he's certain she will make a move.
Arlie says he's the swing vote this week for the two side, "I'll probably side with 1st5 either way I go I'll lie to the other side and pass the buck"
Arlie adds right now he's safer with the 1st5, Sarah agrees.
Sarah feel that Kenny Is relatively honest with her. so she thinks if Kenny had secured Heather he would have told her.
Arlie points out that Kenny is playing so hard right now he might be keeping some things from Sarah, 'I know how smart he is he's literally the smartest person in the house.. he has an amazing memory and a very strategic mind" Sarah agrees "She's so smart he might be leaving key pieces out of this game"
Arlie – "Rachelle sucks at this game she has no loyalty to me and you..Allison is second on that list.. NEda is third but WAY lower on that list."
Sarah says she's talked to Neda enough that she thinks when the time comes they can trust each other.
Arlie says they are in the best position and so is Kenny. Arlie points out that Rachelle has started to be attracted to Kenny in a big way.
Sarah wonders if kenny has become overconfident in his position on the game.
Arlie brings up Rachelle saying that her boyfriend is going off to school when she gets out of the house and they will probably break up. Arlie mentions how Kenny was part of the conversation, "She legit likes kenny"
Arlie – I Literally catch her staring at him"
Sarah asks Arlie other than keeping her emotions in check is there anything else she should be doing. Arlie says she's playing a great game, she just needs to make sure she doesn't stir up any sh!t.
Sarah says the last three days she was PMSing, "Jon said PMS wasn't real I almost killed him" Sarah adds she's starting to feel back to normal, 'A big part of it for me is to keep my emotions in check and try and have my feeling of how much I miss my husband and kids under control"
Arlie says when he's laughing at people making funny of Heather behind her back it's all game.
"I don't find any of that funny at all .. I'll do anything to win this game.. ANYTHING.. I'm in game mode 100% of the time"
Sarah says when he tells him how hot he looks she actually means it it's not game
Arlie – Thank you"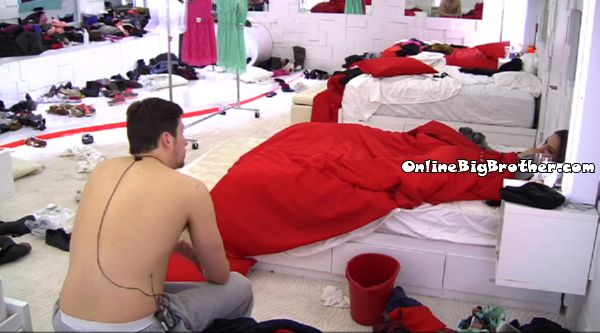 11:36pm NEDA and Jon Bedroom
NEda asks him what would happen if Kenny leaves.
Jon thinks it would suck big time and he would have to readjust his game. Neda thinks it might be alright because it would mean Sarah is closer to him. She adds Andrew, Allison, Sabrina and Rachelle would form a tight group.
Jon – thats four we have, me, you, Heather, Arlie, Adel, Sarah .. we still have numbers"
They are agreeing to keep Kenny over Andrew.
Neda wants Andrew gone because 1) his voice 2) it will break up that group of four he has
Jon – "Andrew is a really insecure dude eh.. he's really insecure it hurts me a little bit I don't like people like that"
Jon brings up how Andrew talk to the girl in the house. "I have two sisters and if he ever talked to my sisters like he talks to you girls .. "
Neda says she has to bite her tongue so much and production has asked her about Andrew before..
Jon – "I want to start playing this game NOW.. that whole IKA thing scared the sh!t out of me"
NEda says Canada totally likes Jon, She thinks if Kenny wasn't close to Andrew they would probably like him.
Jon agrees.
Neda says Adel sketches her out "theres something he's not saying."
12:05AM Have nots Adel and Jon
They are feeling good about Canada's HOH
Adel is saying that Canada likes underdogs people that have to fight and struggle.
Jon – "Canada don't like d!ck either bro "
Adel – Canada doesn't like Bullies from day one childhood.. this could be epic for our team
Jon – "were going to make some f** noise boys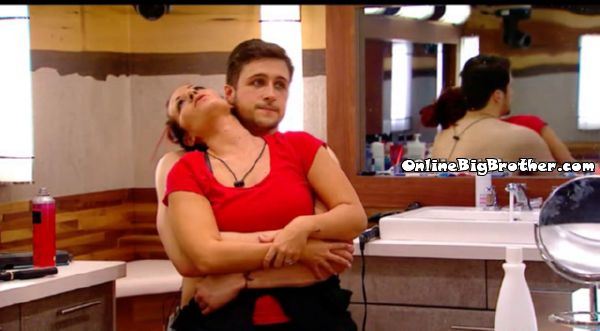 12:10AM bathroom
Jon and Sarah the embrace
12:20AM Andrew gives us a show a special treat for the ladies
12:10AM Rachelle and Sabrina Hot tub
meh.. Sabrina and Rachelle want Allison gone, Rachelle since oh Canada and holy crap she can sing unfortunately she has trouble getting out of the room.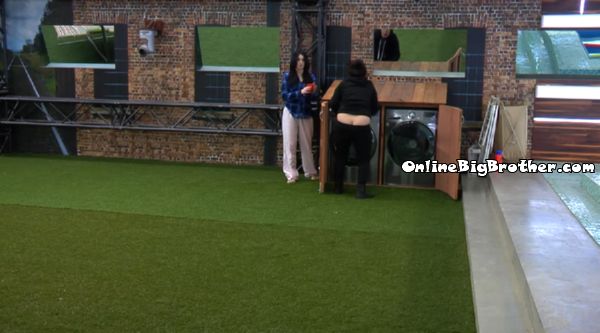 12:30AM Sabrina doing her laundry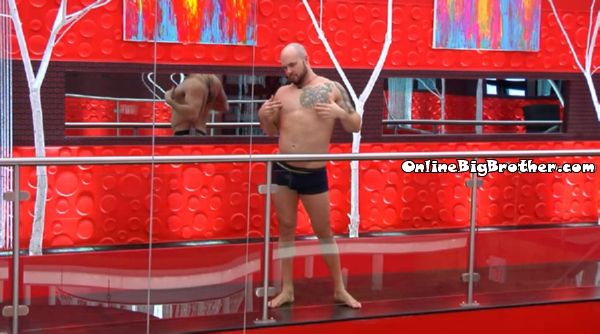 12:40AM Houseguests are having trouble falling asleep Andrew walking around doing his thing.
1:01AM Andrew and Allison Showmancing
Andrew grabs her stomach and asks how their food baby is doing, Allison calls is pablo.
(Video coming)

Diary room leak
Allison is called into the Diary room. she was sleeping.
DR = Production
DR – Hi Allison how are you
Allison – sleeping
DR – Big brother appreciates your patience I just want to talk for 2 seconds
DR – Whats the shirt believe in the shield.
Allison – The Shield are the boys from last year.. I love the shield i;m a huge Peter fan they were hilarious and they tried real hard.
DR – we'll get you to bed quickly.. theres a moment when you were in out of the hot tub.. Andrew is freaking out a little bit.. what's Andrew saying and what are you saying.
DR – it was last night he's just worried you were talking him off the ledge
Allison – So andrew is kinda talking himself out of a rut he's convinced himself that canada is going to put him up on the block and i'm helping him stay positive.
BR – you said BU what does that mean.. do you think he's not being himself.
Andrew is worried his is not being portrayed as someone other than himself.. like an a$$hole or a douchebag even though he jokes around like one. I told him to be himself and however he is portrayed is all he can do..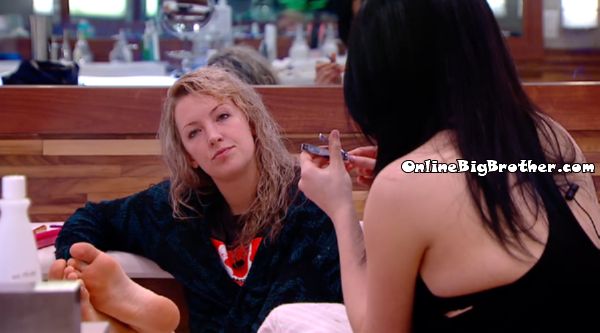 2:00am Allison and Rachelle
Allison is thinking Canada's vote is going to break up two people, mentions JOn and Neda. Rachelle says if they ask Sabrina about Andrew then it's weird. (Allison must have told Rachelle that the Diary room woke her up at 2am to ask her about Andrew)
Allison – "I wonder if Jon and Neda were asked about each other"
Allison says Sara, Neda and jon were called into the Diary room.. Feeds cut.
Rachelle – like you and andrew, kenny and andrew, Neda and Jon
Allison – or you and Sab .. like obvious twos you know what I mean.
Rachele – Do you think it's actually Canada's vote though?
Allison – I was wondering that as well I guess we'll see tomorrow
Allison is worried if Andrew goes up it'll devastate him. Rachelle has noticed Andrew has been really down.
Rachelle mentions how Gary stayed in the Big Brother House much longer than he should have, "Twists" (She actually does the air quotes)
They're having trouble figuring out if they are being portrayed as funny. Rachelle says people always tell her she's funny and weird.
Rachelle says before she wasn't worried about the twist but now she's freaking out. Rachelle wishes they had found out the order of the "buzzworthy Thing" it would give her a better idea of who is popular.
Allison says last season when they had to vote she usually voted for big players that were funny and entertaining.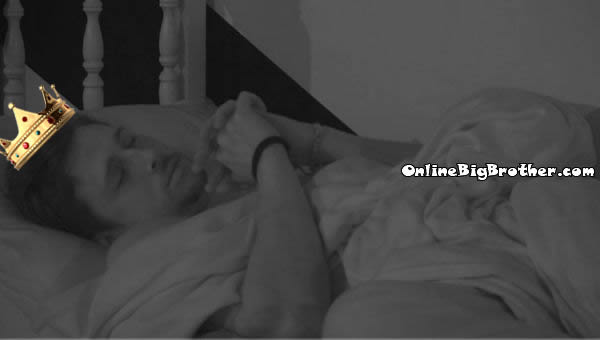 4:22am
praying for a feed leak tomorrow night
9am Big Brother wakes up the house guests and soon after blocks the feeds for the scheduled live feed block until after the Sunday night episode airs..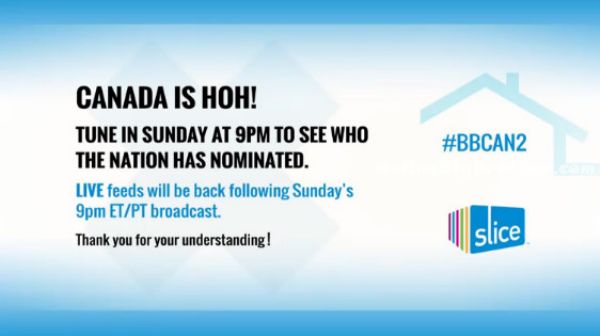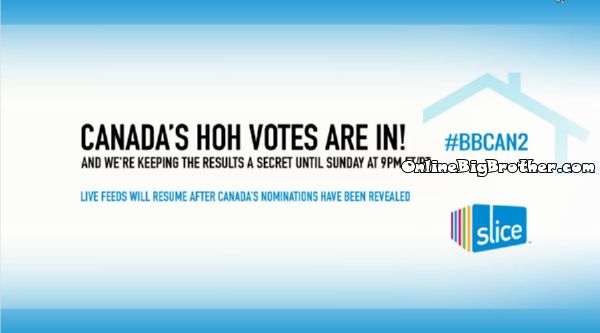 Votes are in, you're HOH but you don't get to see anything fun
*** FYI Slice is blocking the feeds all weekend starting tomorrow morning and going until Sunday night.
*** Last year we had a leak so we might find out the results tomorrow night.
[polldaddy poll=7919957]