POV Holder:
Jon
Next POV
April 12th
POV Used
Yes
POV Ceremony
April 14th
HOH Winner:
Jon
Next HOH:
April 17th
Original Nominations:
Sabrina & Rachelle
Current Nominations:
ADEL & Arlie
Have Nots
Neda, Arlie, Rachelle and Heather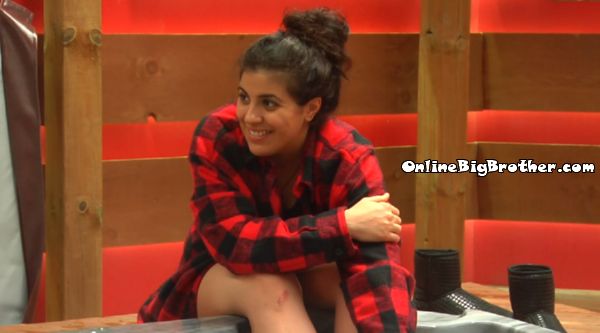 9:24pm Hot Tub Arlie and his Gremlins
(Sabrina and Rachelle have a HUGE dislike for Jon, Neda, Heather and Adel. Arlie is able to use this to sway the gremlins onto his side.)
Sabrina is a bit worried that Jon and Heather will be mean to her once they keep Arlie.
Arlie – "I'll hang out with you throughout the entire game.. 24/7" Arlie says he'll protect them he's a confrontational person.
Arlie – "IF you saved me in this game theres no where else for me to go"
Rachelle knows Arlie won't turn on them because it makes sense for him to stick with them.
Arlie didn't know Allison's Veto was a secret that is why he thought she didn't go up this this morning.
They are pissed that nobody from the HOH has come down to try and split up this conversation. Arlie says the group upstairs is laughing at them right now.
Arlie – "Holy F*** girls I cannot believe you are wanting to keep me now"
Arlie – "Do you understand this conversation will be the conversation of the season"
Sabrina – "I agree"
Arlie – "This is the talk… this is the super fan sh1t.. "
Rachelle – "How the hell are both the gremlins safe this week"
Sabrina brings up how Jon is going to be mean to her
Arlie – "I will attack him more savagely than he can attack you"
Arlie tells them about his alliance with Jon called the goof troop, it started 4 weeks ago.
Adel rolls in.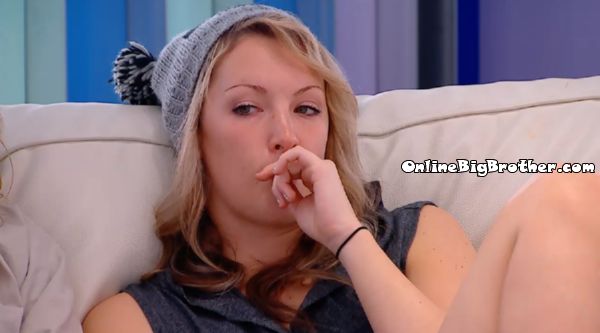 9:51pm HOH Heather, Jon, Neda and Allison
Heather says just because Arlie is going doesn't mean the sloppies are breaking up they are still an alliance. Heather says if it's endurance for HOH they all hold on until the Gremlins drop then they are in the clear. Jon says they get the Gremlins out next then final 5.
Allison asks them this Thursday the plan is Arlie goes home and if it's double eviction take out one of the Gremlins. Neda says yes.
10:04pm bedroom Sabrina and Racehlle
Sabrain I Hate those people.,. Neda walks around like queen sh!t.. I would rather duke it out against them then be a foursome with them.
Rachelle cannot believe they are not talking to them trying to secure votes.
Sabrain – "Unless they are trying to talk Allison into doing something
Rachelle you sho9ud get Allison
Sabrain – they are stupid if they don't; think she will talk to us.. She just used the veto on us.
Sabrain – If we don't win I would rather give the money to Arlie than Jon
Rachelle Agrees.
Rachelle is really worried they are going to turn Allison against them.
Rachelle says Jon's going to regret putting up Arlie. Sabrina brings up how big of a head Neda is getting. "She's so Annoying"
Sabrina says she hates Adel and Heather "I don't want to work with people I hate.. and I don't; think they will do anything for us"
10:05pm Kitchen/storage room Arlie and Jon
Arlie tells him he was honestly going to stick with Arlie for another 2 evictions
Allison and Jon meet up in the storage room. Allison says another reason why she used the veto was because she wanted to see who Jon would put up.
Allison – "You put up the right person, she asks him who first told him to backdoor her"
Jon says it was Arlie that brought it up then the entire group thought it was best.
Jon – "I was debating it i'm not going to lie"
10:23pm HOH Adel, Heather and Neda
Adel says Rachelle thinks Neda and Heather like her more than Sabrina. Big Jon rolls in and Adel give them a run down with what he heard being said in the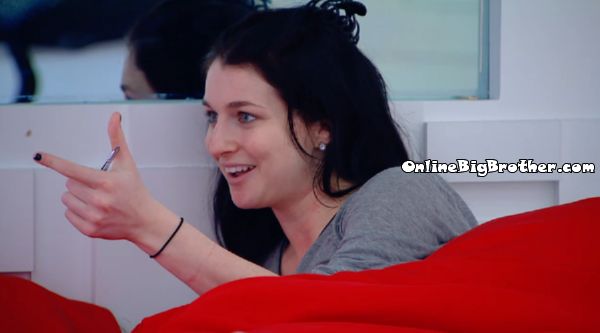 10:25pm Allison and Rachelle
Rachelle I think we have to keep Arlie.
Allison laughs..
Rachelle – "it makes so much sense"
Allison – "what did he say to you"
Rachelle – "It keeps us in the game longer if we get rid of Adel it's only Heather and Neda in the HOH and if they do win the are getting out Arlie not us"
Rachelle – "We will probably win HOH and take out Jon"
Rachelle explains Jon, Heather, Neda and Adel are very tight group.
Allison would not put it past Arlie to say he's with us and then switch sides.
Rachelle doubts Arlie will – "whose he's going to work with… he's not going to Jon he just put him up and Neda is with Jon, Adel will be gone"
Sabrina asks her if she agrees to keeping Arlie.
Allison – "in a way yes.."
Arlie rolls in puts his laundry away looks at them smiles says "just talk away" and leaves.
Rachelle says If Arlie wins HOH he's going after Jon not them. Arlie comes in says he needs a full hour to talk to them and he'll blow their minds. reminds Allison she is at the bottom on the other side, "I will kill to take Jon out of this game"
Jon leaves.
Rachelle – "We are going to change this game.. if we do nothing we're at the bottom and Jon/Neda are going to the finals"
Rachelle doesn't trust Arlie one bit right now but she knows he's going after people other than them.
They agree Heather, Neda and Jon have a final 3.
Allison has no idea who was the one that wanted to backdoor her. Allison says Arlie tells her it's Adel but Jon, Heather and Neda say it's was Arlie.
Rachelle is certain it was Adel that wanted Allison Backdoored.
Allison knew this morning when she heard about the plan to backdoor Arlie that she would use her veto on Sabrina and they would have the numbers to choose to evict someone.
Allison thinks ina way it's stupid to keep Arlie because if he makes it to the end he will win the game. Rachelle – Right now we're not getting anywhere near the end.
Sabrina joins them. Says there is 1000 percent no way no matter what deal they gave us tehre is no way the NEda/Jon/heatehrAdel foursome will break up.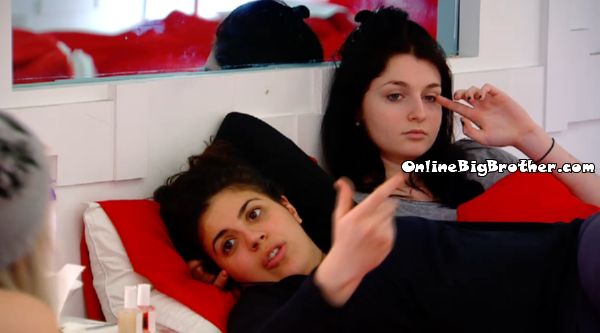 (Jon called Sabrina the b*tt pl*g of the first 5)
Sabrina – 'We're going to go down in history,.. Everyone is going to love us for this"
Allison wants to know when do they get rid of Arlie. Rachelle says they need Neda and Jon gone first.
Sabrina – "We're going to blindside the f** outta them"
Sabrina – "we have the power we have the brains we have the muscle"
Allison doesn't want to stay 100% right now but she's leaning towards keeping Arlie.
Allison says her plan all along was to make sure they were all off the block so they controlled this weeks vote.
Allison tells them if she wanted to cross over to the other side she wouldn't have used the veto today and done "All this"
Sabrina laughs says if Arlie turns on her this time "I'm going to drown him in the hot tub with the f*** bubbles on.. I don't care.."
Allison says there is no way Arlie will turn on them until the end that is why they need to have a real plan to get him out.
Sabrina – "we're here to win a game and make money and put on one amazing show"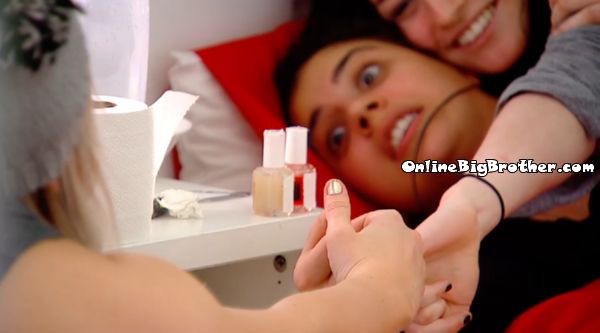 11:05pm Bedroom Allison, Sabrina and Rachelle
They agree to send Adel home. Sabrina says they must Pinky swear.
Allison "I swear on my whole family this is legit promise.. I'm not going to screw you over"
(Video coming it's long)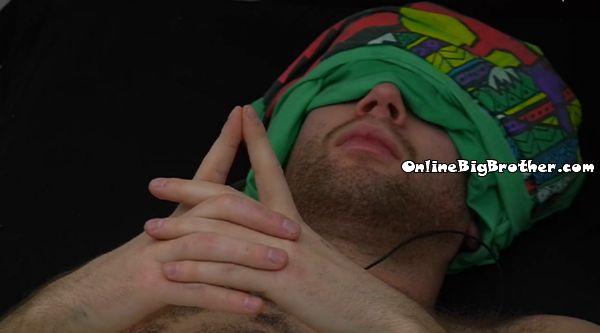 11:41PM Arlie heads to bed early
11:44pm HOH Neda, Jon and Heather
Jon says Arlie is confident that Jon will be going to Jury the following week. Neda says if Adel, Heather or her win HOH Jon won't be going up.
[polldaddy poll=7964297]
[polldaddy poll=7968822]