POV Holder:
Jon
Next POV
April 12th
POV Used
Yes
POV Ceremony
April 14th
HOH Winner:
Jon
Next HOH:
April 17th
Original Nominations:
Sabrina & Rachelle
Current Nominations:
ADEL & Arlie
Have Nots
Neda, Arlie, Rachelle and Heather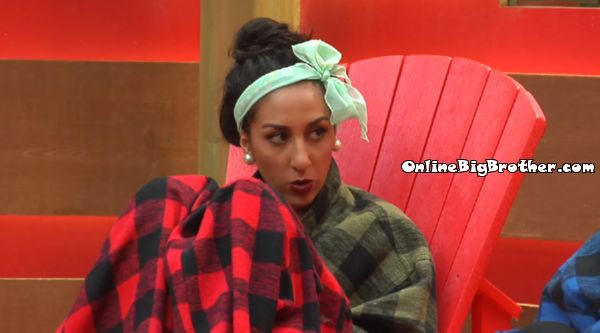 7:39pm Hot Tub Heather and Sabrina
Heather is really nervous that Adel is going to go home. Neda is nervous as well says Allison using her veto today was a clear sign she's not loyal to them.
Neda says if Allison and the gremlins join up and keep Arlie it's those 3 against Heather, Jon and her.
Heather – "I'm really nervous"
Jon comes in, They tell him they're "Sketching out" about Allison.
Jon – "ONE HUNDO"
Neda still thinks they made a really good game move.
Jon doesn't sound fully convinced, "You think"
They start playing up Arlie's abilities in the game, Jon says everything Arlie does is a calculated move.
Neda – "He's f*** in the head"
Jon – "genius"
Heather says she's confident Arlie is going this week but she feels if Allison wins HOH she will put up two of them.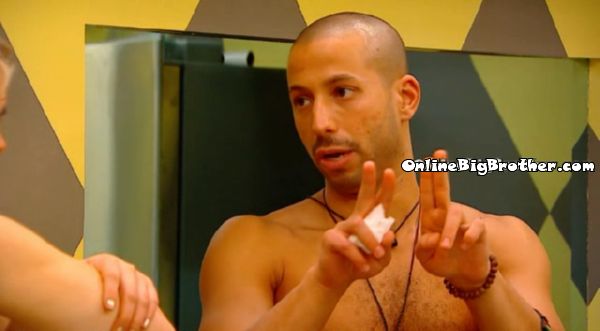 7:53pm Storage room Adel and Allison
Adel says he's not close to Jon but once Arlie is gone he might be able to get closer. Adel says once they get rid of Arlie the following week is double and they can take out the two Gremlins.
Allison says that Adel is not going anywhere so not to worry. Adel says if he stays this week there's a future between them in this game. Adel points out that duos are so powerful in the game. Allison says people wanted to backdoor her this week she wants to make sure she's with the right people.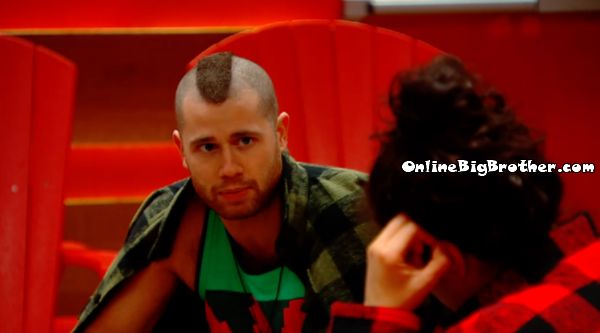 8:17pm Arlie and the Gremlins
Arlie says he talked to Allison and she's considering keeping him. Arlie mentions how he's been thinking for awhile he was in trouble he always knew he was on the bottom of the alliance, "Go ask Allison I told her all about it"
Sabrina asks him why were they going to backdoor Allison. Arlie doesn't know the full reason he didn't want Allison to go.
Sabrina points out that the "Whole" house will be after them if they keep Arlie. Arlie laughs "The WHole house"
He points out that he's been in the talks with Jon, Neda and HEather they have no plans on keeping the gremlins around.
Arlie says if they keep him here he will go after the players that put him up, jon, Neda and Heather.
Sabrina – Did Jon and Neda say anything about taking me out.
Arlie – It was always the plan.. one of you were going home.
Sabrina – and you see them getting rid of us next week
Arlie – YES that group is so tight especially now that they are getting me out
8:18pm Adel, Heather and Neda havenots
8:30pm Adel and Rachelle
Adel asks if Arlie is campaigning or if he's saying sh!t about him.
Rachelle says Arlie is trying to save himself nothing against Adel, 'Everything you expect him to say"
Adel – Do you think Sabrina will listen to him
Rachelle – no she would be stupid
Adel tells her she can't put all her eggs in one Sabrina.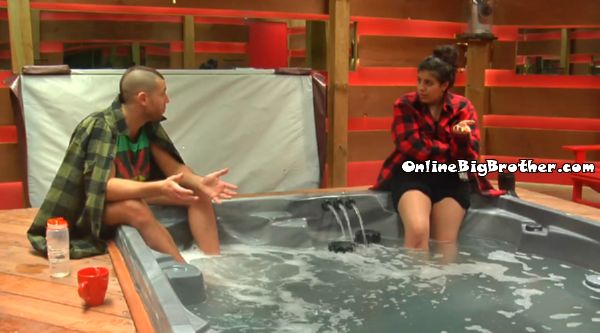 8:31pm Hot tub Arlie and Sabrina
(Sabrina is sounding convinced keeping Arlie is what's best for the gremlin's game.)
Arlie – "I'm telling you girls we would crush them.. "
Sabrina – "It makes so much sense
Rachelle – "Our crew would be stronger Allison is strong too"
Arle – "If you can tell Allison we're real.. "
Sabrina tells her it will be easy for them to convince Allison to vote him to stay.
Sabrina says Heather, Jon, Adel and Neda are so tight.
Rachelle thinks Adel is at the bottom of that four group. Arlie says Neda and Heather are very tight. Sabrina thinks they have a final 2, final 3 with Jon. Arlie – "Neda is ruthless she's emotionless"
Arlie – "This will be the cool f*** move"
Rachelle says they will probably win the HOH next week
Arlie – "I'M A F***ing BEAST"
He tells them it's "Real Talk" right now he's never been more real. Arlie- "I want jon's head on a f*** platter"
He explains to them it's insane thinking he's going to go against the gremlins and join up with the people that just tried to backdoor him.
Arlie – "It's WAR I think we can do it Girls"
Sabrina "The Gremlins save Arlie"
Rachelle – "Crazy how sh!t changes so fast"
Sabrina asks Rachelle if the gremlins will get further with Arlie or without.
Rachelle breaks it down by keeping Arlie If Neda or heather win HOH they will put up Arlie and a gremlin. If Arlie goes home they will put up two gremlins.
Rachelle says it's best for their game to keep Arlie.
Sabrina mentions its 4 vs 2 in the HOH.
Sabrina – 'They're ruthless why can't we be"
Arlie asks them where they sit with Allison.
Sabrina says she has ALlison's back 1 billion percent and Allison has their back.
Arlie brings up how big of a super move this will be, it will be a real "F*** you" to heather, Jon and Neda. This really gets the gremlins excited as they still do not like them very much.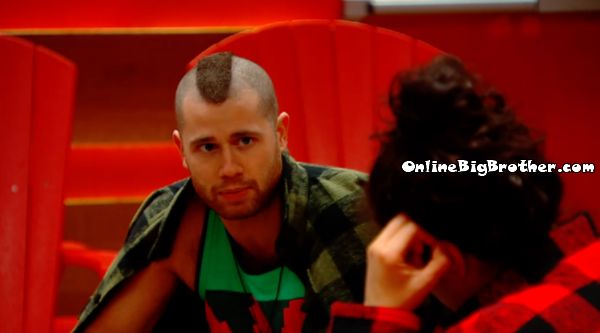 (Video COming.. It's Long)
[polldaddy poll=7964297]
[polldaddy poll=7968822]