| | | | |
| --- | --- | --- | --- |
| POV: | ? | Next POV: | Aug 11th |
| POV Used | ? | POV Ceremony | Aug 13th |
| HOH: | Haleigh | Next HOH: | Aug 16th |
| Noms: | Kaycee Rockstar and Angela | Have Nots | |
A real easy way to support the site if you are an amazon shopper is to make your purchases through our link. You pay the exact same thing but we get a small % commission. It doesn't cost you anything and helps us out.
Amazon Canada
Amazon USA

Big Brother Spoilers – There was an argument in the BAthroom prior to the POV players being picked. Rocks came at kaycee …
Power of Veto Players were picked: Haleigh, Rocks, Angela, Kaycee, FEs
Hacker picked: Tyler
Host: Brett
12pm Bathroom. Sam – I see the best that someone has to offer and the opportunity for future growth. Rocstar – Kaitlyn used to say that sh*t too. Looking at everyone through a lens of love and light. Sam – well that's a bit delusional. Rockstar – here's how I view people… when a person shows you who they are .. believe them. Sam – I view things a big differently.. I save my first though, then there's rationality and then there's reality. But none of us will get to reality in this house. Just be real. Bay was like that. Rockstar – I like Bay too. Sam – I refuse to go back on my morals or what I said I would do but I will go back into my real life without regrets. Rockstar – I really wish Kaycee hadn't come off on me with I'm a grown a$$ woman. Well I'm a woman too. Really, like?! Sam – she said that? Rockstar – she cussed at me and said I'm a grown a$$ woman. I'm like I'm a grown a$$ woman. Don't come at me like that!! I picked Fes to play but I really don't want him to win. I want to win it myself. I want them to stop underestimating me. I want to stop underestimating myself. They all think I'm weak and easy to put up. Kaycee has been up Angela's a$$ this whole time. Scottie is probably a liar but I like him because he's weird. Brett called me out for no damn reason but he is growing on me like a fungus. Sam – I just can't wait to leave here. Rockstar – when we all leave here I will only stay is touch with you, Haleigh, Bayleigh and Fess.
Scottie being Scottie – "The great white see's his opportunity for a fresh kill (tuna)" #BB20 @bigbspoilers pic.twitter.com/cMgUb515Oc

— Dawg (@DawgsBigBrother) August 11, 2018
FLASHBACK and watch everything you missed: Live Feed 7 day FREE Trial!

1pm Bathroom. Rockstar and Sam. Sam – he's not. Rockstar – he's super smart and strategic. I'd like to think he's an evil genius on my side. I would like to think he didn't put me up. I've been completely wrong on everything. I haven't won anything so I haven't been able to control my own anything. I almost won and then I got beat by a b***h (Angela) with my own name. I would have rather anyone else beat me and put me on the block. From the moment we walked in here I did not hit it off with her. I was like take the f**king pole out of your a$$. Maybe dance around it and have some fun you pretentious spoiled b***h. Sam – but the way I look at it is that's somebodies daughter, someones sister, that's someones best friend, you know!? She has her anxieties just like everyone else. And insecurities.. what's behind her behavior? You just have to look at it, try to put yourself in their shoes. Rockstar – it hasn't made me a very compassionate person being in here. Rockstar starts to cry – there's a lot of things that I am outside of here. Sam – I know, its okay. And I know you're here for a reason. What you're being forced to do in here is not going to follow you. I know that you have these doubts and fears that its going to come back and get you. Rockstar – I just don't want my kids to watch this and be like what a loser. Sam – they don't think that. Rockstar – its a very humbling experience. Outside of you all of these people are so full of themselves that they don't want to have a real conversation or get to know me or know that I do know things. Sam – they're missing out.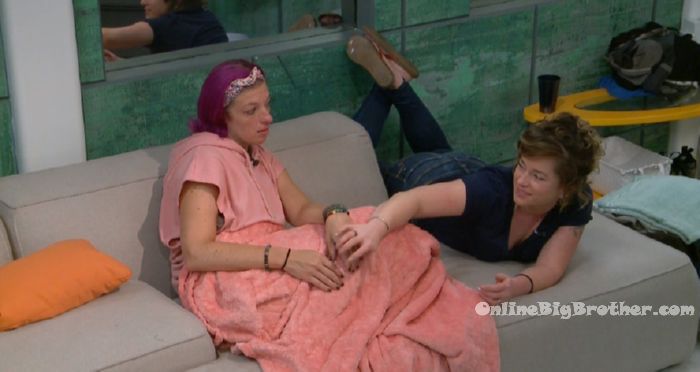 1:57pm Kitchen – Fes comes walking out of the bathroom without a shirt. Tyler – Mr. Pectacular here. Fes – when he walked in the door .. I would still drop that motherf**ker.
Tyler about Faysal "@MrPEC_Tacular over here"
Faysal "When he walked in the door.. I would still drop that motherf**ker."@bigbspoilers #BB20 pic.twitter.com/DOtQOGJGUF

— Dawg (@DawgsBigBrother) August 11, 2018
2:10pm – 2:20pm HOH room. Rockstar, Scottie, Haleigh and Brett. Rockstar – I will tell you one thing. Living in this house has humbled me. Scottie – anything in particular? Rockstar – the competitions and the fact that like everyone in here is young and accomplished and nobody respects the fact that maybe I have some wisdom to .. (Yes, that's exactly what spews out of your mouth .. wisdom) Scottie – oh you think I'm accomplished? Thanks! Rockstar – yes I think you're accomplished. Scottie – I really haven't done that much. Rockstar – I don't know what you do outside of here but its probably good. I don't think you're a pizza delivery guy. Like McCray. I'm used to being respected because I've earned respect .. because I'm an expert in my field. (Rockstar's Occupation: Stay-at-home mom) And nobody .. I feel like I don't have a lot of respect in here because I'm not like some cocky athletic beast so its been very humbling. I have a lot of life experience. I have a lot of information to offer. But don't nobody want it. Its been very humbling to be around a bunch of people that maybe don't and don't need anything. Don't even want to know what I have to offer. (Maybe stop the trash talk and say something intelligent) Outside of here a lot of people look up to me (your kids). Look towards my council, call me, even my friends that I would say are ahead of the game I would stay financially like they still call and like Hey I want to bounce something off you and hear what you have to say about this. And in here its not .. its been weird. Its an uncomfortable .. I'm not used to that. I am used to people taking my council. People calling me, writing me and people I don't even know hitting me up on social media asking me about problems they're having in their lives. So I guess I'm a life coach without the title (Anyone can be a life coach, take Kaitlyn for example) Take Kaitlyn for example she's 24 and giving people life advice and people are actually listening to her.
2:57pm HOH room.
Haleigh to Rockstar – I think you are respected in here. I just think that you're not that approachable. Rockstar – what do you mean? Haleigh – second of all I think people think they have it all figured out. I think there are a lot of things that you can teach me. And not everyone is on a personal level with you that they think they can talk about life advice with you. Rockstar – no I know but I think that's a young persons cockiness .. its not a house of normal people that I am losing against… its a house of real athletic smart people. Haleigh – every single one of us were chosen for a reason. We were chosen out of 60,000 people to be here.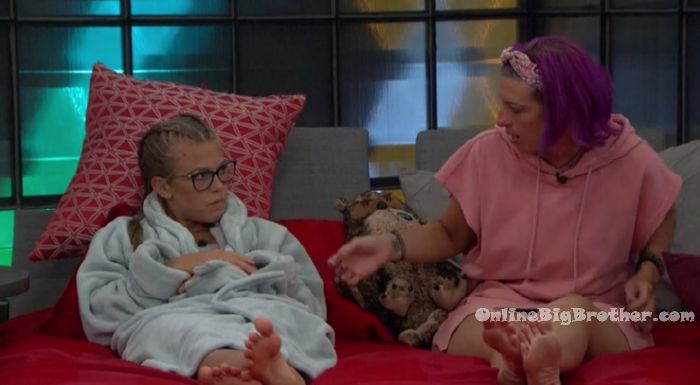 JC – "I don't look like peanut guys .. I look like something else"#BB20 @bigbspoilers pic.twitter.com/hxHB0uGp52

— Dawg (@DawgsBigBrother) August 11, 2018
3:29pm Kaycee to Angela – they just put something in storage. Angela – its happening.. (the veto comp) Kaycee – its going to be so sweet when we win. Angela – we have to!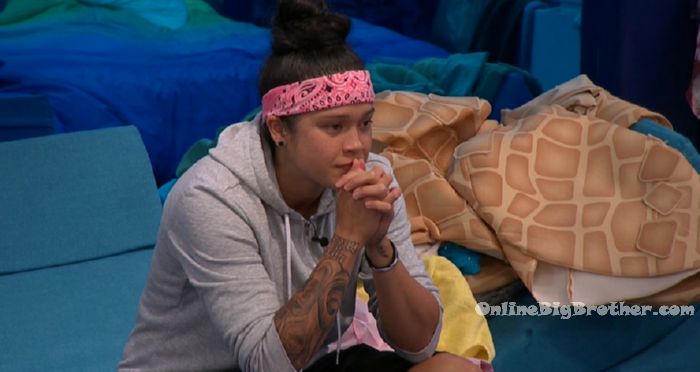 3:35pm HOH room. Haleigh, Scottie and Rockstar. Haleigh – everyone thinks I'm going to backdoor Tyler. At this point I'm wanting it to be Angela or Kaycee because they're pissing me off. Rockstar – I don't even think you should backdoor Tyler. Haliegh – I really wasn't planning on it. I know at this point he is scared that I'm going to .. but I've already pissed two people off. Rockstar – Angela is the apex of their thing. Haleigh – Brett said why not take that shot at Angela while shes up there. He also said that he's not coming after you (Rockstar). Isn't it weird that Tylers not my target anymore.
4:10pm HOH room. Haleigh, Brett, JC and Rockstar. Everyone is waiting around for the veto to start. JC is yelling things into the HOH intercom. "Faysal is gay!" "Tyler is a woman"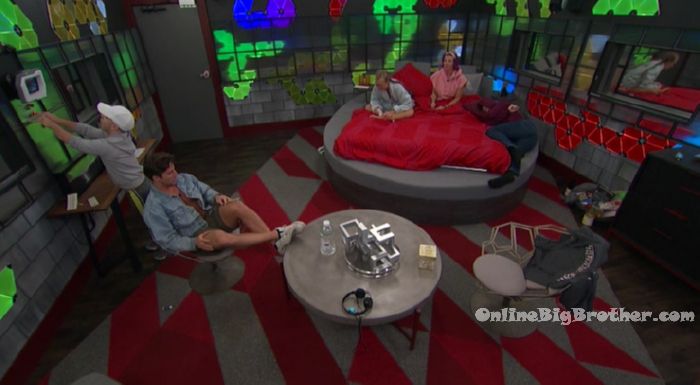 4:12pm Bedroom. Angela and Kaycee. Angela – next week we backdoor Scottie.. And Tyler will be the one to do it. Kaycee – yes! Angela – I have a feeling its going to be some fear factor sh*t.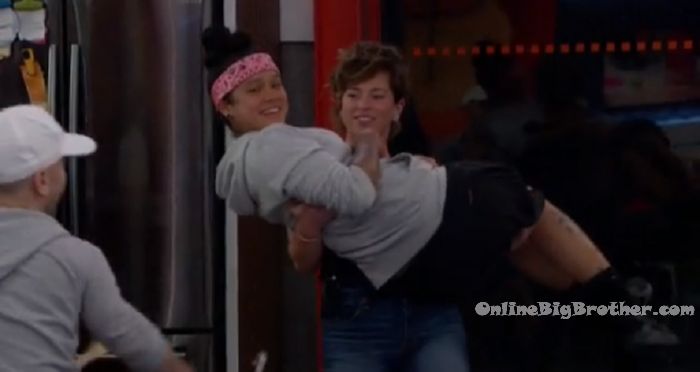 4:25pm The live feeds switch to the BB re-runs .. the power of veto competition is starting now..
6:30pm Still blocked..
If you like our content please consider a donation
Rank the houseguests!
Easiest way to Rank the house guests use link below