| | | | |
| --- | --- | --- | --- |
| POV: | ? | Next POV: | Aug 11th |
| POV Used | ? | POV Ceremony | Aug 13th |
| HOH: | Haleigh | Next HOH: | Aug 16th |
| Noms: | Kaycee Rockstar and Angela | Have Nots | |
Big Brother Spoilers – There was an argument in the BAthroom prior to the POV players being picked. Rocks came at kaycee …
Power of Veto Players were picked : Haleigh, Rocks, Angela, KAycee, FEs
Hacker picked Tyler
Host = Brett
9:47am Kaycee, Sam, Angela and Tyler
Sam asks her what happened in the shower.
Kaycee – she was trying to come at me telling me I was the hacker
KAyce – if someone asks me one more f*ing time I will blow the f* up .. today is not the day
Angela says she came at Kaycee before anyone had a coffee.. (Rockstar)
Kaycee – later on she said something about cussing
Kaycee – today is not the day.. I'm a grown a$$ women I cuss I do what I want dammit..
Tyler says now everyone is going to think he's the Hacker..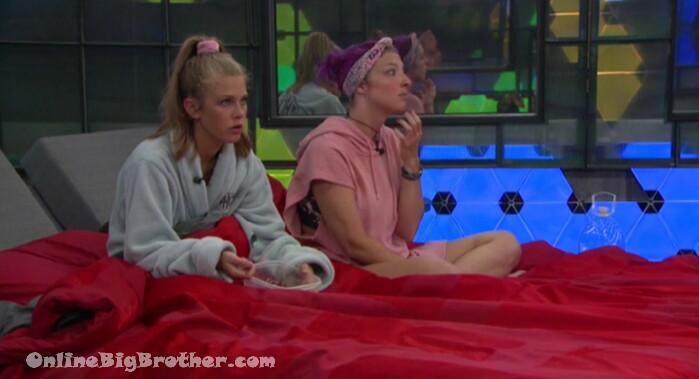 9:55am haleigh and ROCK
Rocks – look I love Scottie and I'm here but I'm just saying..
Haleigh – we got Fes.. to play..
Rocks is suspecting Scottie is the Hacker now because he's wearing a jacket
They don't think it's Tyler. Haleigh says it's Kaycee. Haleigh suspects Kaycee picked Tyler
Rock – do you think Scottie would vote for her to stay (Kaycee.. if Kaycee was on the block on Thursday)
H – I don't know what Scottie would do ..
Haleigh says they'll have to see how long Scottie wears the jacket for maybe he just really likes it.
H – I can't believe I pulled her f*ing chip.. (Kaycee)
Rock – we got to take these pretentious b1tchs down.. kaycee I'm a groan a$$ women.. SO AM I
H – We got to get you off the block first..
Rocks – yeah ..
Haleigh tells her that she needs to stop hanging out with her so much because people are seeing them as duo. Scottie pointed out that you are in the HOH from the moment you wake yup to the moment you go to bed.
H – Scottie said they were talking about it
Rocks – are any of them nice to me at all.. who can I hang out with..
Rocks – Kaycee was up here when Angela was HOH
Rocks – I don't like Angela, I don't like Kaycee, Brett has always made me uncomfortable.. Tyler's a little b1tch I never trusted him.. that leaves Sam and Fes and I guess JC.. (Social game on point)
Haleigh – we got to get you down Rock
Rocks goes on about Kaycee up in the HOH 24 hours a day when Angela was HOH..
Rock and Haleigh looking at the HOH spy screen
Rocks goes on about Scottie wearing the hoodie and it could mean he's the hacker..
Haleigh suggests the veto is "the spelling one"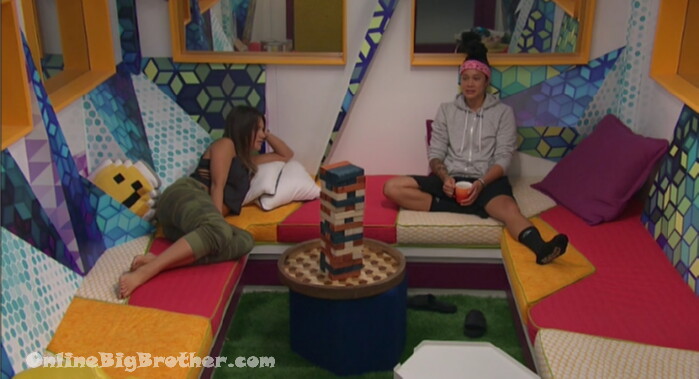 9:55am Kaycee and Angela
(It was Rockstar that came at Kaycee about nominating her as the Hacker and kaycee cussed her out)
kaycee says how pissed she was at Rockstar coming to her saying there's 6 other people she could have picked. Kaycee is sick people acting like they all have to take their turns on the block this is a game.
Kaycee – I think it's because it was her (rocks) coming at me that got me frustrated
kaycee – the first thing she said was there's 6 other people that could have gone up .. I was like why are you telling me this
Kaycee – she's like you haven't spoken to me at all.. I'm like you are right I haven't and theses are the first first you've spoken to me
Angela – I don't understand there's 6 other people.. this is a game..
Kaycee – did you hear what I said.. welcome to big brother
Angela – people think this is a fairness contest .. we're rotating counterclockwise it's your turn..
KAycee – I didn't pop off too I think I popped of just the right amount.. She's talking about like not to CUSS.. I CUSS all the f*ing time I'm a groan a$$ women.. Don't tell me what to f*ing say .. she said it's not fair with the competitors.. Well.. welcome to Big Brother
Angela – i'm so sick of people using that excuse
Kaycee – we're going to win this veto..
Kaycee – after we win this shit we are celebrating our a$$ off..
Angela – I hope you win it..
Angela – she'll put Tyler up.. (but with the cloud app who goes up?)
Kaycee – just more blood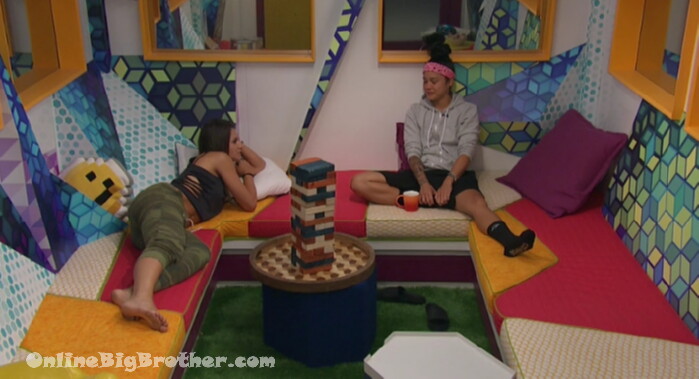 10:16am Angela and Kaycee
Angela talking about being a pole vaulter. She was at the Olympic training centre for a year. She got injured in the back had a bulged disk and had problems with her coach so she quit pole vaulting and went into fitness modelling.. Angela says Big Brother Production reached out to her to be on the show.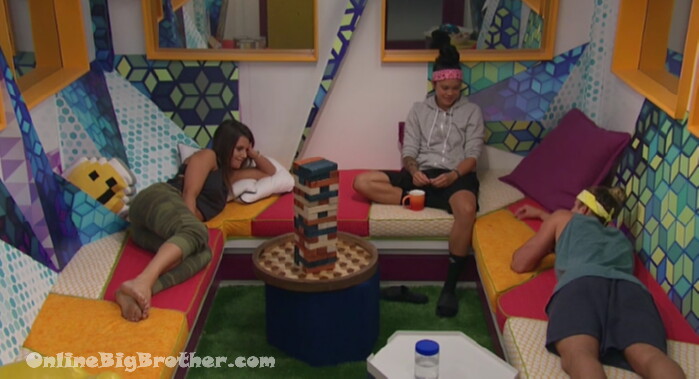 10:22am Tyler, Kaycee and Angela
A – this is our HOH room
A – what is everyone doing
K – freaking out because they don't know who the hacker is
K – we got to keep them confused.. they are so confused
kaycee – lets win this sh1t no f*ing mercy… no f*ing mercy..
They agree Fes can't do puzzles..
Kaycee – we got to fight like it's our last..
Kaycee says Rocks is probably telling Haleigh a twisted version of their run in.
Tyler – she was shooked
Kaycee – yeah she was.. the things she said.. why you gotta cuss..
Kaycee – did you hear what I said.. welcome to Big Brother
A – this isn't a fairness game..
Tyler – good thing you picked me because you got picked anyway. I wouldn't have been picked.
T – with Rockstar that is the same thing she was saying to me yesterday .. there's 6 other people
T – yes ROCKSTAR .. I understand..
Kaycee – she says stupid sh1t like you don't even talk to me .. YOU don't talk to me these are your first words
T – exactly..
A – what wsa the first thing she said
Kaycee – I was standing there .. you know there's six other people .. I pretty much just lost it from there
A – it's like a backhanded stab at you
K – I'm like what the f* are you trying to say I am not the HAcker I'm sick and tired of people saying I'm the f*ing hacker I'm not the hacker umm.. I pretty much was just cussing and not too much.. cause I can be way f*ing worse.. I felt like i kept my cool
A – from that comment she deserved it.. that was rude
KAycee – I'm going to keep denying it.. i am not the f*ing hacker..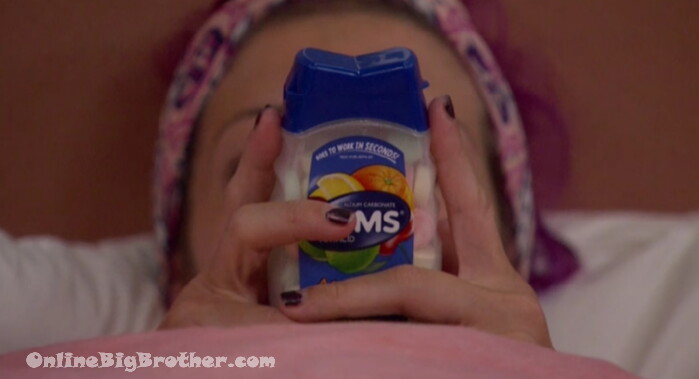 10:53am Rocks has a sore stomach.. Sam brings her some tums..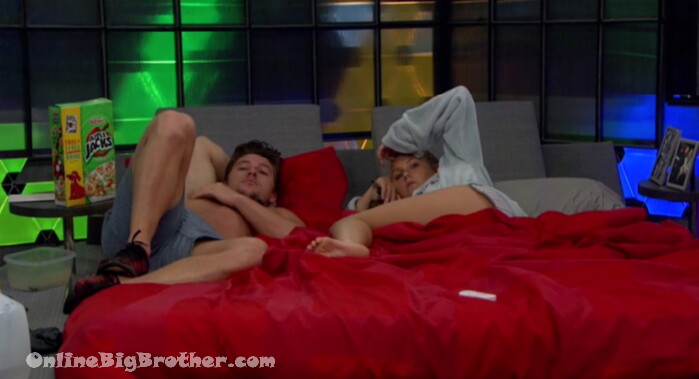 11:40am Brett and Haleigh
They both though Sam was going to self evict last night. Haleigh thinks that if Rocks leaves Sam will. BRett hopes that Sam stays in teh game.
Brett saying that there's not bad blood between him and Rockstar they've had their arguments but from his point of view nothing said or done that sticks.
Brett says kaycee is very floaty
Haleigh says Rockstar going to kaycee about being an hacker was not a good idea.. I was pissed.. Rockstar you are on the block..
Brett – yeah you got to be careful
Haleigh – if she goes on my HOH (rocks)
Brett asks her where her relationship is with Tyler She says they are just bluffing each other.
Brett – I'm not tight with Tyler
Haleigh – nobody is.. (ZOMG)_
They agree the only person that Tyler is close to is Scottie. (Brett knows this isn't true)
A real easy way to support the site if you are an amazon shopper is to make your purchases through our link. You pay the exact same thing but we get a small % commission. It doesn't cost you anything and helps us out.
Amazon Canada
Amazon USA