POV Holder:
?
POV Competition
July 9th
POV Used
?
POV Ceremony
July 11th
HOH
Bridgette
Next HOH
July 14th
Roadkill Competition Winner:
Frank
Original Nominations:
Paul, Tiffany, Bronte
After POV Nominations:
?, ?, ?
Have Nots
???
Big Brother 18 Alliances Help Guide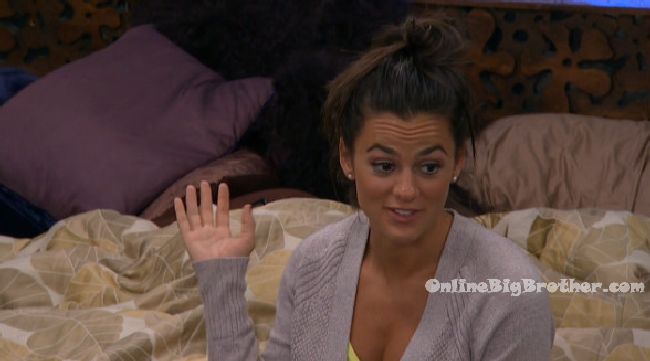 9:35pm HOH room – Bronte and Bridgette tell Natalie what they came up with. If I don't win POV, the best case scenario is that I'm up there with Paul. After Frank last night.. Tiffany isn't going to go home. Just because Frank wants him to. Bridgette says we're going to flip the script. Against Paul .. I think that's the only boy the girls are ready to vote out. Natalie says I feel bad for saying this but I'm going to say it .. he used to make fun of one of the girls in here. He used to call her… what was it he called her. I don't want to tell her because it would hurt her feelings. Bronte says Day and Zakiyah ..even though they're on his (Paul) team .. we're only going to be in groups for one more week. Their target is probably going to be Frank next week. Natalie says next week we don't have to do anything. Bronte asks do you think James would vote for me to stay? Natalie says I already asked him. He said he would do what I wanted. Natalie asks Bridgette if she is fine letting go of Frank next week. Bridgette says she is, the teams are going to end.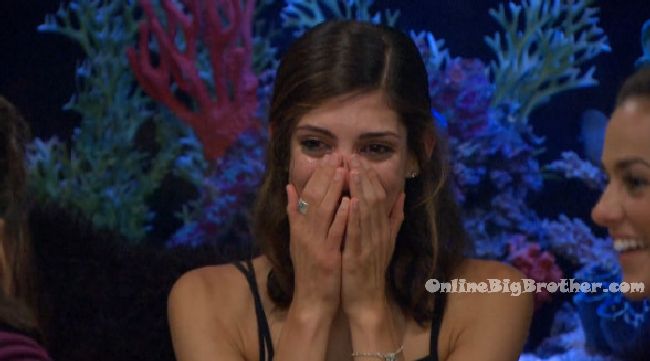 Bronte says I'm going to tell you something. Natalie says OH MY GOD YOU'RE A FAMOUS YOUTUBE STAR?!!?!! Bronte says I'm going to cry.. I'm emotional because I haven't told anyone. Its not that cool I'm at the bottom of the barrel and I'm so thankful that you guys have fought for me. Don't tell a sole. I'm not a youtube star .. I just wanted to prove to myself that I could keep a secret. That's why I always say I can keep secrets especially my own. Its getting hard not telling people … I'm the secret Nerd. I'm not a childcare worker who's never been to college. I'm about to get my second degree. I'm an aspiring mathematician. It's my absolute dream to use my love of numbers to fight against hackers for the NSA. Natalie says so you're mad smart… you think I'm so dumb. Math is my entire life.. school is my entire life. My entire world revolves around me being a mathematician. I feel like no one in the house knows me. Everyone talks about this passion and that passion and I have no passion. This is my life. My dream is to work with national security. All the security is protected by prime numbers ..you use prime numbers and the product and code in prime numbers to fight against hackers. Like people that are trying to steal your credit card numbers. I'm on the show to get enough money to get my doctorate because you're not a real mathematician if you don't have your doctorate.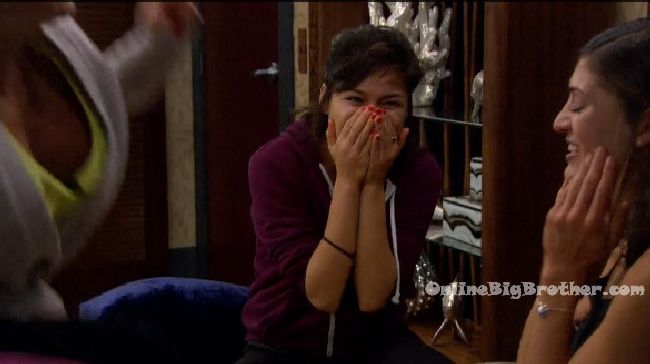 10pm Natalie says you're hot! You're like Tomb Raider! Bronte tells them not to tell anyone even if she goes. They pinky swear not to tell anyone. Natalie says I have a dumb secret.. everything you know about me is true. But I was actually a professional NFL cheerleader for 3 years. I was the top 5 or 15 NFL cheerleader. Bridgette says my secret .. its not that big but my Boyfriend is a doctor. I didn't want people to vote me out and say she doesn't need it because she's going to wifey up to a doctor.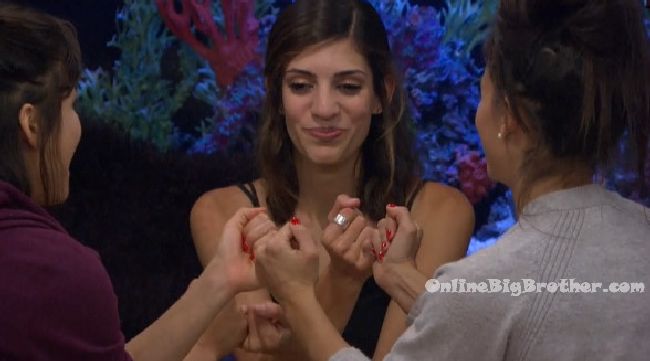 Bridgette and Natalie talk alone about Frank. Natalie says Bronte needs to tell James she's a mathematician. Bridgette says no… why?! Natalie says because James isn't good at math. I love him. Bridgette says I don't trust him 100%. I know you trust him. Natalie says we need to get all the girls to vote out Paul. Natalie says I wish James would tell me more things. Bridgette asks why doesn't he. Natalie says he knows I'll flip out. Natalie says I really like him. I was put in this house to meet him.
10:15pm – 10:30pm Safari room – Frank talks to Nicole about how they'll need to get Corey and Paulie out eventually. We need to make our road to the end as easy as possible. Nicole says she's confident because she didn't get any votes last week. She asked if she should pick a a girl that's weak to play so she can beat her. I told her I would pick a strong guy that could win it for me. Nicole says she (Tiffany) literally thinks we're still the eight pack. If I wasn't on her team .. I would be scared she would put me up. She calls me out all the time. I'm over it Frank. She doesn't think she will go home. Frank says I don't want her to fee that comfortable. Nicole asks do you want me to keep making her feel comfortable? Frank says I guess so. Frank leaves. Nicole says to herself sh*t did I tell him too much?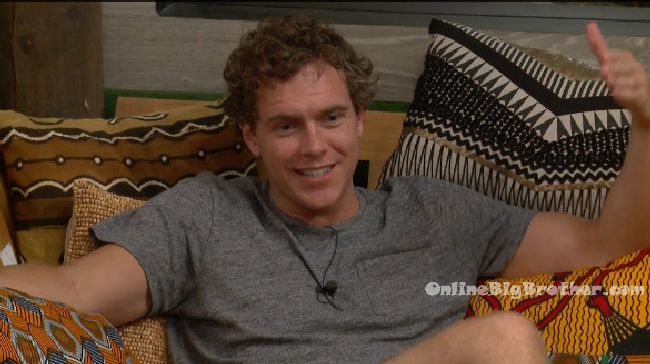 10:35pm HOH room – Frank joins Bronte, Bridgette and Natalie in the HOH room. They scream girl talk. Frank asks Bronte how she's doing. Bronte says its taken me 2 years to get on the show and I want to desperately make it to jury. Frank says I guarantee you won't get even 1 vote if the nominations stay the same. Natalie asks can we just keep Bronte safe this week. Frank says I think Tiffany is going home and even if she isn't on the block I think Paul is going home.
In the bedroom – Tiffany and Natalie are talking. Natalie says obviously I don't want you or Bronte to go home. Natalie says she's stressed and nervous. Tiffany asks what do you have to be nervous about? You can talk to me. Natalie says I need to collect my thoughts. I'm not the sharpest tool in the shed. She says I'm nervous that you're both on the block. I don't want either of you to go.
11:20pm Frank asks Michelle if she was the vote for Vic. Michelle says she wasn't, I thought about it but it wasn't me. Frank says its just confusing. Maybe Paul is lying and it really was him. Frank tells Michelle if Tiffany picks her to play for her in the veto she should win it and not use it on her. She's going out before jury. You don't need her vote.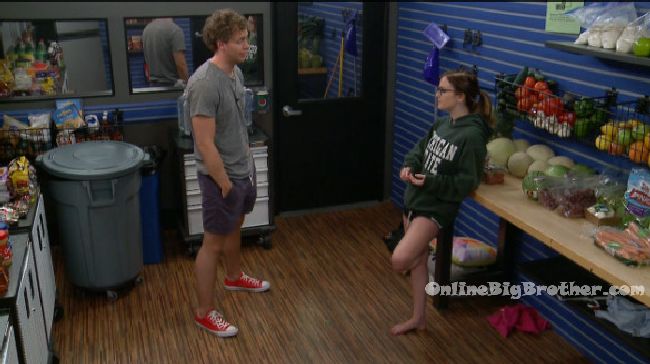 11:30pm Natalie and James are talking on the phones. Natalie's giggling.

12pm Tiffany and Nicole are talking on the living room couch. Nicole and Tiffany talk about her liking Corey. Tiffany tells Nicole that by distancing yourself and makes you look like you care more. You have to act like you don't care. Nicoel says I think he is super cute and nice. I think his type is a model with big boobs. Tiffany tells Nicole that she thinks she (Nicole) is the more attractive one of you two. Nicole says no, you're lying. You just made my night.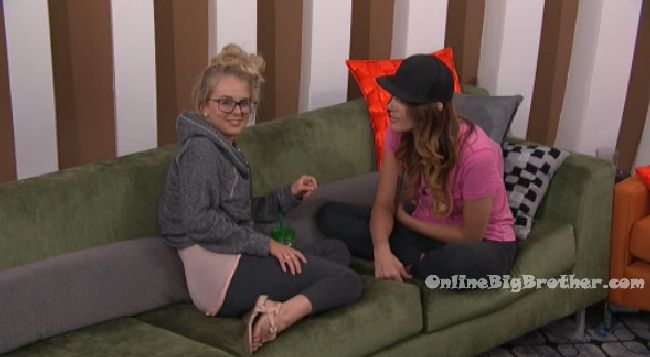 12:25am The house guests are eating burgers. Nicole complains that her burger was raw and she's going to be sick. She says the meat was cold. Corey asks why didn't you put it back on? Why did you eat it? Nicole says because everyone was saying its fine.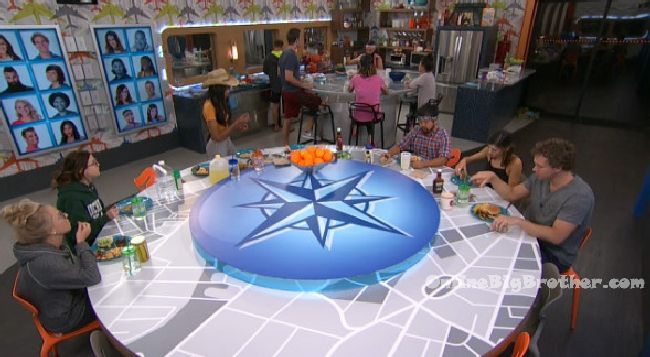 Bronte tells Paul as long as you don't touch my girls I'll support you. I'm going for the HOH next week. It think we have 1 more HOH in teams. Paul asks if you got it what would you do? Bronte says I haven't thought that far yet. Who do you want to see go next week? Paul says there are people .. I just don't know what, who or why. I've been on the block every week I don't know if its a good idea. Bronte says if I win HOH, I don't care if I bring out the big guns… as long as I make it to jury. Paul says if I win HOH, what would be the smartest move. Bridgettee says we would have to talk about it then. Paul leaves. Bronte brings up girls against the guys. Bridgette says this is big brohter.. its not about girls against guys. The girls don't trust me in the house. Natalie says do whatever Frank says right now. Bridgette says if we could just stick to one plan. Natalie says Bronte is safe this week.. that's what I'm hearing. Natalie says Tiff just can't pull herself off. Bridgette says best case scenario is you or Frank win veto. If my name comes up, I've already said I'm going to pick Franks name.. He said he's going to take you (Bronte) off.. and I trust him. Bridgette says you're scared of Frank .. I'm scared of James because he only has your back. Natalie says Tiffany is going home this week. Bronte says we're going to take a big player.. Paulie is running the game. Bridgette says the doctor is going to think I'm crazy because I keep flip flopping.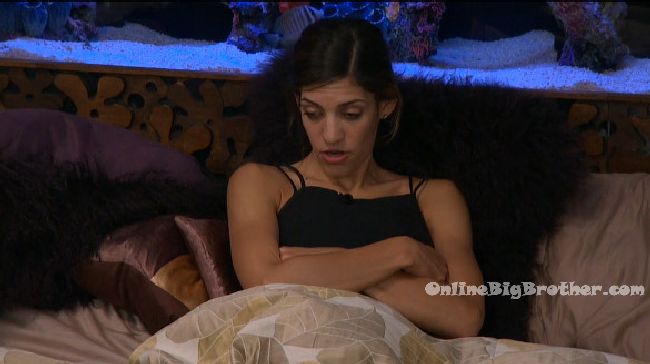 2:25am – 3:40am
Michelle says did you know Frank thought I voted for Bronte. Michelle says she thinks it was Paul. I'm still going to ask him. No one cares. Paul joins them. Michelle asks him if he was the vote. Paul says I swear to god it wasn't me!! Michelle says they're blaming me. Michelle heads to bed. Paulie and Zakiyah stay up chatting. Paulie says that Corey can go to Natalie and I can go to Bronte to tell them that Frank was the one that put Bridgette up with the roadkill. Zakiyah says she doesn't talk to people. Paulie says that's good because as the numbers get down people don't trust each other.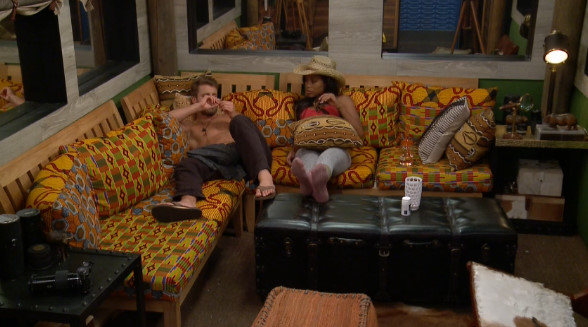 Paul says friendship! As I was leaving they said Friendship… the virus is spreading. Paulie and Pual say goodnight.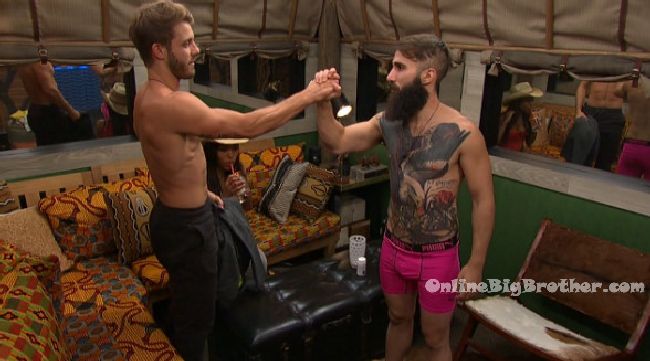 FLASHBACK and watch everything you missed: CBS All Access FREE Trial!

[polldaddy poll=9465176]
[polldaddy poll=9464369]