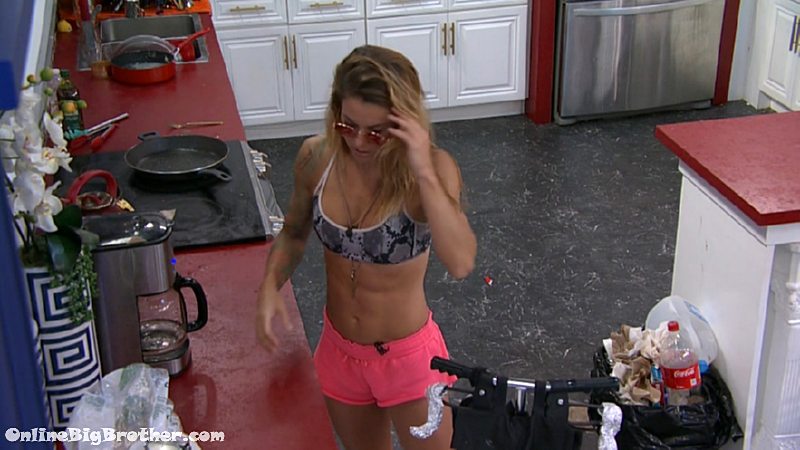 9:24am Wake up time.. Xmas makes Coffee..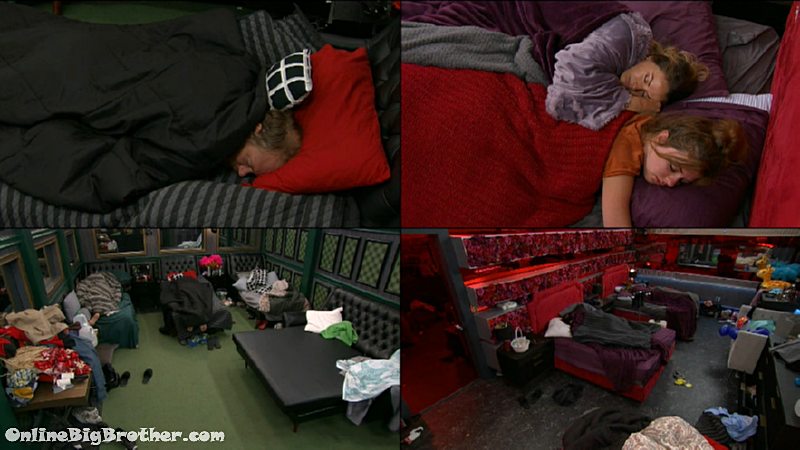 10:00am sleeping again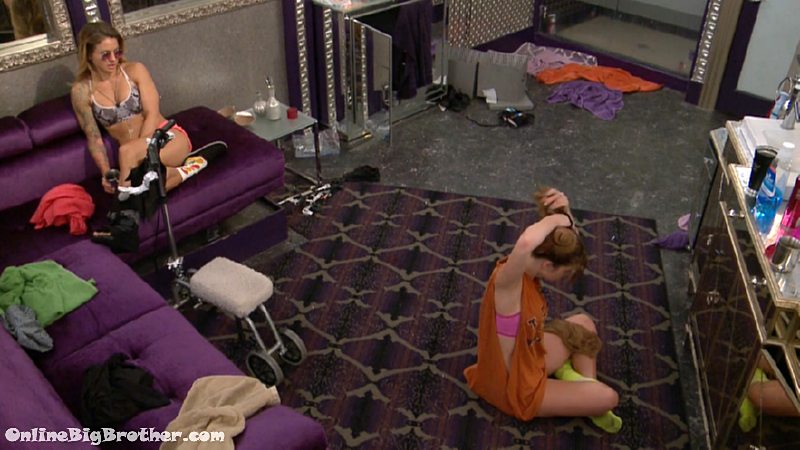 10:19:08am Bathroom Xmas and Raven
Production – Paul please go to the Diary room
Xmas – he hates life
Raven – he's PISSED
They start talking about raven wearing buns. She says her dance girls love her buns and now she started wearing them to the club.
Raven – Paul's pissed right now he got DR'd last night
Xmas – Paul's always pissed
Jason comes out of the toilet "I can go now"
Raven – Paul got called he's in the DR right now (he's sleeping)
10:21am Production – Jason please go to the Diary room
Raven – Oh
Xmas – alright so paul said f* that
Raven – he sure did
Production is the biggest joke this season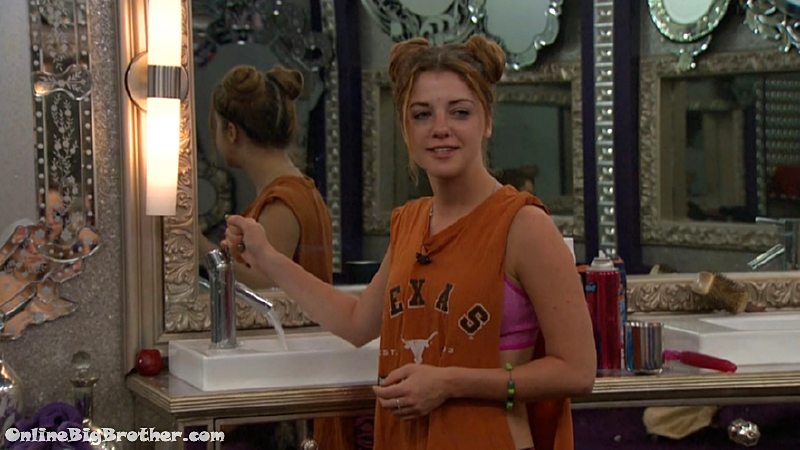 10:21am Xmas and Raven bathroom
Xmas – what are we going to do today guys
Xmas – I liked the mix this morning.. So what kinda clubs do you have in your town.
Raven – I have nothing in my home town, Gas station, pool hall, dairy bar, BBQ place.. you literally know everyone
Xmas – sounds like a place my mom grew up
Raven says there was all sorts of rumours, "is she gay, is she mean" that started out in her hometown because she didn't date local people.
Raven – I grew up there but I was constantly gone with my dance and stuff..
Raven – Sometimes I'm not home for days.. I'm at little rock with my friends or out doing dance competitions with my girls so I'm constantly travelling.. never home
Raven – my momma text me, when are you gonna be home
Raven – both my parents are disabled so, I IS the one who makes money.. huh.. for the family
Xmas – which is kinda ironic
Raven – My family is sick including me but I'm the wellest one of us all..
Xmas – I'm sure their spirit is a match to yours
Raven – If my mom could work she'd work.. But she can't when she got sick was in law school.. Some of her biggest regrets was not being able to graduate
Raven – She can quote any law.. She really smart..
Raven – she says she's a waste.. I'm like MOM You're not a waste don't say that, just because you couldn't graduate because you got sick
Xmas – she's got you.. On this huge platform for awareness
Raven – she's like you take care of me and pay my bills it's not fair..
Raven – It's fair I'm here because of you of course i'm going to pay your bills.. .I'm not going to leave you high and dry (Holy shit this family)
Raven – I wonder what the POV is.. I hope I get picked
Xmas – all put on 1
Xmas says Jason and Alex have no idea what is going on.
Xmas says she never told Jason she was going to backdoor Kevin
Xmas – he never asked either
Xmas – that is why I was freaked out afterwards
Xmas talks about how Dense Jason is.
Xmas – Jessica was right
Xmas explains how Jason came up into the HOH laid down and said to her "Man that felt real"
Xmas – I looked at him and said It was (OMG)
Xmas – he was like yeah good job on that because man I had no idea it was coming
Xmas – this dude thinks I was lying… holy cow.. I asked Josh was I not clear in my speech (THe image above is the face she made when telling this)
Raven – you were super clear
Xmas – you're in a really good position , now that matt's gone you are laying low
Xmas – people are going to start looking at Kevin.. Win the f*ing Veto today.. But lay low stay quiet in the house (huh)
Xmas – you've been doing great .. I'm not trying to ignore you, I'm trying to keep the loud ones loud and the quiet ones quiet
Xmas – how's thor
Raven – he's good..
Raven – before I came in this house I was taking care of everyone taking care of my mom and dad
Xmas warns her if she openly teams up with someone it might freak people up thinking there's another duo
Raven says when b2men left he told her to listen to Paul and Xmas
Xmas – if you would attached close to PAul they would see that as a threat
Raven – yeah
Raven starts whispering about something Paul said to her about Alex
Feeds cut
when they come back.. Xmas – Yes yes stay close to her .
Xmas says after she broke her foot people just ignored her and she sat back and observed.
Xmas – I was like you people are stupid
Xmas – I think she wants Jason gone
Raven – I do too
Xmas – she wants me to take that shot because he's so worried about votes.
(everyone suspects Alex wants Jason gone)
Raven – Jason said if he wins POV he's taking Alex down and Alex says if she wins POV she's taking Jason down
Xmas – maybe they want us to think like they're not shook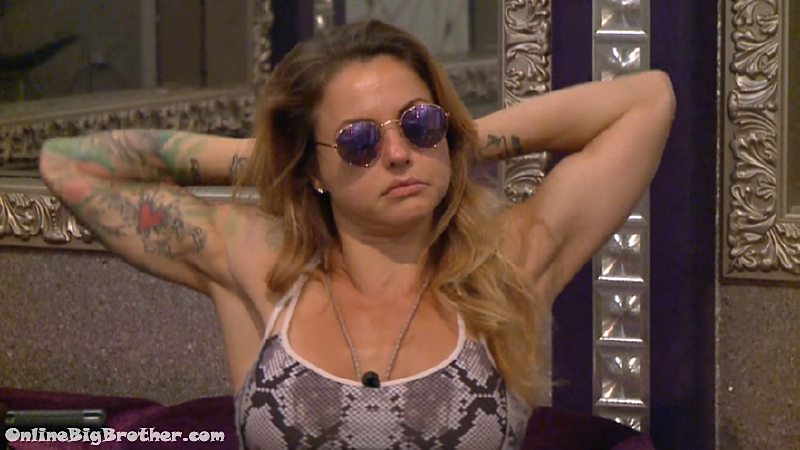 10:37am Kitchen
Raven – If I had won POV he would not have let me take him down .. he told me that do not take that
Raven – i'm here to go to Jury I never wanted a chance at the money that is not what i'm on the show for after meeting you there's no way i would do that
Raven – I would literally take a bullet for you (Matt's a champ)
Xmas – I just got chills.. stop my heart hurts..
Raven says Matt hinks his friends are laughing at him because when he goes in the Diary room he says
"She's the best human I've ever met… like she deserves the 1/2 million dollars.. blah blah blah .. so he's like if you take yourself down i'll feel more comfortable so please don't take me down and if you do go home I would go home in there and they would have to self evict me if you go before me"
(Matt is the worst i knew it from day one jeff interview..)
Raven – He said please be selfish for me.. so I was like OK mathew.. such a good man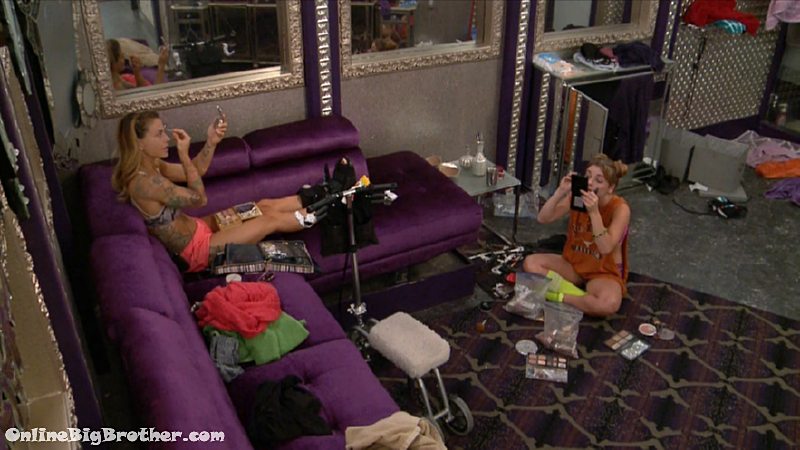 11:00am Makeup never ending ..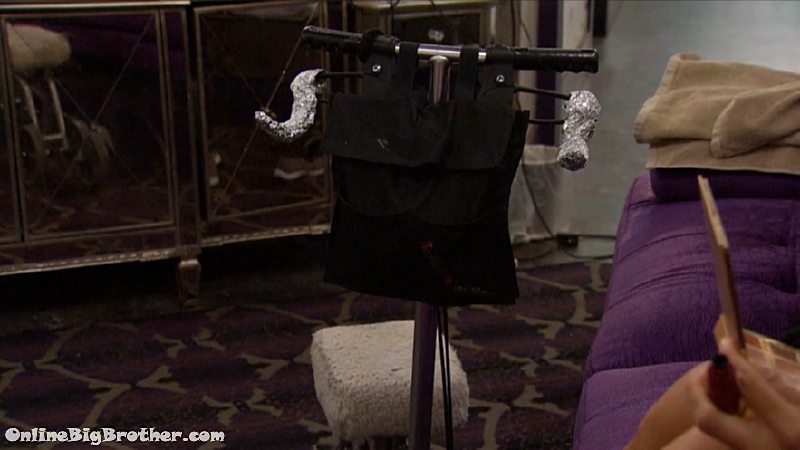 Xmas with silver dildos on her scooter (it was a reference used in the house they look like painful dildos)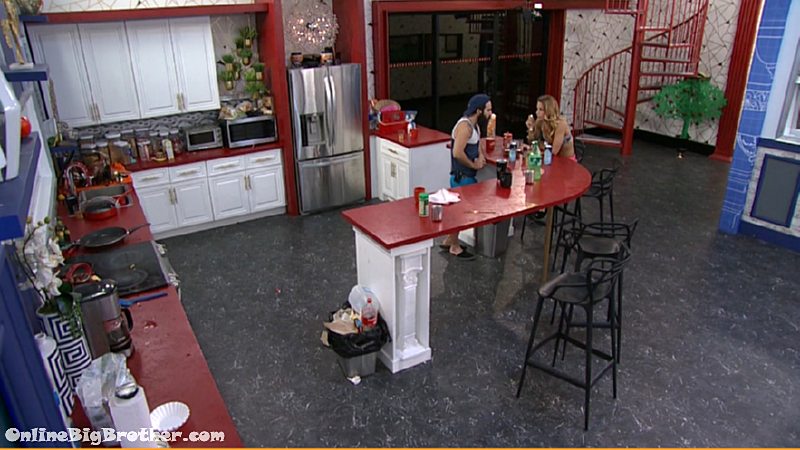 11:27am Paul tells Xmas he thinks he can convince jason to use the veto on Alex.
Paul says Alex's ego has gotten in the way.
Paul adds that Jason and Alex are drifting apart right now.
Paul says the three of them need to come up with a name.
Xmas says the mistfits. (Let's pick a name for the Paul, Xmas, JOsh alliance. In the OBB comments let us know you're suggestions.)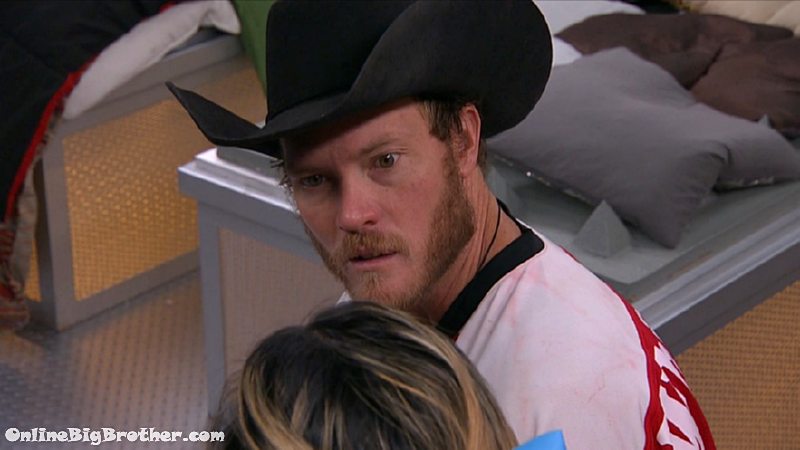 11:54am Jason and Alex Have nots
Jason – you know what the f* is going on
Jason – I don't wan to act like I'm freaking out.. but honestly this isn't some f*ing weird coup of some sort. what is it
Alex – OK, if it is I don't know (friendship)
Jason – what could it be.. I mean Alex why would they put us both up there .. what the f* are they trying to do
Alex – not to freak out Kevin
Jason – ok ok.. that's what I thought
Jason – I just want to make sure right, we don't want to be stupid
Jason – we don't want to seem like we're that safe, you know what I mean
Alex says if she wins POV she'll pull him off. HE's the one in danger because he's the only one with a problem "With anybody" .
Jason – we'll what if you have a problem with someone
Alex – it's Kevin
Jason – guaranteed
JAson – I'm not freaking out.. (you're freaking out)
Jason – don't go tell f*ing Paul that I'm freaking out.. I'm not freaking out I'm just trying to protect us (You're freaking out she's going to tell Paul)
Jason – I just want to make sure we're not F8ing missing something
Alex – you should talk to Paul because if you're worried talk to Paul..
Jason – Alex listen to me god dammit, don't be so cocky that you think..
Alex – Jason, you cannot freak out about this stuff .. you're making me paranoid
Alex says they'll talk to Paul and make sure they aren't backdoored (potatoe)
Jason – there's lots of ways to go about it why the f* put both of us up there.. I mean what is the reasoning behind that
Jason – if the backdoor goes wrong you always want to put one up and a pawn
Alex – no
JAson – if something goes wrong you always get a target out
Alex – there's no more pawns
Jason – and we don't want to freak out Raven and we don't want to freak out Kevin
Alex nods.. zomg
Jason – I just want to make sure you're solid with that too, I didn't want to go into it blind and be like OH god how we not see that.. (too late)
Alex – I don't care, one of us will win and pull us off
Jason – what If I win
Alex – pull yourself off
Jason – what if I want to pull you off
Alex – if you are nervous pull yourself off
ALex – the only one that can't win is Kevin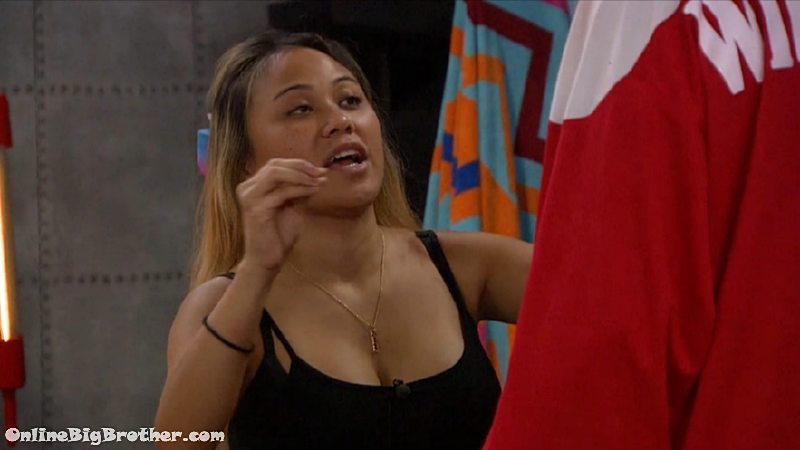 Alex – if she decides to Backdoor Paul or Josh that's on her (Alex's awareness in the game is zero)
Alex – we need to win HOH and take out one of the 2
Jason – I'm not wound up at all or scared to death it just … My first priority is you and me
Jason – I want to make god damn sure that it's fine… if you think it's fine than I think it's fine too because than I know
Alex – I think we're fine, you make me paranoid
Alex – we're good, how far have we gotten in this game, working together and with him (Paul)
Alex – I've been working with him since day 9
Jason – yeah… that's fine I mean
Alex – 70 days later (70 days of being played)
Jason – yeah but…
(Buckle up for this)
Alex – His whole season is based on friendship .. I think he actually ..
Jason – I'm not saying we can't trust him i'm saying what if Xmas is like f* it i'll take one of those 2 out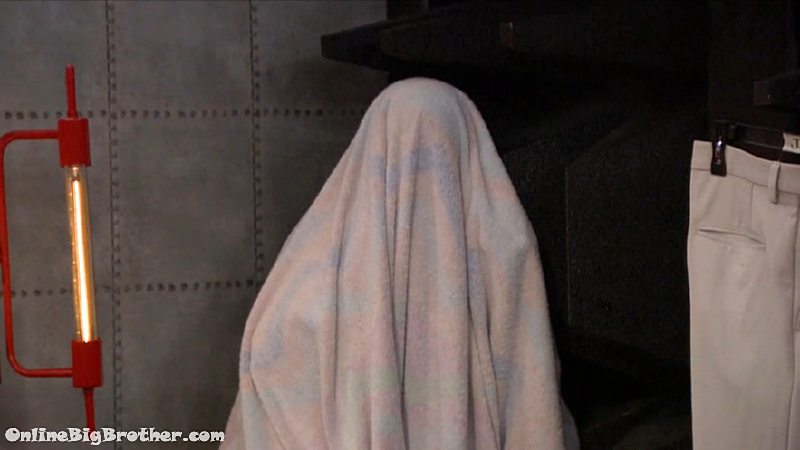 Alex hides "I heard someone" Jason leaves..
If you plan on buying anything from Amazon. Use this link Amazon home
Doesn't cost you anything and we get a small cut.
Links to the ranking system
Rank your house guests here
For those of you that like Statistics here are some expanded reports.