If you plan on buying anything from Amazon. Use this link Amazon home
Doesn't cost you anything and we get a small cut.
Christmas Nominated: Jason & Alex
5:24pm – 6:24pm Big Brother blocks the feeds for the nomination ceremony. When the feeds return – Alex, Josh and Christmas hug Raven. Christmas – I had a lot more nice things to say. In the kitchen, Josh whispers to Christmas, Alex and Raven – it was like Kevin was laughing. RUDE AS F**K! Alex – I thought this would get easier. Josh – I thought you (Jason) really fainted. And I couldn't get up because if you really were dead, I couldn't look at you. Jason laughs. Christmas – I fumbled on my speech so bad. Could you tell I was nervous? Alex – you did really well on your speech. Josh agrees. Christmas to Raven – Paul is going to sell the idea of me backdooring him but you could also sell the idea that I also want to take out Kevin. Raven – Ok.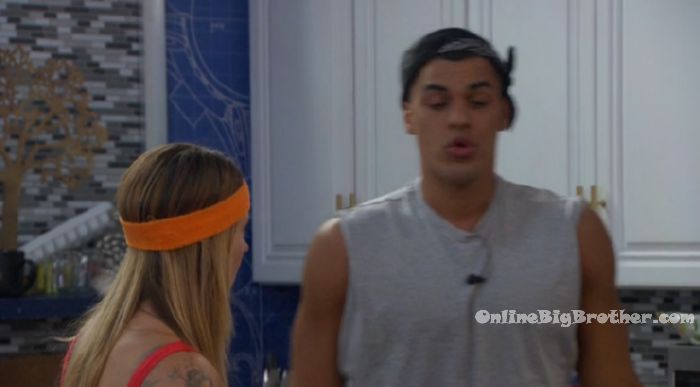 See what they can't show you on TV Try the live feeds for FREE!

Paul – this is all just to get him (Kevin) out right? Jason – I have no idea! Paul – If I get backdoored, I'm going to punch you in the f**king nuts! Jason – if you get backdoored, I'm going to punch you and me in the nuts. Is she trying to backdoor us both? (Jason you're not being backdoored, you get to fight for the veto) Paul – she might be trying to get out a strong male competitor this week. Either we're being paranoid as f**k .. or you're beyond f**ked. Josh is a strong male competitor but he hasn't really don anything. Jason – Alex and me are both on the block so if she wins the veto she will pull herself off the block. If I win, I am pulling myself off. (Ummm duh!) I'm not pulling her off. Paul – but then, I'm going up. Paul – Maybe Kevin is getting the boot. Just stay calm. Jason – I am staying calm. She said there was a conversation to come. Paul – well we all threw it to her so she could take out Kevin so I am going to put good faith in that. If I get f**ked in this exchange I am going to feel like a real douche. Jason – if I get f**ked in this exchange I am done with Alex. Alex has been a real a$$hole the last week. Paul – let just go out there and be normal. Hopefully I get picked (to play in the veto).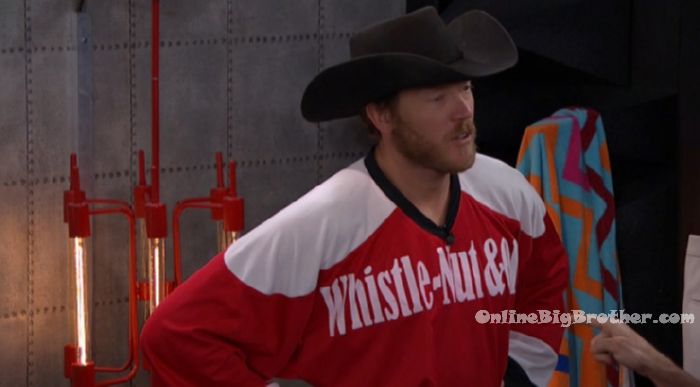 6:32pm Bedroom. Paul and Raven.
Paul and Raven do a happy dance. Paul – I'm going to continue to do damage control with Jason. Raven – Christmas told me to act like I think I think she's backdooring Kevin. Paul – you still hate Kevin. Raven – yeah.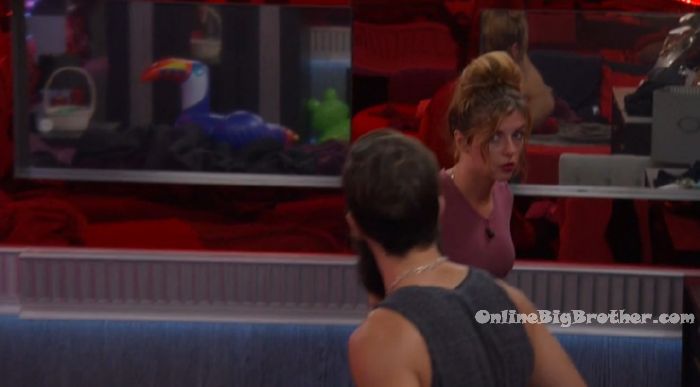 6:40pm Bedroom – Jason and Kevin.
Jason – f**k. I don't know what the f**k is going on here. Kevin – what do you think is going on. She can't put both of you up as pawns .. use your head Jason! Pawns go home. You thought it was going to be me. Jason – I thought it was going to be you and Raven. Kevin – right, so what they're doing now is you and Alex are the best two players. Think about it, they're tell you what you want (to hear). Your fave is on the board. You hear me!? Jason – yeah. Kevin – so there's the HOH (POV?)
if you don't win, you're going home. They're going to tell you that they're going to put Raven up against you and then you will go home. They're not using nobody as a pawn, don't be stupid. And I didn't even talk to nobody. Here's your choice.. you have to win. If you don't, you're going home. If you win, she (Alex) is going home. Jason – I think the whole thing was staged between her and you.. to make me think that. Kevin – you got it knuckle head. Jason – f**k. Ain't nothing I can do but win. Paul – if I win, I'll pull one of you c**k beaters off. Jason – I am going to win that veto.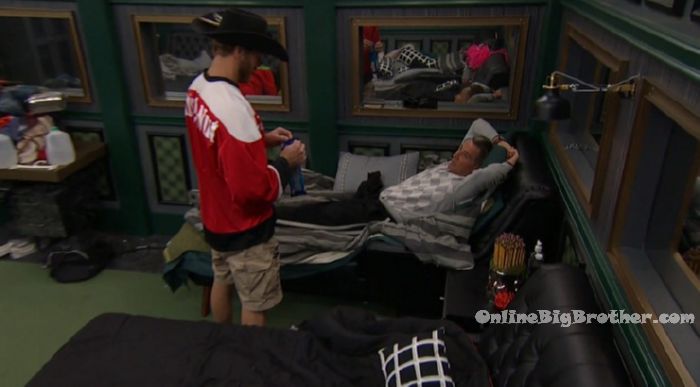 7pm Josh – I think everyone here is beautiful for different reasons… Like you (Raven) you have beautiful blue eyes! Raven – well my eyes are hazel. Its day 70 and you still don't know my eyes change colour.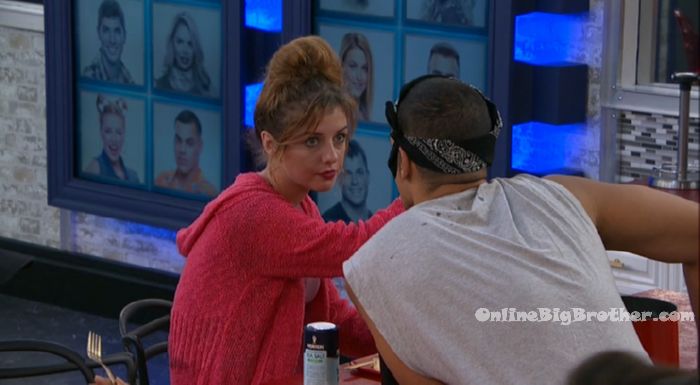 6:43pm Storage room. Josh and Jason.
Jason – what the f**k is going on. Josh – you're tripping. I think she is doing it to throw homie off (Kevin). I haven't talked to her. Jason – why would she put both of us up. Why wouldn't she put up Raven. I told her I didn't want to be a pawn. I threw the comp to her. Paul and Alex join them. Alex – I think Jason – someone knows what the f**k is going on here. Why wouldn't she put up Raven? Josh – I think she is trying to blindside Kevin. Jason – I think he (paul) knows what the f**k is going on. Paul and Alex were all up in the HOH room today. So all three of those motherf**Kers know what's going on. Paul is just saying he thinks he's going to be backdoored so he doesn't have to say.
7:17pm Jason and Alex talk to Christmas.
Alex – tells Jason to calm the f**k down. Jason – Kevin said you or Alex are going home.. Open your eyes, so you better win the POV. Is this motherf**ker in on it? Christmas – no. Jason – I was going to flip the table over. Christmas – the only thing I told Kevin was to relax. Leave me alone. They all laugh. Jason – my gut was saying Its okay but my brain was saying why both of you. And you (Alex) have been a c**k sucker all week. Alex – I told you I trusted her (Christmas) decisions. Jason – this is really good. Jason high fives Christmas. Paul joins them. Jason tells them about Kevin thinks I'm being backdoored. Paul – he is trying to f**k with your head. Paul – so what do we do scare the sh*t out of him (Kevin) all week. Alex – wait until we have the veto.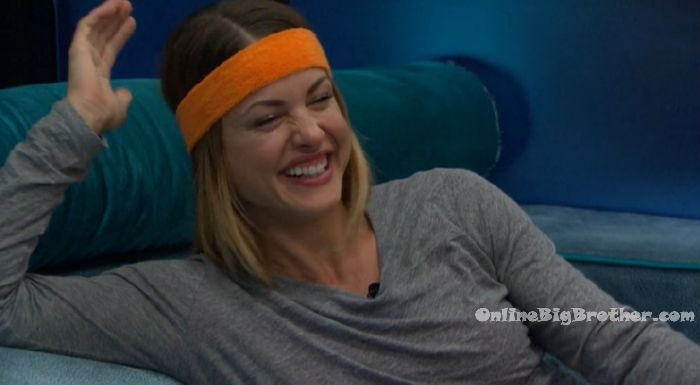 7:35pm – 8pm. HOH room. Paul, Raven and Josh.
Paul – I am winning the veto and not using it. Josh – yeah same. Paul – And I can be like sorry Jason, I can't have him running around thinking crazy ideals and … he was tossing my name around. Raven – he is freaking out. Josh we need to sure Christmas joins them. Paul – Kevin. Christmas – Jason or Kevin can't with the vet.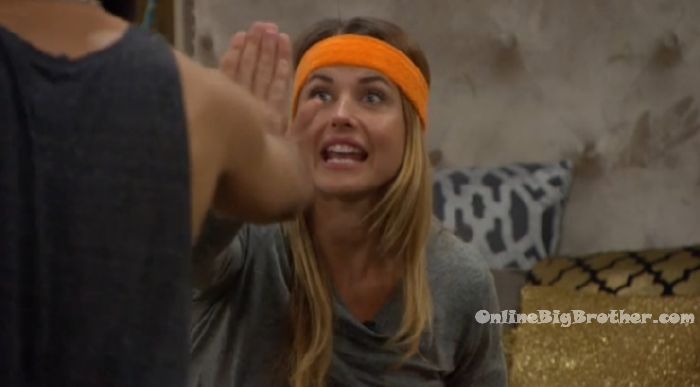 8:30pm Alex and Josh playing chess. Meanwhile – Jason and Raven are sitting in the living room.
8:47pm Lounge room. Paul and Jason.
Jason – we went in there and he (Kevin) was like f**k this sh*t, F**K F**K and F**K! Paul – he was cussing at what? Jason – nothing. Paul – are you sure you guys aren't f**king me. Is Christmas f**king me somehow? Jason – she better not be. Paul – she's been weird to. Jason – if you you're weirded out that make me weirded out. Why would she not put Kevin up there. And if she isn't telling anyone then she has her own agenda. Jason – now its f**ked because if I win the POV … I can't pull myself off. I'll look like a f**king stooge. Everybody back how will be like you counterfeit motherf**ker. F**k you she's meaner than a f**king snake. So I'll have to pull her off. So I'll be sitting next to Kevin and he is going to think that it was like a whole. Josh and Ale

10:55pm HOH room. Josh – what did whistle tell you? Paul – pretty much that Al is against him. Josh – why do you say that? Paul – no, no not me. He thinks that. I was playing it up like I don't know nothing. He was like if you don't know nothing for real. I thought you and Alex were in on it. I was like dude why would I be tripping out if I was in on it. He was like I don't think Josh and Christmas were smart enough to come up with it so I assumed you were the brains behind it. Let me break this down logically.. when benefit would it be to team up with a girl with one leg? What is she going to do for me? He was like you're right. How would that benefit me? He was like Alex has been pissing me off.. so he was like why don't we just clip her! Josh laughs and high fives Paul. What the f**k! Paul then tells Josh about how Jason said people at home would think he's a counterfeit if he won the veto and didn't use it on Alex. So I told he he was right. Josh laughs. Paul – if I don't vote for Alex she will go rogue. Josh – I think she (Alex) thinks I'm still in her back pocket. Paul – maybe I could get her to throw it to me.
11:15pm – 12:30am HOH room. Paul tells Christmas about his conversation with Jason where he talked using the veto on Alex if he won it. Paul – I'm not making this up. Best case scenario Raven wins and he goes. Worst case scenario one of them wins and pulls them-self off. I am pretty sure I can convince Jason to pull Alex off. Alex can convince Jason to pull Alex off. Christmas – I can't even wrap my head around that. Josh – its so perfect its insane. Paul – after this week we have the power in the house. We have more numbers than anyone else.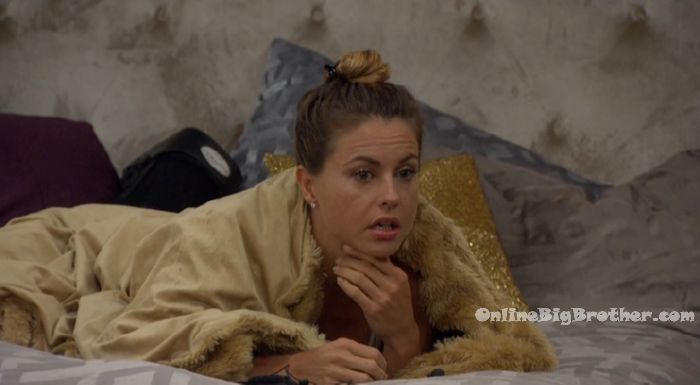 8:50am Everyone Sleeping
If you've enjoyed our live feed updates this season, please consider donating.
Simon and I work 24/7 all season long to keep you updated on everything that happens inside the house. Any amount is greatly appreciated! Your donations go directly to paying the fees required to run this site.
Links to the ranking system
Rank your house guests here
For those of you that like Statistics here are some expanded reports.