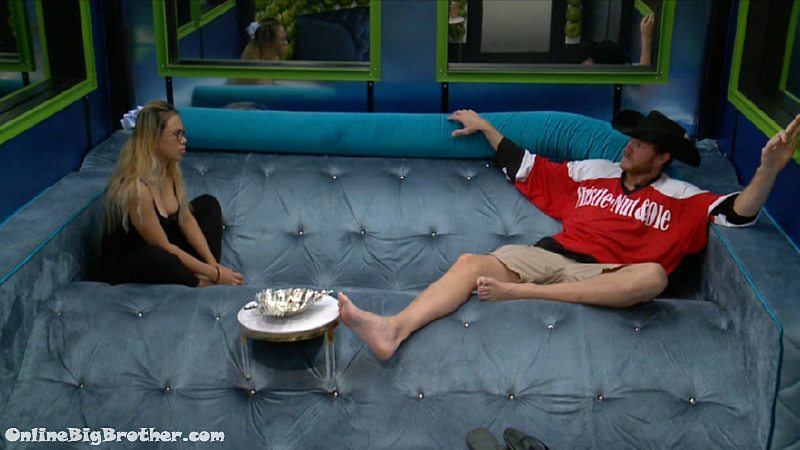 12:33pm APSR Alex and Jason
Nervous chit chat
Alex says she's tired she's use to being active and going to the gym every day.
Jason complains that Xmas has been in the Diary room a lot lately.
Alex thinks there's something coming up
Jason – we say that every week
Alex says Kevin is sitting there not saying anything
JAson – Paul told him to shut up
Jason – I knew we shouldn't have been so cocky
Alex – one of us will come off don't panic.. yet
Jason – yeah
Alex – once one of us comes off we have the vote.. it's one of us Paul and JOsh
Alex says the replacement nominations will be Raven or Kevin
Jason – there's no way they are going to beat us
Jason – what if one of us doesn't come off what the f*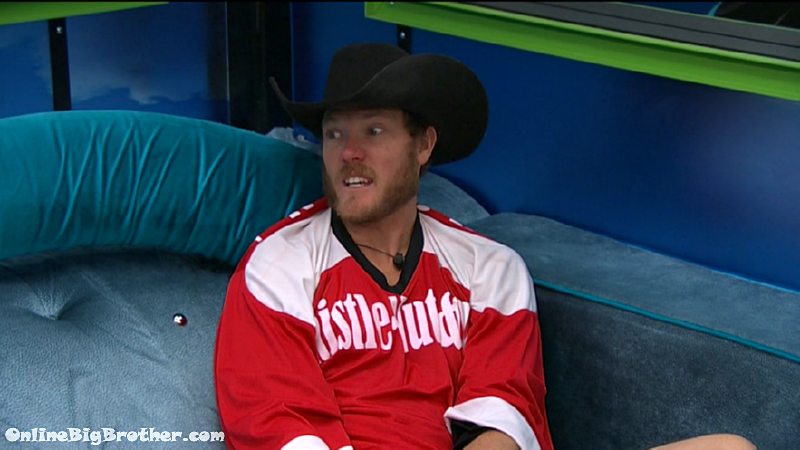 Jason – that's not going to happen one of us is going to win the f*ing veto guaranteed
Alex – if we are worried about someone trying to backdoor us (you are both on the block no backdooring )
Alex says they need to throw the POV to Paul to pull them off
Jason – OK that's a great Idea Al
Jason – we can talk to him.. if he is really genuinely worried than.
Jason lets out a BIG sigh..
Jason – ok
Jason – oh my god.. that's leaving our fate in someone else's hands
Alex – I say we just play for it then
Alex says she doesn't think it's Paul trying to screw with them trying to talk them into not getting the veto so taht he can get it and trick them.
Jason – I don't think it's paul either
12:40 Alex – Paul's season is friendship, I don't think he would leave us now in this game.. when we're his only real allies (z)
Jason – I guarantee it's not him now .. what if they are trying to be like.. Look we already got it in position so.. we're not in trouble..
Jason thinks maybe Xmas told Paul "you and me to the end"
Jason – I don't think it's a thing let's not worry about it
Jason – we don't want to get cocky
Alex – Jason, I'm not the one acting weird the whole time
Jason – I Kinda liked it that she didn't tell anyone
Alex – she never told me
Alex – technically she can't tell anyone
Jason – you volunteered
Alex – yeah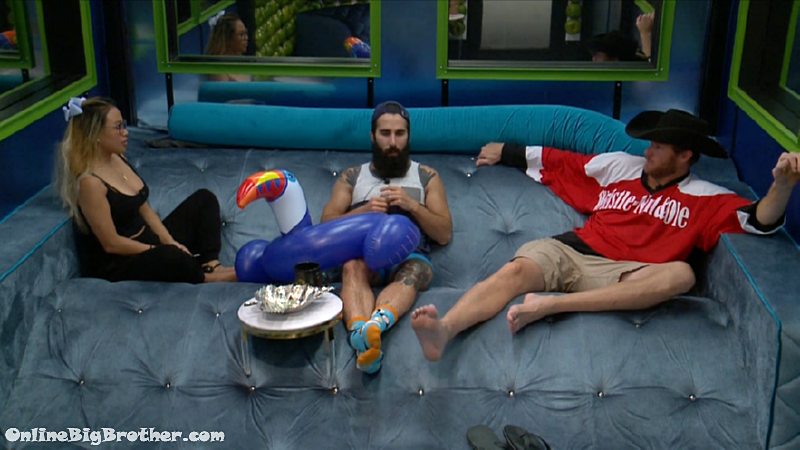 12:44pm
Paul joins them
Jason – we don't know what the f* is going on or who is part of anything
they are worried Xmas is backdooring Paul "WE're not backdooring you right"
Alex – if Xmas puts up you she's a f*ing a$$hole
Paul – it['s not that she's mean to me but her…
Paul says her temperament has changed she's been looking at him weird during the nominations speech
Paul – if she put me she would feel like I would be WHAT THE F* IS HAPPENING.. I would start grilling her a$$
Paul – if she did it this way.. the only thing that is sticking with me is.. I want to get out a strong competitor
Jason – Kevin's not a strong male competitor.. (lol)
Paul – I know
Alex – she's gong to throw up Kevin
Paul – the best case scenario is for me to win and pull one you 2 numbnuts off (watch this make the TV show)
Jason – so here's the deal we all have to gun it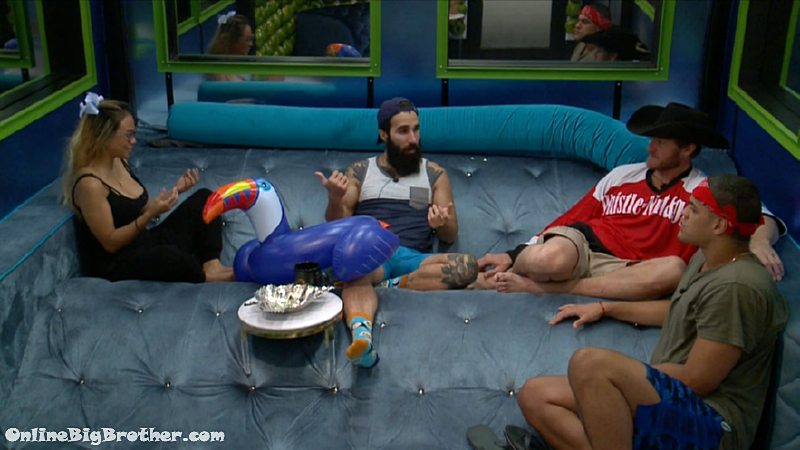 JOsh comes in …
Alex says they will pull Jason off and Kevin goes up
Josh – OK
JAson – apparently you are in an alliance with xmas
Josh – I wish
Jason laughs
Alex – you don't think xmas is working with Kevin
Josh – nho.. I don't think so..
Jason – are you sure
Josh – I'm not sure … I don't think so
Paul – I don't trust Kevin that is why we have to get him out.. he is good at getting into people's heads
Paul says if Kevin wins the Veto they are really f*ed
Paul tells them if they pull JAson off and Kevin goes up he will be really aggressive in his campaigning. If Alex comes down and Kevin is up against Jason then he'll be calm and can just go home. Paul and Josh push that Kevin will say and do all sorts of crazy shit if he's on the block with Alex.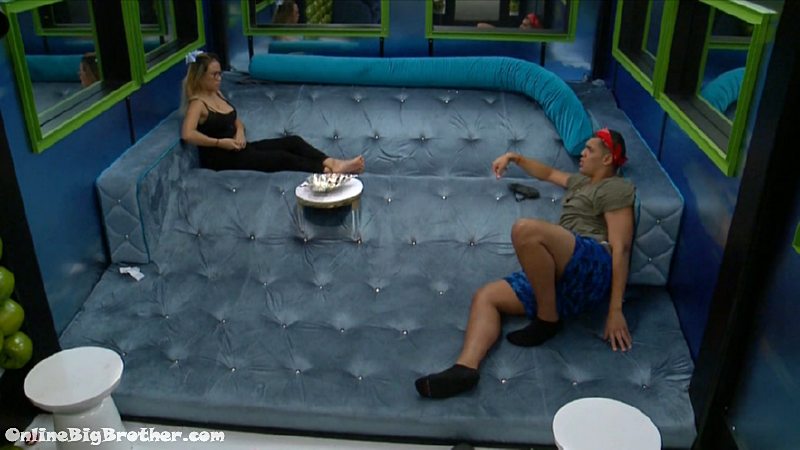 Alex – I'm confident they are getting paranoid because they don't know where xmas stand but I think xmas is solid..
Josh says he doesn't talk to xmas much but he thinks she's onboard
Alex says she thought Paul and Xmas were close but now he's saying that he's not sure what is going one, "What do you mean"
JOsh says they are all friends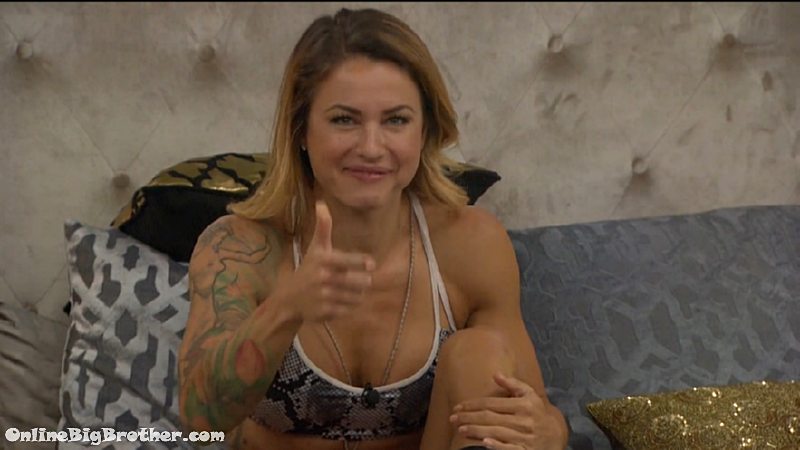 1:00pm Paul and Xmas
Paul says ALex and jason are getting worried but they are on the fence about it
They laugh..
Paul says he's trying to get jason to use the veto on Alex.
They laugh and Jason and Alex..
Paul – I'm already saying if I win I'll pull her off
Xmas says she's 100% wanting to get Jason out she'll break the tie
Paul – he's crazy as f*.. we can't have him this far in the game
Paul – at least Alex is more of a rational thinker .. when I say shit she'll be like Oh that makes sense. (Jason is an independent thinker Alex isn't)
Xmas – i'll be the tiebreaker I'm fine with that.. I told him exactly what I was doing.. He never asked me he never came for clarity
Xmas says she told him he was the target but he didn't get it
Paul – you guys cannot be this stupid… you cannot be this dumb.. how is this even possible (Alex and Jason)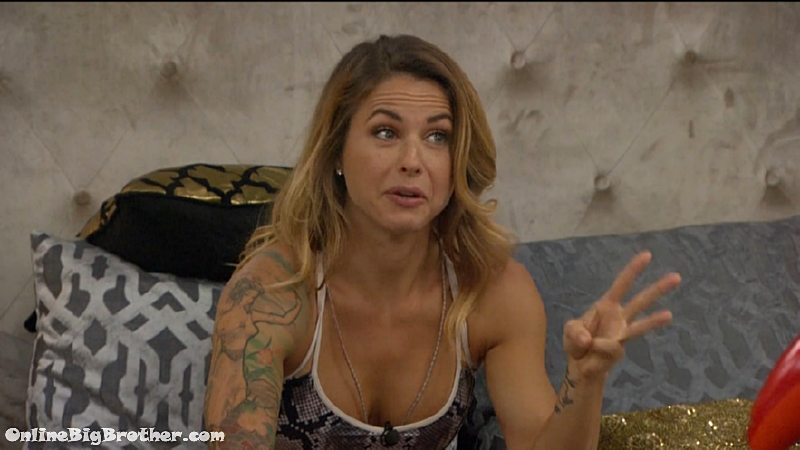 Xmas – A combination that they are a little dumb sometimes..
paul – and their ego
Xmas – and they're arrogant and we're f*ing good..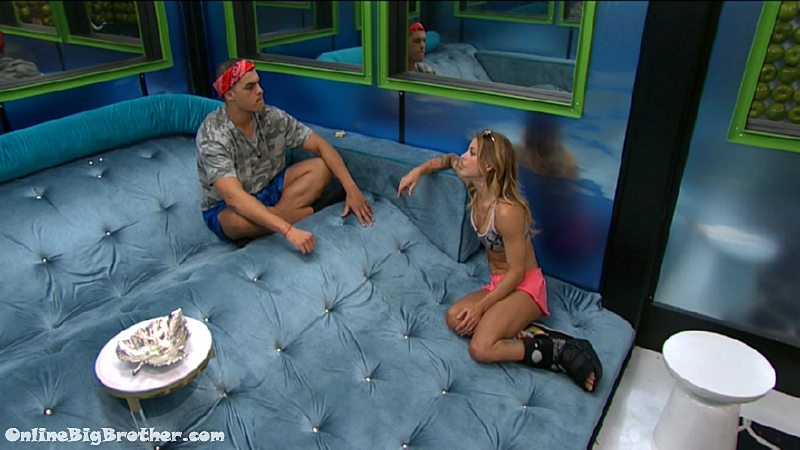 Veto Players Picked Raven, Christmas, Alex, Jason, Kevin, Paul
Josh – he's always thinking 10 steps ahead and I get it but it's always 10 steps ahead of the benefit of Paul's game
Xmas – I know but you need to stop saying that right now
Josh – this is the first time I've voiced that
Xmas – Ok heard it taken.. you keep preaching somebody is going to hear it (ZOMG.. dare speak ill of Paul)
If you plan on buying anything from Amazon. Use this link Amazon home
Doesn't cost you anything and we get a small cut.
Links to the ranking system
Rank your house guests here
For those of you that like Statistics here are some expanded reports.