POV Holder:
Dallas
Next POV
March 19th
POV Used
No
POV Ceremony
March 21th
HOH Winner:
Loveita
Next HOH:
March 17th
Original Nominations:
Cassandra and Christine
Current Nominations:
Cassandra and Christine
Last Evicted Houseguest
Paige, Sharry
Have Nots
Joel & Cassandra
Want to watch the Big Brother Canada 4 live feeds but live outside of Canada?
Bypass the geoblocking with HideMyAss VPN and be Canadian Anywhere: VPN Help Guide
ALLIANCES IN THE HOUSE
There will likely be a lot of alliances during the season – keep track with our alliance help guide.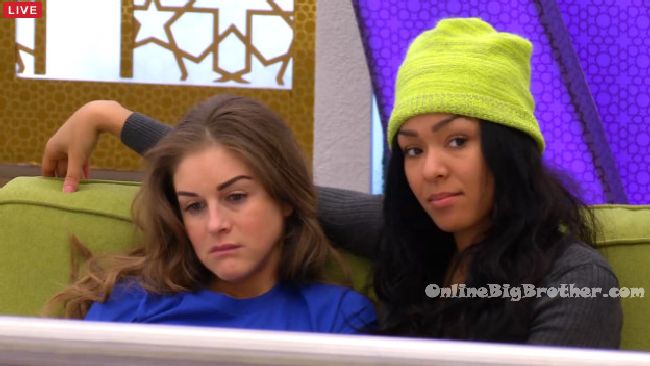 1:10pm Nikki and Loveita are sitting on the on the couches. Nikki says Phil is a good guy. His loyalty is second to none, unlike some people (Tim). I wonder what Christine thinks of the argument. Loveita says I don't know. Nikki says at least I've given him something to think about. I think I can do 1 more week in this hell hole! One week tomorrow. Loveita says no please don't go. If you do, I'll have to. Nikki says I won't go but I think I won't persuade people to not put me on the block. I don't want to be horrid. I'm being horrid to big brother because they're not listening to me. Nikki and Loveita head to the pool area.
1:25pm In the kitchen – Nikki tells Christine about how she and Tim aren't speaking. Just that he isn't going to be there for her any more. That's what friends do. They're there for each other. He had to come in and turn it around to be about him. Nikki says Tim said Big Brother lets have a party tonight and not invite Nikki.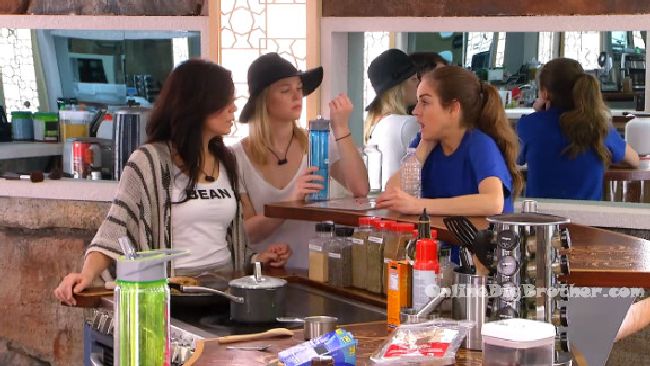 1:40pm Kitchen – Christine tells Maddy that Cassandra is a stage 5 clinger on him (Tim). I don't get how he doesn't see it. I don't know why anyone would like it. Maddy says maybe he does like it. Christine says they're super annoyed with her but I don't know if they're going to keep her or not. She keeps saying she loves me but she doesn't. She wants me to go right out that door. Cassandra asks if they know where marinara is? Christine says he might be in the ocean by now.

Tim asks Loveita can you just tell me where marinara is (the spider). Loveita says I was just trying to have fun like you do. Tim says cut the crap and tell me where he is? Loveita tells him to go look for it? Tim tells her to cut the crap and tell me where marinara is!? Loveita says no. Tim walks away. Maddy tells Loveita to go give it back. Loveita go to tell Tim and Cassandra that it was a joke. Tim says people are telling us that it was dead. Cassandra says this isn't funny. You're laughing. This isn't a joke. Loveita tells them he's not dead. He's behind the couch in the HOH room. Tim tells her to go get it. Loveita says no. If you want me to go get it, then I'll go flush it down the toilet.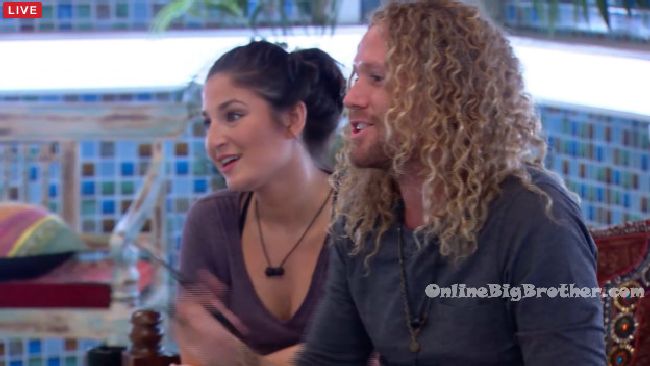 2pm – 2:15pm Cassandra tells Loveita that she knows she's being condescending towards her. Loveita says she isn't, she's just having fun with her. Cassandra says she doesn't like the way she's been treating her especially considering how she was to Loveita when she was on the block. I've been hearing things you've been saying about me. As a game move I think it was smart because you're not pissing off Jared or Dallas but I don't like the way you've treated me. And everyone sees it. I wanted to work with you and that's why I wanted you over Sharry. You made your move and I know I can't work with you. You've been gunning to get me out. It is what it is, you don't trust me. That's fine. Loveita says I wasn't trying to be condescending to you. I'm just trying to be nice to you. Cassandra says I am not going to take this personally but what I will take personally is the things that people are telling me you're saying about me right after they talk to you. I'm not to be trusted. I lie straight out of my teeth. You want me out of this house. I like Jared & Kelsey and like hanging out with them. I'm not in an alliance with them. I also want to work with you. How the f**k did I play you?! You don't trust me and that's that. For my game I can't work with someone who doesn't trust me. Loveita says I appreciate this conversation. I'll go grab Marinara and bring him to you. I'm sorry if that offended you.

By the pool – Cassandra tells Maddy and Christine about her conversation with Loveita. Cassandra says she wants to steal all of Loveita's hairs. Christine says or all her bras. At the end Cassandra says we need to get that b***h out. I just need to win HOH. Cassandra leaves. Christine tells Maddy that Cassandra is making half that sh&t up. Maddy says I now, Loveita is cheeky but..

2:40pm In the kitchen – Jared asks Tim are we confident that we have all the votes? Tim says for Cassandra to stay, yeah. Jared tells Tim it would be great if she won HOH this week so she could just retaliate. Jared asks Tim if he wants to win HOH. Tim says yeah.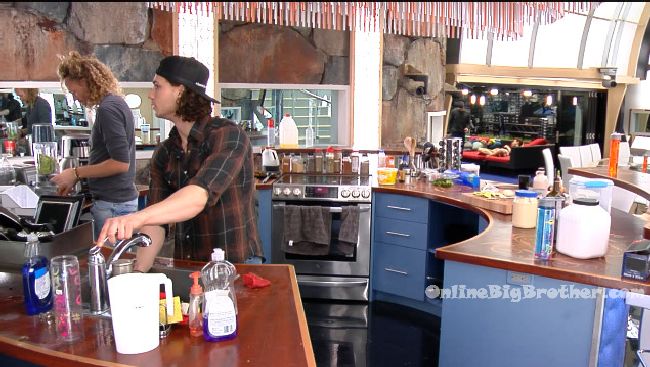 3pm In the bedroom – Mitch tells Dallas that he talked to Christine and his gut tells him to keep her. Dallas tells Mitch I'll be a shield for you if you feel like you don't want to play for that side. I'll have your back till the end. If you're on the chopping block I've go my arms wide open for you bro. Mitch says Christine is a straight shooter. Dallas says Christine is a floater. I reached out to Jared twice. I am willing to work with anyone and I'm willing to be the shield. I would love to work with you Mitch. The brothers I don't know. They're playing all sides of the house. My targets right now are to get them on the block. Dallas talks about the brothers splitting. Mitch says there will be some other side to their twist. Dallas tells Mitch you won't be third, fourth of fifth with me.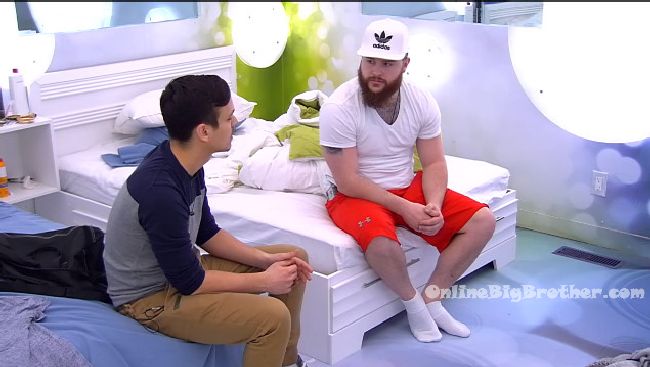 Hot Tub room – Phil and Loveita are in the hot tub. Jared and Kelsey join them for a smoke.
NICK & MADDY KISS @bigbspoilers #bbcan4 pic.twitter.com/joxwxNKHgh

— Dawg (@DawgsBigBrother) March 16, 2016



3:40pm – 3:50pm Maddy asks Nick how many girls he's slept with? Nick says like 20. Maddy says she's slept with 28 people. She says maybe 30, some I'm like did we? Did we not. All of them were people I knew though. No randoms. Maddy says she had a one night stand once but it was someone she knew. He seduced me and then we were getting down and dirty. His d**k was so small. It was so awkward. I left in the middle of the night.
3:55pm In the bathroom – Raul is contouring Kelsey's b**bs. Jared asks do girls really do this? Jared says I'm going to start telling girls I'll contour their t!ties.
@bigbspoilers #bbcan4 pic.twitter.com/mbqssPe0m2

— Dawg (@DawgsBigBrother) March 16, 2016