3:20pm Bedroom – Loveita asks Maddy if she threw her under the bus to Kelsey. Maddy says no, I hate her. I was campaigning to you all week. I even told Sharry that. Loveita asks if you were HOH would you put me up? Maddy says no. Kelsey is 100% who I'm going for. Dallas and Maddy tell Loveita she isn't even on their radar. Loveita tells them not to worry, she's not putting them up. I have your back right now.
3:30pm – 3:45pm HOH room –
Kelsey talks to Loveita again. Kelsey says just the whole trust thing. You want to know if you can trust me. I feel like we're both in the same position. This is an opportunity for us both to show if we are going to trust. Kelsey says if you want to work with us that is something we're going to have to work on. Before you had power I came to you and we did start to work on things. I find that with you we go backwards. Loveita says when I lay my cards my position stands firm. Are you going to make an emotional move? Kelsey says if had wanted to I would have voted you out last week. Loveita asks how do you feel about Cass? Kelsey says she isn't a part of the three but I like her. She helped convince people to keep you. I trust her. Kelsey says those three (Maddy, Dallas, Ramsey) you can't trust. He swore to me that he didn't vote for me and then admitted he did. Loveita says if we do this.. in this house you've been on the down and how quickly things switch. People want people to pit and the drama. I think it takes huge character and strength for us to move on.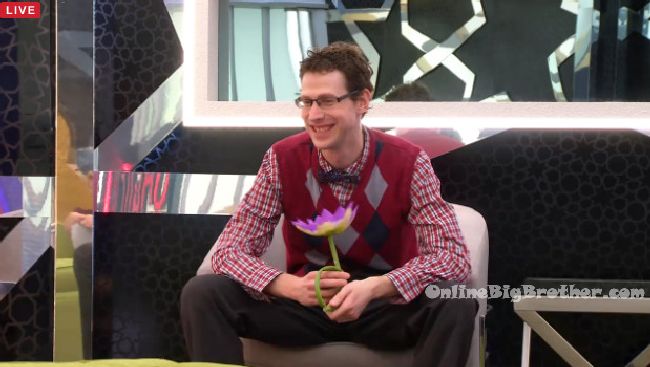 3:45pm – 3:55pm Joel and Cassandra's date is about to start. He goes to knock on the bedroom door to ask if Cassandra is there? Christine and Dallas are pretending to be Cassandra's mother and father. Joel says his plan is to have a nice eloquent meal and have her home by 9pm. Dallas tells Joel if he breaks his daughters heart, he'll break his jaw. Joel and Cassandra leave for their date in the HOH room. When they get to the HOH room door Ramsey is the host of the restaurant. They try to open the door but realize big brother has locked it. Big Brother then cuts the feeds.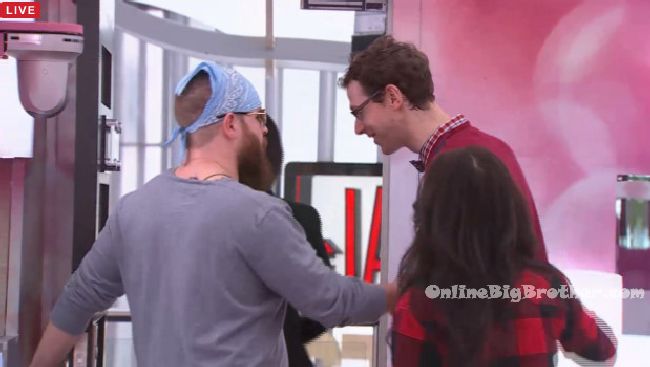 Use the Hide My Ass VPN and watch the live feeds on your mobile phones and tablets. One subscription pays for all. It works on any device. Including internet enabled TVs and games consoles. You can even use it on two devices at the same time. HideMyAss VPN
If you're using an Adblocker, you're making a kitten cry! PLEASE consider disabling it for www.onlinebigbrother.com by adding us to your whitelist.
This is very easy to do: simply load www.onlinebigbrother.com in your browser, left click the adblocker and click "disable for this site"
If don't want to but want to stop the kittens from crying, please consider making a donation.
[polldaddy poll=9341582]
Share it YO!
Tweet