POV Holder:
?
Next POV
March 12th
POV Used
?
POV Ceremony
March 14th
HOH Winner:
Loveita
Next HOH:
March 17th
Original Nominations:
? and ?
Current Nominations:
? and ?
Last Evicted Houseguest
Paige, Sharry
Have Nots
?
Use the Hide My Ass VPN and watch the live feeds on your mobile phones and tablets. One subscription pays for all. It works on any device. Including internet enabled TVs and games consoles. You can even use it on two devices at the same time. HideMyAss VPN
ALLIANCES IN THE HOUSE
There will likely be a lot of alliances during the season – keep track with our alliance help guide.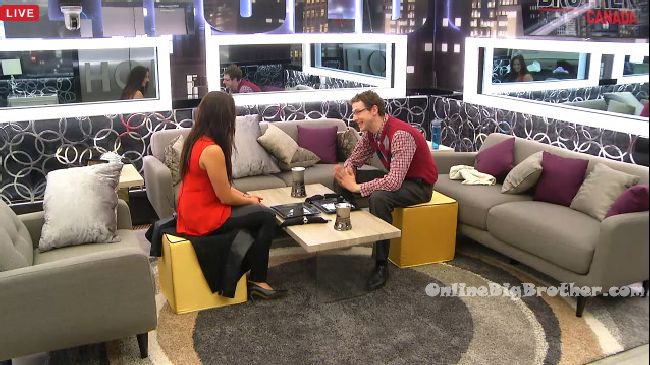 Help Support Online Big Brother
Show your support and appreciation to help keep the updates coming: Support OnlineBigBrother.com
3:55pm – 4:45pm Big Brother blocked the live feeds for an hour and when the feeds return Joel and Cassandra start their date. Cassandra asks when the last time Joel went on a date? Joel says this may sound crazy but I've never been on a date before. Cassandra asks what he does every day for work. He says that he's a switch board operator. I sit at a computer and push a bunch of buttons. Ramsey brings champagne and fruit plates. Joel double dips and Cassandra tells him to never do that on a first date. She then tells him to chew his food before he talks. Cassandra asks if he thinks this experience will get him a lot of opportunities when he gets out. Joel says he hopes it helps him in the dating world. Cassandra tells him at the bar probably isn't the best place to find a girl. She asks him what he likes to do in his off time. Joel says watch movies, play sports. Cassandra tells him to try out for co-ed teams. She asks him if he likes death metal music. Joel says no. Cassandra asks him if he has a big boy friend group. Joel says he has a good group of guys that he hangs out with. Joel says he's friends set him up on a coffee date before. Cassandra asks did you go on another date? Joel says no, she said she met someone else. Its doesn't do much for the confidence booster there.
Joel gets really quiet and Cassandra asks him what's wrong. You're getting really quiet. Joel gets up and says that he's going to go. It's just not vibing for him. It's not you its me. Joel leaves.
Joel sits on the couches outside the HOH room. Others ask him what's wrong. Joel says that everyone was upset at him that he asked Cassandra. Maddy tells him its not crazy. He says its just a lot to take in. Lovetia tells him I'm not upset at you. No ones upset at all. Joel says he wants to just sit and chill by himself for a while. Nick asks Joel if he wants to talk in the bathroom. Joel says that the whole dating thing is just new for him. Nick tells Joel that if its not right, its not right. You'll find the right girl some day. Joel asks how do you guys do this on a regular basis!? Nick pulls Joel in to comfort him. Joel says things just didn't feel right with Cassandra.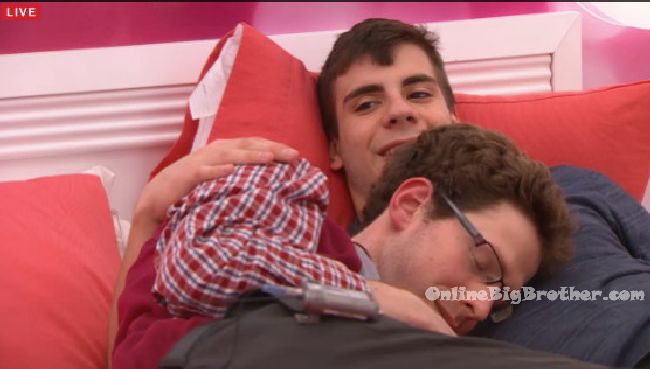 5:10pm Storage room – Tim tells Raul that he told Loveita she should consider a backdoor plan to get rid of Dallas because if you don't get rid of him now he's going to get dangerous. But she didn't want to do that. I don't think she's going to put you up.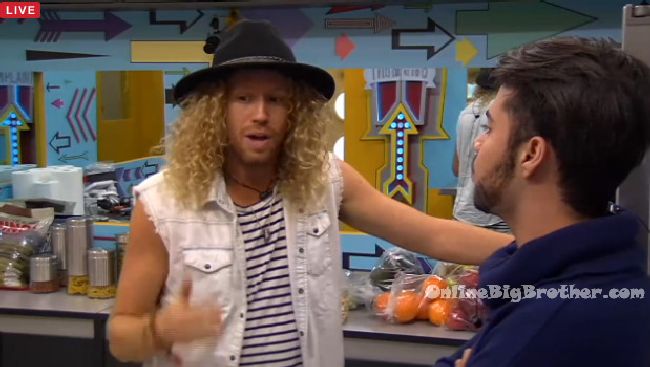 5:15pm HOH room – Cassandra sits in the HOH room alone to eat the dinner. She asks am I getting punked again!? First time for everything (Being left on a date). Big Brother then calls Cassandra to the diary room.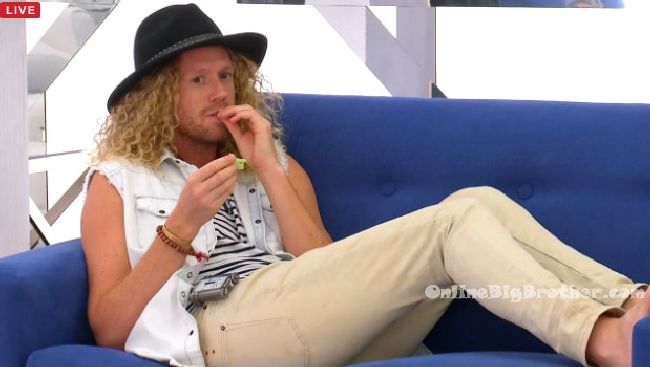 In the living room – Tim is upset that he made the meal and didn't even get a thank you. Dallas says not all Canadians are like that. Cassandra joins them. She says she doesn't know what happened and says that she was talking about different ways he could meet other girls. They tell her she should have changed the conversation. He was on a date with you. Dallas tells Cassandra to go show him your boobs.

5:25pm – 5:30pm Joel heads back to the HOH room to be alone. He starts eating the meal and finishes off his champagne. He then sits back on the couch. Nick comes in and Joel tells him he just wants to be alone. They hug and Nick leaves. When Nick leaves Joel laughs and says sucker! Cassandra joins him again in the HOH room and Joel says he just wants to be alone. Big Brother calls Joel to the diary room and then blocks the feeds again.
JOEL during his mission to punk Cassandra @bigbspoilers #bbcan4 pic.twitter.com/14UYJBpf8p

— Dawg (@DawgsBigBrother) March 11, 2016
6pm Storage room – Tim says even if you go against them, there are only three of them. Nikki asks have you had second thoughts about me being up. Loveita says no, you guys are nice people. I like you guys.
In the bedroom – Joel tells the house guests "Thanks for playing along guys!" Dallas says no problem. Thanks for the booze! Joel heads to the kitchen to finish eating his dinner. He says it feels okay now that everyone knows I was joking.
In the bathroom – Dallas says so we're going to get sauced up and then do nominations?
6:15pm – 7:30pm Big Brother blocks the feeds again… When the feeds return – The house guests got food and booze. They're all doing toasts every time a bell rings. Ramsey says cheers to the two house guests who had to leave. Tim says they didn't have to leave, you guys voted them out.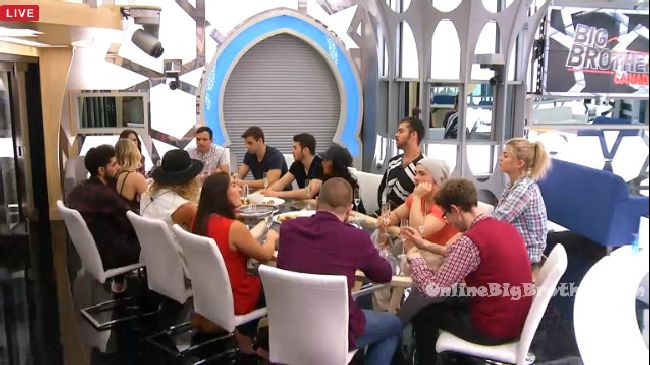 7:50pm The live feeds return again to the house guests lazing around. Loveita says that she isn't sure what her noms should be. Joel tells Loveita that Cassandra is a waste of a nomination. Nikki says but she's sneaky. Big Brother blocks the feeds again.