POV Holder:
Neda
Next POV
April 26th
POV Used
NO
POV Ceremony
April 21st
HOH Winner:
Adel
Next HOH:
April 24th
Original Nominations:
Sabrina and Rachelle
Current Nominations:
Sabrina and Rachelle
Have Nots
Neda

9am Big Brother wakes up the house guests. Heather has already been awake for awhile. She tell Adel when he gets up that she woke up with a nose bleed and couldn't go back to sleep. She says the others in the main bedroom were being super loud last night too. JOn says that he feel like he is going to die. If I can't sleep outside I am going to throw up. All I can taste is chicken fingers and rye. Rachelle asks him if he remembers everything? Jon says yes. Jon says I can't believe I smoked 3 cigars last night! Jon heads down stairs. Neda, Rachelle and Sabrina talk while they get ready. Sabrina asks Neda if Jon remembers what they talked about last night. Neda says yes. We'll talk tonight when everyone goes to sleep. Big Brother tells them they have 3 minutes before they will be on a backyard lock down. Jon is laying in the hammock. In the kitchen Rachelle asks Sabrina what she thinks is happening. Sabrina says either fans or family.


10:15am – 10:30amOut in the hot tub room – Rachelle talks to Sabrina about her making a deal with Jon/Neda. Rachelle is annoyed about hearing them talk about her going home. Rachelle says you realize everyone is going to be like why the f**k did she not get Jon out?! Sabrina says she doesn't care, I want him out. Sabrina says but you realize I can't even compete next week. If I did that I would have three people after me. Rachelle says you never know they might not. Sabrina says this guy has disrespected me so much in this game. Rachelle says its not a personal game. They would probably take you to final three anyway. Sabrina says I am not as strong as you in the physical, I am strong in mental. Rachelle says I would make that deal with them and then say f**k it. Rachelle says I don't care any more. Sabrina says I just don't want you to be mad at me. Rachelle says I'm not, I just don't want to talk about it. Sabrina says okay good, because I am kind of a lesbian with you. Rachelle talks about her Gremlin stories and then they head inside to sit by the pool.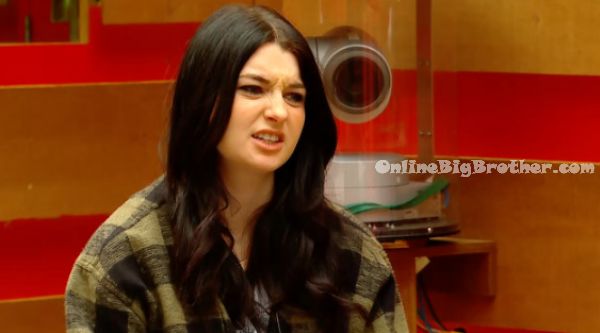 11am Neda, Jon and Heather are studying the dates of the house. Meanwhile Sabrina and Rachelle are talking about all the Gremlin things they will do together when they get out of the house. Big Brother then blocks the live feeds.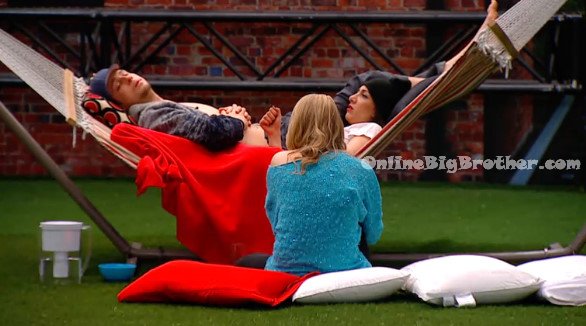 11:10am – 11:25am Heather and Neda are talking over by the weights. Neda says I would have thought Adel would have tried to make a deal with you. Heather says I thought so too. I honestly think he thinks his game is over after the Gremlins go home. The other day he was talking about how he played a good game in the beginning but not in the end. Neda says I don't think he's given up. Heather says he has something up his sleeve.. I don't know what it is. He won't even talk game with me any more. Meanwhile – Adel and Jon are out in the hot tub room – Adel says when we get rid of Sabrina, we win this game! It's game over. There is no way Sabrina or Rachelle will vote for me in the end. If we start playing game against each other we are going to ruin it. Jon tells Adel to stick to Heather. Jon comments on how he thinks Heather is acting weird today. She's using her cute voice. Adel says there is no way we shouldn't go to the final two together.. we shook on it so many times! Jon says yup! Jon heads to the backyard. Adel says I am sketching out, he's not, he's thinking .. I need to stop sketching out. I need a back up plan man. I need the 20G's .. I don't want second place I want first place. Who wants second place. Adel joins the others in the backyard.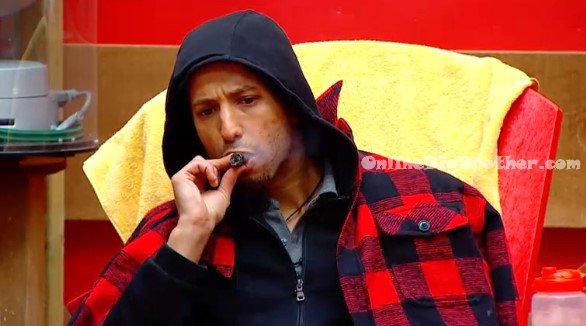 11:30am – 12pm Adel thinks the reason they had the HOH tv on all last night is because they were getting it ready for showing them family videos in the HOH room today. Heather thinks it will be in the living room with everyone else in the HOH watching on that tv. Jon farts and Neda freaks out saying it like acid. Neda comments on how Andrew's number of girls he's slept with is 400. Jon says that's what he told me. Adel says I don't even know 400 people. Neda says okay that's the point where I say that's gross. Big Brother then ends the lock down and opens up the house. The house guests head inside and realize that nothing is different.
12pm – 12:40pm Adel heads up to his HOH room and lays in bed to listen to his music. Down in the kitchen – Neda is making slop cakes while Heather, Rachelle and Sabrina cook / clean.

Stay connected and interact with other Big Brother Fans on our Facebook page.
And Follow: @BigBspoilers and @Dawgsbigbrother on Twitter for the most up to date spoilers.
If you're enjoying the live feed updates this season, please consider donating. Simon and I work 24/7 all season long to keep you updated on everything that happens inside the BBCAN house. Any amount is greatly appreciated! Your donations go directly to paying the server and bandwidth fees required to run this site.