POV Holder:
Neda
Next POV
April 26th
POV Used
NO
POV Ceremony
April 21st
HOH Winner:
Adel
Next HOH:
April 24th
Original Nominations:
Sabrina and Rachelle
Current Nominations:
Sabrina and Rachelle
Have Nots
Neda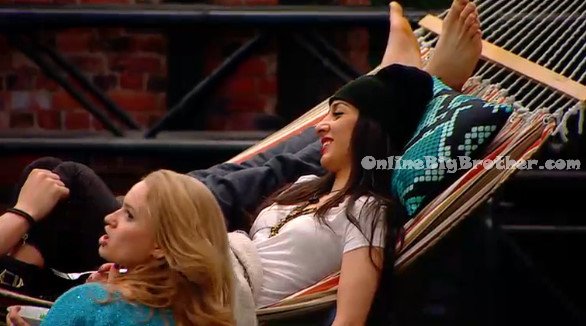 12:40pm – 1:50pm Big Brother puts the house guests on a backyard lock down again. Neda comments on how Heather's HG photo looks like she's a wax figure. Jon says Ika looks stunning! Andrew is a dunce. Big Brother wakes up the Gremlins. Sabrina says if I hated poultry before I do now! Neda agrees and says when we get out lets go kill them. Jon says that's pyscho. Neda says she just means to go help the farmers kill them. Adel says that he thinks Sabs is the most photogenic but total opposite in real life. Jon says Andrew looks like a tool. He looks like a pervert. Neda hates her own picture because he nose looks big. Jon and Neda say Paul looks exactly the same in real life. Adel says I don't think I would be friends with Sab's, Andrew or Allison. Jon says I don't think I would be friends with Sarah or Kenny after. None of them think that Andrew is waiting for Allison and that he is out there sleeping with other people. Adel asks do you think chick are going to like Arlie. Jon says no. He says he gets a lot of girls but I don't know.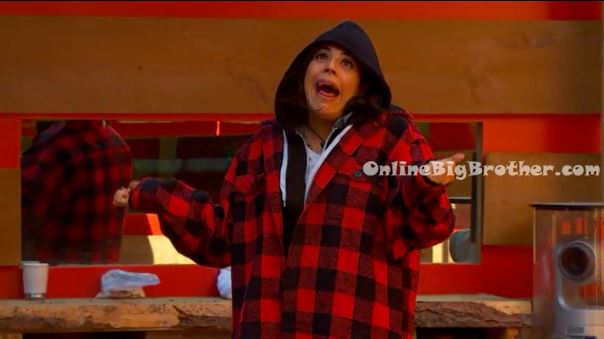 1:10pm – 2pmRachelle tells Sabrina that she saw Neda and Heather whispering earlier. Sabrina says I literally don't care if they send me home and don't follow through with what they say. Sabrina talks about all the places they're going to go and things they'll do when they get out. Sabrina and Rachelle head inside and talk to the others about why they're locked out for so long. Sabrina says its either serious big fun or serious big serious! Like something like a twist .. like serious big serious like f**k or serious big fun. Neda says she thinks the twist would be tomorrow.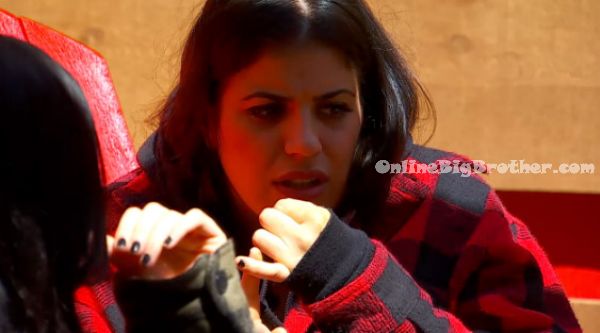 2:15pm Neda, Jon and Adel talk about how people in the house are peeing in the shower. Adel says he does it if he's in there and it just happens. Neda says that she doesn't get why people leave their soap and loofah's on the floor with people peeing in the shower. Jon says he doesn't and says you guys call me the dirt bag. Adel brings up how Jon j*rks off in the shower. Adel says someone's going to get impregnated by Jon from using the loofahs that are left on the floor of the shower.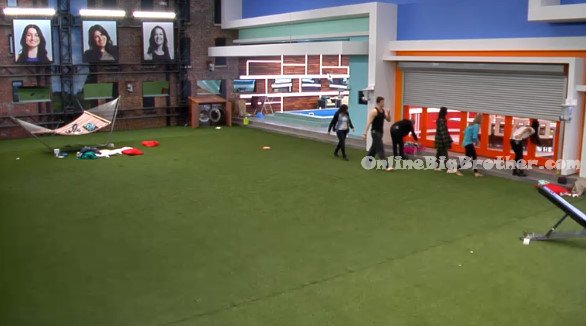 2:15pm – 2:25pmBig Brother opens up the house again and all the house guests rush inside to see if anything is different. The find a new mug shot mug and Sabrina and Neda talk about how hot the guy is. Neda says hit me up mug guy! Jon says that's all you girls care about is appearance. In the kitchen Adel tells Heather, Neda and Jon that its going to be questions about where the mugs were placed.
2:35pm – 3pm Neda joins Jon in the HOH room. She asks him what he wants to do tomorrow. Jon says he would rather take Sabs or Delli to final 3. Neda and Jon discuss either throwing the HOH to Sabrina or winning it. Jon says if we won HOH I think we should put Heather and Sabrina up. Neda says then we would have tell Sabrina that we're keeping her and we vote out Heather. Jon says its best for our game for Heather not to be here. Neda says good reasons for people not to vote for Adel is that he's floated to the end and attached himself to us. Neda asks why would people vote for Heather in the end. Jon says because they wouldn't want us to win.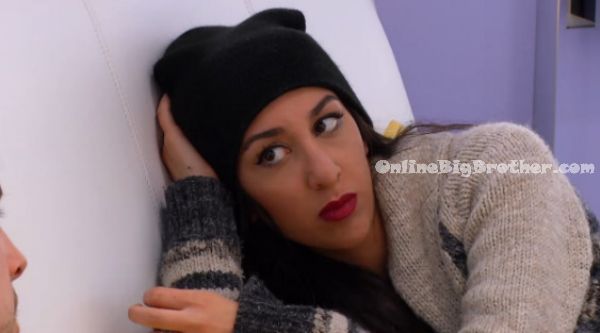 3pm – 3:30pm Adel gets the HOH camera and brings it up to the HOH room for them to take photos. Heather and Neda do a video "This is Head's & Ned's – We love you Canada!" Neda, Heather, Adel and Jon start taking photos all over the HOH room. They comment on how they'll let Sabrina and Rachelle know about the camera when they have a half hour left. They head into the main bedroom to put Neda's shirt on for the photos. Sabrina asks if something is going on. Neda says we got the camera. The Gremlins ask if they were going to tell them. Neda says we got it only like 10 minutes ago. Jon says like 5 minutes ago. Sabrina and Rachelle join them in taking photos.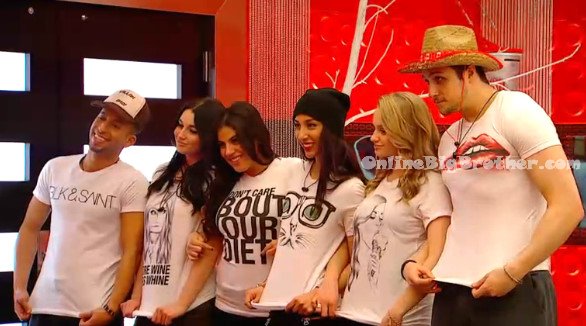 3:45pm Up in the HOH room – Adel does a video with Jon recording and says he's going to make it to final 2 maybe final 4 I don't know what's going to happen. Adel then worries that the others heard him say final 2. He tells Jon to delete it. They then do it again and Adel says final 4 with me and the sloppy seconds!

3:55pm – 4:10pm In the bedroom – Sabrina says they think they can win everything! deals off! I'm over it! I am done! Oh my god I hate them! Jon was doing this .. its not his show! Sabrina says they're awful humans!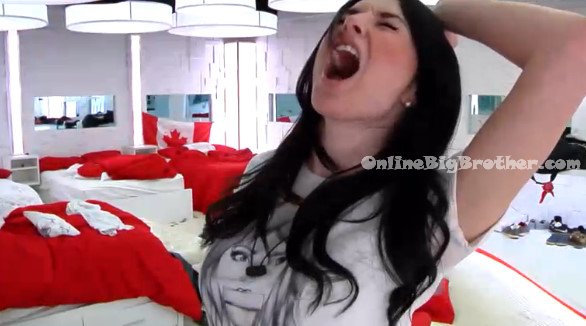 4:20pm – 5pmSabrina says I may shoot myself! I want to self-evict tomorrow! Did you see how many pictures they took without us?! And they were rushing us! I can't live in this house without you! Sabrina says they threw out your condiments. Sabrina says I'm having a heart attack. I can't feel my legs or my arms. Rachelle says don't. Sabrina asks do you see who I'm left here with! Rachelle says its kind of depressing leaving. Sabrina says its depressing staying. Rachelle says no its depressing the experience is almost done. Sabrina watches Rachelle pack her bags. Sabrina tells Rachelle I can't be here go tell him.. try and stay so that I can go home.
5:10pm Neda making slopsicles in the kitchen.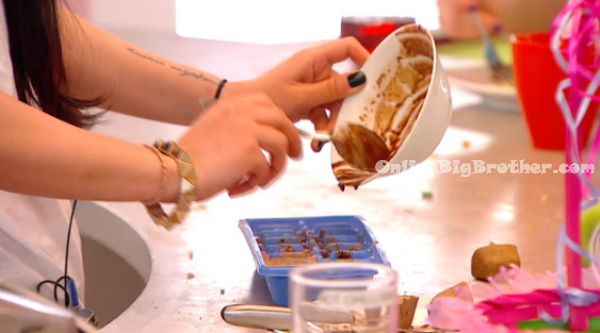 If you're enjoying the live feed updates this season, please consider donating. Simon and I work 24/7 all season long to keep you updated on everything that happens inside the BBCAN house. Any amount is greatly appreciated! Your donations go directly to paying the server and bandwidth fees required to run this site.
Stay connected and interact with other Big Brother Fans on our Facebook page.
And Follow: @BigBspoilers and @Dawgsbigbrother on Twitter for the most up to date spoilers.