POV Holder:
Neda
Next POV
April 26th
POV Used
NO
POV Ceremony
April 21st
HOH Winner:
Adel
Next HOH:
April 24th
Original Nominations:
Sabrina and Rachelle
Current Nominations:
Sabrina and Rachelle
Have Nots
Neda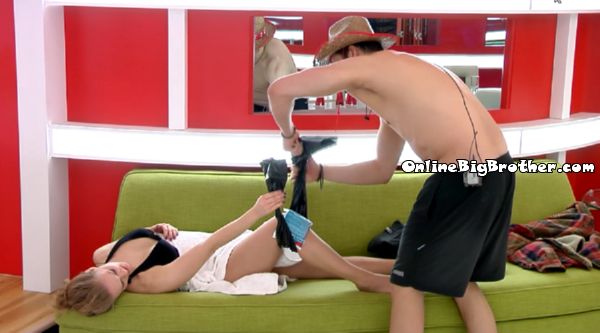 10:16pm Adel, Heather, Neda and Jon Talking about Sabrina's blow up
Jon saying it's Sabs being Sabs.. She came into the game playing the vittum and she's going to leave that way
Heather says Sabrina made her feel that way the first 3 weeks in the house.
10:30pm Heather blows out her knee playing flip cup against Jon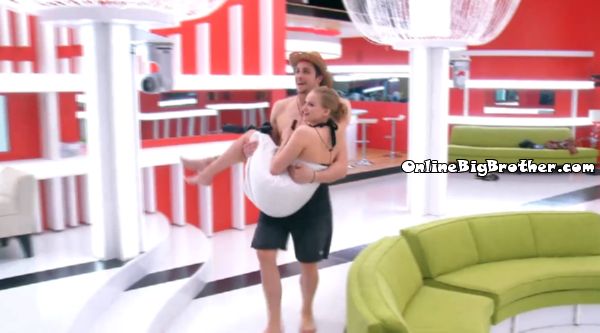 Jon Carries A hurt Heather up the stairs.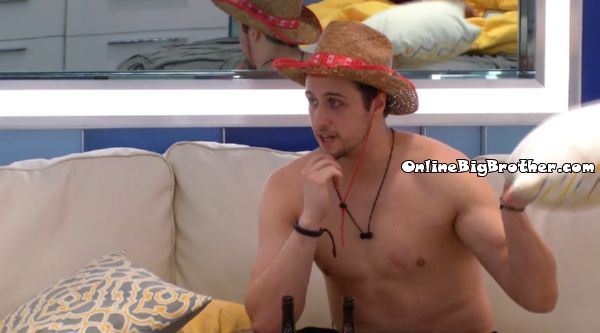 10:46pm HOH Jon (Drunk), Adel, HEather and Neda
Jon wants to study the dates but Neda doesn't feel like it'll help her. She says she doesn't study late at night very well. Jon keeps forcing them to study.
Jon – "Day 36 who was it"
Neda "I can't do it like that"
Jon – "Think about it.. Day 36"
Adel says maybe they should go over it if they are sober.
JOn keeps going through the dates with Heather.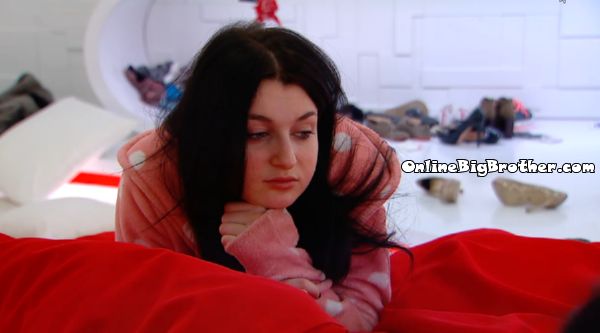 10:56pm Gremlins
Talking about how annoying Jon is getting. Sabrina points out that Jon is doing all the things he was to saying he didn't like Andrew doing. Sabrain – "You think that Andrew was stealing his spotlight"
rachelle agrees.
They both noticed Jon trying to stir up some trouble in the hot tub.
Jon Joins them asks Sabrian if she is OK
Jon – "I didn't mean to bring it up as an argument to start"
Jon says Adel was being a d1ck "He (Adel) brings it to a whole new level with his pointing"
Sabrina says she appreciates Jon's apology.
They agree to not allow Adel be mean to Sabrian when Rachelle goes on Thursday. Sabrina whimpers says she's 26 years old and has never felt this way. Jon "I guarantee you we are two people out of the 5 left in the house that it will never let that happen"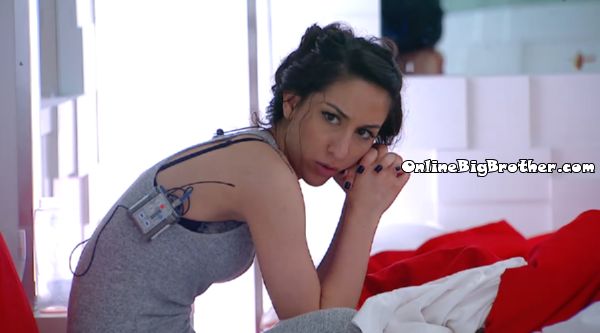 11:15pm Bedroom Sabrina Neda and Racehlle
Sabrina says everyone has lied in this game why does Adel still bring up her lies. Neda doesn't know, says she agrees everyone has said lies at this point.
JOn rolls in for a bit Neda says Jon is very drunk. Jon leaves and Sabrina starts talking about Adel being a bully to her.
JOn rolls in again says he's wasted, Neda tells him to make sure the last two beers go to Heather. Rachelle rolls in.
Jon asks Sabrina if she wins HOH who would she put up. Sabrina says she swears on the "Holy Bibe" that she will put up Heather as a pawn and Adel as the target.
Sabrina says she would rather go home one week after as long as she can get Adel out of the house. Sabrina says she knows Jon and Neda would be the smarter targets to put up next week but she's not going to do that she's going after Adel 100%.
Sabrina says Adel won the HOH by cheating he doesn't deserve to have gotten this far in the game.
Neda asks her if Heather and Adel were in the final 2 who would she target. Sabrina says Heather.
Rachelle says Heather.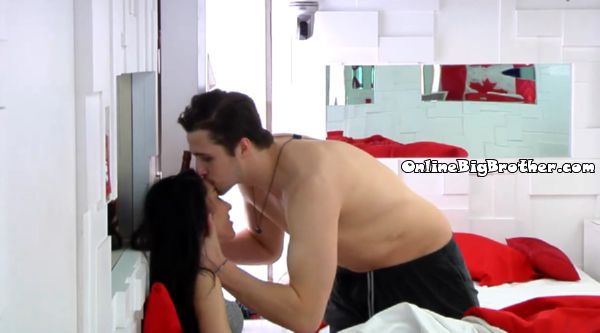 Jon and Neda ask the gremlins to leave. (This is the bedroom where the gremlins were first)
The gremlins leave.. Neda and Jon talk about how perfect everything is for them they have Sabrina after Adel.
They agree they can't stand Heather right now.
Jon Swears he'll take Neda to Final 2. Jon says Adel has been telling him NEda is pitching Final 3 with NEda and him.
Neda say Adel is lying.
Jon – "He wants to take me to final 2″
Jon – 'What's our best bet for final 3.. should we throw it to f*** sabs".
Neda – "I don't know.. It's so risky"
Jon – "I don't think you are f***g with me I'm telling you right now.. you are the only person in this f***g house I will be content taking to final 2"
Neda – "Same"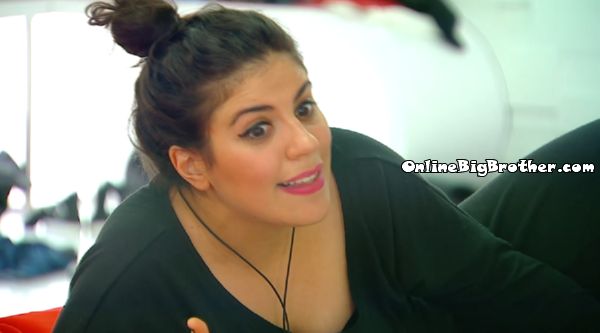 11:41pm Rachelle and Neda
Neda says Rachelle is going because everyone thinks she has a better chance to win the next HOH contents over Sabrain. Rachelle points out that Sabrina has gotten closer than her in most competitions. Neda says her and Jon are highly thinking about throwing the next HOH.
Sabrina swears she will put Heather and Adel, mentions how mean he is to her.
Sabrina – "Let's get Serious he cheated.. (in the last HOH)"
Neda – "Ya"
Neda tells her if anyone nominates her and Jon they will not be getting their vote in the jury.
Neda says if Sabrina takes out Adel she will very much consider taking Sabrina to the final 3. Sabrina says she's caught Heather twice listening in on Neda and Jon's conversation.
Sabrina makes it clear that Rachelle will put up Jon and Adel. Rachelle comes back into the room and they continue to talk about the plan to keep Sabrain to take out Adel. Rachelle points out that they told her they want to get rid of her because she can win the next HOH but they want to keep Sabrina so she can win the HOH and get rid of Adel.
Rachelle leaves to join Adel and Heather in the hot tub. Neda and Jon give Sabrina some love telling her they are considering taking her to final 3.
Neda – "If Adel leaves next week a final 3 would be a dream to me"
Sabrina pleads with them to keep her to final 3 says she will do anything for them.
JOn says it's "SMART" game move for them to keep her in the game.
(Video coming)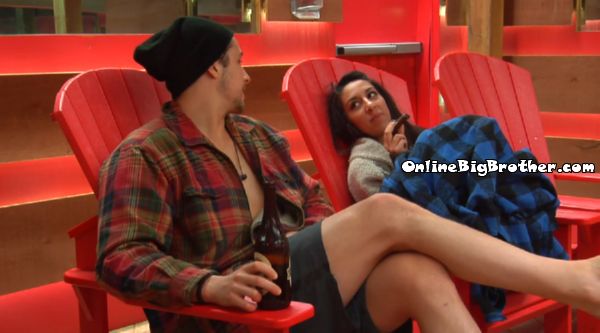 12:11AM Hot Tub
Adel is pleading with Jon to not mess anything up if they get Sabrina out next week they win thte money. Jon tells him it's done they are winning, 'Done.. DONE"
Adel – "Don't over think anything"
Adel leaves, Neda joins him.
12:38AM Jon and Heather
Jon is saying 100% he'll take her to the final 2. Jon goes on and on about how much he just wants the 20 thousand dollars it will change his life.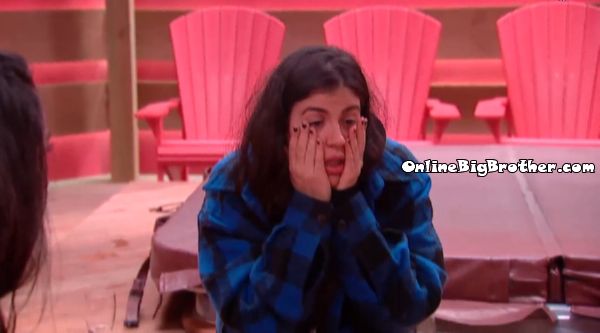 12:51AM Hot Tub Gremlins, Jon and Neda Gremlins are telling her about seeing Heather listen in on Jon and Neda earlier today while they were in the Hot Tub.
Rachelle leaves them. Neda and Jon start talking about throwing the next HOH to Sabrina so she can take out Adel.
They tell Sabrina if she takes Adel out they will take her to final 3. Sabrina says they have her word she will put up Heather and Adel.
Sabrina is worried they are lying to her because they lied to her in the past. Jon says he's "HUNDO" not lying to her.
Jon tells her he's not going to go against Neda. They tell Sabrina once Heather drops out of the Head of Household competition they will throw the competition to Sabrina.
They agree during the endurance competition when Sabrina says "I can hold on for a couple more hours" it really means she's about to drop.
1:20AM Neda and Jon both tell her 100% they will throw the HOH to Sabrina.
JOn tells them that Neda was the one that put it in his head to get Arlie out.
1:35AM Hot Tub Jon and Neda
Talking about throwing the HOH to Sabrina.
Neda – "I'll swear on whatever I don't care"
Jon – "We're so good"
They head back into the kitchen where Sabrian is eating chicken fingers. Sabrina swears up and down she's onboard with getting Adel out next week.
1:56am Gremlins Sabrina says Jon and Neda are throwing the HOH to her so she can take out Adel.
She adds that they told her if she doesn't put them up they will take her over Heather. Rachelle doesn't believe that.
Sabrina doesn't believe it either. Sabrina says at least she will be able to get Adel out she knows she'll be the target the week after that.
Jon briefly rolls by and visits them.
[polldaddy poll=7983425]