POV Holder:
?
Next POV
?
POV Used
?
POV Ceremony
April 7
HOH Winner:
Heather
Next HOH:
Apr 10
Original Nominations:
?
Current Nominations:
?
Have Nots
Sarah (didn't use slop pass), Kenny, Rachelle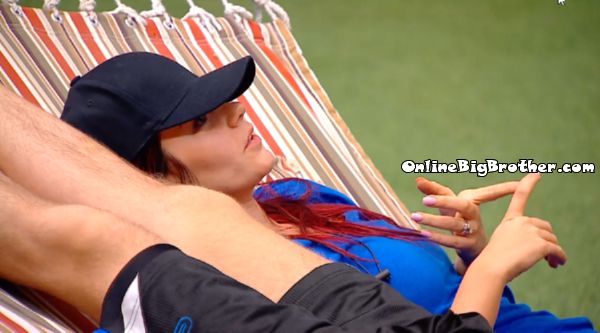 8:25pm Hammock Kenny, Momzi and Arlie
Sarah thinks "Its" going to be the next "prize thing" and it's going to be big. Sarah is depressed says she's an decision for not using her slop pass. Arlie says it's a good idea it'll pay of in the long run. Sarah just really needs a letter from home.
Kenny leaves to go eat slop.
Sarah says she "Loves' Arlie.
Arlie says he "Loves" her.
Arlie says he may have been able to talk the other side into not backdooring Kenny.
Arlie says there's a chance Kenny will stay. Sarah knows but isn't getting her hopes up. She says Kenny has told her he will hold nothing against her in this game so is emotionally clear.
Sarah – Jon told me thing that led me to believe JOn is catching on to you're great position in the game"
Arelie says he's not naive he knows they will eventually figure out what he's doing he thinks two more weeks and his game will be exposed.
Arlie tells her the best thing for their game is for Kenny to win the Power of Veto.
Sarah – Are you going to take one of those two idiots until the end because they'll give you the money"
Arlie- "you and jon that's my plan"
Arlie completely believes that bringing a solid alliance to final three is better than bringing 2 idiots.
Sarah is worried come final 4 Jon will take one of them out and bring Neda.
Arlie has thought through all the angles he still thinks the best is to take a strong alliance to go.
Arlie would be very upset with the game if Adel and Neda made it to the final 3
Sarah says when they were told by Production to pack their bags and head downstairs Sabrina whispered to Rachelle saying she loves her and Rachelle will understand when she gets out of the house and watches the episodes. After nothing happened Rachelle started asking Sabrina what she met
Rachelle join them "Well if I wasn't going on the block I sure are now"
Rachelle – 'I'm being punished for eating a fuzzy peach"
Arlie – The punishment should be redone.. not Rachelle's .. the.. it just has to be
Sarah – Then again it's probably something we haven't thought of.
Arlie – I don't think so
Arlie says part of the punishment was making them believe there was a instant eviction
Arlie says when you opened your "Thing" and you had 700 items of jewelry
Sarah – "I would have said to her take any one of those items.
Arlie says he hates how production is so Strict about things but nothing ever is done. Sarah agrees says that is what is making her mad about last HOH challenge.
They talk about the HOH competition and Sarah doesn't think it was fair. Before they were told to not hit the buzzers until after the question was asked but the players that didn't last night won. Arlie explains that this game isn't fair and it's not meant to be, "I just accept that"
(This video is huge and is taking some time to upload)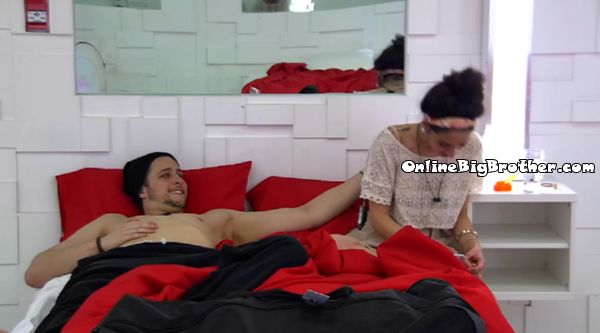 8:33pm Neda, Jon and Heather Bedroom
Neda is ranting about Sabrina.
Jon says if you are a have not why don't you eat whatever the f*** you want and deal with the cold showers.
Jon – "Especially if you know you are going home"
Neda thinks the punishment will get worse.
Heather – "I'm going to be pissed if it's instant eviction and I don't get to celebrate with Vodka"
Heather – "I want my root beer vodka"
Rachelle got a penalty for eating during being a have nots. She gets cold showers for 48 hours.
8:40pm Heather and Neda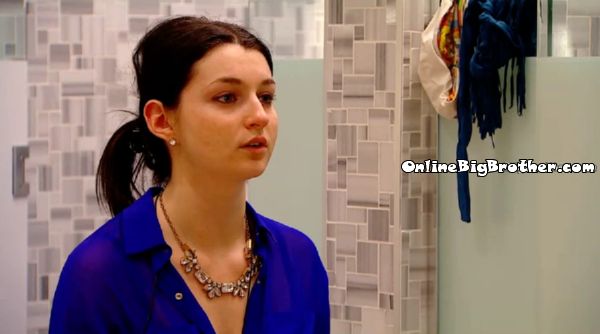 8:49pm Bathroom Heather and Rachelle
Rachelle was one of the reason the houseguests got a penalty she ate candy while on slop. Heather lost her HOH room.
Rachelle asks Heather if she's OK and Apologizes.
Heather -"I understand that accidents are accidents.. I'm not happiest person right now. Rachelle just leave it.. you've been on slop before you know better."
Rachelle – it was an accident.. I was stressed I had just heard that If I would go up I would go home.. I was so stressed out I was not thinking at all.. "
Heather – "I don't know what you want me to say"
Rachelle- "I apologize"
Heather – Thank you for apologizing.. I feel bad that you feel bad but i'm not going to tell you it's OK.. people are going to be on slop for POV and I can't shower.. I have to host" .
Heather I know it's an accident but I'm not going to be OH HONEY OH HONEY.. really I am upset"
9:20pm Arlie and Allison
9:25 Sarah and Jon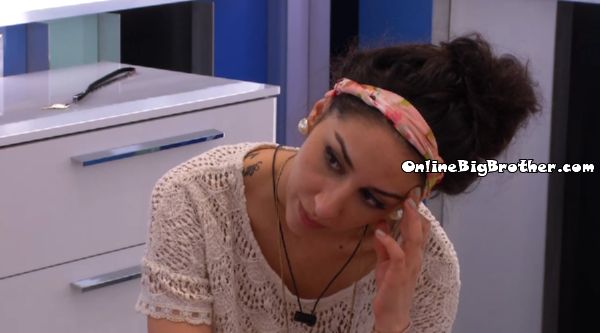 9:26pm HOH Jon heather and Neda
Heather says she is putting up Kenny and Allison. She will tell Allison she is a pawn and KEnny is the target.
Neda says the best thing is to make sure Allison is not upset about it they have to talk to her and make her feel safe. Their boot list is Kenny, Allison, Sabrina and Racehlle.
Heather says Sabrina and rachelle have been telling her to put Allison up against Kennt.
Heather adds Allison told her to put up Kenny and Jon.
[polldaddy poll=7935497]