POV Holder:
?
Next POV
April 12th
POV Used
?
POV Ceremony
April 14th
HOH Winner:
Jon
Next HOH:
April 17th
Original Nominations:
?
Current Nominations:
?
Have Nots
Neda, Arlie, Rachelle and Heather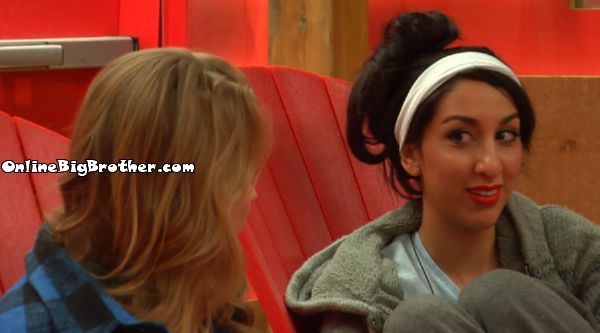 8:38pm Hot Tub Heather and Neda
Jon tells them he's never seen someone campaign as hard as Sabrina. Heather says she cannot believe Sabrain is trying to make deal to keep her. Gremlins join them for a second.. Jon leaves with the gremlins.
Jon leaves. The girls start talking about how potent Sabrina is. Neda mentions how Sabrian is able to make valid points when she talks and it makes you forget all the Bullsh!t she was involved. They both agree Sabrina is much more dangerous than Rachelle even though Sabrina is useless in compe her social game is on point.
Neda – "With rho.. nothing is there.. nothing is there.." (Rho is Racehlle's nickname)
Heather – "she might be book smart but that is all she got going on up there sometimes."
They both agree to talk to Allison and get her onboard then go to Jon together.
Heather – "Adel will have no problem with it"
Neda – Jon doesn't give a F*** which gremlin goes.
They agree Rachelle would come to them once Sabrina is gone and they could use her to get rid of a bigger target.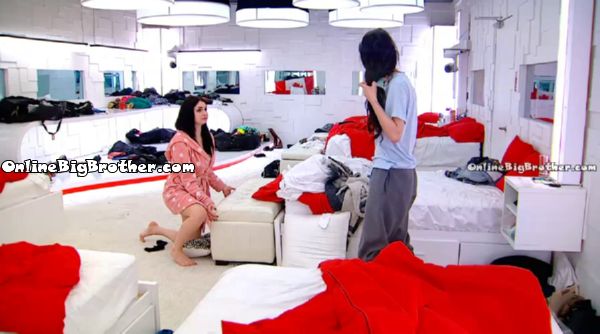 8:47pm bedroom
Neda tells Rachelle she's talked Heather to keep her all she needs to do is work on Allison, Jon and Arlie. She recommends Rachelle fight like hell for the POV cause it's hard to get the votes.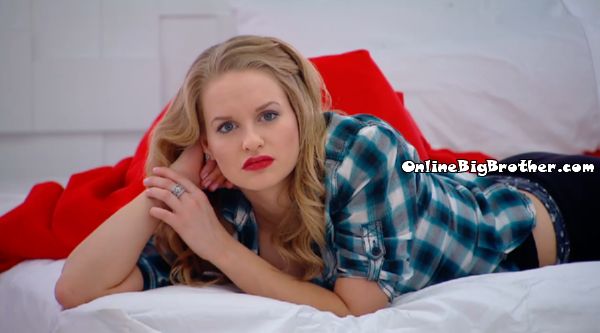 9:00pm Adel, Heather and Neda
Adel tells them if they want to get any information out of Jon now is the time because she is really drunk.
Adel leaves. Neda wants to run through scenarios, "Who will Arlie put up if he wins HOH.. I think he'll put up a big target"
Their conversation ends prematurely as Jon and Allison come in and out of the room. Allison stay for a bit chit chat…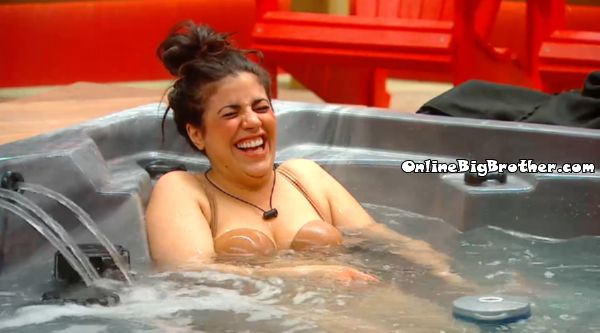 9:15pm Gremlins
Talking about the smartest thing for Jon to do is to backdoor Arlie.
Sabrina points out how Heather and Neda are now best friends.
Rachelle says she hates heather "She gives me the hebejebes"
Rachelle says she will be furious if Heather makes it to final 2. Sabrina doesn't see it happening she thinks Heather is the next to gto.
Rachelle says in the Jury house she is going to be mean to Heather,"I'm like that I'm mean to people.. umm I'm nice"
Rachelle – "It stinks like f*** chemicals in here"
Sabrina laughs says it might be because they are trying to sanitize the pee.
Rachelle says it feels different that Kenny and Sarah are gone.
Sabrina – "Ya it feels magnificent"
Sabrina says Sarah and Kenny were so mean to her she doesn't care they are gone.
Sabrain – "They are gone because of everything they did badly" they did in the house.
Sabrina – "I'm here because everyone knows I didn't"
Sabrina says Allison is the worst she hopes Andrew never talks to her.
Rachelle – "She's so weird"
Sabrina brings up Allison saying she has low self esteem, "I can see it"
Jon listens in on their conversation walks in while they are talking about him.
Rachelle is saying she cannot believe theses are the final people. Sabrina and Rachelle agree Jon is a secure guy. Sabrina says she's sure he's said sh!t everyone has, "He was the one that said Neda is wrapped around his little finger not Neda" .
Jon walks in.
Sabrina puts on a smile "Oh we were just talking about you"
Sabrina – "can I ask you a question do you trust Arlie"
Jon – "I'm not going to answer"
Sabrina – "do you think Arlie will take you out"
Jon- " Yes "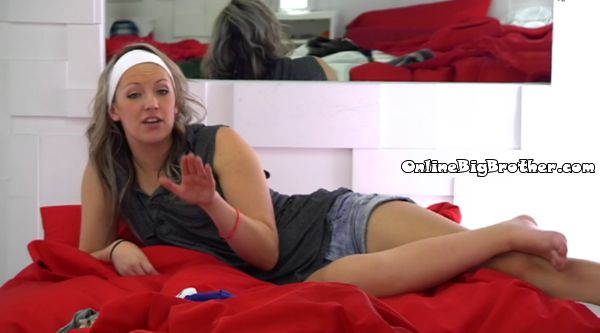 9:58pm Bedroom Heather, Allison and Neda
Talking about how dangerous Sabrina still is in the game. Allison says she only has one angle left she's trying to talk Jon into keeping her and offering up the gremlins as puppets.
Allison – "her game is her mouth.. unfortunately for her she let her mouth go too far if she could control it she would have made it to the end"
Neda says she wants Sabrina gone before Rachelle, "Rachelle is book smart.. Sabrina's mouth f*** scares me"
Heather mentions if Sabrina wins she will take out their strongest person but if Rachelle stays and she won they could persuade her into nominated who they want.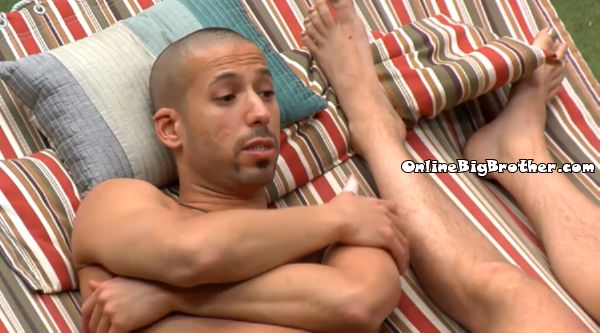 10:04pm Hammock Adel and Arlie
Arlie says sooner of later Allison has to go he knows Sabrina is bad for them he's not sure that Allison is.
Arlie – "Sabrian is bad for me and you and she's not bad for Jon and Neda.. Allison has to go to obviously"
Deli says he's not talking to Allison because in his mind after the gremlins go she will.
Adel says when Jon is drunk he gets on everyone's nerves, "We have to let Jon to keep getting as drunk as possible"
10:19 Jon and Arlie Hammock
Jon says Allison and heather scare the f** out of him.
Jon proposes they keep Rachelle and if she wins the endurance competition next week she will come up to them and owe them for
Jon – Holy f*** we have so much sway right now"
Jon – Allison makes Heather cocky as f** and more prone to make the big moves"
Arlie – Allison is scary
10:28pm Bathroom
Sabrina tells Rachelle she thinks Jon is going to go through with keeping them because it's his best chance to get rid of someone BIG. Sabrina points out that Arlie is acting weird right now. Racehlle agrees she's noticed Arlie acting different right now.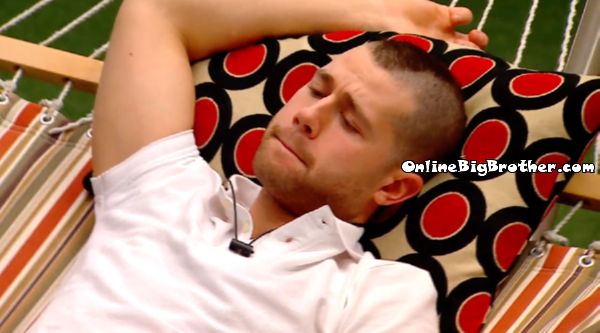 10:30pm Hammock Arlie and Heather.
Arlie tells Heather that him, Adel and her would really start looking our for each other.
Heather thinks they should get rid of Sabrina this week. Arlie doesn't have his mind made up he's open to anything.
Heather says the one thing about the sloppies that she likes is they are all stand up people, She's still on board with going to final 5 with them all.
Arlie says heather and him were the start of the sl*ppy seconds.
heather says me you and Jon, "What do you think of JOn"
Arlie – I don't know"
Heather – "Well he's trustworthy that is why we picked him"
Arlie brings up that it's coming down to it soon… Arlie is a bit worried of Allison.
Heather says Allison is a good person she thinks she's strong but will be a problem later.
Arlie asks her who she feels better with Allison or Deli. Heather says Deli.
Arlie agrees 100% "It's very important for me and out to stay with him.. this week is good one of the gremlins is going home this week"
Adel joins them says he's worried that someone is going to jump the gun and try to get "sketchy and Loopy"
Arlie says a gremlin is going home this week 1 hundo. Arlie wants both Gremlins gone first.
Heather warns them about Sabrina's mouth.
Adel – "I'm not believing her I don't give a F***"

[polldaddy poll=7958558]