POV Holder:
?
Next POV
April 12th
POV Used
?
POV Ceremony
April 14th
HOH Winner:
Jon
Next HOH:
April 17th
Original Nominations:
?
Current Nominations:
?
Have Nots
Neda, Arlie, Rachelle and Heather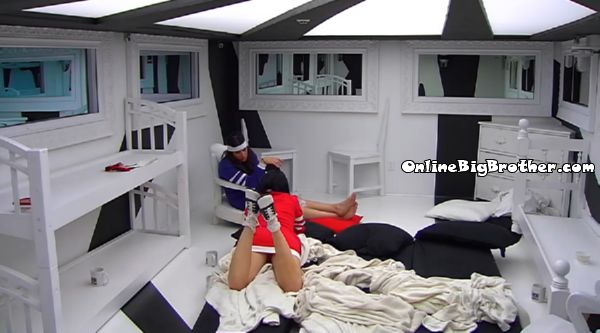 6:37pm Have not Sabrina and Rachelle
Sabrina is saying she's not thinking JOn is listening to their idea of putting Arlie and Alison up she thinks they house wants her gone.
Rachelle say Jon is being so stupid.
Sabrina tries to be optimistic says they never know what will happen.
Sabrina says she's not going to start asking people for votes, "If we're both on the block one of us is going home"
6:47pm
Frat party opens up for Allison Sabrina, Jon and Adel
Arlie moons the frat party from the inside
They keep commenting on how there is no food in for their party. There's plenty of beer though. Jon find a novel (Presumed innocent) for them to read.
Adel – This party sucks
Sabrina wants to read the book to the group. She starts reading but nobody really listens.
Theres a phone part of the props. Adel tries to call his mom.
The props are pretty funny, Atari 2600, crate of records, Old TV, ping pong table, Beer empties,
Sabrina says she thinks Arlie looks so hot in his have nots outfit. She wants to change her choices of who the two guys she would marry in the big brother house from Kenny/Jon to Arlie/Jon.
Jon wonders if it's because Kenny is gay..
Adel asks Big Brother if he can go inside and make them some food they are hungry. Big Brother doesn't answer. Allison says she's going to get smashed with all this alcohol and no food.
Jon and Allison are on the couch pounding drinks , Sabrina and Adel are playing ping pong.
Allison says she's getting wasted, Adel tells them they need to pick up their ping pong games cause he's wants a "GOOD" match. (Adel is really good at ping pong)
Allison tells Jon if he gets a Pandora's box he should open it. Jon isn't sure thinks there might be something that will ruin his game. Allison say it never ruins your game it's usually is a fun thing. (Pandora's box will f*** your game for real)
Jon yells out asking Arlie to throw in a pizza for them.
While Adel and Sabrian play ping pong they briefly talk about Kenny and how there was no sign that he was gay.
Jon and Allison crack some more beers and set up to play beer pong. Jon throws the ball and gets in in. Allison – "AHH I wasn't ready to blow" (They try to blow the ping pong ball so it doesn't land into the cup)
Jon – "You should always be ready to blow"
While they play beer pong Allison starts to impersonate Jon dancing last night, Jon – "Ya I was drunk last night"
Allison – "I'm so drunk" Allison calls Jon out for not drinking enough, "Don't make me the only drunk one"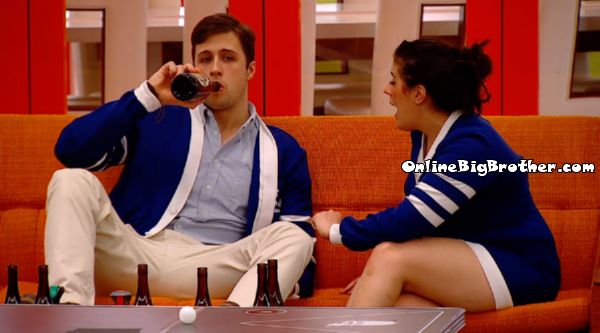 7:33pm Jon and Sabrina
Sabrina says Sarah was the one spreading all the lies to her about JOn and it twisted things for her.
Jon tells her there was no plan to get Sarah out the plan was Kenny. Jon adds that Arlie and him gave Sarah every opportunity to join them but she didn't.
Sabrina – "so you were leaving me on my own.. thanks I can't wait until you watch the show"
Jon – "1 Hundo"
Sabrina goes on and on about how it was Kenny and Sabrina spreading the lies about Jon and corrupting her opinion of him.
Camera flips to the ping pong game between Allison and Adel. Adel keeps telling Allison they have to drink up because they don't want to have it go to waste Big Brother won't let them bring it into the house.
They start talking about Andrew. Allison say he's a pretty cool guy and she likes him and would want to continue something when she is out of the hose.
Adel says Andrew is a cool guy.
Allison mention that when she came into the game she latched onto Andrew right away.
Adel says that was a smart game move
Allison isn't sure say she's still trying to shake off her relationship with Andrew.
Allison tells him if he ever heard she was after him it's because she was brainwashed by the other side.
Adel tells her not to sweat it he doesn't hold anything against people.
Allison tells him Adel was loyal through the entire game.
Adel knows says it's the only reason why he's left.
Allison feels bad because she turned on her alliance after Andrew left.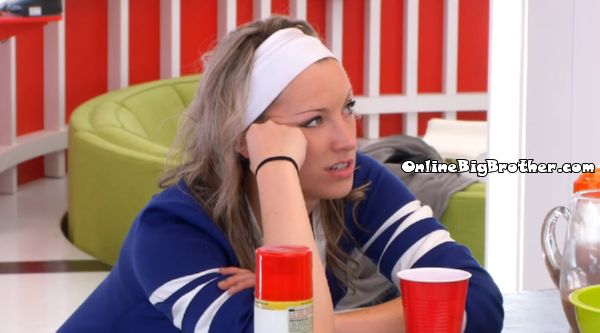 7:52pm Party is over. Allison, Arlie and Jon in the Kitchen
Talking about Sabrina trying to talk Jon into doing not putting her up and joining the gremlins. Arlie sarcastically says "Ya Jon throw your entire game away"
While in the bathroom Sabrina tells Rachelle "I think we're good"
Jon Leaves.
Allison says she's on board with getting out Sabrian this week, She does like Sab as a person but she has the feeling Sab will be a bitter person when the show is over.
Allison is terrified one of them will not get HOH next week because so many of their side is on slop and Sabrain might win HOH and put up Alrie and her.
Arlie isn't worried about Sabrina winning the HOH he points out every time Sabrina had to win a HOH or POV when her life was on the line she froze under pressure.
Allison and Arlie agree that Jon is "Dipping his toes" everywhere. Allison points out regardless of what Jon says he is not going to turn his back on Neda.
Allison – "I don't know where Deli lies.. I know you are close to him"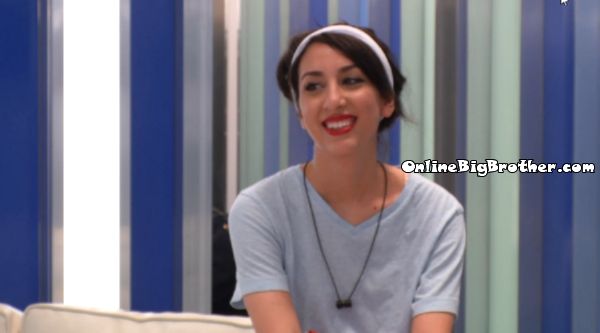 8:06pm HOH Neda and Jon
They briefly talk about Jon telling people neda hid the sugar, Neda is still made because of the damage it did to her game. Jon Apologizes again for it.
Jon swear to her on everything on his life he will never turn on NEda
Jon – "Neda you are the only person I care about in this house.. genuinely care about"
Jon – "I will f*** my game to campaign to keep you here.. I'm telling you right now I would 100%"
Jon tells her if they are not life long friends they he will be rattled
Heather joins them asks how was Sabrina's talk outside. Jon moans says she offered him Rachelle and her as puppets all season.
Jon – Apparently Sarah said a bunch of sh!t about me.
[polldaddy poll=7958558]