Big Brother 13 Live Feeds Can be watched on your iPhone and Android Mobile devices sign up -> Watch Big Brother 13 on Your iPhone or Android Phone
5:51pm Adam and Porsche Adam telling her in order for them to get to final 3 they have to win the Next HOH and POV. Porsche knows. Adam :"It's going to be blood" Adam: "You know JR are taking each other" Porsche knows.
Adam: "I tell ya.. I know you're a bit shaken up about the show but it's a good thing" He explains that right now he believes they are safe but give things time and yo never know what happens. He also thinks given time Kalia will drive him crazy.
Adam: 'My first snap shot for the season was rachel walking in with that Big Red hair and white dress"
Porsche: "It was purple"
Adam: "Oh I remember it to be red… I remember turnign to Dom saying My girlfriend is going to kill me"
Porsche: "why "
Adam: "I like foxy red heads.. my girlfriend said before the show I HOPE SHE'S (rachel) NOT ON IT… then I saw Dick walk in and was like… HOLY SHIT IT's DICK 🙂 .. Holy shit it's dick 🙁 "
They start talking about previous season of BB.. Adam hated Cappy from BB6. HE points out how annoying Ivette was saying "cappy" all the time.. the thinks Kalia calling Dom "PT" was almost as annoying.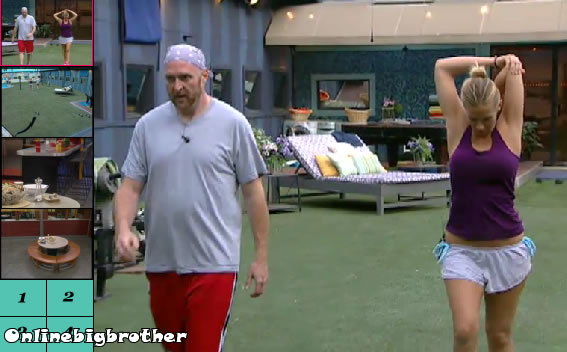 6:35pm ADam and Porsche walking laps
Adam is saying he's pretty sure they are going to keep POrsche. Adam thinks the worst that could happen is Jordan makes Rachel do the dirty work and vote out Kalia. PORsche wonders if Kalia is trying to sell Jordan and Kalia a final 3 deal with the promise she'll win HOH and Take Adam out. Adam thinks it's a possibility but eviction is tomorrow..
They start going over who can beat who in the final 2. Adam thinks he has a chance against Jordan but not Rachel. Adam adds that Rachel will not get Dani's vote regardless. Porsche knows Dani will not vote for rachel and she thinks it won't look good on Dani's part.
(Their walking back and forth in the backyard.. Their counting when they hit either the house or back wall. each time they hit a number that coincides with a special date in the big brother house they explained what happened.
6:50pm Purple Room Rachel and Jordan Jordan is fighting for Porsche to stay. She really thinks that Kalia is going to win HOH.. Jordan is convinced that Kalia or POrsche will take Adam to the finals so keeping POrsche is better she will not win HOH. Jordan thinks POrsche will get flustered during the HOH and Faces. She also points out that Porsche never studies. (Porsche studying all the time actually) Jordan saw Kalia studying the memory wall she was talking to herself and is sounded like she really knew her stuff. Jrodan is sure she can Beat POrsche in the next HOH and Veto but isn't sure she can Beat Kalia in the HOH. Rachel doesn't know what they should do.. Jordan very much wants Kalia out of the house.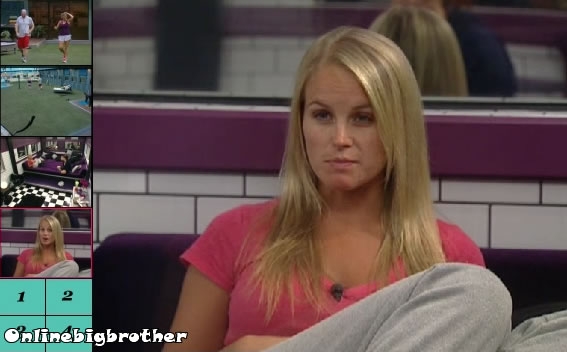 6:55pm purple room Porsche and Rachel
Porsche tells Rachel that she's worried Jordan will vote to save Kalia to try and get a jury vote. Porsche says if it's a tie breaker and rachel keep her she'll do everything in her power to keep Rachel Safe next week. Rachel and Porsche Shake on it, Porsche: "I swear". Rachel doesn't trust Kalia and Kalia has lied to rachel the entire season. Porsche points out that
Rachel: "do you have a final 2 deal with Adam?"
Porsche: "No.. I don't think Adam will choose me over Jordan"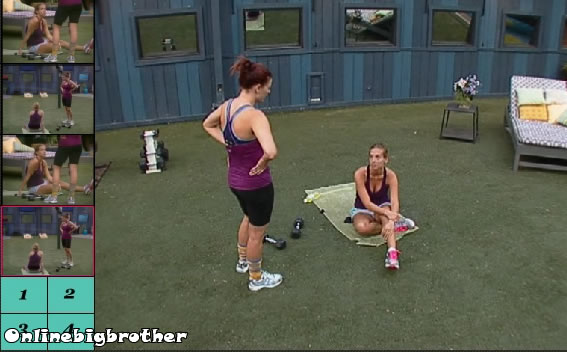 7:07pm Porsche stretching rachel running laps moments before Rachel started running POrsche says the only way for her to stay in this game is for her to win HOH this week. Rachel doesn't think that is true, she believes that for some people keep Porsche around is a good idea. Rachel starts to run.
Rachel: "you know if Miami screws over las vegas there won't be a summer music festival, electric bikini Jam…". Porsche laughs (these are events Rachel and POrsche had planned week 2 and 3 when they were best friends)
Rachel: "Big Boobed cocktail waitresses can do something to"
Porsche brings up Adam saying he has a thinig for "red heads and big jugs"
7:12pm bathroom PA
Porsche tells Adam she made a deal with Rachel that Rachel will save Porsche this week if it's a tie and in return Porsche will not take out Rachel if Porsche win Veto. Adam says this next HOH and POV you got to win it for you I got to win it for me. Adam explains that this is the way he wanted it everyone has to win the comp for themselves, he believes they all have a equal chance right now.
Porsche brings up Rachel asking her if she had a final 2 with Adam. Adam knows that Kalia has been telling Rachel and Jordan maybe thinking that. Adam says they have no final 2 deal they've always were cool with each other and jsut wanted to see what happens.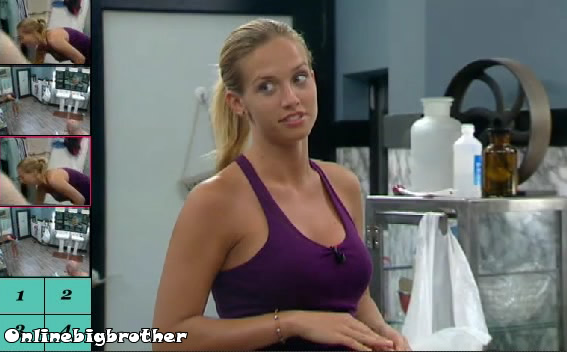 Adam tells her whatever happens happens. Porsche brings up that if she has Rachel and Adam's vote this week she's not going to campaign for Jordan's vote. She wants him to know if He wins HOH and she wins Veto she's going to take out Jordan.. She doesn't want him to be upset she knows they are close. Adam is cool about it, in his mind everyone from here on in needs to win comps to deserve to go on. Porsche thinks they all deserve to win at this point surviving this "HELL summer"
Porsche mentions that she didn't have to make a deal in a long time, but had to make one with Rachel just to be sure.
POrsche starts walking away.. Adam: "Hold up hold up.. whatever happens happens.. but if one of us makes the money that person pays for the Bourbon Trail"
Porsche says "Yup deal
Adam: "thats a deal we can make"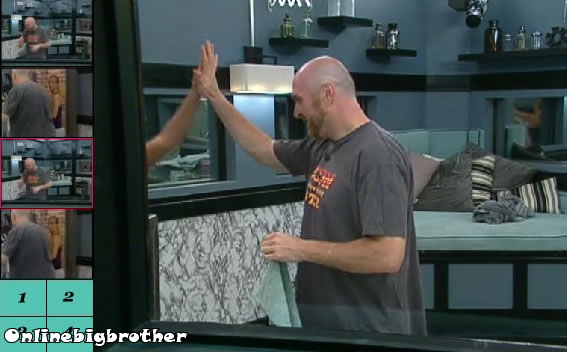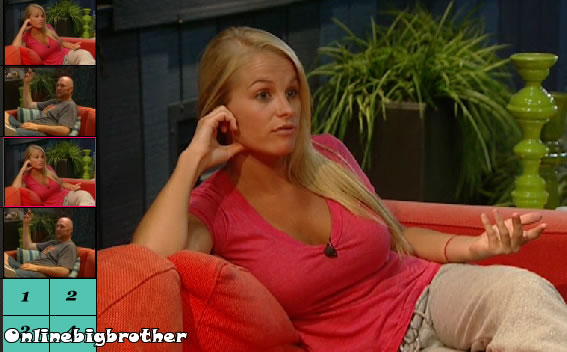 7:40pm backyard Jordan and Adam they are talking about Jordan favorite topic…. Dani. (Rachel and Jordan talk about dani more than Porsche and Kalia do)
Jordan also saying that Kalia will win the end because she can say she got out a strong player Jeff. Jordan also adds that the best case is for Adam to win HOH then they know he's safe for the week and they can get out Porsche. They start going over all the past BB11 and BB13 comps.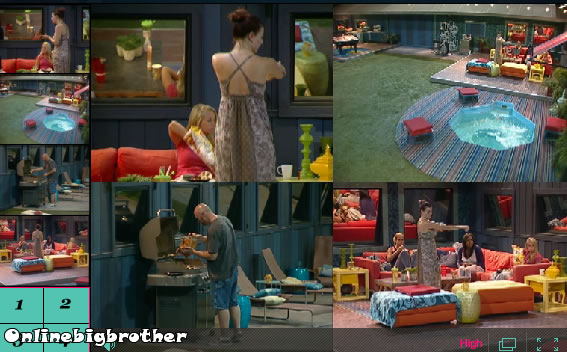 8:33pm Outdoor lockdown called..
Rachel saying she ways in the shower so isn't wearing any underwear or a bra.