Big Brother 13 Live Feeds Can be watched on your iPhone and Android Mobile devices sign up -> Watch Big Brother 13 on Your iPhone or Android Phone
3:07pm Jordan and Porsche in the backyard Jordan is saying that last week when Porsche had HOH nobody would talk to her and Rachel. They were sad that Jeff had left and they didn't feel like leaving the havenots room. Jordan points out that the rest of the hose wasn't upset Jeff was gone so they didn't expect to have any visitors. Porsche says she tried to talk with JR in the havenots but at the time they made it very clear they didn't want to talk to her.
Porsche says that Kalia is going to start campaigning to Jordan big time. Porsche doesn't want to hound Jordan. Porsche points out that Kalia is promising final 2 with everyone. Porsche isn't going to offer that because she's just worried to get to final 4 final 3 then they can talk final 2.
Porsche says Adam is voting for her to stay.. but she's worried that Kalia might offer Rachel something thats too good to pass up. Jordan wants Jordan to tell her before the eviction if they are voting her out because there's this certain dress she wants to wear on the night she gets evicted.
Porsche starts to nap in the sun, Jordan is exercising in the shade.
3:17pm HOH kalia and rachel this is like a 1 hour conversation of them going through the entire year and all the drama between Rachel and Kalia. Kalia offers Final 3 and pushes crazy hard to stay. Rachel pretty much says no, but does leave it open saying she'll talk to Jordan
Kalia pushes the argument that a) Adam is a huge floater b) he's been talking about getting Rachel out since week 5
Rachel saying that the Brigade was the smartest Alliance because they got the entire house to go against BRendon and Rachel..
Kalia says Porsche cannot protect Rachel Kalia can, Kalia will win HOH Porsche probably will not win HOH. Kalia thinks that eveyone in this game has BLANK her. Kalia goes on and on about Adam's pathetic game play how he does nothing all year. Kalia highlights that Adam has done BLANK all this entire season but still he got to experience his dream summer and saw his real life Idol, he got his stupid elf costume and got all his air time with Big Brother After dark now the only thing he needs to do to complete the experience is to get evicted. Rachel Agrees she says she wants a competitor to be in the end, she thinks Adam has a very good chance to make it final 3 and final 2. Kalia mentions that every single week Adam is sitting pretty he's floated around the entire season doing jack BLANK, Kalia sarcastically says "He's everyone cuddly metal teddy bear".
Kalia bombarding Rachel from all angles, says that Jeff really did throw the cornhole veto. Kalia saying that Jeff wanted to get Brendon out after he had sealed the deal with a couple of his minions (Shelly and Adam). Kalia reminds Rachel that Jeff walked around here with all this integrity but he voted Brendon out to keep Shelly. "even though they're America's sweethearts they are still very much playing the game"
Rachel says she's brought up some good points Rachel needs to think things over. Kalia says before dani left she told Dani that it will come down to Rachel and Kalia in the comps and so far it has. Rachel agrees.
(Kalia hammers Rachel for over a hour she I haven't heard her bring up the adam/Porsche or Adam/Jordan side alliances I think it would be beneficial in persuading rachel. Still I do not see Kalia surviving this week at all)
Sign-up NOW and watch the houseguests live! Uncensored Live Feeds 3 Day Free Trial
4:01pm HOH Jordan and Rachel They both don't trust Porsche or Kalia. Jordan says that Kalia is for sure lying to them all. Rachel kinda says that maybe they should keep Kalia. Jordan asks what did Kalia say to you because she must of said something good. rachel goes on in length about her conversation with Kalia. Jordan brings up that Porsche was "kinda" campaigning to her outside. Jordan sys Porsche cannot be trusted Jordan says Prosche was trying to explain to her how things went and Jordan disagreed with her. Jordan impersonating Porsche reply "Umm we'll I understood it differently" Jordan "I was like Listen BLANK what are you talking about"
Rachel is thinking it might be better to keep Kalia because Kalia and Adam hate each other and they will take each other out. Jordan is agreeing she's starting to think that maybe if Adam wins HOH he will take out JR because he's so close to POrsche. Rachel points out if Kalia is around he'll take out Kalia. Jordan says they have no guarantee that Kalia will put up Adam they hate each other now but she may keep Adam around in hopes to win the game.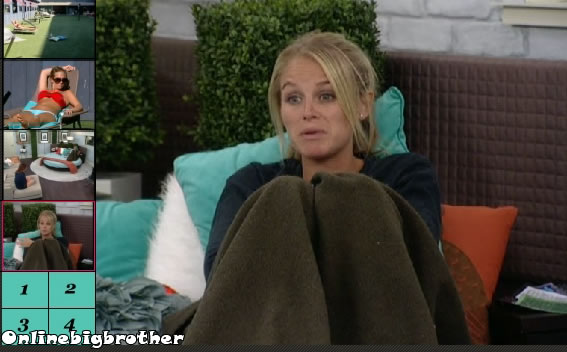 Jordan is saying if Prosche wins HOH she will want to take out Jordan. rachel disagrees she thinks that she will be the target. POrsche thinks in Skill and endurance they can beat Kalia but not in questions. Jordan thinks if they evict Adam he will be mad and will not vote for them so if they can get Kalia or Porsche to take him out they gain his Jury vote.
Jordan thinks in Skill and Endurance Porsche has a chance but on questions they can beat her. They start going over all the multiple scenarios.
Jordan is now saying that Porsche in final 2 is better than Adam because with ADam Rachel has a 50/50 shot but with Porsche she's probably got a 100% chance to win. Jordan brings up that Shelly told her she will never vote for Porsche. rachel points out that Shelly said the same thing about Rachel so it's really tough to call who Shelly will vote for.
Jordan starting to push keeping Porsche, she says that Kalia is better physically than Prosche. Jordan: "porsche has gotten a lot lazier"
Jordan: "Porsche doesn't like me I can tell" rachel: "She doesn't like anyone… she plays that young ditsy attitude"
Jordan thinks that Kalia knows if she makes final 2 she'll win it so she's going to give it 100% whereas Porsche is just kinda hanging out and won't be trying so hard.
Jordan: "as of right now as it stand NOW I want to keep Porsche"
Rachel: "Because next HOH is questions? "
Jordan: "Yes"
Rachel: "I feel like if we keep Kalia she'll make it to final 3"
Jrodan agrees.. .
4:25pm Adam and Porche
Adam is saying that Kalia is going to start trying to place doubt in Rachel and Jordan about Adam and POrsche. He thinks she'll target POrsche more but feels they will both take some shots. Adam still thinks Porsche is good though.
Adam: "Hey you opening pandora's box helped them a lot"
Porsche: "yeah it did "
Adam: "damn now my stomach is hurting again"
4:34pm Houseguests are just told that tomorrow there will be a live show.
This means they will tape a show tomorrow and we'll see it on TV Wednesday.
4:41pm Adam, Jordan and Rachel He's kissing their asses their blowing smoke up his. Basically he's swearing to JR that he wants final 3 with them and if he wins HOH Porsche will be the target. They are telling him he has a better chance to win at the end if he takes either J or R. Their reasoning is everyone hates Rachel and Jordan doesn't have any fans in jury plus Jordan has won once already.
(Adam just soaks it in and floats around the HOH)
5:00pm Rachel gets her HOH Camera
5:05pm HOH Photos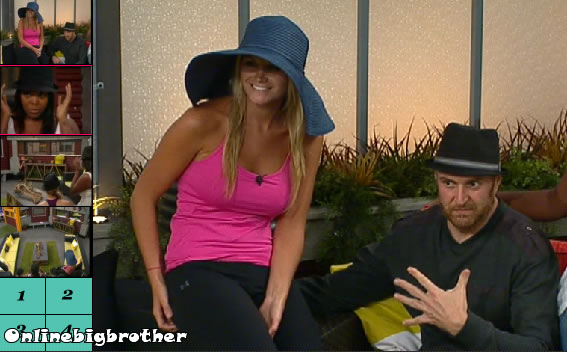 5:12pm HOH pics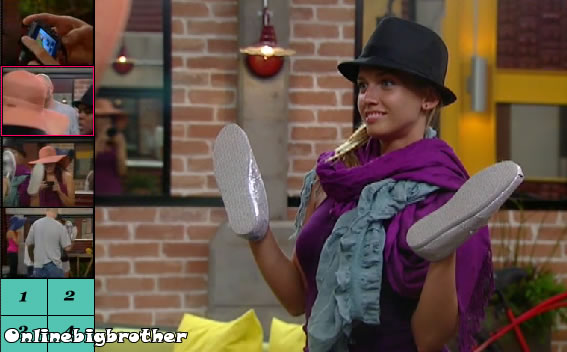 5:16pm HOH pics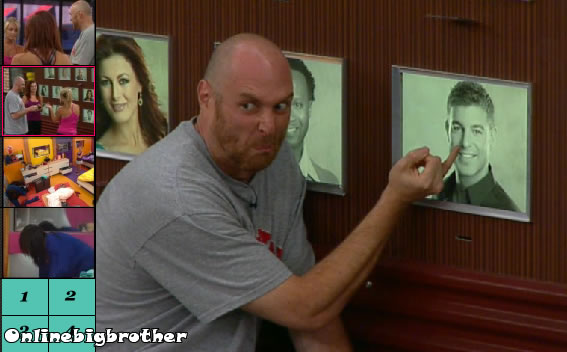 5:20pm HOH nose pics