Big Brother 13 Live Feeds Can be watched on your iPhone and Android Mobile devices sign up -> Watch Big Brother 13 on Your iPhone or Android Phone
9:04pm hammock Kalia calls Rachel over, Kalia Says thank you to rachel. Kalia adds that she talked to Jordan and Jordan said she talked to Rachel and Jordan is going to vote for Kalia.. "thank you thank you a million times". Rachel: "I'm not telling you what I'm doing"
Kalia is OK with that she just wants rachel to know that rachel is safe next week if Kalia stays in the house, "I'll make it all happen" .
Rachel something as she walks away can't hear it fully all I can here is "Bad person" (may have been I'm a bad person) and she lets out a giant SIGH. (All of the blood will be on rachel's hands)
9:20pm Backyard Jordan and Adam Adam is talking about 90210 and tori spelling. Adam jokes: "I'm a nerdy Jew David is a nerdy Jew so I thought she would be interested"
They start talking about the Season. Adam points out that every season the person that survives the first week eviction usually makes it far. He always doesn't think throwing the first HOH is a good game move. He thinks Keith threw the first HOH. Adam points out that most of the time the person that wins the first HOH doesn't get taken out the next week. Adam: "you can always make the excuse.. oh I didn't know anybody"
9:35pm Jordan and Adam Jordan is saying that she bought a home for her home and paid for it flat out. Jordan: "It's 1400 square feet not too big not too small just right"
Adam says his apartment is 1200sqft she explains it's in a U-shape and the bathroom door knob you have to turn left to open… He adds that him and his room mate pay 850 each for rent. Adam loves hoboken.
Sign-up NOW and watch the houseguests live! Uncensored Live Feeds 3 Day Free Trial
9:38pm Purple room POrsche and Rachel
Fortune Teller is talking "Hello Ladies"
Rachel: "HI Sorceress" (WTF why is rachel calling this thing Sorceress)
FT: "Please gather everyone into the room NOW"
The houseguests all gather in the purple
Fortune: "Hello everyone"
Adam: "whats up honey"
FT: "greetings houseguests I am Crystal the big brother fortune teller… i'm having a premonition the winner of big brother is sitting in this room right now..when you hear my laugh you have one minute come to the purple room to hear my fortune after that you must LEAVE MY presence and if you miss a reading you might not win HOH… "
The fortune teller demands everyone leave the Purprle room at once.
The hosueguests scatter.
backyard Jordan and Adam
Jordan says that Kalia will be really good at remembering this (BTW is going into full hair pulling mode). Jordan: "It has to just work while we're up becuase otherwise none of us will hear it".
Adam: "DUDE that was awesome thank god it finally BLANK talked" Adam tells Jordan he thinks it will go one all night and he's ready. (adam is super excited)
The FT starts laughing a;; the players run into the purple room
FT: "In 2018 shelly will make millions How to get the perfect tan you tan to reaches top 3 in the best seller list"
Rachel: "That's not even a good joke"
9:48pm
Adam is telling them that this is going to happen all night long.. (Still super excited)
FT: "IN 2017 after the hot miami sun become too much for her to bear and Prosche will move to Anchorage Alaska and buy an igloo with a eskimo called enire"
9:57pm FT starts laughing everyone races into the Purple Room
FT: "In 2014 JEFF will disappear from society he was last seen wandering the chicago room muttering one thing CLOWN SHOES. LEAVE MY PALOR ROOM"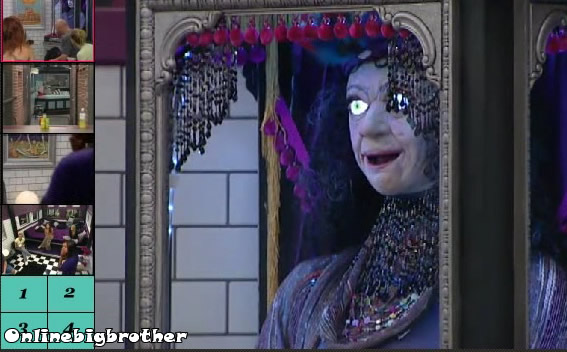 FT: "On Oct 15th, 2011 at 3:42pm Dani will reconcile with her father Dick. On Oct 15th, 2011 at 3:49pm they will stop speaking"
FT: "IN 2014 after sleeping for 19 straight days and making national headlines in a sleep study Kalia will earn her dream job as a matress and pillow tester."
10:31pm Everyone off studying the fortune teller fortunes
Adam smoking like crazy. From what I can see, Rachel has it figured down, along with Kalia and Adam. Jordan is struggling and Porsche is off camera ATM.
10:41pm
FT: "in 2016 Lawon will take New York fashion week by storm when he launches his handsomefied lines of Hats, Ties and Jackets"
10:43pm
FT: "after taking 9 years to earn his PhD Brendon will shock scholars and physicians alike after finding a cure for something that has plagued him for life.. Athletes foot"
10:46pm JAR in the backyard going over the fortunes. Jordan isn't as strong as Adam in her knowledge of the fortunes. Adam is smoking like crazy but he's got them down though. Surprisingly enough I think Porsche has it more or less figured. Kalia is doing decent as well but is freaking out. Porsche is having fun with it.. she's doing all the fortunes in ascents.
From what I can see Adam->rachel->Kalia/Porsche->Jordan
Adam is smoking like crazy and "rain maning" it on the memory wall.. he says he knows exactly what he's doing.. (He's move his hand in the air around the memory wall faces muttering to himself dates times and faces. After every fortune he runs outside and power smokes)
10:54pm There starting to think it might not go all night.
FT: "in 2020 Adam will file for bankruptcy after investing his life's savings in a line of bacon scented heavy mental bears for children"
11:03pm
FT: "IN 2018 rachel will give birth 9lbs 6oz bouncing baby boy it will be name Bookie Jr after it's proud father"
11:05pm
FT: "IN 2012 Cassie will land a roll along international mega star David hassellhoff in the countryfied baywatch reboot, riverwatch".
11:07pm
FT: "in 2015 Eval dick will start a xmas tradition buy bringing gifts to heavily tattooed orphans and changing his name from Eval Dick to old ST Dick"
11:10pm
FT: "IN 2013 Dom will grace the cover of 17 magazine with the headline total DOMination he'll dethrone pop sensation Justin B as America's favorite heart throb"
11:14pm adam says that Dom wasn't that cute. Rachel: "Old up someone has bieber fever" Adam: "No I just slept beside Dom for 23 days"
11:18pm
FT: "IN 2015 Keith will land a job hosting a new dating shows called love rejected but it will be short lived when it's revealed he tried to date all 29 contestants"
11:22pm
FT:"IN 2011 after the runway success of the humilitard Jordan will launch a line of successful humilitard items, humilicar, humilifier and the humili bake oven
11:25pm Jordan is struggling, she asks rachel if Adam is telling the other side the answers. rachel says no don't worry.
(From listening to them practice the best is Adam->Porsche->Kalia->Jordan, Rachel isn't practicing she's just helping Jordan study.. Adam is by far the best at this)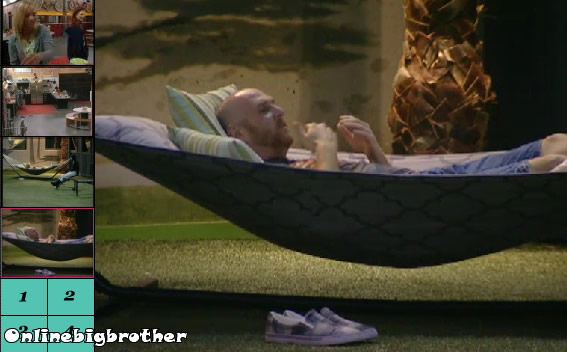 Midnight Adam is telling Jordan if he wins HOH then he'll put her and POrsche on the block. He says if he wins the VETO he won't use it and Rachel will vote to keep Jordan. Adam say Jordan is 100% safe but if she does win the Veto and saves herself it will be a benefit to her if she makes it to final 2 because she can say she stepped up and won a POV when she needed it the most. Adam explains that rachel has won so many comps that it helps us all out if weh win a few near the end, Adam: "rachel doesn't need any extra incentive to win" Jordan understands and says she's kool about it.
(Adam is very confident about this coming HOH )