POV Holder:
HEATHER
Next POV
April 26th
POV Used
Yes
POV Ceremony
April 28th
HOH Winner:
Jon
Next HOH:
May 1st
Original Nominations:
Heather and Sabrina
Current Nominations:
Sabrina and Adel
Have Nots
None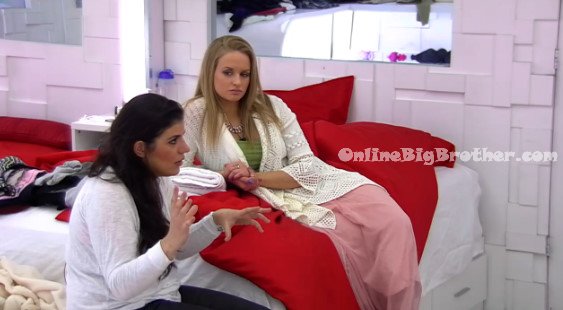 10:10am – 12pm Big Brother blocks the live feeds for the Veto Ceremony to take place. When the live feeds return – we learn that Heather used the veto to remover herself from the block. As Head of Household Jon then nominated Adel as the replacement nominee.
12pm – 12:30pm In the bedroom –
Sabrina campaigns to Neda and Jon. Sabrina says you have a bigger chance of winning against me in the end. Jon asks in comps or in the end? Sabrina says in comps and in the end. Jon says No. Sabrina asks you don't think you could beat me in the end? Jon says I don't know. Sabrina says if you send me now, I cannot fix any of the damage that Adel does in the jury. Jon says so you're saying send him now and you after? Sabrina says they will listen to me over anyone else. I am not going to allow the bullsh*t that he has pulled in here and there! He will go after people that you are closest to. He smells of sh*t, that's how much his head is up your a$$. I am more trustworthy over him. If you do something for me I will do it back for you. I will be there for you guys if you guys are here for me this week. Jon asks so you think keeping you is better for all of us? Sabrina says I believe all of you will win over me. I have two jury votes. None of you will vote for me. All three of you (Heather, Neda and Jon) will win over me, Adel won't. Sabrina leaves and says she is done talking. Neda says that she is leaning towards keeping Sabrina. Heather says she is too. Heather says if we take Adel he has a chance of beating us in the next competitions. Jon says if Adel stays and wins one of you will go if you don't win the veto. Heather says that she thinks Adel is going to be mean to make us change our votes. She says you (Jon) got solitary confinement so that you can't stop him. I'm not allowed in the HOH if I win HOH because that's where I would go and hide. Jon tells them that Adel asked him if he wanted he would grab the girls by the hair and make them cry. Jon comments on how Sabrina has f**ked up every question competition. They all agree that they need to all study. Neda says I have a feeling that once you come out of solitary we will have to vote. Jon says I we won't have any contact. Heather thinks he will go in today and be out tomorrow after 24 hours.. so we'll still have Wednesday. Heather asks would we tell him before had that Adel is going home? Jon says no. Neda says he would blow sh*t up. All I am going to do is keep saying I don't know. Heather says that's what we should all do.. They talk about how Adel saying he can't read well is a lie. Jon says as long as 1 of us beats her in veto.. when all of us are playing .. then she goes home. Jon then says I am not leaning towards anything any more .. I want Adel gone. Neda says the only reason you want him gone is because you want to beat Sabrina in the competition next week.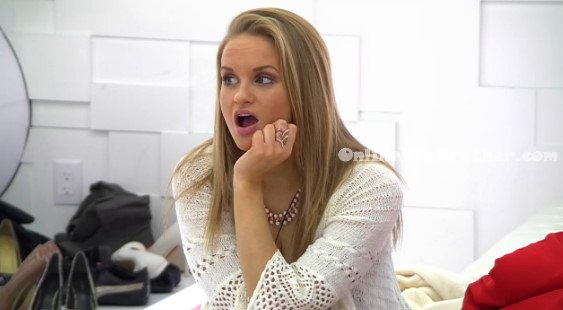 Out in the hot tub room – Sabrina says I'm like a cat, I've got 9 lives ..and this is my 7th, so I've still got two left. I'm making it to final 2 baby!
12:40pm – 12:50pm Heather and Neda head into the storage room and find the Sabrina's slop. Heather yells and tells Sabrina her slop is here. Salsa, syrup, BBQ sauce, ketchup, mustard, sugar, etc. Sabrina asks them to make sure she doesn't eat anything else because at this point in the game I could get a vote against me and I would go. Sabrina asks are you guys thinking of me staying and him going? Neda and Heather says yes. Sabrina says I swear on my head that I won't go against you. Sabrina leaves. Neda tells Heather how Adel told her he was going to try and make a final 2 with you just to see if you would tell us. He is going to make up so much bullsh*t the next 36 hours because he has to stay up. Heather tells Neda that she will tell her everything that Adel says but for Neda to tell him that I've told you nothing. Neda agrees. Heather says I can't believe I can't go in the HOH room any more. Jon and Heather head into the storage room. Jon tells Heather that Adel is going to try and make a final 2 with you. Heather asks does he actually think I'm stupid. Heather tells Jon she'll tell him whatever he tells her.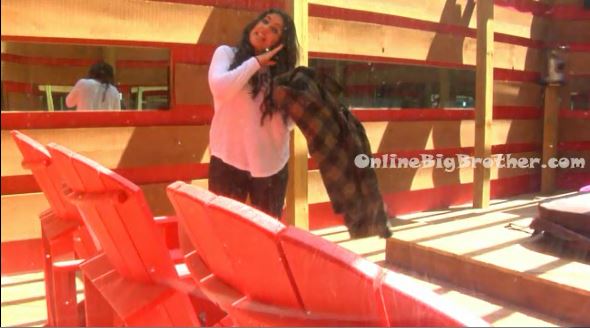 Sabrina leaves the hot tub room and comes back .. she motions to the camera that Adel is sleeping. She continues to motion to the camera because big brother doesn't do anything about Adel sleeping.
1pm
Big Brother blocks the live feeds…
[polldaddy poll=8001357]
Stay connected and interact with other Big Brother Fans on our Facebook page.
And Follow: @BigBspoilers and @Dawgsbigbrother on Twitter for the most up to date spoilers.
HELP keep the spoilers coming.. Show your support by making a donation. ANY amount is greatly appreciated! Simon and I work 24/7 all season long to keep you updated on everything that happens inside the Big Brother house. Your donations go directly to paying the fees required to run this site.
Share it YO!!
Tweet