POV Holder:
McCrae
Next POV
Sept 7*
POV Used
YES
POV Ceremony
Sep 9th*
HOH Winner:
GM
Next HOH:
Sept 5th
Original Nominations:
Amanda and McCrae
Current Nominations:
Amanda/Spencer
Last Evicted Houseguest
Aaryn
Have Nots
8:30pm Kitchen GM and Andy
8:51pm Kitchen table JUDD, McCrae and Spencer
JUDD asks McCrae if LEissa is still pissed. McCrae says he thinks so.
JUDD tells McCrae he wasn't cussing ELissa out. Saying f*** you one time isn't cussing someone out.
JUDD says before when people would talk about how annoying Elissa was he thought they were exaggerating. He thinks when you don't like someone you tend to exaggerate. Thats what JUDD thought everyone was doing about ELissa but now he realizes they weren't.
McCrae – 'It's super annoying'
They start talking about Board games. McCrae says he really likes playing settlers of catan
JUDD says he likes scattergories.
8:57pm bedroom Elissa sleeping in the nick bed
9:09pm Kitchen
MC tells them about Kaysar getting a hookah when he won HOH. JUDD is joking around says he's pissed that they won't give him a pack of cigarettes but they gave kaysar a f**** hookah.
MC says Kaysar was an all star, Andy points out that JUDD was a returning player.
9:30pm kitchen everyone but Elissa
Amanda asks GM what is going on with the bed and Ellissa. GM asks her why she is smirking, "What's so f*** funny.. I talked to Elissa'
A – you've had a freaking attitude today'
GM – I already spoke to her
A – Why are you telling me this
GM explains to her what Elissa and her talked about when it comes to the Nick bed.
Amanda – 'I don't care GM it's not all about you'
GM says she was smirking so GM is going to explain, "I was nice enough to give you and McCrae my F*** room tonight"
A- 'I don't care don't… what are you talking about'
GM accuses Amanda of making her look stupid.
Amanda denies.
GM confronts her about telling everyone she makes herself throw up.
A – Aaryn was the one telling people that'
A – I don't want to fight with you right now.. I think you just want to fight with me.
GM tells Amanda She jumped in the sack with the first HOH
Amanda tells GM she on a roll tonight.
Amanda calls GM psychotic tells her everyone knows that Nick wants nothing to do with her, "Thats how you are portrayed in this house as the psycho' .
GM – 'and you are a dirty dirtbag wh*re'
A – 'I'm a wh*re that's been with the same guy all summer'
GM – 'You've f*** a billion guys.. McCrae I feel bad for you bro'
A- what are you worried about GM you seem worried.. i'm going home what do you care.. .honey you have no power tomorrow you can't even vote.
GM says Amanda has multiple personalities she's on 50 pounds of medication.
GM says Amanda has a cocaine problem.
GM – 'you are a psychotic b!tch who takes medication'
Amanda – you should be on medication
GM accuses Amanda of using McCrae in the game she calls her a dirty b!tch
Amanda – 'how did I use him mature 33 year old woman.. it's OK Gm you are going to marry nick you and Nick are going to get married'
GM -'hows your yeast infection'
A – 'hows your two cl!t rings.. you're a 33 year old woman with a tongue ring.. class act'
GM – 'How about your tramp stamp'
A – yes that was a mistake' ..
GM – 'I don't know what looks better your tramp stamp our your f** face'
A – 'you're 33 year old and single'
GM – 'I just broke up with my fiancee"
A – 3 years ago
GM – 2 years
A – NIck wanted you gone.. he slept with a pillow between you wearing a hoodie.. Psycho'
Amanda – 'Psycho psycho psychopath psychopath'
GM – 'F*** yeast infection.. extra f** cottage cheese pu$$y.. F*** in every room of the house.. nasty'
Amanda- 'You are f*** nuts I know why you are single.. you are f*** nuts'
GM -'Am I on medication for being nuts no'
Amanda – 'you are f*** nuts'
Amanda – 'why are you attacking me..'
GM – 'I'm attacking you .. after you attacked everyone in here'
Amanda – 'we'll see who gets that last laugh'
GM – 'we will oh we will.. you don't leave tomorrow you will leave next week'
Amanda – 'oh my god you are way more psychotic than I thought'
GM – 'you're f** vagina must look like 50Lbs big like your mouth..'
(Andy, JUDD laughed at some parts of this conversation it was pretty over the top)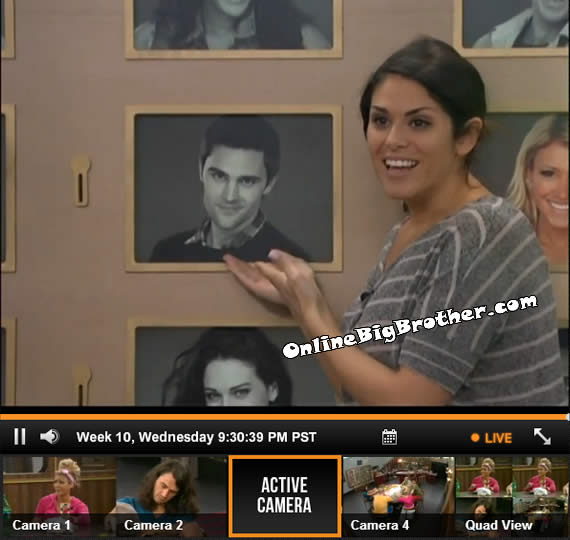 9:34pm
A – 'you've been iona bad mood all day
GM – ya because my fuf** foot hurts you dumb b!tch
Amanda says Nick is probably embarrassed by GM
GM says Amanda's mom is probably embarrassed from her showing her T!Ts around on the feeds
Amanda says GM has been a b!tch all day and she was teh one that wanted to fight.
GM tells her to shut she's trying to play Jenga Jenga Je je je Jenga. Amanda gets in her face Asks GM what is she going to do. Amanda eggs her one "Do something"
GM – "Brush your teeth'
Amanda says GM has a busted ugly face
GM says Amanda has cellulite.
A – 'You are the dumbest f** girl'
GM – 'you s*** c*** for money'
A – You are you.. you know me.. you know me now.. you are the most immature 33 year old I ever met'
GM tells her to drop it, "Drop it like you drop your pants Amanda'
Andy starts laughing, Amanda – "you're enabling her horrible f** behavior Andy.. "
Andy says he's just laughing and the crazy talk nothing in particular.
Amanda starts to cry
GM – 'Ohh lets start with the water works… the academy award goes to Amanda.. oh waterworks with out any tears maybe they dried up from all that medication you take… And scene big brother cut to a comercial break'
Amanda leaves.
You can re-watch ever second on the feeds using the flashback feature.. It's just like a DVR and is super easy to use. click this link for a Free Trial —> Subscribe to the Big Brother Live Feeds
9:46pm Have nots room Amanda and McCrae
A – you just sit there let her degrade me
MC – what am I supposed to do
A – "Anything,. you sit there like a pu$$y and enables her.. you sit there and let her take these digs out on me"
MC – If everything goes as planned it ill be f*** fine
A – Andy is laughing… Spencer is laughing .. JUDD is laughing
Amanda says she never did anything to GM and all the guys were enabling her.
A – 'what hurts the most is you just sit there.. there comes a point where you f*** be a man.. you stand up and you stand up for me.. you are sitting there like a big pu$$y'
A – I need a man.. you see her attacking me for no reason and you just let her keep going.
A -' if any other man with any other woman was here he would not sit there and let this happen.. you were like a little boy you are a grown a$$ man'
MC – 'I f** playing a mother f*** game'
A – "She doesn't have power next week.. it's disgusting.. you love me and you let her call me a wh*re"
Amanda tells him if anyone talked to him like that she would go to war.
McCrae tells her it's that attitude that has put her on the block.
Amanda – "you sat there and watched it.. " Amadna storms out.
9:52 Kitchen everyone but McCrae and Elissa
Amanda says they were laughing while GM degraded her looks, personality and her sexuality.
GM – 'you went low to Amanda'
ANdy says he wasn't laughing at one particular comment I was laughing we were playing jenga in the middle of it it wasn't against any other of you.
Amanda – "Thats disgusting'
GM – 'If that was disgusting you better backtrack all the things you said to everyone in this house"
Amanda – 'I did.. I apologized to every single person I got in a fight with'
GM – "you want me to Apologize.. fine I apologize Amanda.. "
Amanda leaves tells GM it doesn't sounds meaningful
GM – "I do apologize.. I know it's a tough week'
Amanda says the worst thing about it was there was 4 gross a$$ men watching and laughing. JUDD steps up says he's not going to get involved in a girl fight. Spencer says the same.. they try to explain to her if it was a girl and a guy it would have been different.
GM goes into the have nots room to apologize to McCrae and Amanda.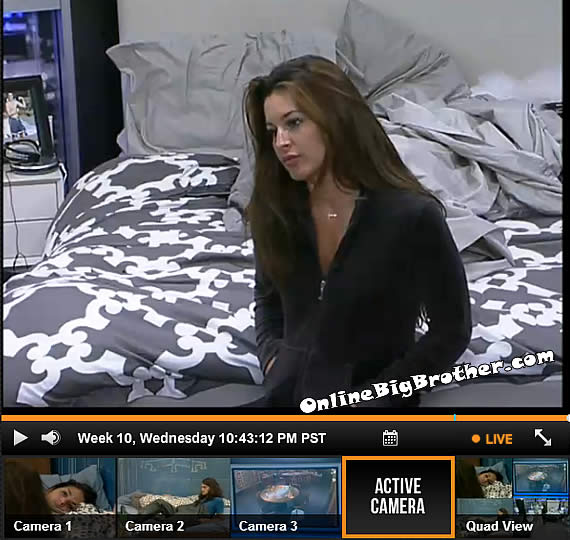 10:28pm HOH JUDD and Elissa
JUDD – "Elissa.. that was for show.. I didn't mean that it was for show.. just keep acting mad"
JUDD – 'Just don't really be mad at me
Elissa – 'I don't think it's funny you don't cuss at me'
JUDD – I didn't say anything about you
Elissa – you said Shut the f*** up Elissa
JUDD – ya but it was for show so they don't think we are together
Elissa – you don't have the right to cuss at me
JUDD – I couldn't tell ya I wanted you to be really mad
GM, Spencer and Andy come in
10:57pm Amanda and McCrae Bedroom
Amanda says she upset that everyone laughed…
Amanda – "I did instigate her" (LOL)
MC – 'That is why I Was pissed off you wanted me jump into a fight that you started'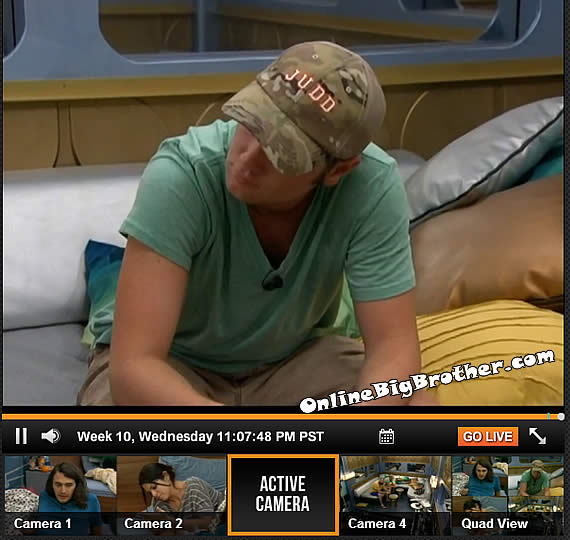 11:00pm cockpit Exterminators – GM
They are going over their plan for the next HOH. If McCrae wins HOH they tell him ELissa leaked the plan to vote out Spencer and voted to evict Amanda.
If Elissa wins HOH they will tell her McCrae was trying to start a boys alliance he voted Amanda out and leaked the plan to get out Spencer.
Andy – 'We can do this'
Specner – 'We are going to do this'
JUDD – 'I'm not going to be able to sleep tonight.. I'm not'
11:26pm ELissa and GM HOH
GM tells her about Amanda getting up in her face. ELissa says she has never ever met anyone like Amanada.
Elissa – 'I've had enough of Amanda after this.. '
Elissa says McCrae and Amanda both have to go. Elissa adds that JUDD is being weird. GM says JUDD is worried about the double because that is how he went out last time.
Elissa – 'Oh my gosh'
GM – did he apologize
Elissa – "yes just making excuses for it.. I feel like everyone just blames the game i'm just like.. I dunno"
E – Judd gets to me sometimes
GM – I know.. he got snappy with Andy one time
Elissa – 'Oh my gosh.. is this the colour of makeup you use'
Elissa – "Oh my gosh.. I can't believe this is real life.. my husband never yells at me like that'
GM mentions that Amanada always tries to herself look like the victim. Elissa agrees.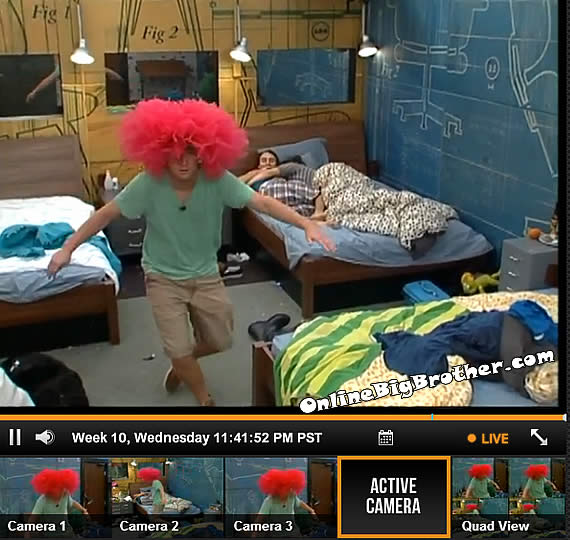 11:44pm Loofah Head
11:54pm Cockpit Andy and Spencer
Spencer say he does trust JUDD.
Spencer will not be cool if he goes up as a pawn the initial nominee.
Spencer – 'I'm tired of being on the block.. I mean that's crazy'
Ansy – 'I just want tomorrow to be over with'
Spencer – 'Ya me too'
If you like the spoilers on this site please consider a donation it helps us pay for the costs of keeping the spoilers flowing.
[polldaddy poll=7369039]
[polldaddy poll=7368019]
Share it YO!!
Tweet