POV Holder:
McCrae
Next POV
Sept 7*
POV Used
YES
POV Ceremony
Sep 9th*
HOH Winner:
GM
Next HOH:
Sept 5th
Original Nominations:
Amanda and McCrae
Current Nominations:
Amanda/Spencer
Last Evicted Houseguest
Aaryn
Have Nots
6:13pm HOH GM and Spencer
Spencer says he's so ready for tomorrow. GM can't f*** wait.
(Feeds cutting in and out they are talking about Amanda)
GM – 'that is dirt nasty.. she f**** a million different guys how does that feel'
GM mentions that Amanda said she told people she had a boyfriend because she didn't want the girls to be intimidated by her
GM – 'I'm so intimidated by your big F*** jewish nose and your flat a$$.. "
JUDD rolls in says McCrae, Amanda and Elissa are getting on his nerves.
JUDD – 'I said get the f*** away from me Elissa.. I can't stand her'
Andy comes in "JUDD You gotta keep your cool.. you just told Elissa to shut the f** up"
Andy says he noticed that Amanda was being a f*** b!tch to GM when she was up in the HOH. GM says Amanda thinks she runs the entire f** house.
JUDD – 'it's so obvious they are together' (Elissa/Amanda)
Andy says on eviction night he's going to say "I vote to exterminate.. oops I mean evict Amanda"
JUDD tells GM they (Elissa/Amanda) are talking about her being a b!tch. GM doesn't care she knows Amanda is going home.
Andy says both JUDD and GM need to cool down. JUDD doesn't care reiterates that Elissa and Amanda are now working together so what does it matter anymore.
They say McCrae might be around for a week.
JUDD – "long haired son of a b!tch.. '
JUDD brings up a time when Elissa and Candice were laughing at him, "when she's (Elissa) up to something she cannot hide it she's a f*** idiot b1Tch"
Spencer mentions how Elissa told him it was hard for her to be in the spotlight all season and she wishes someone else had a Big Brother Allum as a sibling.
JUDD – 'did she really say that'
Spencer – 'ya'
Andy mentions how McCrae and Amanda were saying to him they can't wait to see the look on GM and Spencer's face when the vote goes down 3-1. Andy laughs says the vote will be 2/2, "I'm feeling giddy"
JUDD – 'I want to cuss all three of them'
JUDD – 'I can have them all crying in the DR in five minutes.."
JUDD says he will never touch them just yell in their face.
Andy says after JUDD told Elissa to shut the f** up Elissa was saying how disgusting JUDD is for talking to a woman like that.
JUDD – 'I f*** hate Elissa slater.'
Spencer and Andy both say they went on a rant about Elissa in the Diary room
JUDD – 'They thought Rachel was bad at least Rachel had a personality.. she's (Elissa) a brainless plastic doll'
Andy – 'She is a robot whose circuits are programmed for lunacy.. if America votes her for America's favorite I will die.. that will enrage me in the finale'
Spencer – 'me to.. I dread that.. I would rather David'
JUDD – 'anybody than her'
Andy – 'and Amanda is walking out with Elissa's ring.. what if she follows Amanda out and she gets evicted'
JUDD – ' Nothing will happen.. she can go to McDonalds and back without getting in trouble'
Spencer – "Elissa said .. don't you hate packing your bags when you are not going anywhere.. "
They all start laughing. Spencer adds he might just not pack.
They joke about the HOH being a yoga competition. ANdy says he will walk right out if that is the case.
Spencer – 'Just sign her the cheque'
Andy – 'Then she can lose it and not worry because it means nothing to her'
Spencer – 'She's competing for 500K in toilet paper'
GM – 'talking to her that's like talking to a five year old kid that is slower..' GM can't think of the word..
Andy – 'down syndrome'
GM – 'no'
Spencer – 'that is what I was worried you would say'
Spencer 'brain dumb'
GM cannot think of the work, "They look normal but they are not.. like autism.. I work with kids like that they are not as quick'
GM leaves
Spencer mentions GM saying Amanda Had a big J$w nose he was trying to tell her not to say that, 'There was a child like innocence with GM when she talks'
GM comes back says if she knew Elissa was going to be like this she would have put her up.
You can re-watch ever second on the feeds using the flashback feature.. It's just like a DVR and is super easy to use. click this link for a Free Trial —> Subscribe to the Big Brother Live Feeds
6:55pm McCrae and Elissa
MC saying he can't wait until tomorrow, the look on JUDD's and GM's face will be priceless.
Elissa says JUDD is aggressive towards girl she is shocked he cussed her out and called someone a b1tch in the diary room.
MC – 'he's aggressive to everyone.. He's going to be knocked off his pedestal for sure'
7:12pm bedroom Amanda and McCrae
Amanda says Spencer doesn't look worried at all. McCrae says that doesn't matter, "When you feel the most safe in the game is when you go home"
Elissa joins them "Oh my gosh". They start talking about GM being 33 and doing the things she's doing with the Nick shrine.
Elissa leaves.
McCrae says if they get Spencer out this week and get the HOH during the double JUDD or GM will go. MC – 'Would be awesome if I own this first HOH and you won the second won.. or vice versa'
Amanda – 'Would be awesome.. would be awesome if I stayed here'
MC – "ya would be the biggest f** you to GM"
Elissa joins them "Oh my gosh.. I'm going to bed at 8" Elissa leaves
McCrae and Amanda start joking about GM and her love for the Nick Bed. THey treat that NIck Bed/GM is like a showmance in the game a power couple. McCrae pretends he's nominating the Nick bed and GM for eviction. "we need to break up the power couple, it's not fair that you get this bed.. that bond is too strong to keep in the house, I don't have a bed that will be there for me till the end"
Amanda – ' I can't believe she called me crazy'
MC – 'pot calling the kettle black… god I want this to happen so bad'
Amanda – 'When I walked into the room she had that why are you coming in her look'
A – 'should we go up there'
MC – "no, cause you just want to start shit
A – 'It's gotten me this far'
Amanda says that she hopes when she GM's age she has at least one kid. She looks at McCrae says she wants to be pregnant in two years. She talks about the cons about moving to Minnesota and how it would negatively affect her career.
7:25pm Elissa and Andy Bedroom
A – 'I'm going to take a shower I think'
E – 'Oh my Gosh'
Elissa points out that GM put her Nick shrine and her socks on the bed ELissa's been sleeping in all week.
E – 'Oh my gosh'
Andy ignores her says he's going to keep wearing the same clothes tonight because they are still clean.
E – 'I feel like if you are giving your room up why are you trying to take the bed I am sleeping in.. like sleep somewhere else'
A – ya
Elissa – 'Oh my gosh.. I am so tired of dealing with stupid people.. it's so annoying'
E – 'It's a waste of breath to even talk to them'
Andy – "What"
E – 'it's a waste of breath to even saying anything'
Andy – 'hmm umm'
E – 'Oh my Gosh'
Elissa asks if JUDD said anything in the HOH
Andy – 'He's just crabby'
Elissa – 'I don't care if you're crabby you don't cuss a girl out that is totally unnecessary.. don't you think'
Andy – 'ya'
E – 'I just want to know where these people come from.. like my mom would kill me if I acted that way.. sam with my husband'
Andy leaves while Elissa is still talking
7:29pm HOH Exterminators
Andy comes in tells her under no circumstances should she give Elissa GM's bed tonight.
Andy mentions how ELissa was talking about JUDD getting agitated with her and she said she doesn't want to waste breath on these people.
Andy – Elissa is mad she doesn't want to give up the bed
Spencer – you are getting your bed back
Andy – ya you'll get your f***** bed back.. it's you versus Elissa who do you think is going to win that.
Spencer says she should put lotion all over her body and jump in the bed.
Spencer just doesn't want it to look like they are all working together. Andy says it's just a bed not worth exposing things. GM just doesn't want Elissa to rub it in her face.
Spencer suggests GM let Amanda and McCrae have the bed tonight that way she runs Elissa off of the Nick bed and make her sleep in the hallway with Spencer. Spencer adds she hates that room and he'll be farting.
7:49pm Amanda and McCrae
Amanda mention how Andy has told them Spencer is campaigning. She's a bit worried by that.
Andy joins them. Amanda asks if Spencer has campaigned to her at all. Andy say no because he thinks Andy is 100% voting Amanda out.
Amanda asks if he is questioning anyone. Andy says Spencer is confident he is staying.
Amanda – 'Thats so weird'
MC – 'he feels safe'
Andy – 'He feels really safe'
Amanda says ELissa now hates JUDD because he told her to shut the f*** up. They all laugh agreeing it was funny.
Andy tells them that Spencer still thinks he has ELissa's and JUDD's vote.
Andy – 'I don't even think he thinks I matter… He still thinks he has me'
MC says Elissa being pissed at JUDD is awesome for them because now he doubts she'll stick to that side.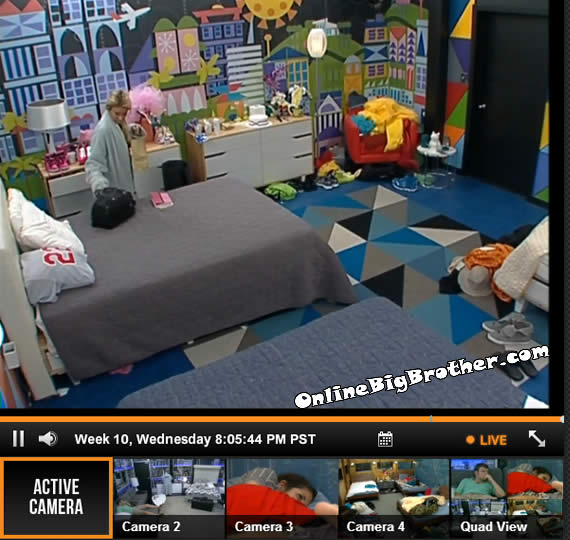 8:07pm GM gets her bed
If you like the spoilers on this site please consider a donation it helps us pay for the costs of keeping the spoilers flowing.
[polldaddy poll=7369039]
[polldaddy poll=7368019]
Share it YO!!
Tweet