POV Holder:
McCrae
Next POV
Sept 7*
POV Used
YES
POV Ceremony
Sep 9th*
HOH Winner:
GM
Next HOH:
Sept 5th
Original Nominations:
Amanda and McCrae
Current Nominations:
Amanda/Spencer
Last Evicted Houseguest
Aaryn
Have Nots
1:30pm HOH Amanda and McCrae
McCrae is worried that ELissa and Andy could use their plan to vote out spencer against them. McCrae is worried is not going to work out for them on eviction night. 
Amanda – 'WHen has andy betrayed you ever.. when has he betrayed me.. he's not going and I have Elissa's diamond ring' 
MC – 'I have to be pliable and malleable.. regardless of what happens' 
Amanda – "GM getting me out of this house.. what a travesty' 
McCrae asks her what she is doing tomorrow, is she going to meet up with Elissa. AManda will reconfirm with Elissa. AManda wonders what JUDD will do if Amanda stays. McCrae thinks JUDD will still think McCrae has his back, 'GM is a better competitor and she is coming after you'
McCrae would rather JUDD stay in the game than GM. McCrae adds if their plan doesn't work and she goes home he has to become JUDD's best buddy. 
Amanda says JUDD probably looks fatter on TV. 
MC – why do you even say stuff like that' 
A – he does… ugh Ginamaire you are disgusting
MC – 'I'm pretty much going to be shocked either way regardless of what happens'
MC – 'it's going to be a blindside no matter what happens'
Amanda – either way no matter what happens I love you and if I go to jury you have my vote
MC jokes says if he doesn't vote for her tomorrow does he still have her vote. Amanda laughs says no. 
Amanda tells him a midnight every night she will tell him she loves him from the Jury house. 
Amanda – 'but I'm going to stay here.. it's going to be the double eviction.. it'll be the world against JUDD'
MC – he said he was going to go hard
Amanda – whatever he always says that 
MC tells Amanda she never thinks ahead in this game. says it was silly getting in a fight with GM the night before the vote when the power to keep Amanda could be in GM's hands. 
A – 'it doesn't matter with her she's already dead set on getting me out of the house'
MC – 'IF she doesn't get you out she's just going to laugh in your face'
A – 'Oh thank you for that.. she started with me.. she did start with me'
MC – "Umm OK.. it goes both ways"
A – 'She's so disgusting.. she farts and says I have to take a sh!t.. what woman says I have to take a sh!t… you don't even say that'
MC – I say I have to poop
A – ya
A – she has web toes… gross
MC – she can't control that
Amanda says Andy is really funny he will be America's favorite. MC agrees says Andy really does deserve to win America's favorite.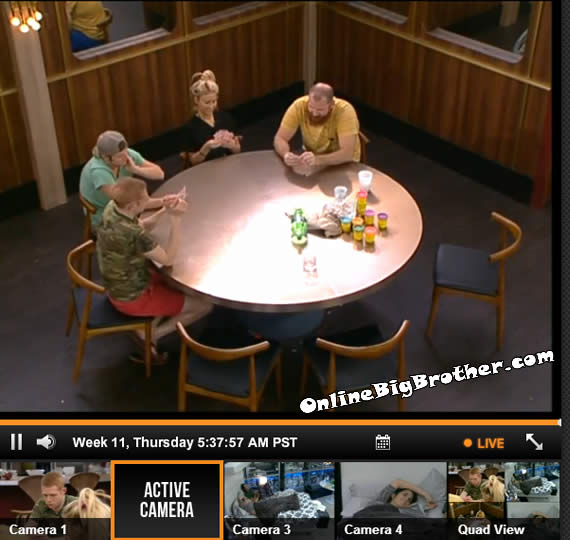 2:00AM Exterminators playing cards
2:00AM HOH Amanda and McCrae
Amanda – 'God I hope I stay I'm afraid to go'
MC tells her the show ends on the 18th because that is when they are out of fish food.
Amanda and McCrae are confident ELissa will vote for her to stay. MC doesn't see any reason why Elissa would be lying to them unless she is trying to set up Andy and even then it's not a very good plan. MC adds if she votes out Spencer Elissa will have Andy and MC coming after her.
A – "She gave me her ring'
MC – 'Andy won't flip because … because just as much as he could blame it on ELissa elissa could blame it on him and then he would lose credibility with everyone'
A – I hope GM and Spencer go tomorrow.. she does not deserve to be here… I cannot stand that girl.. dumb a$$'
MC – if you stay I want to laugh at her'
A – Spencer does seem so confident it obnoxious.. he just throws his stuff in a bag doesn't even think he's going'
MC – that is good once you feel too confident is when you are going'
Amanda says if they survive this they got out of the plan to backdoor her and the plan to split them up, "Thats huge"
MC thinks they are going to be even bigger targets after this week.
MC says the GM and Amanda argument was on afterdark. Amanda laughs at GM making fun of her having a yeast infection, "What girls do not get a yeast infection'
Aamanda says the TVGN is censored they would not show the entire fight between her and GM. MC doesn't think it is.
Amanda notices that the exterminators are going into the cockpit. She thinks it's weird that GM, JUDD< Andy and SPecner are all hanging out together. Amanda mentions to him that "Word on the street" is her veto episode was an amazing episode. (hinting that production told her)
Exterminators cockpit
Andy wondering if it's a double eviction they stick to the same stories. JUDD says yes. Spencers says hopefully it's a double eviction and they don't need to put up with a week of McCrae being pissed at them. They agree if its a double go to McCrae and tell him Elissa flipped the vote.
JUDD says MC told him he is going after Elisssa.
JUDD says Elissa will put up MC and him up. Andy thinks it will be Andy and McCrae.
They start scheming about thing they can tell Elissa and MC. If McCrae wins the HOH GM is going to go to him first and tell him ELissa told GM everything. If ELissa wins JUDD will go to her first and tell her McCrae wants to start a guys alliance.
Andy says Spencer and him will play in the dark. JUDD tells them he thinks ELissa bought the story that he told her to f** off for show, "I told her to keep acting mad"
JUDD heads to bed.
They continue to go through all the possible scenarios.
2:30am HOH MC and Amanda MC mentions how GM must already be thinking that Amanda could be staying. She said things during the fight tonight.
MC – I'm worried Andy will flip'
Amanda – he's not going to flip.. he wouldn't you are his closest ally.. you think he will flip on you'
MC – he can blame it on ELissa..
Amanda says it doesn't matter you have to stick with people in the house that you are close to, "It's too early'
MC says it's perfect for them if they can get to final 5 because then you only need 2 votes, "We can do whatever we want'
Amanda – 'Gets going to be so f*** boring only 4 people here.. at least with me you have some entertainment.. seriously if I go.. or GM all the entertainment goes out the door'
6:15am Sleeping
9:00Am ZZZZZzzzz
9:41am lights on
10:00AM McCrae and Amanda come downstairs,
Amanda grabs a banana out of the storage room and heads back to the HOH. Elissa in the kitchen asks them how their sleep was. Amanda says it was great.
10:05am Bathroom JUDD and Elissa
Elissa – "Oh my gosh I need to cut my hair so bad.. it's really stringing and gross"
JUDD – "MMHMJKHKJD KJHIUDFKHKdfk"
10:09am Kitchen Spencer and Elissa
Elissa – 'Oh mu gosh did Amanda throw away all those grapes..
Spencer- 'MMMM chocolate milk in the morning'
ELissa – "I don't think i'll ever drink chocolate milk again after this'
Spencer – 'ya I know'
Elissa – 'oh my gosh'
10:14am HOH lockdown Trivia
11:28am HOH lockdown Trivia
If you like the spoilers on this site please consider a donation it helps us pay for the costs of keeping the spoilers flowing.
[polldaddy poll=7369039]
[polldaddy poll=7368019]
Share it YO!!
Tweet