POV Holder:
Kevin
Next POV
April 3rd
POV Used
Yes
POV Ceremony
?
HOH Winner
Bobby
Next HOH
April 1st
Nominations:
Kevin Cindy and Brittnee
Have Nots
Jordan, Brittnee, Naeha, Godfrey
POV Players
Godfrey, Willow, Johnny, Britt, Kevin, Bobby.
Jordan is the VETO HOST!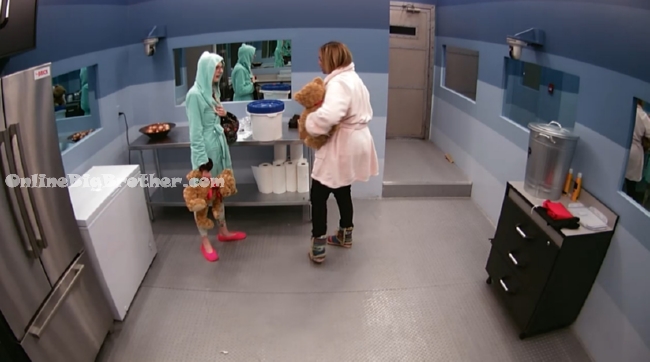 8:35pm Storage room Sarah and Brittnee studying the Big Brother Zoo Cartoon
Kevin is an alligator
Cindy is a turkey
Bobby is a sheep
Ashleigh is a zebra
godfrey and cindy have matching bears
Bruno and Jordan have matching Bears
Willow and Zach have matching bears
Graig and Ashleigh have matching bears
Kevin has a white Bear
Bobby has a blue Bear
Kevin has a hat and a scarf
Zach's a lion
Risha is a cougar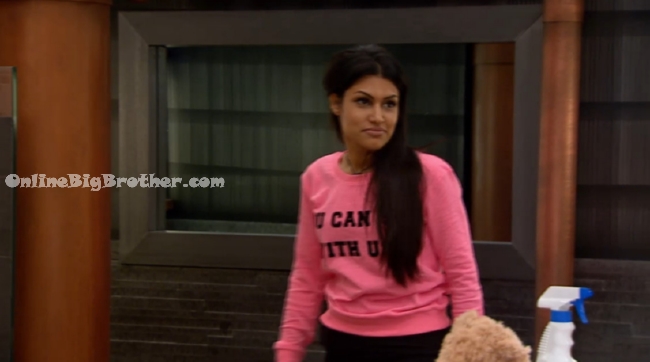 8:36pm bathroom Naeha, Zach and Jonny
Neaha is freaking out about what Godfrey did "That is a bully she did not deserve that"
Naeha says if she wins HOH those two Mother f***ers are going up (Graig and Godfrey)
They start studying the cartoon..
Zach – All the characters are carrying things..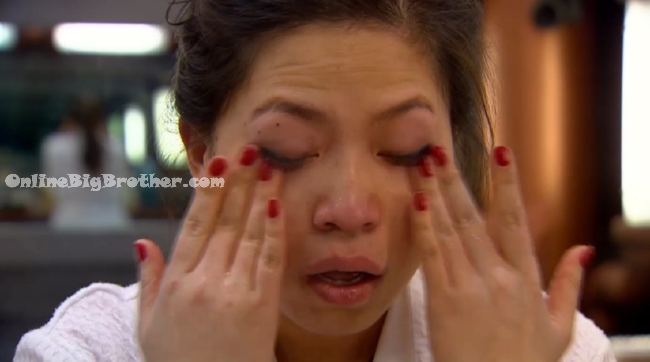 8:44pm Sindy Zach bathroom
She's crying after being called out by Godfrey. Willow joins them to clean the toilet. Sindy says she expected something like that from Graig.
Zach – You're a good girls sindy and I don't want you to feel down from something like that.
Sindy – Thanks
Zach – It's tough .. I understand people are going to argue.. there's a fine line and that line has been crossed.. you are not alone.. don't feel like you are alone.
Bruno comes in and gives Sindy a hug.
9:00pm backyard Godfrey, Naeha, Willow, Jordan, Bobby, Pilar, Kevin
Godfrey telling them that Sindy threw him under the bus and he gave her a chance to apologize and she didn't so he took his chance and called her out. He adds it was not about the camera it was about her being shady tells them she hasn't talked to him for 3 days.
Brittnee – I understand you are frustrated but I didn't think it was going to get so heated.. I felt kinda bad.. it's never easy
Godfrey says he's tried to talk to her in a rational way.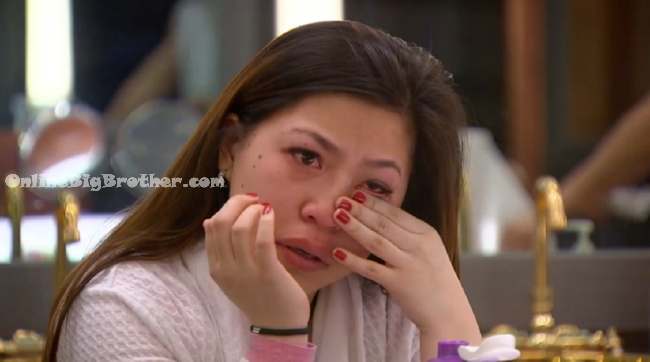 9:03pm Bathroom Zach, Willow and Sindy
Sindy is crying again, Zach is helping with the cleaning. Zach is trying to comfort her tells her to not taek that attack peronally. "I could probably beat the shit out of Godfrey if I wanted"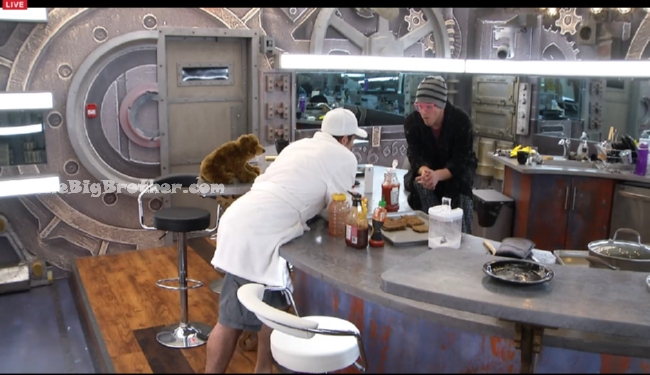 9:03pm Graig and Bruno
Bruno saying if anyone is beside Godrey they need to be scared. Bruno is worried that Naeha, Johnny, Sarah and Brittnee are working together. He's seeing Brittnee and Sarah studying. Graig doesn't think they would put them up. Bruno isn't sure. Jordan comes by. Bruno warns they have to be careful who they study the cartoon around. PIlar comes by and they agree Godfrey went too far in the HOH.
Jordan – "I want this day to be over.. I just want to go to bed"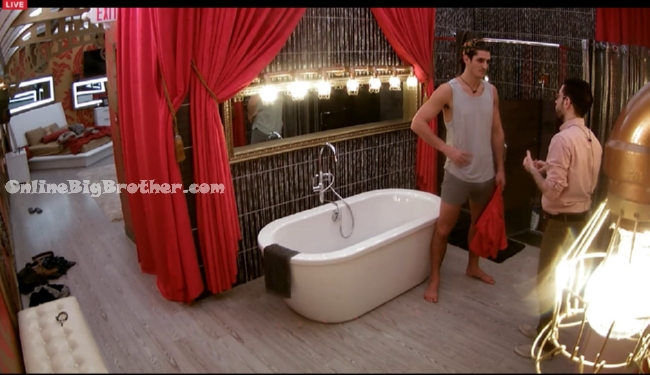 9:13pm Jordan and Zach HOH
They are they have both sides of the house covered and they have to study so they can throw the competition
Jordan – He's the dumbest player in the house
Jordan – why beat a dead house that is already in the ground
Jordan says regardless of who wins they are safe. Neaha/Johnny wins Graig and Godfrey going up if Graig and Godfrey win Neaha and Johnny go up.
Zach – Godfrey is such a f***ing idiot
Jordan – he's so out to lunch
They do think there are advantages to Godfrey staying around awhile because he's such a HUGE target.
THey laugh at players that come into the game and have no idea how to play. Jordan points out this is why Naeha is so dangerous she hates Graig but is able to keep it all in check.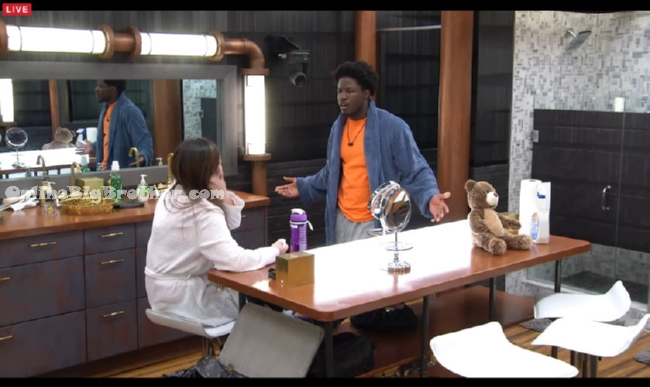 9:16pm Bathroom Godfrey and Sindy
Sindy tells him the girls are not coming after him he may have put a target on his back because of what he said to Willow.
Sindy says first week Graig was going around telling everyone that Godfrey was lying about his life. She adds that Craig wanted him out day 2.
Godfrey – I feel bad you are going home yo.. You screwed yourself over being part of a conversation ..
Godfrey – Clearly I have no idea what is going on in the house. I HAVE NO IDEA.. i'm just listening to what other people are saying
Sindy swears to him she is not her target.
Godfrey – I'm sorry what I said yo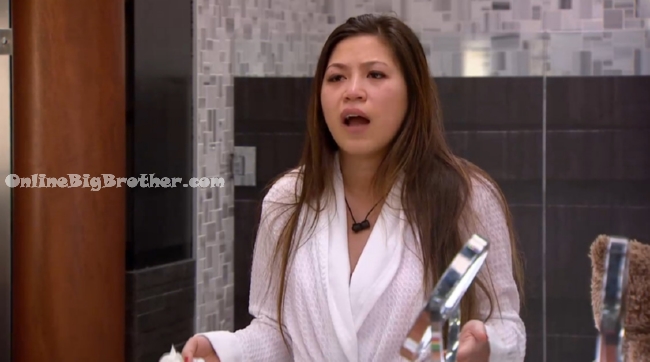 9:34pm Sindy Explains to Graig why her energy levels are low.. She's on the block, tired, it was a shitty day, "I'm on the block and I could potentially go home tomorrow"
Sindy "You were just trying to cause trouble"
Graig says they were close he was so happy he finally had an alliance then 10 hours later he finds out she's telling people she's going to put him up.
Sindy says she apologizes for saying the wrong names. She just picked two strong players it was just a name that popped into her head.
Graig – If were ever going to work together why would you throw anyone in your alliance up
Graig says there are a lot of stronger player in this game than him
Graig thinks Sindy tampered with the camera she got wind of the vote she went outside and got pissed at the camera. He doesn't think she did it on purpose.
Sindy doesn't think anyone messed with the camera it was Big brother messing with them.
9:40pm Pilar and Kevin Cuddling around in the HOH
Kevin – You are a wildcard
Pilar – See kissing with noise is actually better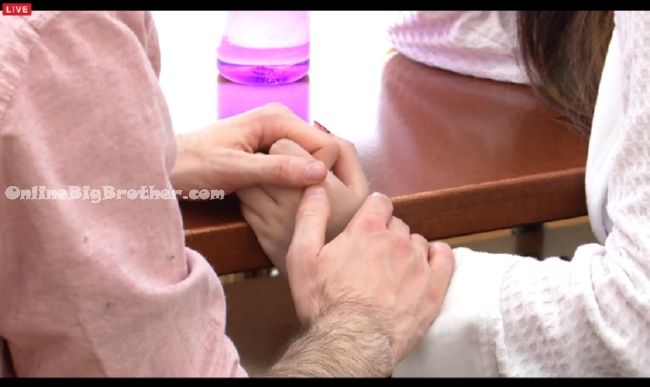 10:17pm Jordan and Sindy
now it's Jordan's turn to comfort Sindy.. He says he feels bad for not saying something to Godfrey but in this type of game if you say something it hurts your chances.
Support the site and purchase your Amazon goods through our link below. It doesn't cost you anything and we get a percentage of what you buy.
Amazon Canada
Amazon USA