Head of Household Winner – Christmas
Have nots – No havenots this week
Nominations – Bay & DaVonne
Power of Veto Players are – Christmas, Bayleigh, Da'Vonne, Nicole, Ian and Dani.
POV Host: – David
Power of Veto holder – Christmas
Power of Veto Ceremony –
Powers – Christmas and Dani. Christmas = protection from being a renom. Dani= Lets an HOH play in the following week play for HOH.
Live feeds —-> Grab your Live feeds here. Try it free.
Rank the houseguests —-> Big Brother 22 Ranking
Veto Results:
– Christmas Won the Veto
– Dani won the Home Gym
– Day won the 5K
– Nicole got the Slop-tard punishment
– Bay has to do 500 laps riding a tricycle on a track
– Ian didn't feel well so he didn't play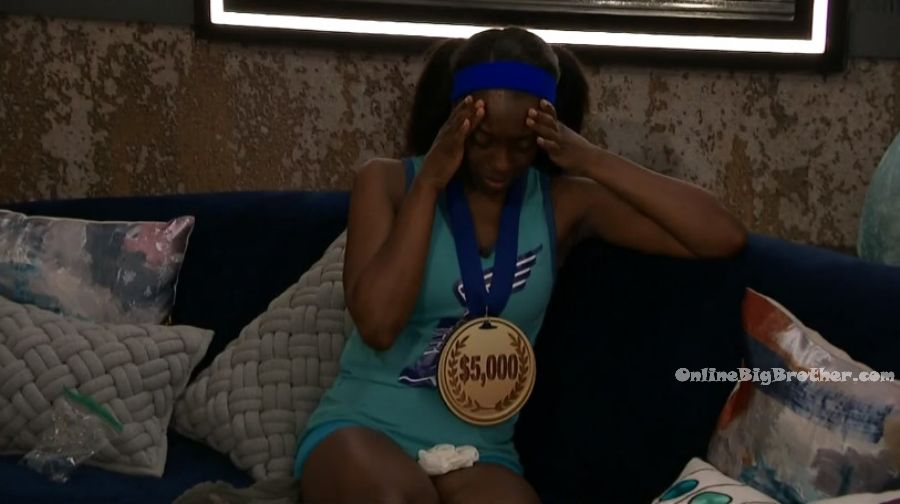 3pm The live feeds return from being blocked for the veto competition.
HOH room. Day is crying. Day has a 5K medal around her neck. Day – how embarrassing. Don't be a sore loser. This is so wack! Not only did you lose you were the first one out.. like what are you doing!!? Why am I so good on the challenge but then I am wack. I am complaining with 5K around my neck .. get it together DaVonne! There are people in this world that really need this 5K!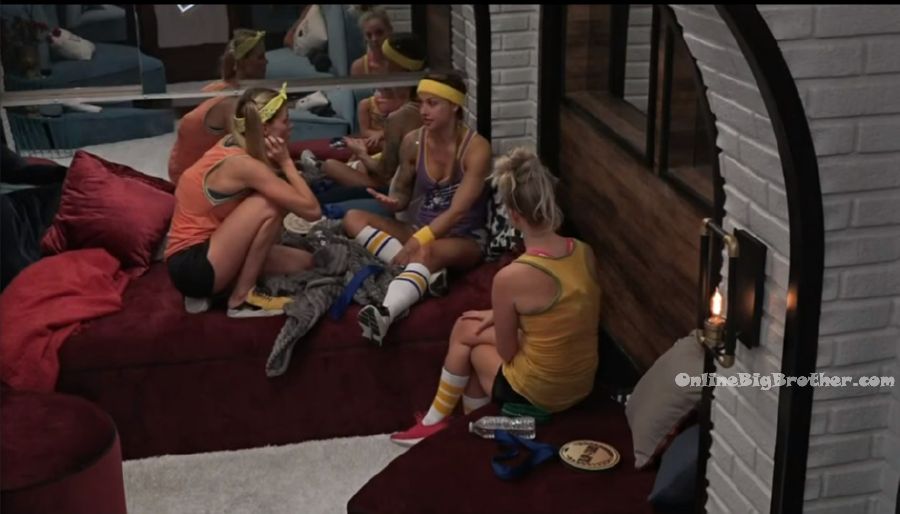 Lounge room. Christmas, Dani and Nicole.
Christmas has the veto around her neck. Dani – I am genuinely like really sorry. Christmas – this is the best case scenario. Dani – Day looked at me and was weeping tears. I was literally like I don't know what to do right now because I am screwing both of you. I was like which one do you want me to take .. just tell me. Bay looked at me and was like please don't take it from me right now. I swear to god I did not know what to do. Nicole – and I want explain my.. Christmas – I understand we didn't have like a set plan going into it. Nicole – no if I would have gotten first you could have kept the 5k! And I would have taken the veto.. does that make sense? If I would have traded it for the veto .. then you would have had to trade me for the veto right?! You get what I'm saying? Christmas – MMmmhhmmm. Nicole – no tell me the truth. Christmas – I don't know what I am feeling right now other than it is on me. I didn't tell you guys what I wanted and laying it out.. that is on me as HOH. That is my fault. Dani – no we're a team .. don't put it on you. We both love you so much! Christmas – this sucks for all of us. I wasn't ready to take on this responsibility but time happened. Nicole – I wish I would have taken the time to ask you. Dani – but then that would have put it on you in front of everyone. Dani – next week you're not HOH I will do whatever I can to take it off you and diffuse any heat on you. Christmas – I am not mad at you .. its a sticky situation. Nicole – if I had had the veto would you have taken it from me? Christmas – I think I would have taken it or taken the 5K. Nicole – I think they all know we're working together. Dani – I think they know but don't know know. Christmas – I am really big on accountability .. I appreciate both of you.. but the truth is I did not tell you what to do. The secondary truth is I won the veto b***hes! They high five. We let the house decide. I need to poll the house. Nicole – we will do what you want and do whatever to make that happen. Christmas – this is Day's third time playing.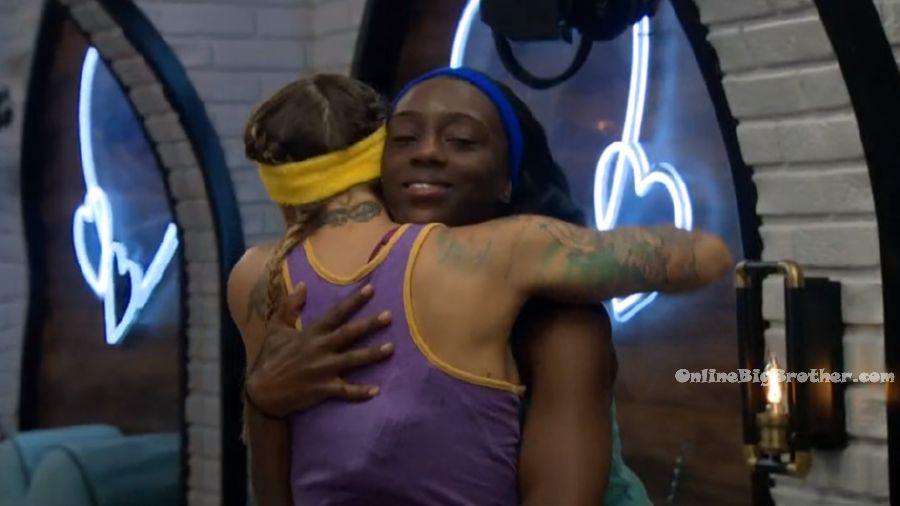 3:13pm Lounge room. Day and Christmas.
Day and Christmas hug. Day – I was a wreck as soon as I saw that comp. .. that is the same comp that took me out of BB18. That was a sh*t show. And I know against Bay .. I don't have the votes. Christmas – you obviously want to stay. Bay wants to stay and you're close to her. We will figure this out without it being a campaign or flipping the house. Day – I do not want to campaign against her. But at the same time I met her 21 days ago. Christmas – I don't either of you to campaign against each other. There are big brother rules to maintain the integrity of the game. What are our options to be as gentle and kind as possible. Day – are you down to backdoor someone? Christmas – I don't know .. its not my style. I am not saying no. Day – I know if we (Bay and Day) stay in this house together.. this week is going to happen often. Christmas – I also just met Bay.. I f**king love that girl and I get overwhelmed thinking about her not being here. I hate the fact that a lot of women have left but the ones that are still here are the baddest bit*hes. Day – I am down to ride! I will set this whole place on fire. Christmas – you know what my mom tells me ..that I make a honey badger look like a honey bear. Day – for me you know my why! The dynamic .. you, me, Dani and Nicole .. would be a power house! These seasons .. these guys grab one girl (Day points at Christmas) and they toss her. Christmas – I have really good communication with people in the house. I know is scared of you and who is in favor of you. I want to see you in this game. I don't want to see Bay leave .. but one of the two has to happen. This is your third time.. you are a legend and I want to see you get further than you have. You have a lot more favoritism than you give yourself credit for. If noms stay the same .. you are not guaranteed to go home.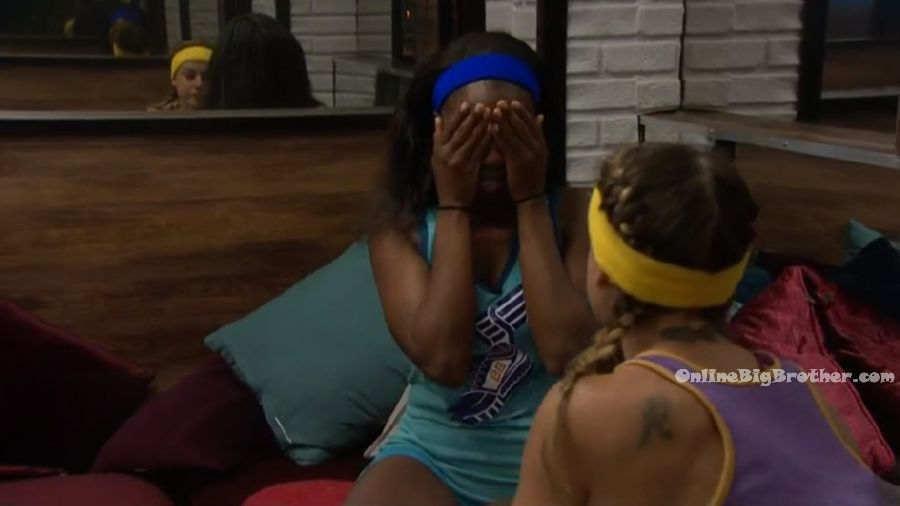 3:15pm Bedroom. Nicole and Dani.
Dani – Oh my god I can't believe you gave Day the veto .. that was so nice of you. That was game and very nice of you. Nicole – Everyone was like it was so nice of you but I wanted the Slop-tard .. I really did.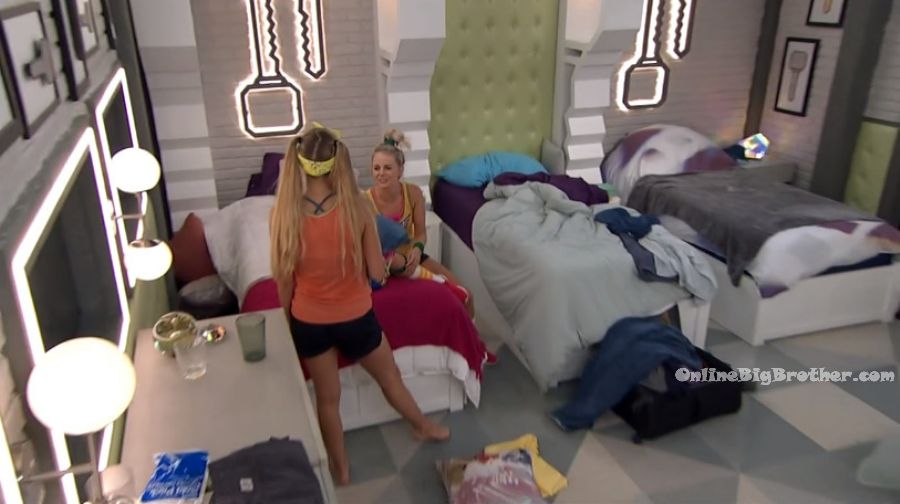 Lounge room. Christmas and Bay.
Christmas – the dilema that you saw all the girls having is that no one wanted this thing (Veto). Bay – I wanted it! Christmas – I want you to know that I did not say anything to Tyler. I called him up there to study. I don't know why he would have looked at you like that but that is why we got called into the living room and had to stay there. Bay – okay .. its a lot in my head. Christmas – the Tyler thing?! Was it bad? Bay – its a long story .. it was bad and kind of scary. I will get to the bottom of it. I will figure it out. It just made me a little bit nervous. Christmas – well I definitely didn't say anything. Bay – I appreciate that. I don't doubt you. It just scared me when he looked at me like that.
David and Day.
David – I am not locked in right now. Day – as we get closer ..I don't expect you to say right now. Hear her out and read the temperature of the house. See what they're doing and go with your gut. I am just waiting for you to trust me so that we can rock this sh*t. Realistically one of us are going home this week. David – it wasn't supposed to happen this way. Day – I know .. but there is a lot of big brother to be played right now. Listen to your heart and whatever you decide.. I support.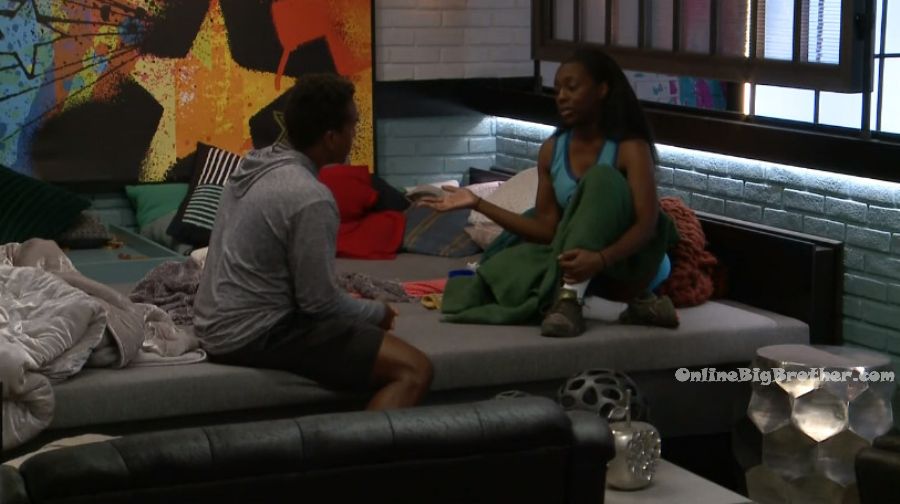 3:47pm Bedroom. Bay, Day, Nicole and Dani.
Bay – is there any chance to get her to use it to put someone bigger up? And I am not even doing this preferential.. if you feel like it pull her (Day) off and put someone else up. Or pull me off and put someone up next to Day. I just want to know if its a possibility. Dani – I have no idea. Nicole – I wouldn't say there isn't a chance. What did she say. Bay – She said that she needed a second to prepare if it was an option to put someone else up. Dani – I will put my feelers out to see if she will put someone else up. Bay – I know I can get Kevin's vote ..depending on who is on the block… and I think I can get David's vote. That would be five for sure. Day – oh my god five votes. Bay – I am just trying to be optimistic. Dani – there is always a slight chance. We will just think it out and see if there is anything we can do. Bay leaves. Day – I don't think she will use the veto. I think realistically we will both stay on the block. Nicole – you have my vote. Dani – you have me, David, Nicole, Kevin.. Nicole – Ian maybe. Dani – you need one more. Day – what about Memphis. Dani – I will talk to him and see where is head is at.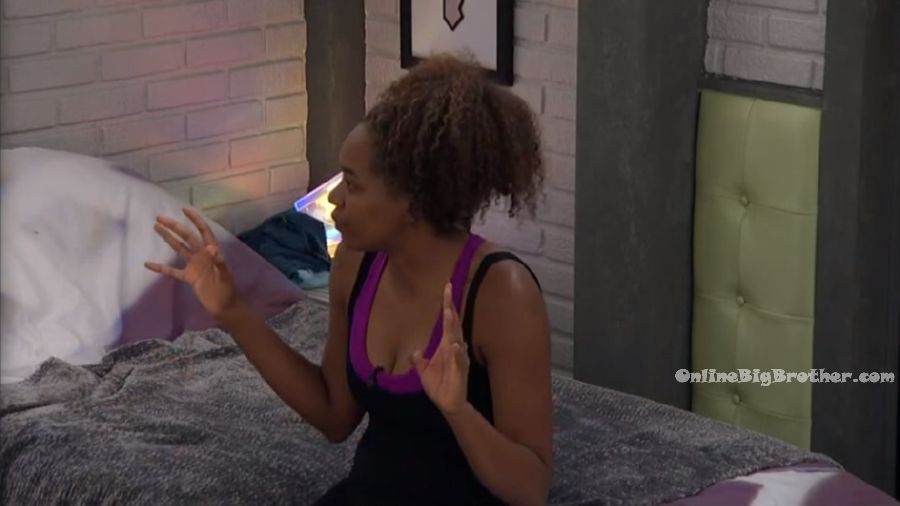 4pm Lounge room. Enzo and Day.
Day – I am going to try whatever I can to get her to put someone else up. Enzo – she doesn't f**king tell me nothing. I will talk to her too and feel her out. Are you willing to make a big move or not. Ian is really sketched out. Like relax bro! Chill out! Day – its just who we can present.. but its not even just who we can present .. its do we have the votes. Enzo – who is there!?
HOH room. Christmas and Cody.
Christmas – dude Kevin has to go next. He works and works .. and I am pretty sure he has a power Cody – I think the same thing. I have no problem throwing him right up. Christmas – he is fully capable. Cody – when you play the roll and say that your aren't but he essentially is .. I won't call him a floater .. he's a free agent. I am not down to cannibalize ourselves. For us to get to the six is so attainable right now. We control the HOH from inside The Comity. Christmas – so after this week it will be Ian, Kevin, David and Enzo. Cody – yeah .. I am really nervous about Ian because of how well he did on his season at the back end. Christmas – oh I know trust me.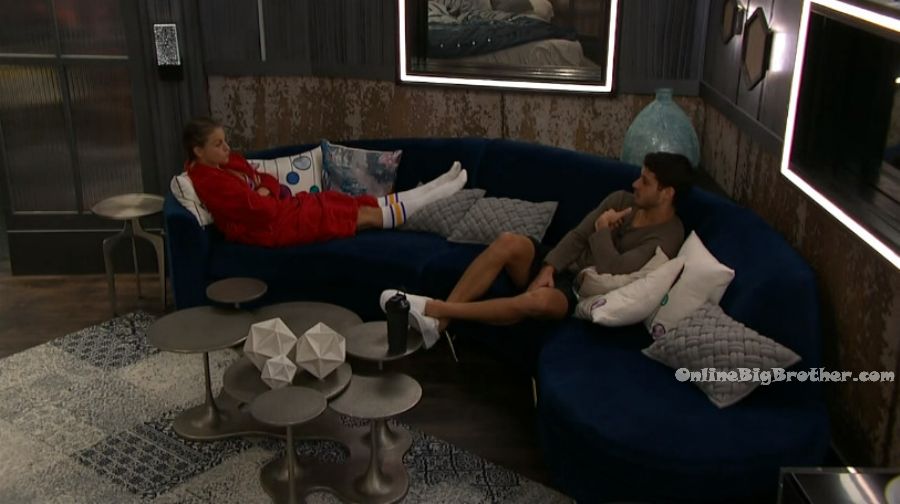 4:35pm – 4:50pm OH room. Christmas, Memphis, Cody and Nicole. Memohis – In the jury .. who is going to be most clear minded person? Nicole – DaVonne because she voted for me and she didn't like me. She doesn't vote bitter. She respects the game. Memphis – it should be based on game play. Nicole – she said that she didn't want to vote for me but did because she respected the game too much. Memphis – that's a point in my mind. Nicole – but essentially Christmas if you have a preference one way or another ..we will back you to because you've already done so much for us. If you want Bay to stay .. or Day .. we will back you. Christmas – I just want to take the day off.
5:05pm – 5:15pm Bedroom. Dani and Enzo.
Dani – if there is a battle back Bay would have a better chance at coming back against Janelle. Day isn't winning anything. They talk about how Day let the pressure get to her in the veto comp. Dani – did you win a power? Enzo – yeahhh.. oh no .. did you? Dani – You just said yeah! Enzo – na! Dani – you lying sack of.. Enzo you're a freakin liar! Enzo – I swear I don't. Dani – I freakin know you did. You're a piece of trash! Your trash power .. you already talk about how bad it is. Dani – I am so glad at what I got. Enzo – you cash that out that is at least 10K. Dani – I think someone needs to take a shot at Kevin. Enzo – I will, I don't f**king care.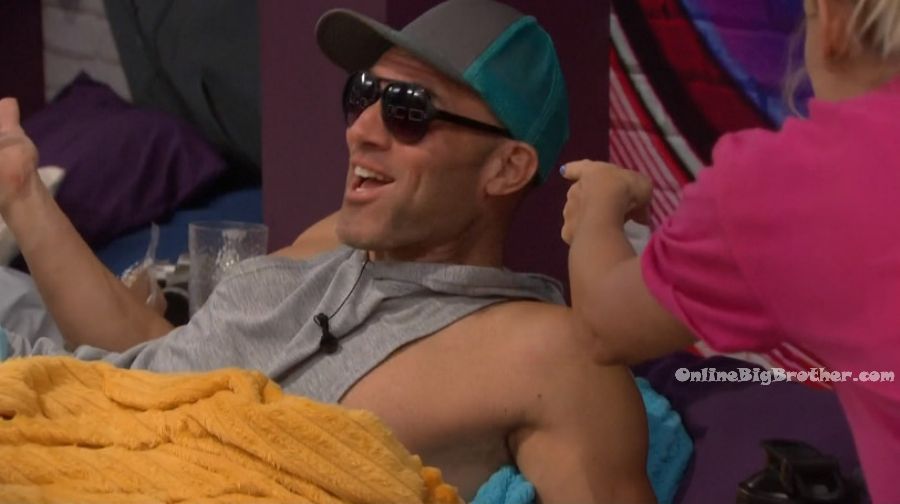 HOH room. Christmas and Tyler.
Tyler – you did it!!! You're killing it! Christmas – now I am so freaking locked in. Tyler – you're so locked in! Christmas – I am so proud of myself. Tyler – you should be. Christmas – Day totally f**ked up. Tyler – that was sad man .. but it sucked. That's the game. Christmas – the only way they threw that is if they have a power. Memphis, Nicole and Cody were up here early. The further we get the more locked in we are. And if we're not trusting each other right now ..we're f**Ked. IF we miss-step it will f**k us. I don't want anyone getting any funny business. Ian and Enzo are friendly. Kevin is not a friendly. Tyler – he does that thing where he says he wants to work with you but then never says anything else. Christmas – I have a favor that I can pull from Enzo whenever I want. If there is a weird power floating around hopefully it pops up this week. Tyler – we have the votes .. Me, Cody, Memphis, Nicole, Dani .. that's five right there .. and then Enzo. Christmas – we can get out whoever we want. Tyler – you want Bay still? Christmas – Bay has won before. Day has showed when the pressure is on she gets shook. The girls .. they really do almost believe everything immediately. They spin out fast.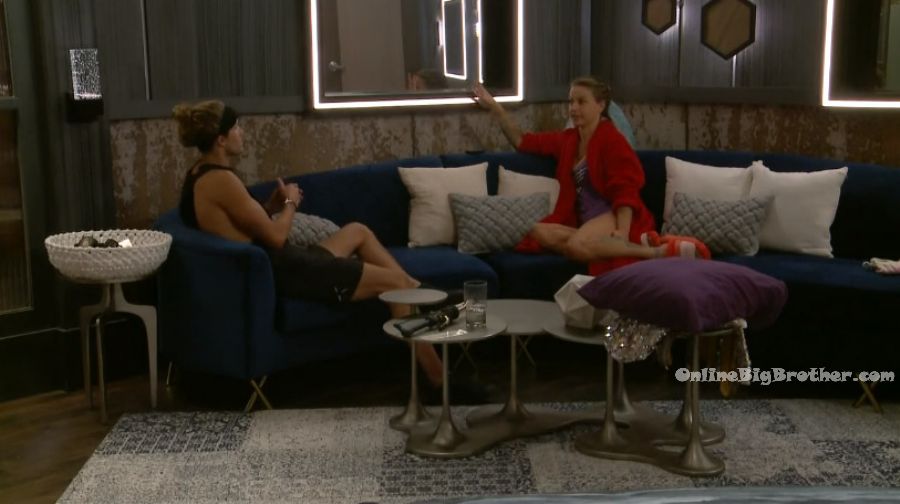 6:30pm Christmas is cooking. Meanwhile in the bedroom. Cody, Ian, Dani and Nicole are chatting about random things.
Show your support by making a donation.
If you're enjoying our live feed updates this season, please consider donating.
Any amount is greatly appreciated! Your donations go directly to paying the fees required to run this site.