Head of Household Winner – Christmas
Have nots – No havenots this week
Nominations – Bay & DaVonne
Power of Veto Players are – Christmas, Bayleigh, Da'Vonne, Nicole, Ian and Dani.
POV Host: – David
Power of Veto holder – Christmas
Power of Veto Ceremony –
Powers – Christmas and Dani. Christmas = protection from being a renom. Dani= Lets an HOH play in the following week HOH competition
Live feeds —-> Grab your Live feeds here. Try it free.
Rank the houseguests —-> Big Brother 22 Ranking
Veto Results:
– Christmas Won the Veto
– Dani won the Home Gym
– Day won the 5K
– Nicole got the Slop-tard punishment
– Bay has to do 500 laps riding a tricycle on a track
– Ian didn't feel well so he didn't play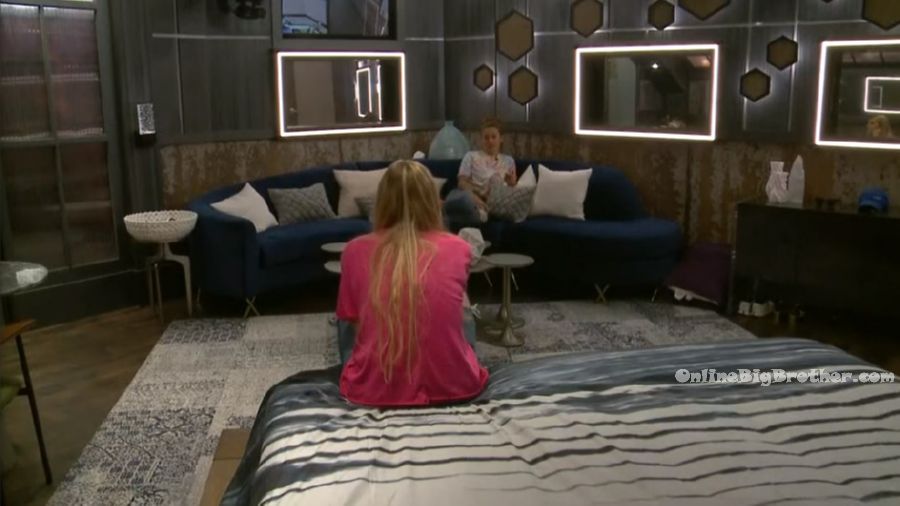 6:56pm HOH room. Dani and Christmas.
Christmas – I have had a super successful HOH. I don't have anyone gunning for me and weirdly I feel closer to Bay and Day than ever before. Dani – yeah they came up to Nicole and I and asked if there was any chance you would backdoor someone. I said I have no idea. Christmas – Day brought that up to me and I was like who is coming after me.. and Day had no answer. Dani – I don't think there is any power that is going to mess you up. Christmas agrees. The best move was for me to win the veto. I am obviously not going to use it but we should use this opportunity to gain an ally. I think that Bay going is the best move. Dani – I don't think this is going to happen but.. if one of the pre jurors were to come back.. If we sent home Bay .. I feel like she would be a bigger threat to beat Janelle. I know it sucks to say but Day would never win. Christmas – with Day when the pressure is on she cracks so hard. They both had false starts .. I don't trust that. I can't 100% believe that .. that wasn't thrown. Dani – why would they throw it? Christmas – to set themselves up for a power. Dani – I don't think so.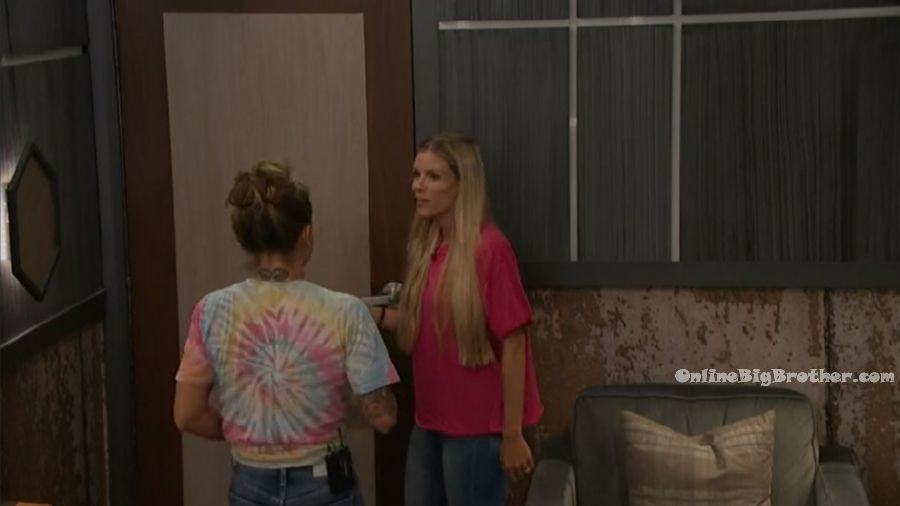 7:30pm Bathroom. Nicole and Day.
Day – you, Dani, Ian, Kevin.. What do you think Tyler would do? Nicole – I don't think he would vote her (Bay) out no matter what. He is worried about being ridiculed on the outside. He is really worried about that stuff. Day – I am trying to get Cody or David or even Memphis and then that's five. Nicole – I am going to see what Cody says. You don't think you could get Enzo? Day – no. Nicole – I don't think so either. Day – Not at all.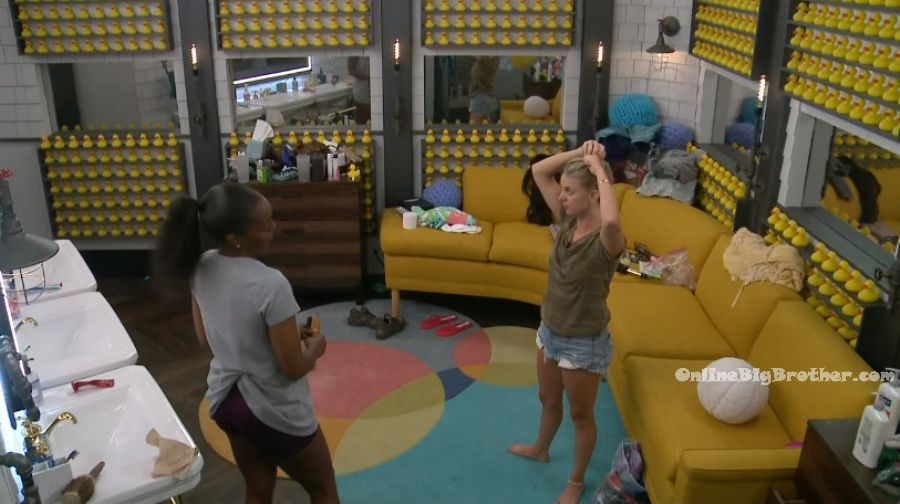 7:35pm In the kitchen the house guests talk about the Slop-tard costume that Nicole has to wear as a punishment from the veto competition.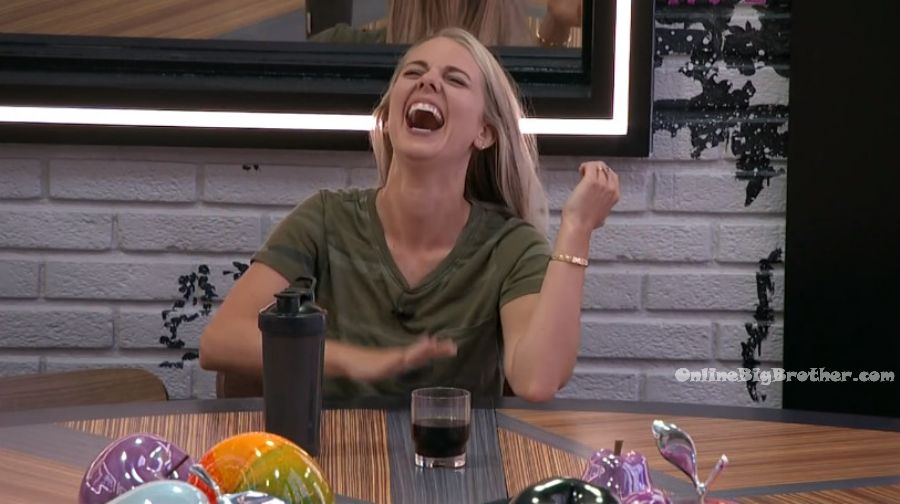 7:50pm – 8:15pm Bedroom. Cody, Enzo and Tyler.
Tyler – Did Nicole talk to you guys. Cody – no. Tyler – Bay told Dani. Cody – that's why Dani hasn't been talking to me. That's why Dani has been acting weird. Tyler – is Nicole talking to you? Cody – Nicole, yeah I guess. Tyler – did she tell you? Cody – na she didn't tell me. Tyler – just me. Cody – that's what I told you it doesn't matter if we're included .. she is going to be pissed that we didn't tell her .. so like we're f**ked anyways! Yo f**k whatever! Tyler – I am going to keep acting like I don't know. Cody – you think that's the play? Tyler – I think I'm the scapegoat for Bay .. I am just going to keep pretending that I don't know. Enzo – I am going after every f**king one of them! F**k YO! So we get rid of Bay then? Tyler – yeah. I am sorry I started this sh*t! Enzo – I don't give a f**k yo! At least we know we can't trust Dani. Tyler – she isn't coming to us to tell us. Enzo – why is Nicole the champion and in a better position than anybody?! Tyler – Nicole and Dani aren't saying anything to us. They talk about how they think Kevin has a power. Enzo – I think Ian has a power. That's why he is all f**ked up getting his blood pressure checked. Tyler – Bay is comfortable right now. Enzo – until she finds out she's the one going. Cody – she can't find out. Enzo – its a wrap ..Christmas is HOH. She's not doing anything. Tyler – Dani is going to backdoor me next week .. I swear to god. Cody – its not going to happen.. you don't just backdoor someone .. you have to make sure you have the votes first. Besides she has to win the HOH first. Tyler – I am just not going to say sh*t to anyone.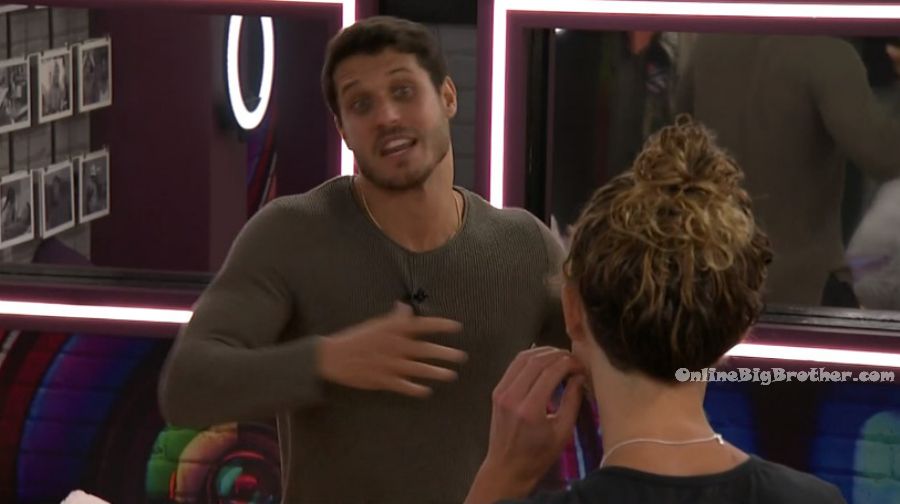 8:30pm – 8:40pm Bedroom. Bay, Day and Kevin.
Kevin – man, this is going to be a season of all men. Day – I know you're lying. You're lying. They speculate on if it will be a double eviction this week. Kevin – once you make it through this week we will talk about strategy.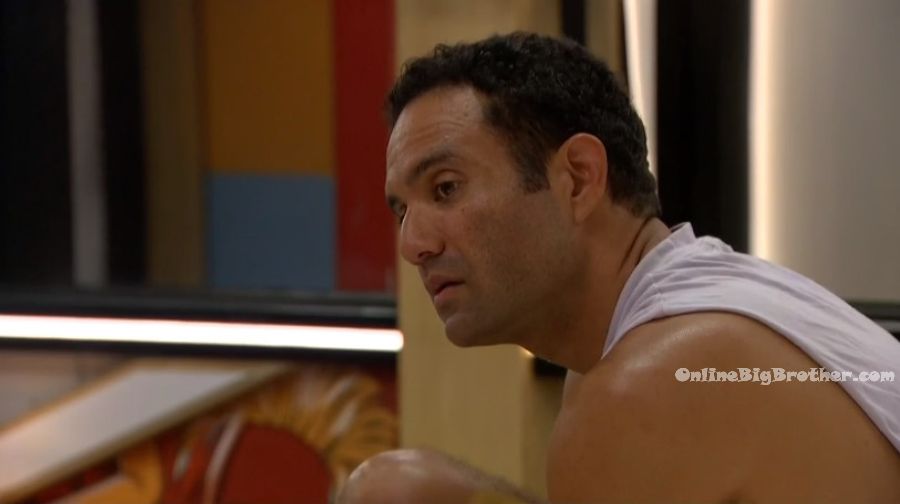 8:58pm Nicole comes out of the diary room – WHO WANTS TO SEE MY SLOP-ITARD! Everyone starts laughing. Nicole – its hideous!! I hate it! Kevin – I'm uncomfortable looking at it. Nicole tells them that she has to wear the blonde wig and has to wear the costume all the time. Nicole – okay I am not going to be grumpy about it .. I'm happy ..its fine! Enxo – I already know what I'm going to say in the DR! Nicole – stop it Enzo! Day – do you feel boxed in? Are you a serial killer?!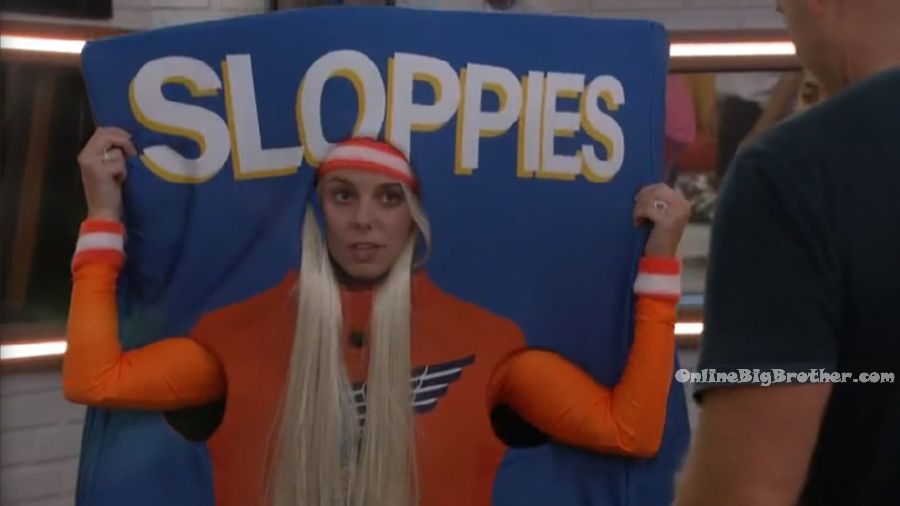 Nicole – its hideous!! I hate it!#BB22 #bb22allstars @bigbspoilers pic.twitter.com/vH6A7L2533

— Dawg (@DawgsBigBrother) September 6, 2020
9:20pm Bay gets called into the diary room. She realizes she's being called in for her punishment. Dani goes into the storage room and sees a costume. Dani – I think Bay's costume is in here.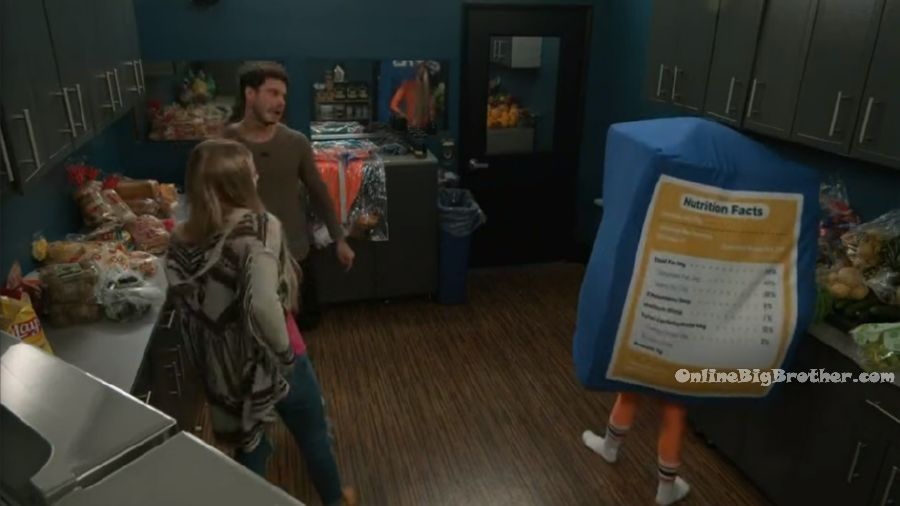 9:28pm Bay comes out of the diary room – who wants to see my tri-athlete punishment!? She says that her punishment lasts for 12 hours and she has to stay up all night. She has to do 500 laps around a track on a tricycle. Bay gets everyone to gather by the back door. She tells them that no one is allowed to touch anything.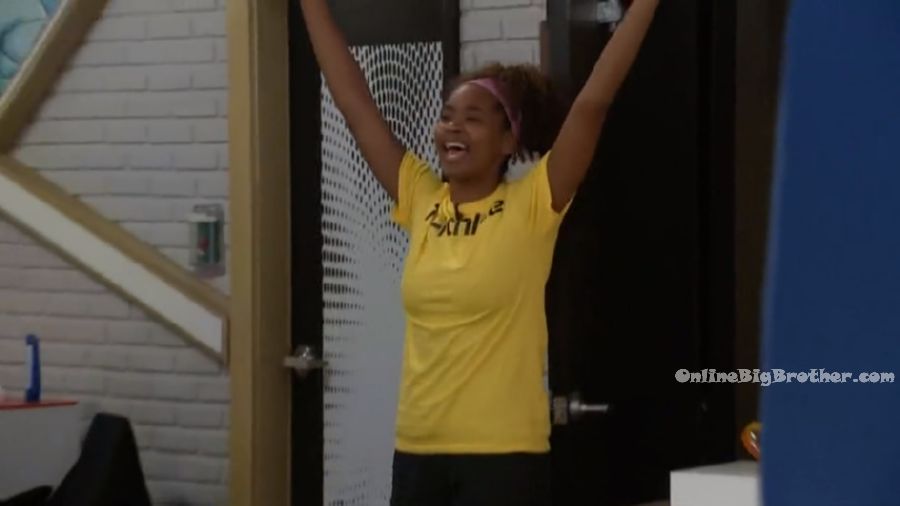 9:45pm Bay says that if she doesn't complete the 500 laps in 12 hours she can't compete in the veto if she is here next week even if she is nominated.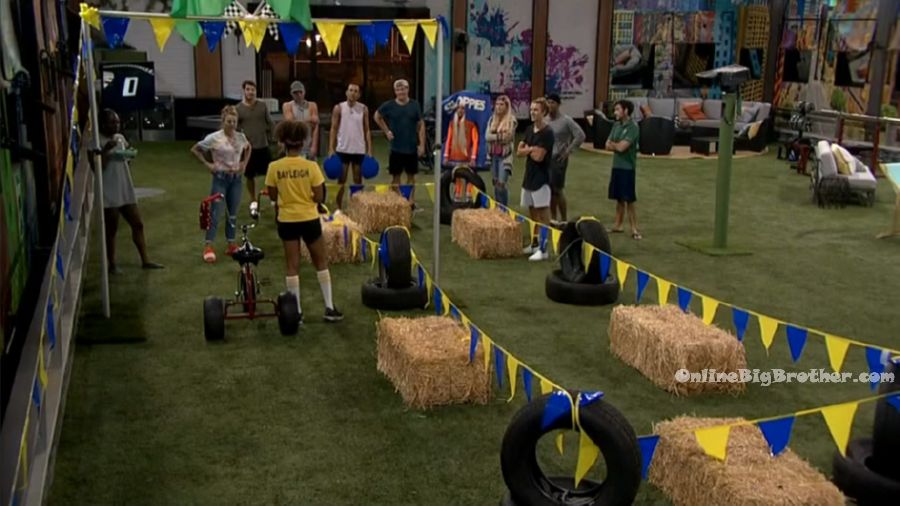 10pm The tricycle is already broken..
10:30pmThe house guests are hanging out in the backyard. Cody tries on Nicole's wig. Dani – you look disgusting.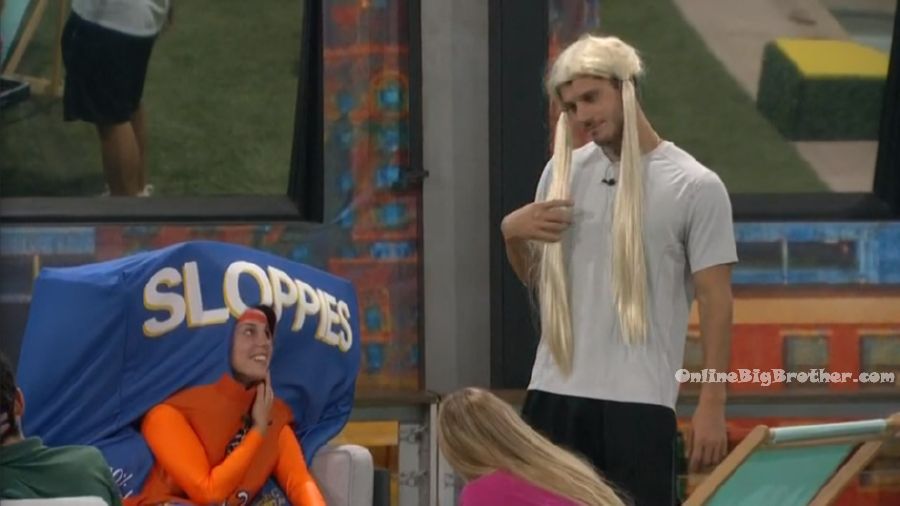 10:50pm Bay is already at 235 laps.. 265 more to go..
Bay takes a break and Enzo takes the tricycle for a spin.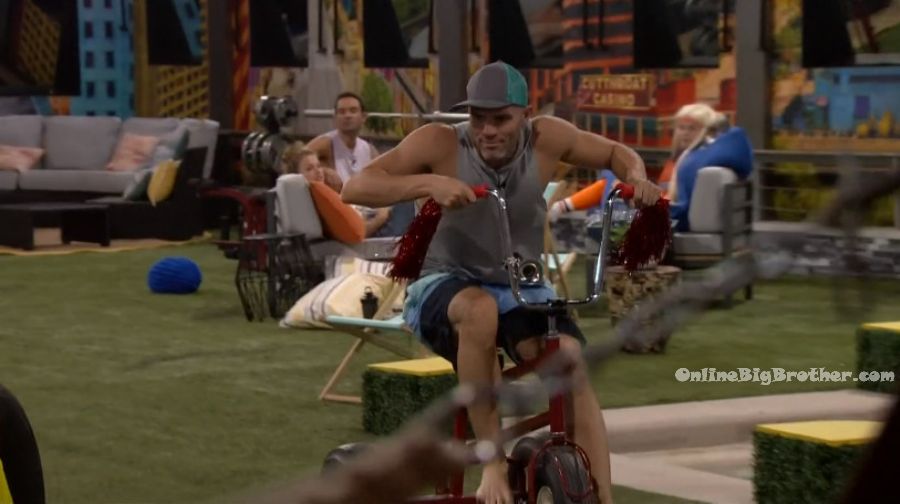 11:06pm Kitchen. Bay and Day.
Day – what happened? Bay – as I am riding my tricycle I am getting more and more mad. She disgusts me! Day – who? Bay – Christmas! It makes me so upset .. I genuinely told her .. I told you that I would never touch her in this game. So she is mad that I said .. literally this is what is playing in my head.. Day is my best friend in the house.. I won't touch her. I told you I won't touch Christmas. Nicole said Ian is my best friend in the house I won't touch him. Its not a problem … but its a problem. So I am very, very upset.. THEY WON THE GAME. I haven't won sh*t.. This sh*t is bullsh*t! So what I stay in the house just to go to jury again!? I am so f**king frustrated! I am tried of it. They say Bay is my friend .. no you're not .. you're not my friend. I am not even defeated .. I am just mad. I know I am the cream of the crop .. so what the f**k is this sh*t!? But yet I'm a reject?! What the f**k?! Day – but you're not! Bay – then to have the added layer of having Kevin scalding me for holding my head high .. stop it, stop it… and you need to be struggling more with these laps. You're making the laps look too easy! F**k you! The laps are easy! I literally said no ..they'll never see me sweat!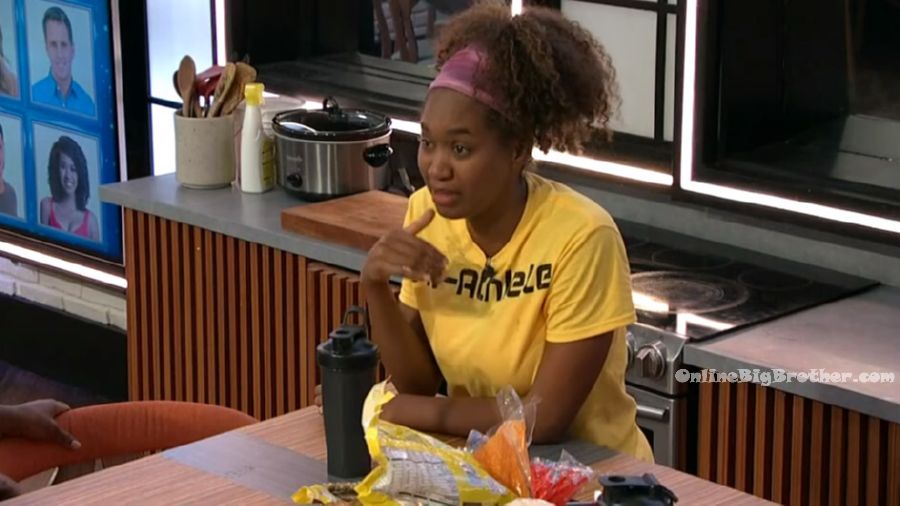 11:35pm Bathroom. Nicole and Dani.
Dani – Christmas is so out of touch with this game. Its like hilarious! She literally thought that Bay and Day threw it (veto). Nicole – I did too. Dani – NICOLE?! I thought it was strategy. You're hanging out with her too much. Nicole – did I think they did .. no but it crossed my mind.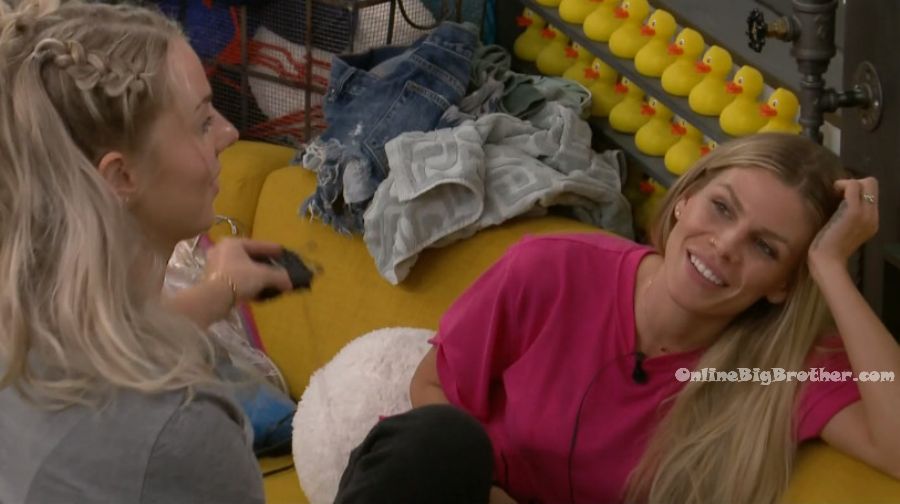 Kitchen. Dani and Cody.
Cody – Tyler said that he thinks you're going to backdoor him next week. Dani – what did you say? Cody – I was like bro she is not. Relax! Don't be paranoid. Everybody is freaking out. What do you think I would say?! Yes! Dani – I am just asking. So obviously if he is thinking that he is going to be coming after me. Cody – no, I don't think he would because I would be the one he would tell. Dani – if he does come after me I will freak out. If I would have won HOH .. I would have put up a pawn and backdoored Bay.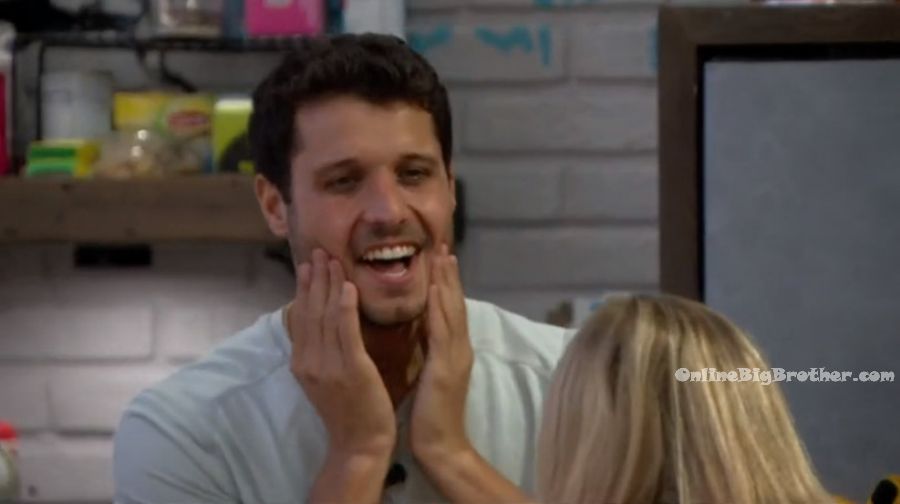 11:58pm Bay is at 390 laps so far.. She'll be done in no time.
12:10 am Dani and Cody
Talking about taking out Ian this week.
Cody – it would be a lot doing it quick is almost like removing the band aid with Nicole.. Getting it done. If it's right now the double eviction is next Thursday is it the right time to isolate Nicole for 7 weeks
Dani – Nicole wouldn't care she would be sad but
Cody – I'm not worried about her being sad I['m worried about isolating her in the house .
Dani – If Ian were to go she would be paired up with? (DIdn't hear who)
They start talking about who to evict of Nominations stay the same.
Dani mentions if they send Bayleigh out and there is a pre Jury battle back she would have a better chance against Janelle.
Cody – true.. would they do a 5 person battle back?
Dani says she doesn't thin there will be a battle back but if there was..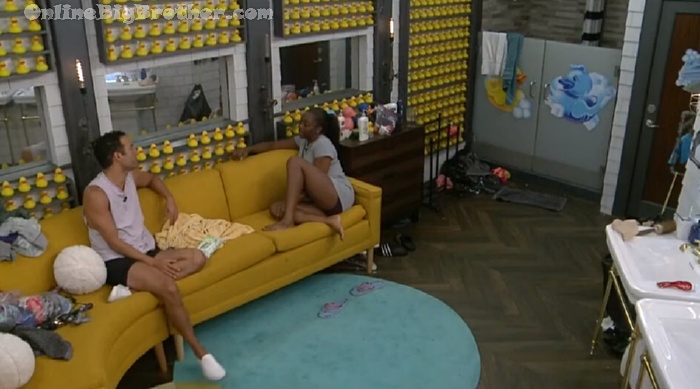 12:38 am Da'Vonne and Kevin
Day saying that she's got Ian.
Da'Vonne says Enzo not budging.
Da'Vonne – Ian, Nicole, Dani
Kevin says Memphis approached him for the first time today. "He never talks to me"
Kevin – I know when people are annoying me and not wanting to talk game at all I was in the kitchen. He's been avoiding me all season. We were in the kitchen he goes. Man I'm feeling like a lone wolf in this game.
Kevin – I was like ohh .. he said I feel like we've entered a part where we'll have to switch it up
Day – that's HUGE he doesn't want to talk to anybody
Kevin – at this point you can't share anything with Bayleigh
Day – I told her ..
Kevin – even this conversation about Memphis
Day – I don't tell her stuff
Kevin – at this point it has to be zero.
1:00 am Bayleigh completes 500 loops with the trike.
Bayleigh heads to hammock to cry to SwaggyC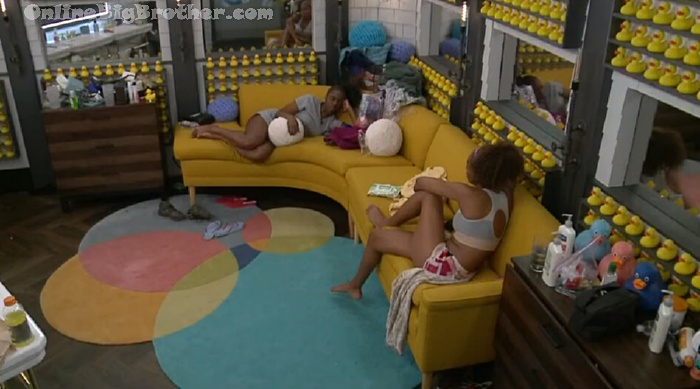 2:14 am Bayleigh and Da'Vonne
Bayleigh – I'm not even going to campaign
Da'Vonne – you should and you will
Bayleigh says if she wins HOH the house will be even more scared of her.
Bayleigh – I want to be here but socially for me I'm at such a disadvantage I'm not a big talker. I can't sit and talk for hours. I can listen to people. I have a really hard time with complainers we have a lot of them in this house. I have a really hard time with self centered people we have a lot of them in this house. I have a really hard time with people sitting and talking about themselves for hours and not asking you anything about yourself. It's very difficult for me because I don't operated with that.
Bayleigh – I have a very emphatic heart I take on a lot.. Its not anything I can control. Growing up I had older sisters to protect me.. It's my heart I always get so messed up I don't know if I'm willing to do that to myself this time.
Bayleigh starts to cry.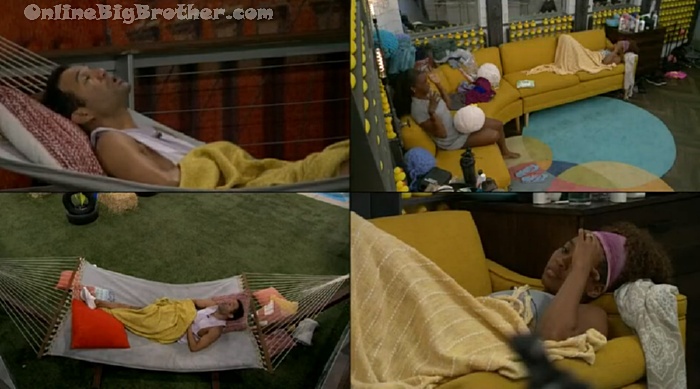 3:51 am Kevin talking nonsense in the hammock, Da'Vonne and Bayleigh talking about God in the bathroom.
5:11 am Most of the house is sleeping. Da'Vonne was just roaming around in the bathroom a bit ago.
9:05 am Sleeping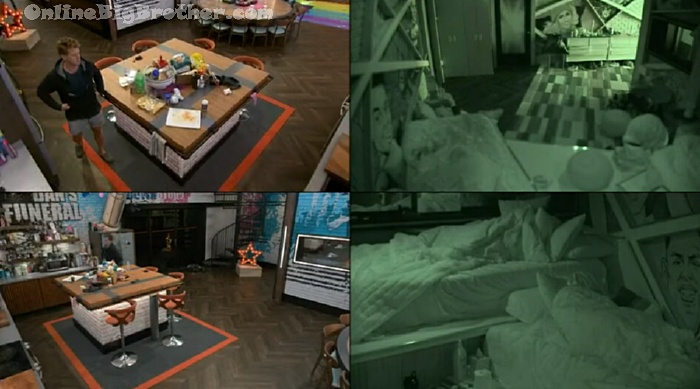 10:20 am Memphis is now up.
11:17 am feeds on stars .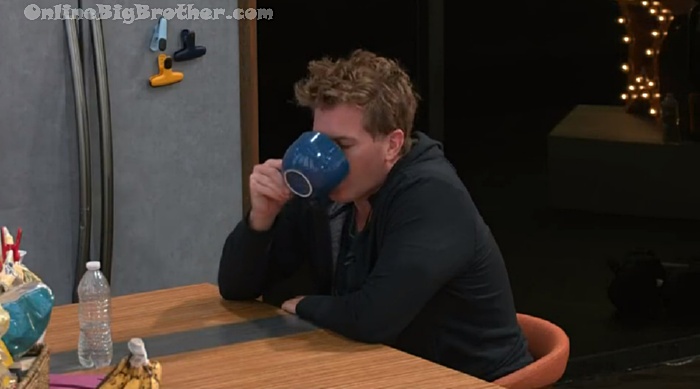 11:20 am lights on.
11:31 am Memphis in the key room tell Nicole, Cody and Ian "the Backyard is open, It's hot as f*** out there and there's cornhole"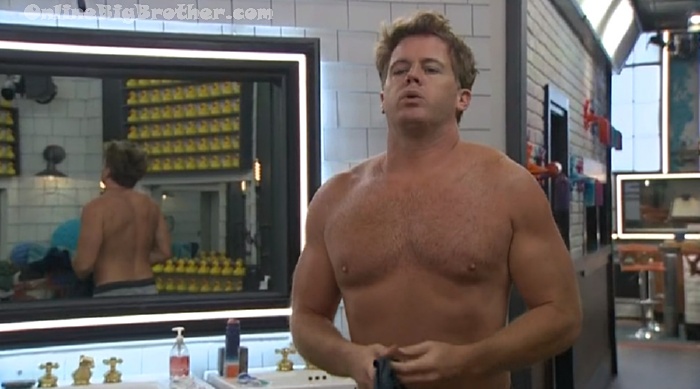 11:35 am house is getting ready for a morning in the backyard.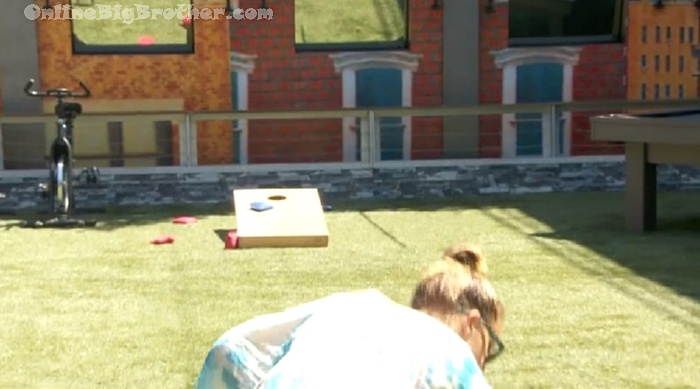 11:47 am Cornhole!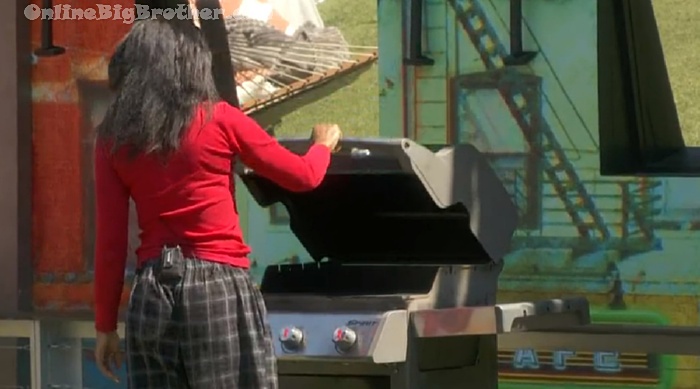 11:50 am Grill!
Show your support by making a donation.
If you're enjoying our live feed updates this season, please consider donating.
Any amount is greatly appreciated! Your donations go directly to paying the fees required to run this site.