Head of Household Winner – Christmas
Have nots – No havenots this week
Nominations – Bay & DaVonne
Power of Veto Players are – Christmas, Bayleigh, Da'Vonne, Nicole, Ian and Dani.
POV Host: – David
Power of Veto holder –
Power of Veto Ceremony –
Powers – Christmas and Dani. Christmas = protection from being a renom. Dani= Lets an HOH play in the following week HOH competition
Live feeds —-> Grab your Live feeds here. Try it free.
Rank the houseguests —-> Big Brother 22 Ranking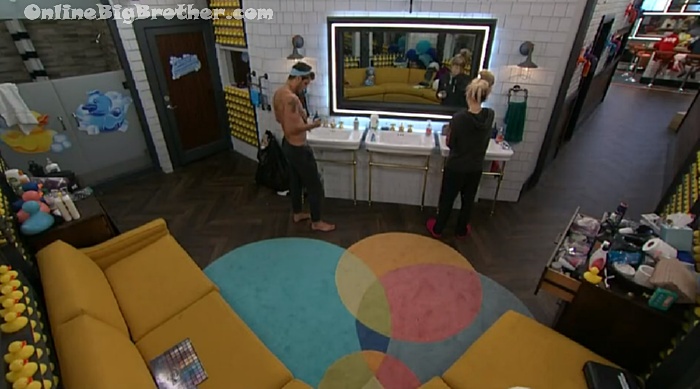 7:48 am Dani and Cody
Dani – were you going to tell me ever?
Cody – yeah I was planning on it. I didn't want it to be a huge blow up. inevitably that is how the world works
Dani – I want them to blow up
Cody – because of everything that was going on it made me feel like that it was .. they were flipping on you and me. So I was really pissed. I didn't want to say something to you and have you all pissed off..
Cody – then it kinda just unfolded in the worst case scenario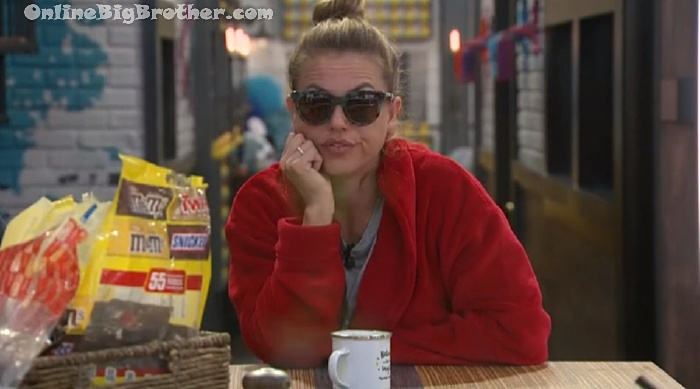 7:53 am early wake up for Power of Veto player picks.
Christmas talking about how low her resting heart rate is.
Christmas – I'm a crazy a$$ athlete
8:00 am – 9:20 am Feeds down for POV player picks.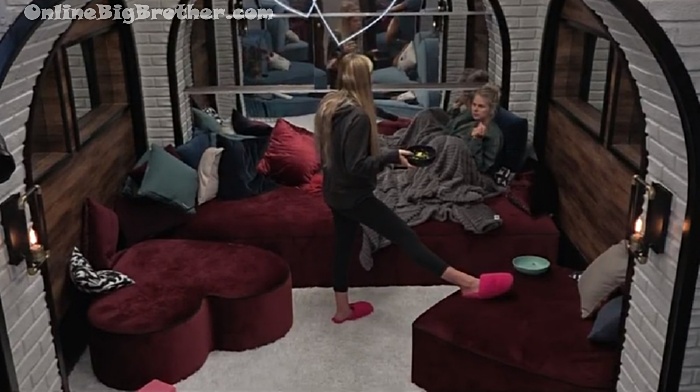 9:23 am Dani and Nicole
Dani – Tyler's a piece of crap
Nicole – you cook for him
DAni – I hang out with him a lot
Nicole – I'm confused why he would betray you
Dani – idiot Stupid idiot He was trying to be a hero and game too hard
Nicole e- he was trying to be a hero in the wrong way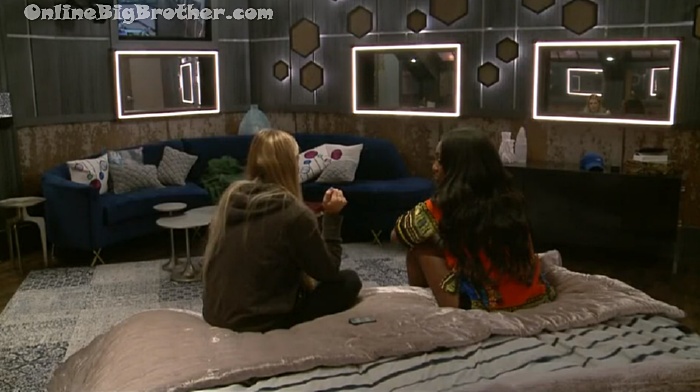 9:31 am Da'Vonne and Dani
Da'Vonne she picked Dani for Veto.
Dani – If I can throw it to you i'll throw it to you. If I tell you something don't repeat it.
Dani – I feel with Christmas Bayleigh is the target I feel if you are there at the end of the week we don't have the votes. I feel like we have to get you off of there
Da'Vonne says Enzo, David Tyler, Cody will vote for Bayleigh to stay
Da'Vonne – what is NIC going to do
Dani – she'll vote for you..
Dani says Nicole wants to win veto to pull Da'Vonne down "if she can convince Christmas but she's scared she can't convince her because she doesn't want to do that and have everyone hate her". "Don't repeat this not even to Bayleigh"
Dani – does Kevin have the power? Don't lie.
Da'Vonne – no
Dani – swear
Da'Vonne – no he doesn't either that or he's not telling me.
Dani – I feel like he does
Da'Vonne – from what he's telling me he doesn't have anything
Dani – I feel like he does he's changed a lot yesterday.
Da'Vonne – what is Ian going to do
Dani – I feel like he's closer to you right. I don't think the has any relationship with Bayleigh. He's a mess all he talks about is self evicting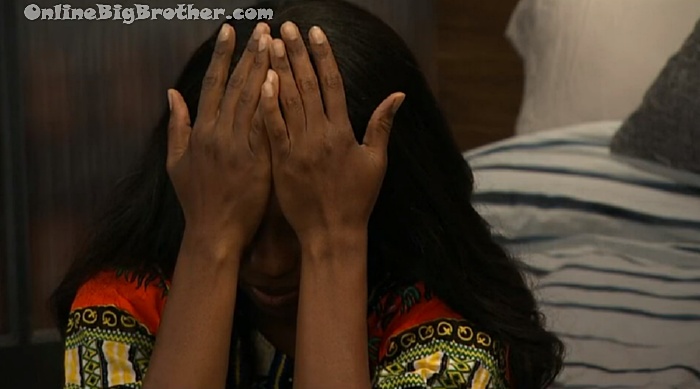 Da'Vonne – how did I end up on the block. I didn't understand her speech.. I even asked to get clarification. You put me up because of a conversation you had with Bayleigh not becuase your threatened by me not because I threaten your game because of a conversation you had with Bayleigh.
Danio – I know she was crying a lot yesterday. I don't know man
Da'Vonne – I don't understand it I don't get it
Dani – she might just want to cut that because she knows you and Bayleigh are tight and she see's Bayleigh as a threat to the house. It's obvious she wants her gone over you
Day – I don't know if she does.. she talks game with Bayleigh. we don't talk game.
Dani – well she can't vote either way.
Dani – who will Kevin vote for
Da'Vonne – Kevin will vote for me.. .Here she comes
Christmas joins them.
They talk about how "weird" the veto player picks were.
Dani leaves..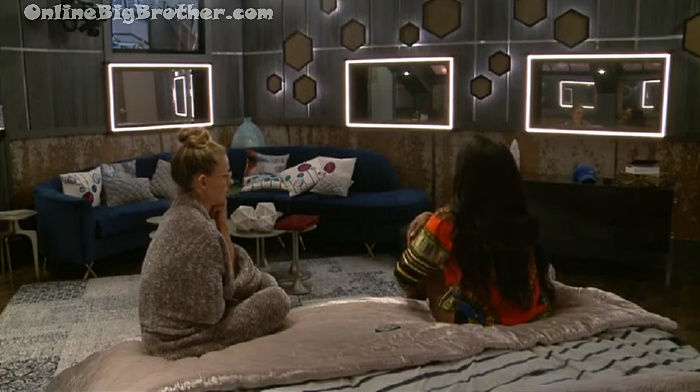 Day asks if the nominations stay the same does she have Christmas' support "I have to ask you otherwise i'm not doing my job as a player"
Christmas – truly I pray that one of you get the veto then we have to have a continued conversation that is my ideal situation I want to see you play this game. Without getting into too much some things have bubbled up.. POPED off in the last 24 hours it puts some different light on the game for me.
Christmas – I meant what I said here and I want to remind you of that.. Play hard win that F**ing veto so we can put someone that is deserving .. more deserving to be up there (if there's more deserving people why not put them up?)
Christmas – I told Bayleigh if the veto is won I would like to have a conversation about …
Day – ok .. ok … ok.. ok …
Christmas – about options
day – ok.. alright.. okie doke lets play
they hug..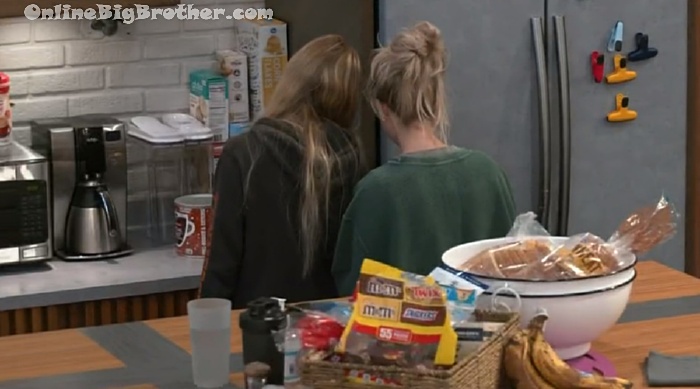 9:37 am Dani and Nicole
Nicole – I know it's sad but if Bayleigh leaves than the Tyler situation will be diffused a lot better won't have to worry about it blowing up every day
they head to the bathroom.
Dani mentions telling Da'Vonne she doesn't have the votes to stay so they need to get her off the block. Dani hopes this really motivates her to win. She asked Da'Vonne if Kevin had the power because if he did they could use it to save both her and Bayleigh.
Dani – I still think he has it
Nicole – for sure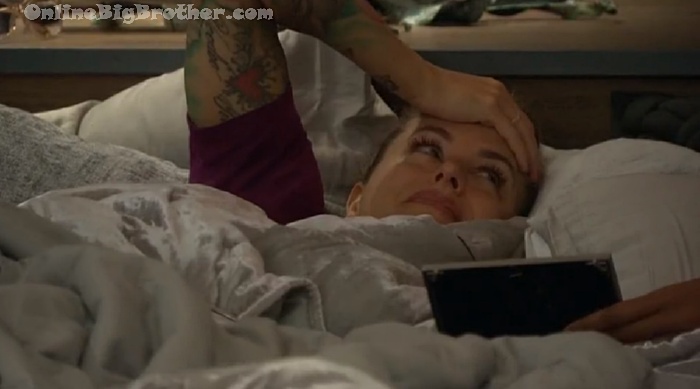 10:30 am Christmas and Bayleigh
Chiy chat about their work..
Bayleigh "I'm really good at being a creative director, I'm really good at delegation, I understand this kinda stuff and I'm really good at being the face I'm good with people"
Bayleigh – Modelling if you need a creative director for a photo shoot I can do that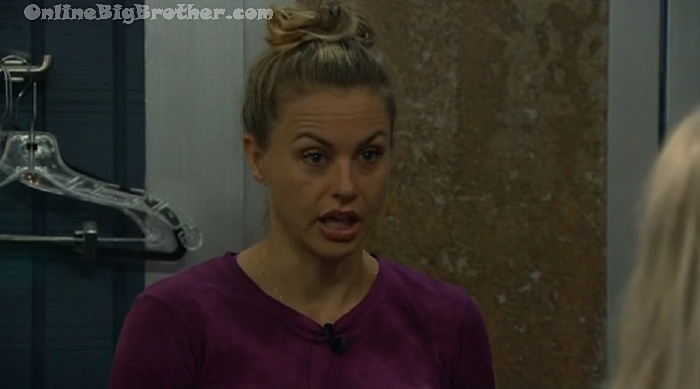 Nicole comes in says that David just got called into the Diary Room
Nicole – what do you want me to do.
Christmas – you mentioned something last night about keeping the girls in the house how do you really feel about that
Nicole – I want to keep Day in the house. I don't think I can ever trust Bayleigh.. the Dani, Tyler and the Bayleigh stuff.. it already causing Dani to be very stressed
Christmas – that freaks me out.. The Tyler thing
Christmas – Memphis can't compete do we carry him around as a vote but we can't control him. If we did talk about keeping them and what would that look like I think that my reaction yesterday was that I didn't want to do it. If they win it and they pull themselves off whose the option
Nicole – Kevin (BORING)
Nicole – they have numbers too
Christmas – if they pull one of them off than it's not on us and we still can get rid of one of the other numbers but we don't have to get rid of the one we want. AGAIN The whole point of putting one of them up there was to get one of them out.
Nicole – Me, you Day and Dani establish something.
They argue who will stay. Nicole says Bayleigh because of the boys. Christmas says the boys will keep Da'vonne.
Nicole – the boys have control and right now they want Bayleigh to stay
Christmas – have they said they wanted to keep her
Nicole – Dani thinks Day would go I think Day would go I haven't talk to anyone else.
Christmas – I will tell them what do to
Nicole – they might not do it.
Christmas – I'll f***ing wrath.
Nicole – but what are you going to do you can't play in the next HOH
Christmas – no but the next one I do i'll figure out who f***ing led the campaign and put them up
Christmas – we've respected ever HOH's wishes if they are going to go against what I ask them to do then im just a shield for them.
Christmas – I'm disturbed what is going on with Tyler I know he's had suspicious with DAni.. don't tell her that
Nicole says Tyler did a stupid move but she understands he didn't trust her because he thought she was playing everyone
Christmas says Dani mentioned to Janelle that she was an option week 1
Christmas says she doesn't trust Dani fully she thinks she was trying to play the whole hose.
Nicole – don't so the dirty work of getting Tyler out
Christmas – I'm good with Tyler.. let Dani do it.
Nicole – do you want me to try to win this thing so we have options or do you want me to throw it
Christmas – can you throw it without thorwing it
Nicole – to who
Christmas – let Dani win it..
Niocle – she doesn't want to win it
Nicole – I need Da'Vonne to win it I can't have Bayleigh win it.
Nicole says if they get rid of Bayleigh they have Da'Vonne. If they get rid of Da'vonne they don't have Bayleigh.
Nicole – I think me or you need to win this. We need the option say Kevin has some weird fricking power.. saw they are both down and they're mad at us. Who are you putting up? You can't put up Kevin because he's safe with his power who are you putting up. (LOL nice question)
Nicole- Bayleigh uses a veto and Kevin has a shield power pulls Da'Vonne down now what. Kevin, Bayeligh and Da'vonne are all safe this week who are you putting up
Christmas – I can't answer that I would have to figure it out then
Christmas – do you know he has a power
Nicole – I know he has a power
Christmas – do you know if it has anything to do with noms
Nicole says she has no idea what the power are
Christmas – Dani needs to f***ing try . you need to try I even need to try. (Veto)
Nicole warns that Tyler and Bayleigh might "rekindle" what they had.
Nicole – They told Dani that they had a pre alliance
Feeds flip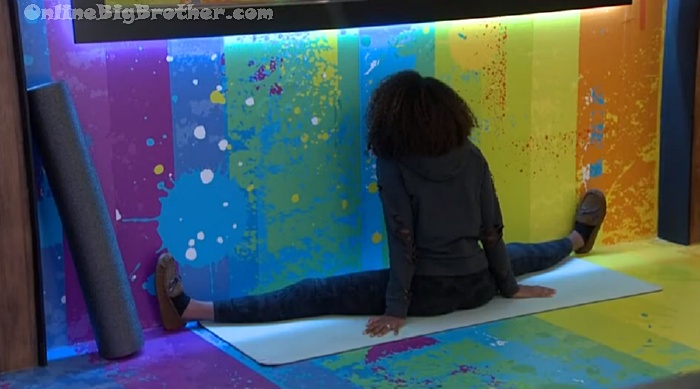 10:47 am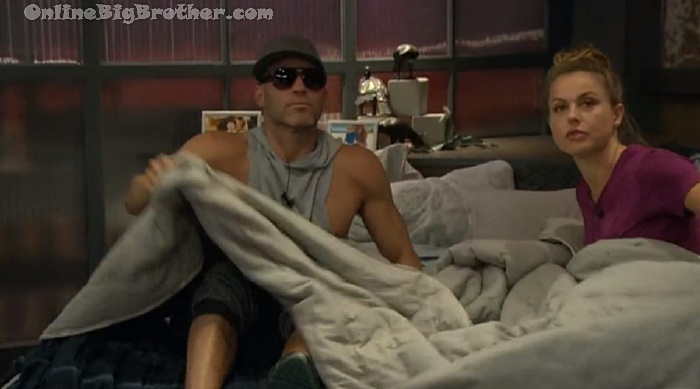 11:02 am Enzo and Christmas
Enzo – I want you to win. Tie me with three your baby's daddy and lock them in
Christmas – if they are locked? (noms)
Enzo – I would get rid of Da'Vonne
Enzo tells her he'll do whatever she wants she's the HOH.
Christmas goes on about Kevin having a power and being in a third person alliance with Bay/Day.
11:13 am Feeds on stars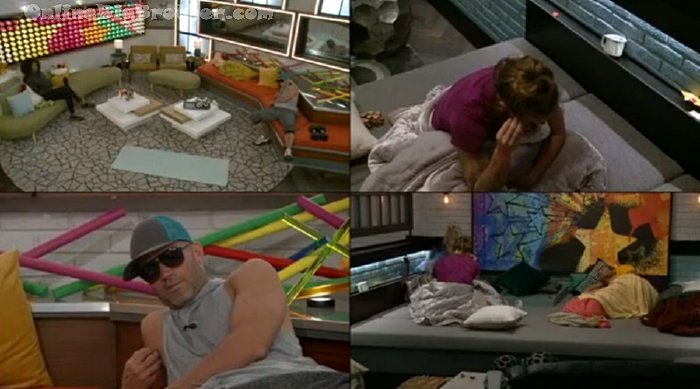 11:55 am Waiting for Veto yo