POV Holder:
?
POV Competition
June, 24th
POV Used
?
POV Ceremony
June, 26th
HOH
Nicole
Next HOH
June, 30
Original Nominations:
Paulie, Jozea, and Paul
After POV Nominations:
? and ?
Have Nots
Da'vonne, Paul, Zakiyah, Jozea
Sounds like the Power of Veto is today. Normally it's on Saturday not sure if that's how it's going down this season or if this is just a week 1 anomaly.
Veto Players picked they are: DA'Vonne, Corey, Nicole, Jozea, Paulie, Paul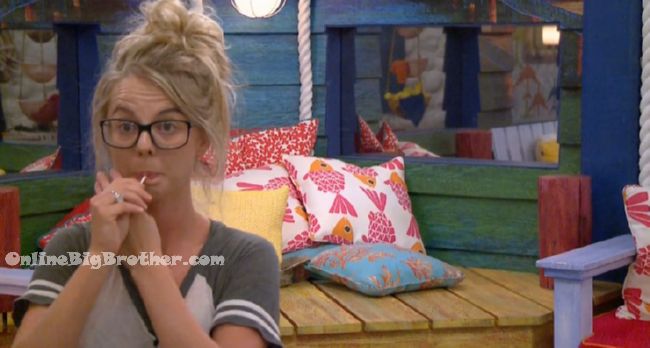 8:45am wake up Feeds turn on at 9am.
Most houseguests remain sleeping. BAckyard is locked. Victor is the only one up in the kitchen cooking. Nicole gets called into the Diary room, Victor "First person of the day" She's not in there long and comes out. Tells Victor she asks for more time to put on Makeup.
Victor suggests she slaps her own face to get the blood rushing.
Nothing really going on…
Nicole practicing her Diary room Look #BB18 @DawgsBigBrother pic.twitter.com/TS2Hje3N6w

— OnlineBigBrother.com (@bigbspoilers) June 24, 2016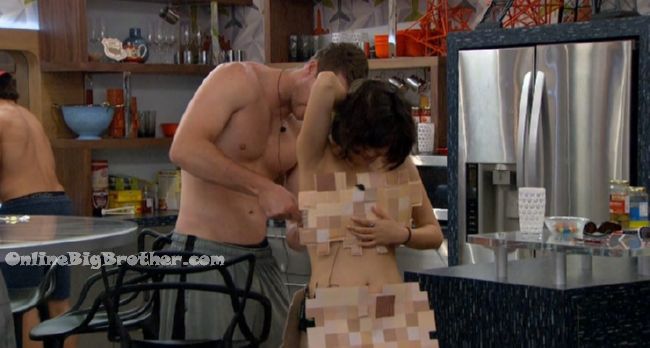 9:35pm More houseguests are up now making breakfast talking about how funny last night was. Paulie helps Bridgette fix her pixel outfit.
The girls in the HOH are still sleeping (Nicole, Da'vonne, Zakiyah)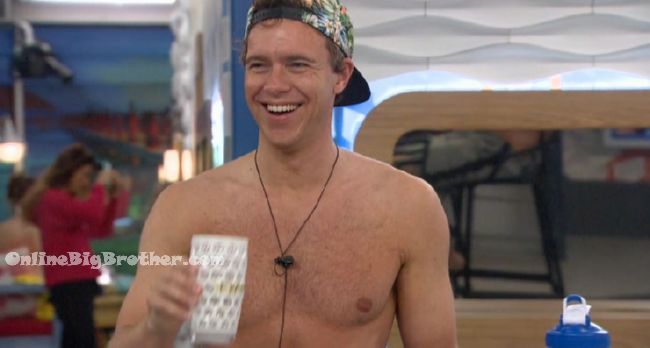 9:54am Kitchen, Frank, Paul, Bridgette.
Frank tells them he ate so many cookies last night it gave him "Nice case of the old Mud Butt today"
Paul – we have a lot of business to attend to today they put us in suits we have to make an executive … (Feeds cut) (Something about the POV today)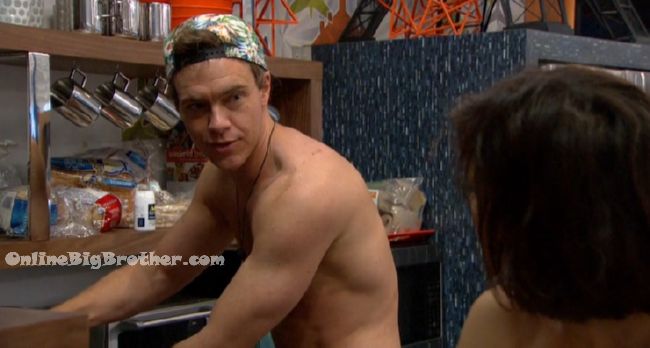 10:00am cam 3-4
Bridgette – hey there
Bridgette whispers asking if everything is ok, is Paulie safe.
Frank – we have the numbers anyways… no matter what happens
Bridgette – I haven't talk to you lately
Frank – they were supposed to have a meeting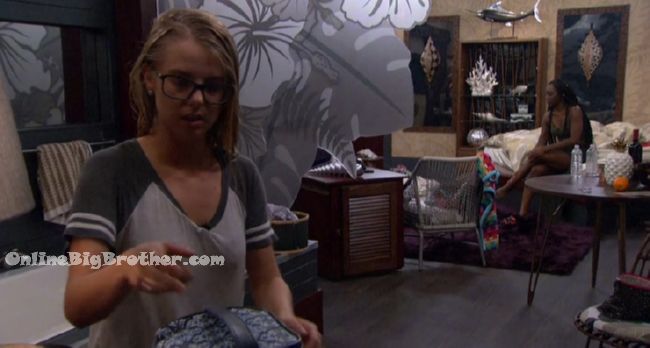 10:00am in the HOH Tiffany and Nicole are talking about getting ready. Tiffany asks her if "They" (Production) have told her what is going on today. Nicole thinks there will be a veto today. but they haven't told her anything.
They agree if Glenn was left in the game he would have put up Frank and James.
Nicole – Paulie and Glenn were BFFs
Tiffany – really in that little amount of time
Nicole – Yes.. they hung out every minute
Tiffany – oh my
Nicole is excited about their "team" says they are all trustworthy. Da'Vonne joins them.
Nicole says the "Boys" act like the have no worries in the world.
They all start going on about their Fatal 5 alliance
Da'vonne says she slept on the couch last night it was comfortable. Zakiyah slept in the bed with Nicole.
Frank rolls in "Ahh man.. mamma Da has it smelling good in here"
Nicole – whats going on
Frank – mad shit
Da'Vonne – we just need to know whose getting picked (For POV)
They all agree Jozea is the one they don't want to win the POV. Frank thinks Paulie is going to crush it.
Frank about Joeza – "He's not good"
Frank and Da'Vonne agree Paul is athletic, "He's going to fight for his life"
Da'Vonne is worried PAul will use the Veto on Joeza.
Frank is going to tell Paul if he uses the Veto on Joeza then Paul is going home.
Frank tells them PAul still thinks the plan is to get Paulie out, "I'll make him understand.. he'll go home.. i'll explain it to him in a game sense"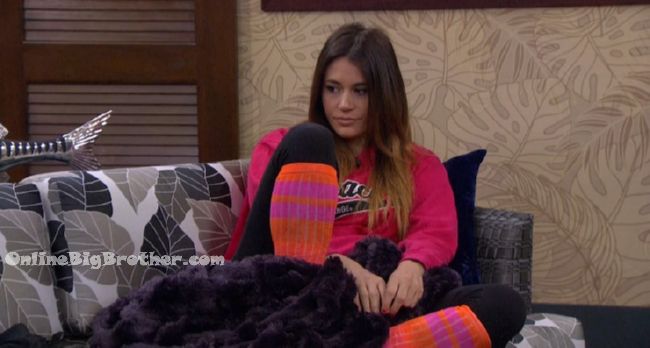 10:18am CAm 3-4 Nicole, Frank and Tiffany HOH
Frank brings up walking in on Victor seeing them point at Corey's microphone. Nicole asks if Victor still thinks he's good with Fran. Feeds cut……
James walks in "I gotta poop"
Frank – I think it's kinda weird he pointed at Corey's microphone… They're so paranoid right now they are constantly coming up with someone new.
(The newbies cannot figure out who won the new competition and nominated Paul)
Tiffany – is Vic really that unaware of the house dynamics
Frank – Of course they think they have it all wrapped up
Tiffany – it's unbelievable how some people are so unaware.. They really think they are the kings of the house.
They chuckle at how clueless the newbies are.
DA'Vonne joins them says she hasn't had a bowl movement since she's been in here.
James – Damn that's not healthy
Da'Vonne – I'm literally full of shit right now..
They talk around in circles paranoid that PAul will use the veto to save Joeza because he thinks the plan is to take out Corey.
10:25pm JAmes and Paulie Cam 1-2
They found something to play!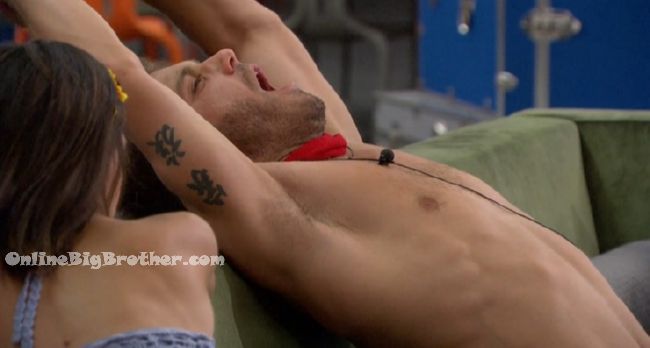 10:33pm Cam 1-2 Bronte and Paulie
Bronte squeaking and rubbing his abs with her foot.. Paulie sprawled out showing his abs.
They do mention how Paul needs to relax.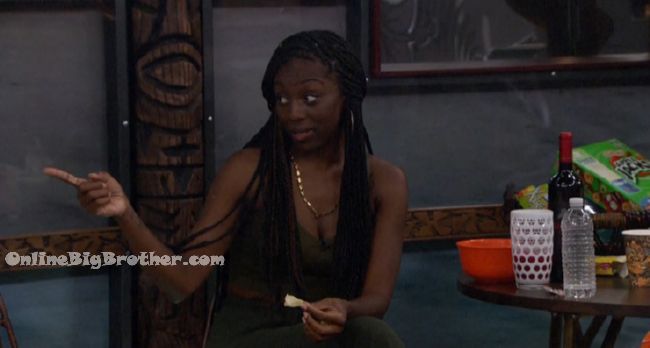 10:42pm HOH Crew Frank, Tiffany, James and Da'Vonne
Laughing at the blindside the newbies are going to get hit with on next Thursday night.
Back to Jozea's comment about the 4th of July.. and the feeds get cut. When we come back James saying it's a good thing it wasn't aired because he would have a lot of pissed off Americans.
They start talking about Bronte and Zakiyah liking Paulie. Natalie flirts with all the guys.
Da'Vonne thinks Bridgette, Bronte and Natalie have a strategy to each attach to a guy. She warns James about Bridgette. Tiffany think Da'Vonne is giving the girls too much credit.
They mention how much construction sounds are outside.
Tiffany leaves.. Frank says he likes Tiffany but she's not like her sister at all.
James and Da'Vonne agree Tiffany is trying to play like her sister.
Frank mentions how Tiffany may be overplaying.
James – Vanessa did the same thing Tiffany does.. she stares at people
Da'Vonne says Tiffany is a lot more social than Vanessa.
James – I fee llike i'm playing with Vanessa
Da'Vonne – mmmmmhmmmm
JAmes – it's like dejavu
Da'Vonne is having trouble trusting Tiffany "Every blue moon I think she's playing Audrey's game"
Da'Vonne says she catches Tiffany and Paulie talking "A LOT"
James and Frank thin Paulie is just flirting with all the girls.
Frank thinks Paulie has their back.
James asks them if they should win the Veto, Da'Vonne and Frank thin the best case scenario is for Nicole to win.
Frank tells them they can put Bridgette up "as a scapegoat" doesn't matter who wins the POV there core group is safe.
(Apparently PAulie thinks Frank won the 3rd competition and it sounds like Frank did)
Da'vonne thinks Vic will come after her and Nicole. Frank thinks it'll be two girls.
Da'Vonne says they have to win HOH, POV and the roadkill
Frank – all we need to win is the road kill (Road kill is the name for the new 3rd competition)
Frank – we have the votes no matter what.. that twist having these numbers early on helps us, we have two chances every week to put someone up you can't ask for that, it's great.
Frank – Jozea is going home.. the numbers are in our favour.. we'll win HO this week we'll clean sweep it
They all agree their social games are "Great" and they are all "Trustworthy" to their group.