POV Holder:
?
POV Competition
June, 24th
POV Used
?
POV Ceremony
June, 26th
HOH
Nicole
Next HOH
June, 30
Original Nominations:
Paulie, Jozea, and Paul
After POV Nominations:
? and ?
Have Nots
Da'vonne, Paul, Zakiyah, Jozea
Veto Players picked they are: DA'Vonne, Corey, Nicole, Jozea, Paulie, Paul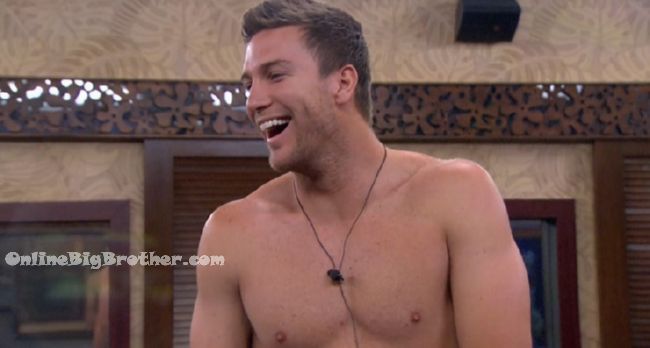 11:42am HOH Nicole, Da'Vonne, Zakiyah
Da'Vonne says if she wins the VEto she'll keep the nominations the same. They are happy Victor wasn't picked.
Nicole leaves.. Da'Vonne starts complaining about getting picked for Veto she did not want to get picked. Zakiyah says he was praying to lord they would not get picked.
Da'Vonne says JAmes, Frank are nervous about Tiffany they think she'll crumble under pressure.
Zakiyah is a bit leary of her, 'Keep her in the loop she'll be fine.. Pet her like a little kitty"
Corey rolls him starts high fiving them. Says she's going to go "F****ing" hard in the Veto.
Corey says he rattled Joeza's cage a bit after getting drawn for Veto.
Zakiyah – He's nervous.. He 's nervous
Da'Vonne – He's scared..
COrey – That was awesome an.. Awesome
Da'Vonne – best case scenario.. Best best best case.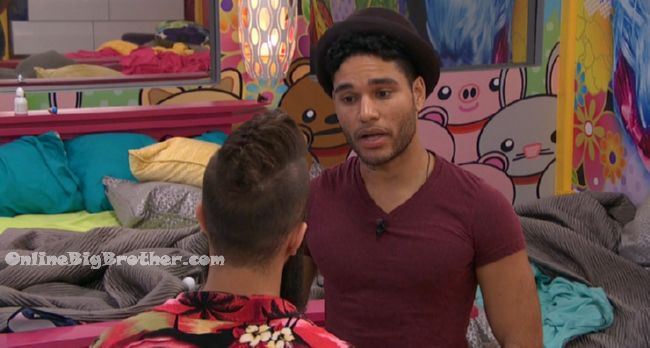 11:57am Victor, Paul and Jozea
Paul and Victor are telling him to be cool they're OK.
Paul – If Corey wins he's going to pull paulie off.. That's the group
Joeza tells Paul Corey put Paulie up as the pawn
Paul – If one of us wins do we keep it how it is or pull one of ourselves off
Jozea explains you win the VEto use it on yourself
Paul – they'll just put another one of us up
Jozea says they control the vote
Paul thinks Nicole would put up Bridgette.
Joeza isn't worried about Bridgette if she was nominated she would be safe.
Victor comes in start complaining about how one of the girls and how she is always going on about her body.
Victor – Eat better workout more..
They all can't wait until she's gone but in a game sense important to keep in the game because she's a "Superfan" (MAybe they are talking about Michelle)
JAmes comes in …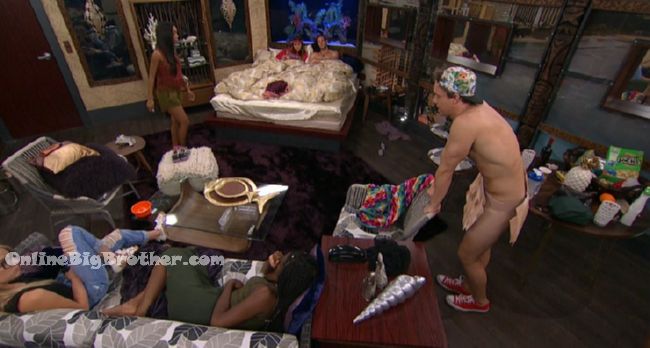 12:01pm HOH crew Chit chat Frank, Nicole, Corey, Da'Vonne and Tiffany
Frank going over possible competitions they could have for POV. Frank starts dropping more Competition knowledge..
Lots of discussion on how "Clueless" the other side is (The newbs)
They call them "Knuckleheads".
Frank mentions how "They" (Paul, Jozea.. etc) weren't close to Bridgette but now they are scrambling trying to pull her in.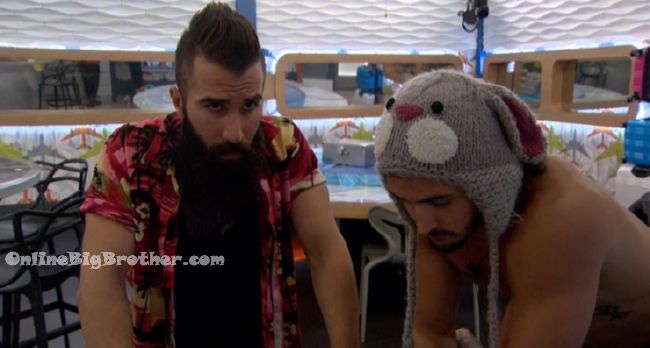 12:10pm Kitchen
Paul is going to try and convince Nicole to use the Veto on him, He thinks he can pull it off even though she doesn't like him. He's going remind her that Joeza is coming after her everyone knows that. HE plans to frame it as a good deal he will owe her if she saves him. He will pay her back. Nicole doesn't control who goes up the Roadkill winner will, she will only gain with a move like that.
Paul doesn't think Corey will use the Veto.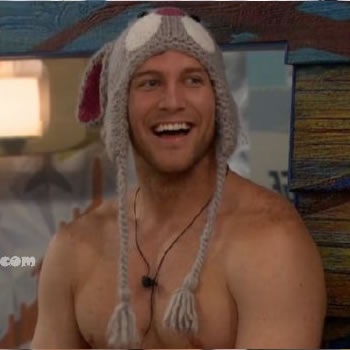 12:35pm Cam 1-2 Bathroom Jozea, Michelle, James, Corey
Chit chat.. Sugar daddy's, bachelorette parties etc..
Corey tells them at the bar he works at during the bachelor party the girls would do shots off his body, "I let them do it it's not my problem"
He adds that he would be pissed if his wife was doing that on her bachelorette party
Corey – my best friend from high school him and and his wife they did their bachelor party together and it was Gay
James – ah
Corey – For the Bachelor
Jozea – wait what… it was what
Corey – not gay i a bad way
Corey – Gay's not a bad thing yo know that
Joeza – but it was Gay as what…. they were happy or they were all gay
Corey – they were happy .. it was just like… thank you for making me feel awkward.
Jozea – I wanted to clarify it up what was it the party was gay
Corey – it was a figure of speech dude
Joeza – I rarely hear people say the figure of speech the party was gay.
James – I'm getting out of this
Michelle – I gotta use the bathroom
Corey – I'm sorry
Jozea gets called into the Diary room.. Corey says it was a figure of speech where he comes from everyone says it, "You shouldn't say those things people take offense to those words. Corey is upset, says he didn't mean anything negative by saying Gay.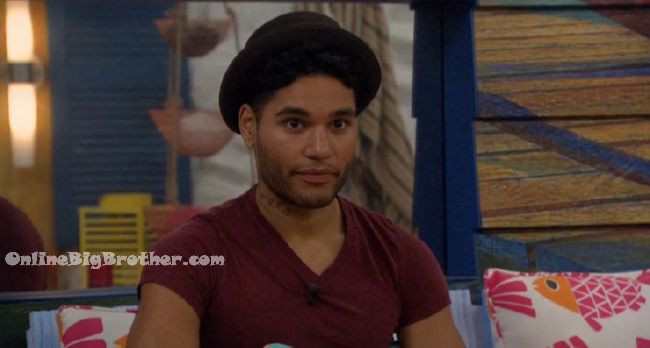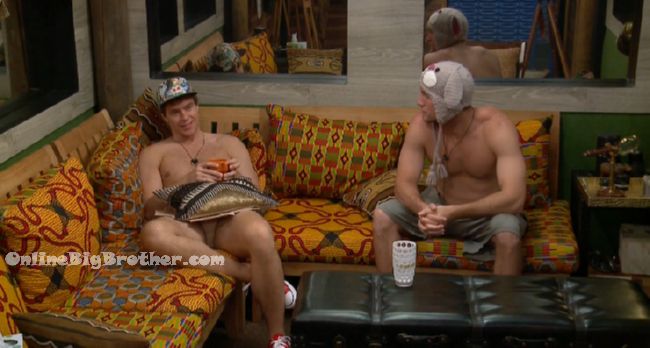 12:48pm Frank and Corey Africa
Corey telling Frank one of his best friends is gay.. brings up calling a party "Gay" in the bathroom earlier and how he feels bad about it. Says Jozea got upset. "It's a figure of speech dude.. people say retarded a lot it's not good..
Corey – they already think i'm gay anyways
They laugh
Frank says Bronte is shady "She's a cutie though.. in great shape.. she got on the wrong side.. "
Frank says there s girl alliance on the other side but they're girls don't thin that way (Da'vonne).
Corey and Frank don't care for Paul they think he's over doing it. Frank wants them to target: Jozea, Victor, Bronte, and Paul
Corey – we gotta know what steps top take what moves to make
Frank mentions how Bronte has all this information that she'll use to save herself.
Frank starts dropping more Competition knowledge..
Frank mentions if they can get Victor and Jozea on the block this week it would be perfect.
Frank – I almost want Jozea to go first not because he can play because he's such a pain in the ass
Frank calls Victor a 2 Dimensional player, "he thinks Speed and Strength"
1:21pm Nicole and DA'Vonne
Da'Vonne says even in their 5 it should be them 2. Nicole agrees. Da'Vonne says the two of them should go Final 2. \
Nicole's on board.
Zakiyah comes in. They congratulate Nicole in "Picking good veto people"
Da'Vonne says she's not trying to be funny she doesn't want to be anywhere near Victor. Zakiyah agree.
Da'Vonne says Corey is going to keep the nominations the same.
Da'Vonne hopes the newbies 'nerves" gets to them and the break down during the competition.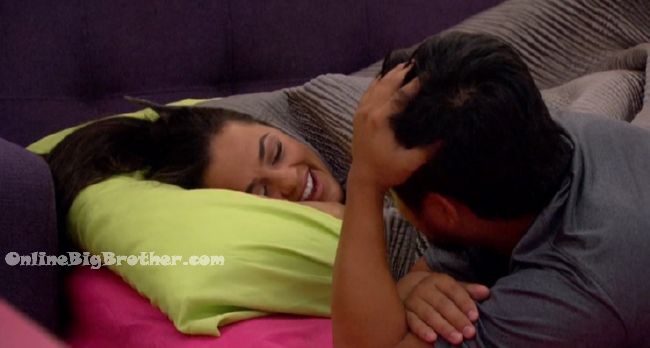 1:30pm James and Natalie
James says he'll protect her from the creeps in the house.
Natalie – James I feel safe with you
they giggle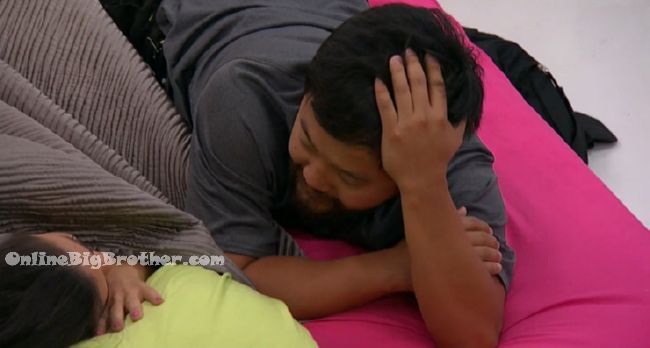 2:33pm Lots of nervous energy around…. waiting for the Power of Veto competition to start.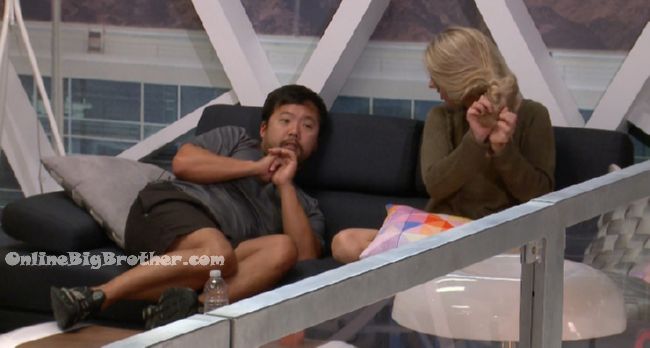 2:43pm James and Nicole
James is suggesting that Nicole and "Vic" become best friends
Nicole agrees asys she'll try hanging out with him more.
James says she should 'Stroke his ego" says "You have Big Muscles and longer hair"
They laugh.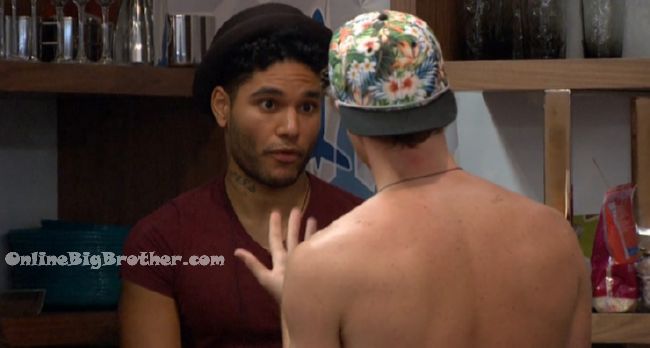 2:45pm Kitchen Frank and Jozea
Frank telling him they have the numbers.
Frank counts the votes tells him he's got the 6 he needs and they go into the next week with 8 people ion their side.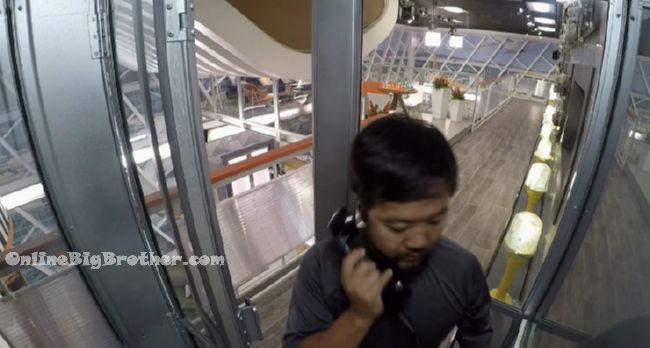 3:02pm James tries out the phone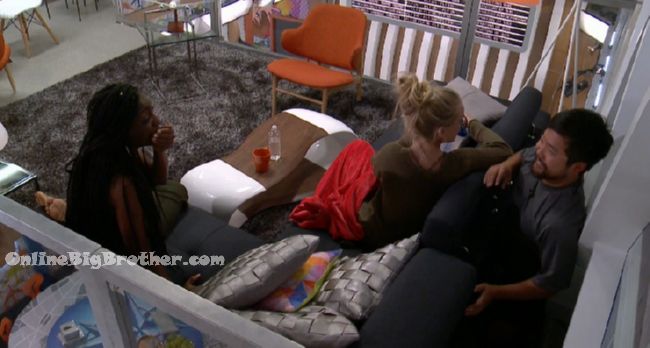 3:06pm sky ramp (or whatever they call it)
James tries to scare Da'Vonne and Nicole but Nicole catches him…
Nicole – I can sense people around that aren't supposed to be around (HAHAHA)
Everyone just waiting around for the POV competition.