POV Holder:
?
POV Competition
June, 25
POV Used
?
POV Ceremony
June, 26th
HOH
Nicole
Next HOH
June, 30
Original Nominations:
Paulie and Jozea
After POV Nominations:
? and ?
Have Nots
Da'vonne, Paul, Zakiyah, Jozea
Watch the 1st WEEK of the live feeds for FREE: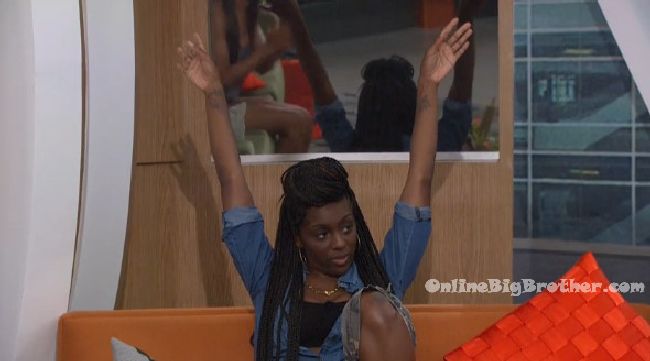 10pm The live feeds get turned on – Cam 1 -2 Jozea and Da'Vonne are in the living room talking. Day tells Zakiyah that she's glad they asked her about that before the live feeds came on. (No idea what she's talking about.) Da'vonne says to herself watch your mouth Da'vonne, watch your mouth! Da'vonne heads into the bedroom. The cameras switch to the kitchen with the house guests chatting and cooking.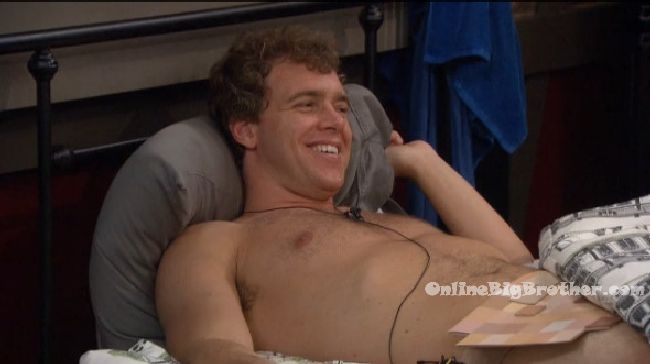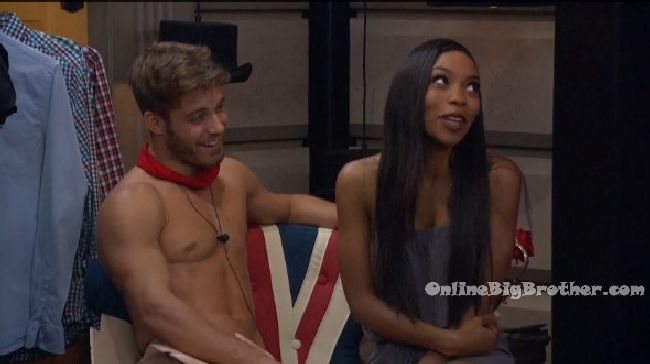 10:01pm Cam 3-4 Frank, Tiffany and Paulie
Chit chat about movies… :(
Da'Vonne joins them they don't think the feeds are on. They briefly bring up the casting process, Frank says their family and them cannot "write a book for 5 years". Zakiyah joins them cuddles up to Paulie.
Da'vonne tells them a story about almost getting cast for Survivor but at the last minute they told her they were "Changing the theme" and she didn't get in. It was the survivor they are filming right now.
Talk moves to food..
Frank says he's got a "Peanut Butter Booty"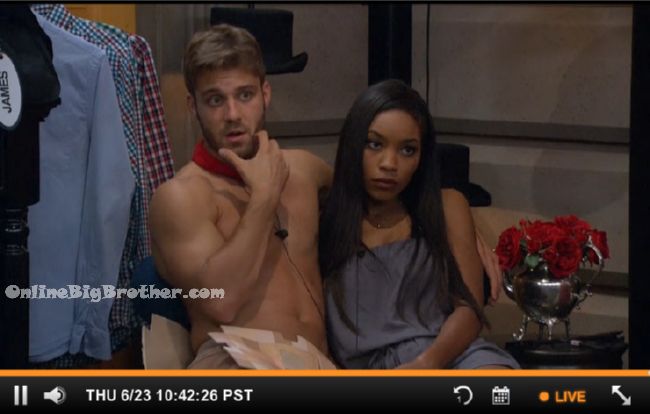 Paulie and Franks punishment must be having to wear something funny. (Mystery Land Punishments – Pixelated outfits for Paulie, Frank, Michelle, Bridgett) Look at what they are wearing in these two pics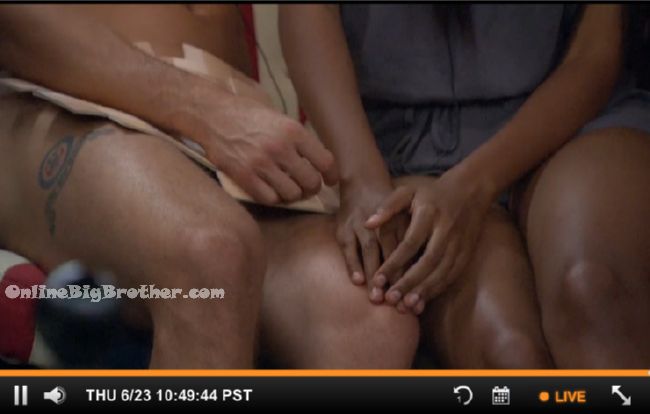 10:25pm Cam 1 – 2
Paulie and Frank are talking in the bedroom. Frank says its so stupid for them .. why would they want to vote you out. Even if nominations stay the same .. its going to be an 8 – 3 vote. I told Bridgette she needed to get in Bronte's ear. One thing that girls are … they're expendable.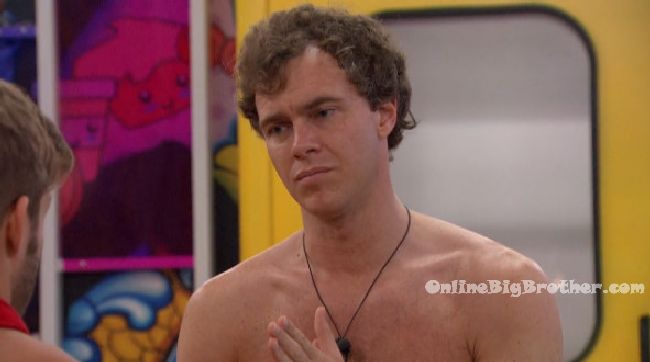 10:21pm James, Da'vonne, Vanessa and Zakiyah
Michele joins them wearing the 8 bit underwear. They start talking about a house meeting that some of the newbies are having tonight at 2am. Sounds like it's JOeza that has organized it and invited everyone but the returnees, Michele, Tiffany and PAulie. JAmes jokes that he's going to hide during the meeting and jump out 1/2 way through.
They start talking about NAtalie and "the trio". Natalie is "trying to run games".
Da'vonne says NAtalie is trying to but it's not working.
James says he'll be the first one to through natalie "straight up" (Nominate her).
They talk about Joeza's "4th of July comment" and how disrespectful he was.
James says he told Joeza "A lot of American's died for our freedom " and JOeza said "Nobody told them to do that"
Da'Vonne says she's here for the jokes and the laughs "But Seriously" Jeza went too far.
They bring up the trio again.. It's Bronte, Bridgette, and Natalie. They wonder who the ringleader is, no idea. They impersonate Bronte making fun of her.
James back to Joeza's comments and how if it was aired Joeza is "Done". Da'Vonne says any Career Joeza had planned after this is done.
Michelle – "Who says that"
Zakiyah – "He says a lot of ignorant things"
They are really upset about what he said about the 4th of July.
Paul joins them says he hasn't eaten all day. Zakiyah leaves the talk moves to horror movies.
Franks joins them does a dance
Franks BACK #BB18 @DawgsBigBrother pic.twitter.com/cPQ9T6bIja

— OnlineBigBrother.com (@bigbspoilers) June 24, 2016
They start talking about Joeza's "Comment" Paul doesn't know about it. Michele says Joeza' doesn't think the 4th of July should be a holiday. Joeza claims it's indian land they took it. Michelle says it's not about indians it's about the British.
Paul hates it when people stomp on their flag.
Chit chat about sleeping..
10:56pm Paul and Michele left in the room talking about playing the guitar. Paul drops some names.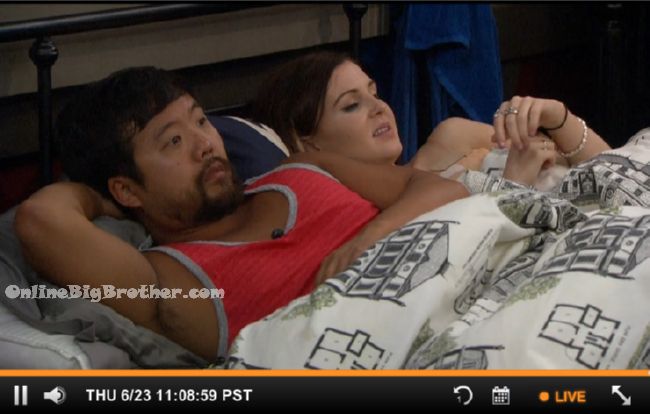 10:40pm Cam 1-2
Da'vonne says I hope that wasn't on the feeds. Zak asks did she say anything racial? Da'vonne is she shaking her head. Zak says because that was extremely ignorant. Corey and Jozea join them. Corey comments on how they (Da'vonne, Paul, Zakiyah, Jozea) got through being havenots quick. (They're off being havenots later tonight.) Jozea says we need to be light as a feather tomorrow .. take two fiber pill and sh!t that sh!t out!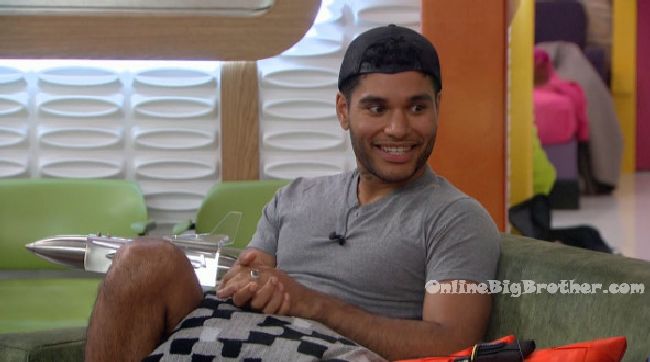 Try the Live Feeds FREE for 7 DAYS! Click here for your: FREE Trial