POV Holder:
?
Next POV
March 26th
POV Used
?
POV Ceremony
March 28th
HOH Winner:
Tim
Next HOH:
March 31
Original Nominations:
Dallas and Ramsey
Current Nominations:
? and ?
Last Evicted Houseguest
Paige, Sharry, Christine, Kelsey, Loveita
Have Nots
No havenots this week
Want to watch the Big Brother Canada 4 live feeds but live outside of Canada?
Bypass the geoblocking with HideMyAss VPN and be Canadian Anywhere: VPN Help Guide
ALLIANCES IN THE HOUSE
There will likely be a lot of alliances during the season – keep track with our alliance help guide.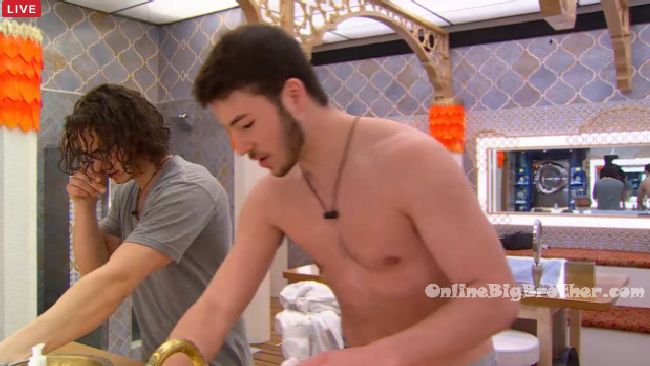 9am The house guests are waking up. In the bathroom – Jared says I just really wish I knew where Tim's head was at when it came to the veto. Phil says yeah. Jared says no one really knows. Phil says who knows what Tim is thinking. Jared says yeah its this whole him not wanting to make the decision. What if its not up to him. Its up to fate. That's the problem. Phil says even if that's the case he can't make someone else do it, its his role. Phil asks Jared how his relationship with Mitch is? Jared says good. Phil says good with me too. Phil asks and Raul? Jared says that's a given. We've kind of separated a bit more since Kelsey left. Phil suggests they have a 4 way activity some time soon. Jared agrees. Phil asks how things are with Cassandra. Jared says we all think we're good.
9:40am Loveita and Kelsey are talking about how frustrating it was they were going after each other. Loveita says to compare what you had with Raul and Jared I had with Sharry. If I went back in .. in my heart I would want to keep Jared safe. Kelsey says he is someone that is true to his word.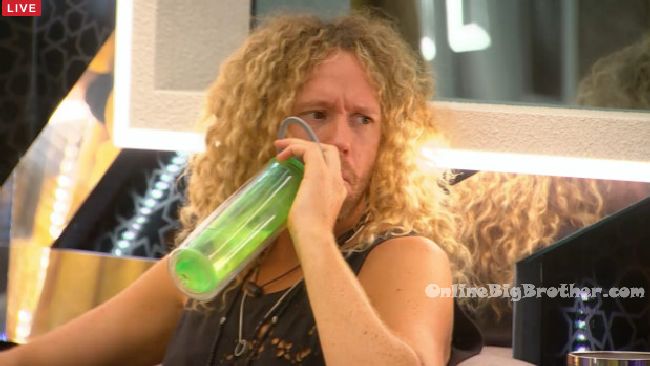 9:45am – 10:10am Big Brother blocks the feeds for the Power of Veto player pick.
Power of Veto Players:
Tim, Dallas, Ramsey, Cassandra, Mitch, Jared
POV Host:
Phil
***(Tim decided he isn't letting the veto winner choose the replacement nominee. He's telling the house guests that big brother said he couldn't do what he wanted to, when in fact they didn't he just decided it wasn't a good idea.)
Tim tells Cassandra its a random draw you have to fight. Cassandra says I am, I just have to get my ankle taped. Tim says Maddy would have killed to play.
In the bathroom – Tim says I don't know know why everyone put all the votes on to one person. Tim says in BBAU you can't talk about nominations. Its instant eviction if you do. Some people would write on each others backs under the sheets. Tim says you just never nominate the top two people because you know everyone else is voting for those people. So you go for the next people in line unless you're okay with the top people. Giving one person all the votes was not the right strategy at all. All Dallas needed to do was put his four votes on a person and get 1 more person to put their votes on that person. He tried to beat the system by making it fail… no use the system to your advantage.
10:25am In the bedroom – Maddy says I think if I were to win HoH I would put Jared and Tim on the block. Fuck Tim! Maddy says apparently Tim is not going against Jared at all. Maddy says its not right for Tim to bring BBAU into big brother canada because they have all of australia and we don't. Maddy says f**k Cassandra the admin… she said she knew. Dallas asks what do you mean? Maddy says she knew the results. Dallas says I think Tim's POV trick is going to be where the winner gets to pick who goes up. Maddy tells Dallas that Tim said he was told he can't do what he wanted to do.
10:20am – 11am In the HOH room – Nikki comments on how Tim says they didn't tell me I couldn't do it, I just decided I couldn't do it. Nikki says good. Its good you didn't tell them. Nikki wants Tim to put up Maddy if the veto is used. Tim doesn't think so. Tim says that Dallas is all hot air. All bark and no bite. Without him she could be usable. He just always pulls the card Maddy I've always been there for you. Tim says he wants to win the veto and thinks he will. Nikki says Dallas is going to go hell for leather to win it. If he does Maddy needs to be brought down a peg or two. Tim says Maddy is only playing Maddy's game. She won't be loyal to anyone. You don't just make a move without consulting them. All she wanted was power and what did she do .. a selfish move. Tim says we sort out this Maddy / Dallas thing .. and the next thing .. Jared might slide right through to the end and I would be happy with that. The next big thing will be is going to be Phil and Nick or the silent players Mitch & Joel They're big threats. Everyone thinks Jared is such a threat but he hasn't won anything yet (not true he won HOH). Jared joins them. Tim says he doesn't want Dallas in jury. Jared says he doesn't either. I think he would vote for me in the end but I don't want him in jury. Dallas is just really good at these competitions. Tim says I'm thinking Maddy goes up (if Dallas wins Veto). Both Tim and Jared say they don't want Ramsey to go.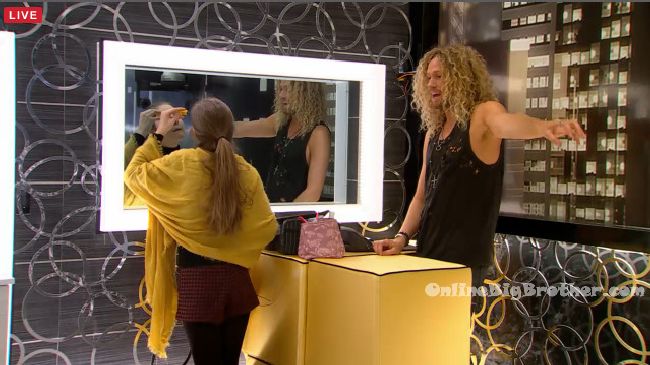 12pm – 12:25pm HOH room – Mitch, Ramsey, Nikki, Jared, Joel and Cassandra are talking about the possibility of a house guest coming back. Someone says they think Loveita will come back. Jared says I think she would feel awkward coming back here. Tim says I don't think Loveita would feel awkward anywhere. The conversation turns to Nikki and Tim talking about the differences between BBCAN, BBAU, BBUK.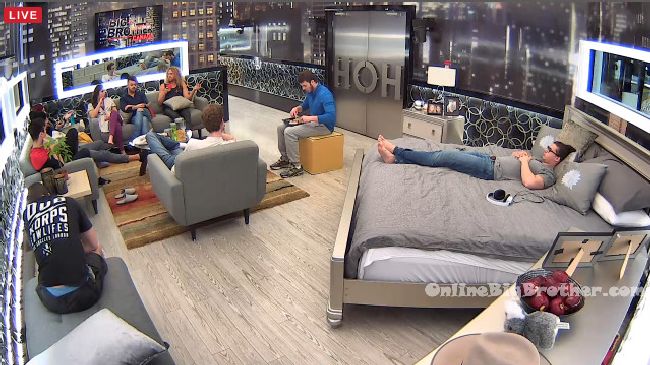 1:10pm – 1:20pm
Tim says that Joel is the first out of all of us to go. Once the whole Dallas, Maddy, Ramsey are gone. Cassandra and Phil agree. Tim says ideally I would want Dallas gone this week, then Maddy… Cassandra says then Ramsey. Tim says that's if we keep winning. Phil says that Maddy annoys him the most. Tim says she would be the backdoor this week if Dallas wins veto. Cassandra says then I would be one of the last women left. Tim says then you've done well. Ramsey joins them. Cassandra asks if he's nervous. Ramsey says I just got to get myself out of this.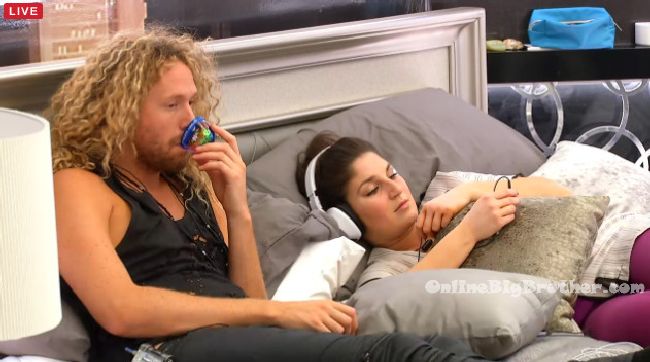 1:30pm – 2:10pmJared arts and crafts makes a parachuter ..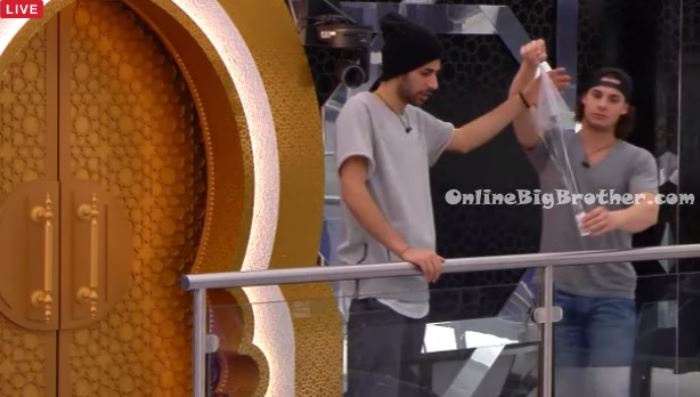 UPDATES:
Unfortunately for the next couple of days our live feed updates will be very minimal as we have prior commitments that conflict with our ability to monitor the live feeds 24/7. Simon will be posting the results of the power of veto competition and some videos. Anyone wanting to post transcriptions of conversations or summaries of are free to do so in the comments.
HAPPY EASTER WEEKEND Everyone!!
[polldaddy poll=9362001]