POV Holder:
?
POV Competition
July 9th
POV Used
?
POV Ceremony
July 11th
HOH
Bridgette
Next HOH
July 14th
Roadkill Competition Winner:
Frank
Original Nominations:
Paul, Tiffany, Bronte
After POV Nominations:
?, ?, ?
Have Nots
Nicole, Corey, TIffany
Big Brother 18 Alliances Help Guide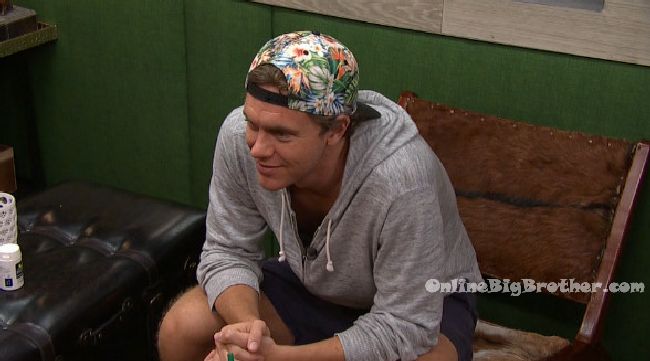 11:40am – 12pm Safari room – Frank and Bridgette are talking. Frank says after 12th place we're going to walkout into the backyard to an endurance competition. I'll probably just fall off right off that bat. Bridgette asks why? Frank says I won't win that, its not made for big people. Natalie, Nicole, James, Bronte will be good at it. Frank says Bronte won't be good if its cold. Bridgette asks why? Frank says She's got that .. I don't know if its a disease or what… she could lose her fingers if the circulation gets cut off. (Same thing that Frankie Grande had) Bridgette says If I pick Natalie I hope she wins because then they would both be safe. Frank says its better to pick a strong competitor to make sure Tiffany doesn't win. Bronte should not pick Natalie .. its not smart. I know I told them if Tiffany comes down Paul will probably go home .. but I don't think that's true. That's why you should tell her to pick me if she has the chance, I'll take her off. Bridgette gets called to the diary room. They think the veto player pick will be soon. Michelle tells Frank she believes Paul wasn't the vote for Victor. (It was Paul) Michelle says she doesn't want to compete in the veto unless its the counting one. I'm not ready. Frank says he hopes its not the counting one because Tiffany would probably be good at it. If it is, I'll take a sh*t in the diary room. Frank tells Michelle to start being nice to Bronte. What if she wins HOH next week? Michelle says you got to put in a good word and make sure the they. Frank tells Michelle not to be like Danielle and let Dan do all the work (BB14).
12:05pm Bronte says to the camera in the living room – This is not looking good for me America. Go spy girls!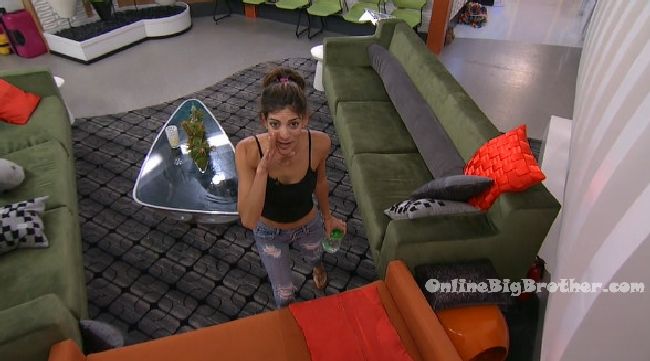 12:20pm Big Brother blocks the feeds for the power of veto player pick!

POV Players:
Bridgette, Tiffany, Bronte, Paul, Paulie, Natalie
POV Host:
DaVonne
HOH room – Paulie says I'll keep those noms the same for you boo! I got you! Bridgette says yeah I feel good about that draw. Natalie joins them and talks about how the others were saying it might be the dice competition. Bridgette tells them she memorized the fastest combinations to get to the different numbers in the least amount of moves. She draws it out with lip liner and shows them. Bridgette talks about how Natalie needs to win it… so she suggests picking her to go up against so that Natalie can practice. Bridgette tells Bronte throw it to Natalie if Tiffany gets eliminated. I would prefer if Natalie wins it, if anything. Natalie says positive energy okay lets go!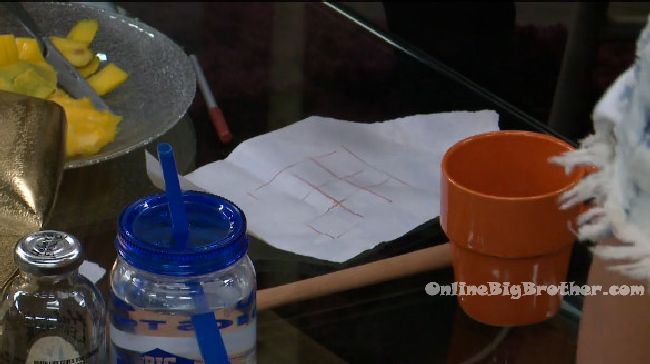 Nat Nat's ready for a cheering competition – "Positive energy! OK Lets GO!"@bigbspoilers #bb18 pic.twitter.com/oavt3rSBgf

— Dawg (@DawgsBigBrother) July 9, 2016
1:10pm Havenot room – Corey and James are talking. James says maybe we need to get in his mind to throw the comp so that we can send Michelle home. Or we send Paul home. Corey says yeah Paul or Bronte. James says I think we'll be okay.
DaVonne says I am done with him (Frank)… I want him (Paul) and her (Michelle) to pull a Caleb (BB17) and just sit down (in next weeks HOH comp). Tiffany starts showing how many moves it takes to for the dice competition.
Tiffany practicing the Dice Competition@bigbspoilers #bb18 pic.twitter.com/uxIejPxFYU

— Dawg (@DawgsBigBrother) July 9, 2016
1:40pm Bedroom – Bronte and Natalie are talking. Bronte says I think next week is going to be an endurance comp. Natalie says I told you there are going to be bigger fist to fry.. this place is a crock pot and people are going to start drama all over the place. I just hope we aren't being lied to. Bronte says I don't think Nicole would have told me she was voting for me if she wasn't going to. She's not that type of person. Natalie says I hope Paulie doesn't take Paul off the block. Bronte says we have to tell Bridgette to tell Paulie not to use it. If Tiffany comes off my only chance is to go against Paul.

2:05pm Kitchen –
Nicole tells Paulie if you don't win .. one of us are going up. Corey says if Bronte wins, Natalie will go up. Nicole says if Natalie wins we're screwed!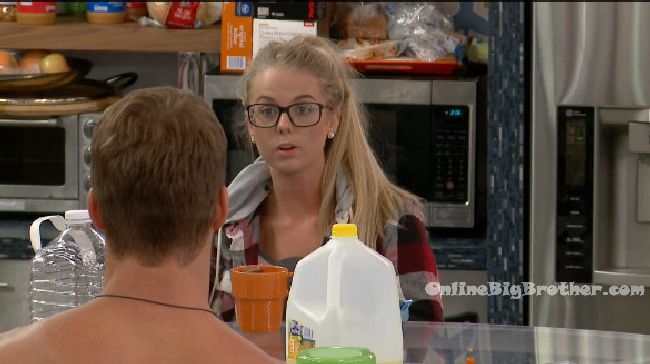 Bedroom – Zakiyah says I just wnat things to stay the same. Paulie will keep it the same. I just need her (Tiff) to go home. Zakiyah says she wants to be HOH. He's (Frank) going to get the shock of his life. Because when you messing with mine, you messing with me! I don't know who would vote to keep him here. Nicole says other than Bridgette.
HOH room – Natalie says James hasn't even talked to me all day.
2:35pm – 2:50pm Bathroom – Nicole and DaVonne are talking. Davonne asks if TIffany and Bronte are on the block together come Thursday .. are we getting Bronte out or Tiffany? Frank wants Tiffany out. Nicole says if they stay up there then we can discuss it. DaVonne says apparently Paul caught her (Tiff) staring at Frank in her sleep. Nicole and DaVonne talk about James and how he told Nicole he didn't want to get hurt again like he did with Meg. Nicole says he should be telling himself focus focus focus. Corey joins them. Nicole says I'm open to any of those three going home.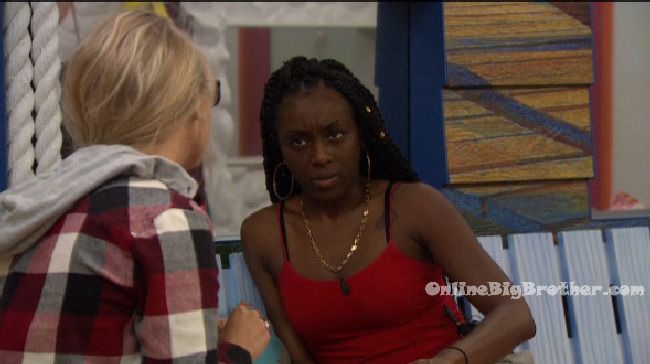 3pm Natalie says we're not big threats and we have everything we need to win this game. Bridgette says we're going to go out and beast it. Take Tiff out and have Nat win it.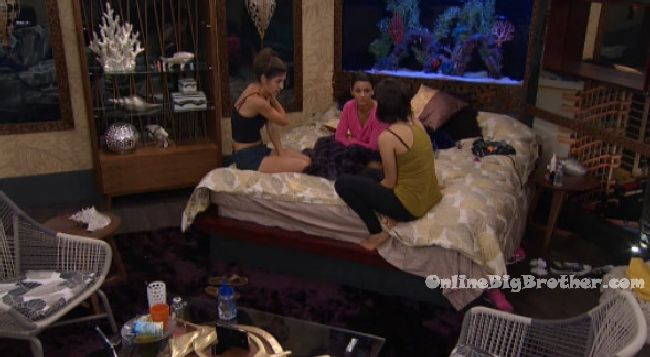 FLASHBACK and watch everything you missed: CBS All Access FREE Trial!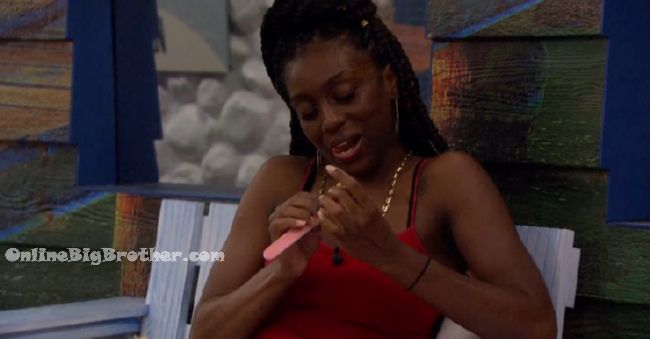 3:25pm Bathroom Frank and Da'Vonne
Frank – Brontes a idiot… I told Bridgette you need to tell BRonte chooses Natalie is not a good idea.. You need someone that can beat Tiffany.. BRonte goes home if Tiffany is off the block. .
Frank says their option if Tiffany comes down is to put up one of their own.. Suggests Corey or Z as their only picks because they're not putting a vet and Michelle/Paule are on the safe team.
Da'Vonne asks if Michelle has been smoothing things over with Bridgette.
Frank says she has been but has to pick it up. He tried to explain to Michelle what happens if Bronte wins the HOH next week and is pissed at Michelle… Michelle goes up. Michelle replied to Frank that it's his job to get in Bronte's ear.
Frank laughs says he'll fight for the group but not when needing a bullet proof vest.
Frank would rather have Bridgette as his partner than Michelle.
Da'Vonne agrees.
Frank going on about Bronte picking Natalie over him to play in the veto.
Frank says the girls ideal plan is for Natalie to win the veto and use it to save the both of them .
Da'Vonne laughs.. "Against Paulie and Paul"
Da'Vonne says Tiffany is scared.
4:21pm .. POV Begins ..
6:19pm Still POV


[polldaddy poll=9465176]
[polldaddy poll=9464369]