POV Holder:
?
Next POV
March 12th
POV Used
?
POV Ceremony
March 14th
HOH Winner:
Loveita
Next HOH:
March 17th
Original Nominations:
Cassandra and Christine
Current Nominations:
? and ?
Last Evicted Houseguest
Paige, Sharry
Have Nots
Joel & Cassandra
Use the Hide My Ass VPN and watch the live feeds on your mobile phones and tablets. One subscription pays for all. It works on any device. Including internet enabled TVs and games consoles. You can even use it on two devices at the same time. HideMyAss VPN
ALLIANCES IN THE HOUSE
There will likely be a lot of alliances during the season – keep track with our alliance help guide.
Help Support Online Big Brother
Show your support and appreciation to help keep the updates coming: Support OnlineBigBrother.com
8am HOH room – Raul is talking to Loveita. Loveita says I don't care if I leave this game loyal to my word. I hope Kelsey knows. Raul says Kelsey isn't mad. She's just sad that her friend went on the block. We know we can trust you now because you didn't put us up. Raul leaves when Joel joins them. Loveita says she still doesn't trust Christine. Apparently everyone else is suspicious and thinks I was cutting deals. Joel asks do you trust Christine more than Cassandra? Loveita says nope but she's a vote. Joel says but where? Loveita says that's the thing. I don't care if Christine stays or goes.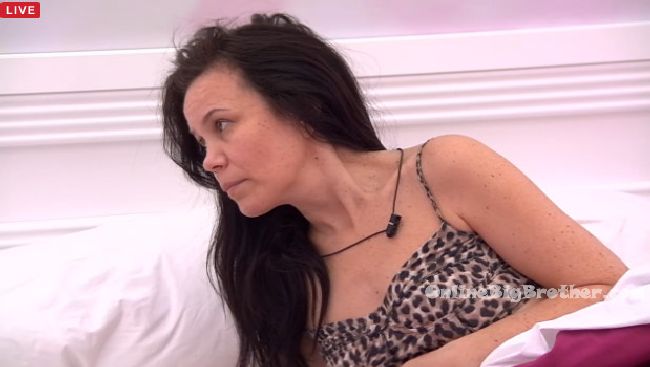 9am Bedroom – Tim asks Dallas if he thinks Loveita would use a backdoor. I think Joel should be the one to introduce the plan to her. Dallas says talks about wanting to get the brothers out. Dallas says with two girls out first, the girls will be happy to vote out a guy. Believe that! Tim says I think Joel and I should go talk to her. Christine says as long as the brothers aren't playing in the veto because then they won't use it. And we're sitting ducks. Dallas says with the brothers gone, that's two less people drinking beers. Dallas says I just don't know who would be best to sit beside the brothers. You or Cassandra. She rubs people the wrong way. Christine says yeah but I won $5,000. I wish we had voted that b***h out last week! Too late now! Tim's good at making her feel like a god! She doesn't want the money, just the power. Dallas is says Loveita's nominations don't make any sense. Why would you make 2 more enemies?! Christine says I should be extra nice to people. Make them feel extra guilty to vote me out. Dallas says yeah. You have one up on Cassandra because she has a way of rubbing people the wrong way. Dallas says we need to get rid of the brothers (Nick & Phil). I would be so happy. It would give me such a boost of life.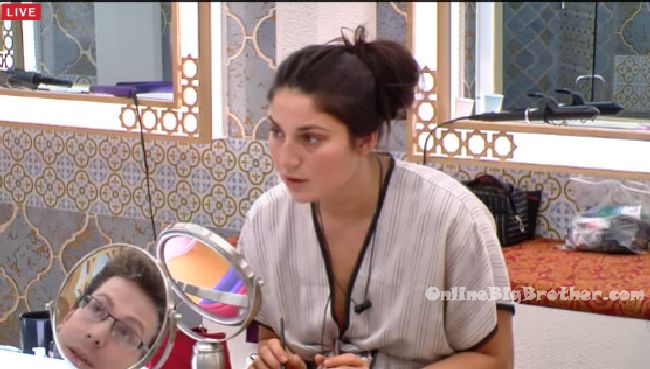 In the bathroom – Cassandra talks with Kelsey and Joel. Kelsey is woried if the veto is use Jared, Raul or her could go up as the replacement. Kelsey says that she wants to make things right with Loveita. Cassandra says that something sneaky is going on. Cassandra says when he was talking to her she (Loveita) was still going back and forth. Maybe Jared should go talk to her. Kelsey says I'm just scared if the veto is used, I'll go up. Tim joins Cassandra and tells her we need to get a backdoor plan in action. Tim and Cassandra head to the bedroom. Cassandra explains how Loveita feels she made a mistake. Kelsey joins and says that she talked to Jared and if we win the veto we have to use it to save you.
9:25am Big Brother blocks the feeds – when the feeds return the house guests had picked players for the power of veto. Nick tells Christine he wanted to play. Christine says everyone wants to play. Phil asks are you going to kill this thing Christine? Christine says I'm going to try!
Power Of Veto Players:
Loveita, Christine, Cassandra, Ramsey, Jared, Dallas
POV Host:
Tim
In the bedroom – Cassandra, Tim, Dallas and Maddy are talking. They think Ramsey and Jared would use it if they won the veto. Maddy starts getting worried that she would go up if the veto is used. Both Dallas and Cassandra tell her that would never happen.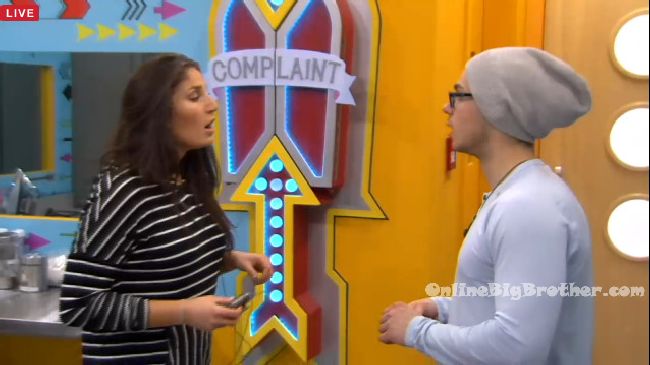 Cassandra is pissed because she told Kelsey not to talk to Loveita and now she's up there talking to her. She's ruining my game. I don't need her to talk for me. Cassandra tells Jared that he needs to get Kelsey under control. Jared laughs and says she's her own human being. I am going to fight to win it and if we do I hope we can backdoor the brothers.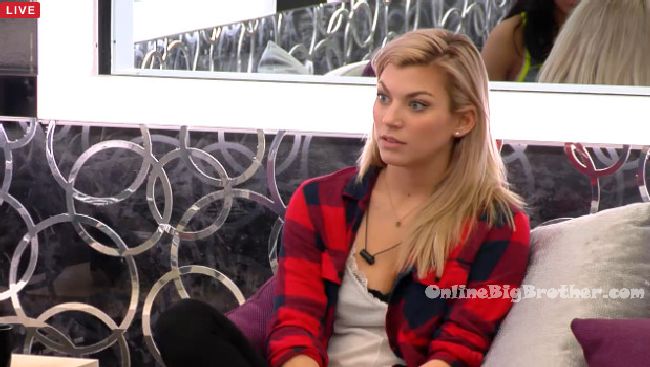 HOH room – Kelsey and Loveita are talking. Loveita says that I feel like people think they're going to get backdoored. Kelsey says yeah I'm a little worried. Loveita says you will not be backdoored. We got off on the wrong foot. Maddy is clearly angry. I made a decision because I made a promise to you. We can go far. We have to be careful though. Loveita says if anyone uses the veto, then that shows they don't care about me having targets on my back. Kelsey says I really trust Cassandra Loveita says I'd rather the veto not be played and if we are going to do anything just get numbers. Kelsey says if it was up to me I would put up Maddy. Kelsey says that Cassandra is someone that we can work with, while Christine will not let this go. Loveita says if Christine wins the veto and takes herself down. I just want you to know that I am not backdooring you. Kelsey says I just want you to keep an open mind of taking Cass off. I know she would do the same for me. Loveita says she already talked to me last night and I am open to it.
10:40am Bedroom – Kelsey explains her conversation with Loveita to Cassandra. Cassandra tells Kelsey that she shouldn't have talked to Loveita. I have a bigger plan. Kelsey says that it would have been weird if I hadn't talked to her. I've campaigned for you since you went up. I told her it was a mistake putting you up. Kelsey says fine, I'll just stay out of it.

10:50am – 11am Cassandra heads into the HOH room to talk to Loveita. Cassandra says that what she said was a joke. (She said "I can't believe that b***h won again" after Loveita won HOH) Loveita says I feel right now I have all the numbers. If Dallas won I think he would take off Christine. If I won and took you off, I don't know who I would put up. Loveita tells Cassandra that she thinks they have the votes for her to stay against Christine. Cassandra says that Dallas wants the brothers out. It would be a hero move getting out the twist of the season. Loveita says that is not a hero move. Cassandra leaves and Loveita says I don't trust her! Ramsey comes in to talk to Loveita. He tells her that her nominations really surprised him. Ramsey says that he sees Kelsey, Jared and Raul lead you to thinking we're the bad guys when we stuck up for you the first week. Loveita asks are you on the block? Ramsey says no. Loveita says okay. Ramsey says it seems very clear that you're working with Joel. Loveita says we're just friends. Loveita asks if you win the veto what will you do? Ramsey says If I won I would come speak to you. Ramsey says he doesn't understand why she didn't put up the people that put her up. Loveita gets annoyed and tells him its not good for her game. If you're HOH then you do it. Ramsey says I only asked because that's what you said last week. Loveita says that was last week. Loveita i believe in God and i dont think playing this game with an eye for an eye. Don't mind what I'm doing. I'm following my heart. Ramsey asks if I win it, should I use it to get one of them off the block? Loveita says I'm going to say do what you want but I don't think it's a good idea to rock the boat. Loveita tells Ramsey he needs to win it. If you win it, it gives you a lot of information.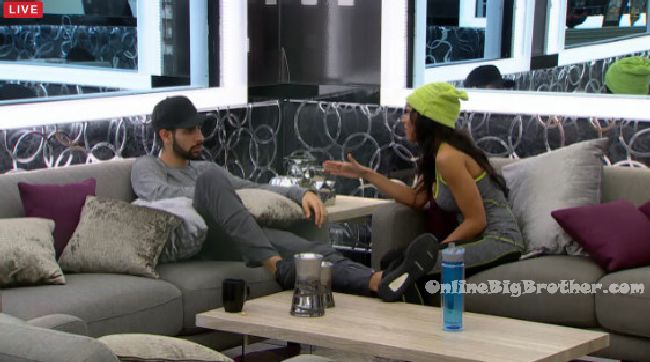 In the havenot room – Cassandra is looking for a secret power of veto power.

11:25am In the bedroom – Ramsey heads into the bedroom and tells Maddy his conversation with Loveita. Ramsey says I am going to gun for the veto and when I win it people are going to flock to me. He explains even if he doesn't use it he can get information out of people. Ramsey says I asked Loveita if she is working with Joel and she swears on her god she isn't. She said they're friends but haven't made an alliance. Maddy thinks Loveita made a deal with Jared, Raul, Kelsey. I don't care! Whatever! If she wants to be a pu$$$y and put me on the block whatever! Ramsey says that Loveita said there's a reason that you, Maddy and Dallas aren't on the block.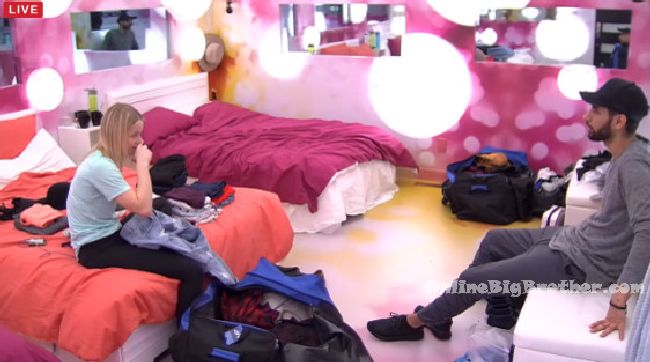 Want to watch the Big Brother Canada 4 live feeds but live outside of Canada?
Bypass the geoblocking with HideMyAss VPN and be Canadian Anywhere: VPN Help Guide
[polldaddy poll=9341582]