POV Holder:
?
Next POV
March 12th
POV Used
?
POV Ceremony
March 14th
HOH Winner:
Loveita
Next HOH:
March 17th
Original Nominations:
Cassandra and Christine
Current Nominations:
? and ?
Last Evicted Houseguest
Paige, Sharry
Have Nots
Joel & Cassandra
Use the Hide My Ass VPN and watch the live feeds on your mobile phones and tablets. One subscription pays for all. It works on any device. Including internet enabled TVs and games consoles. You can even use it on two devices at the same time. HideMyAss VPN
ALLIANCES IN THE HOUSE
There will likely be a lot of alliances during the season – keep track with our alliance help guide.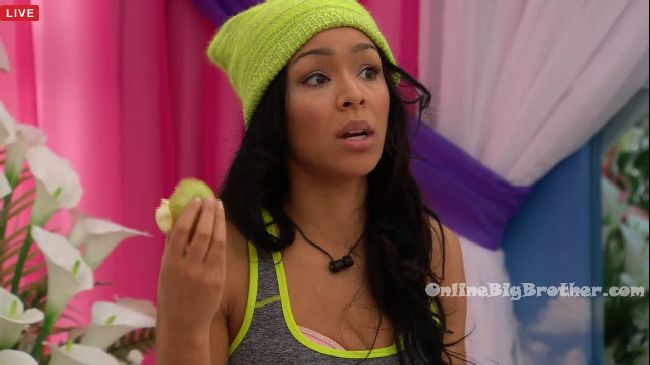 Help Support Online Big Brother
Show your support and appreciation to help keep the updates coming: Support OnlineBigBrother.com
12:20pm Loveita asks Jared if he can talk in the havenot room. Jared heads into the havenot room and says forgive me father for I am about to sin. Loveita joins him. She says I talked to Kelsey and I know she really values Cass. Jared says I'm happy to keep the nominations the same. Loveita tells Jared that he doesn't trust Cassandra. Jared tells Loveita that he respects her nominations. I am going to try and win because that's the only way to guarantee anything in this game. If I win it I won't use it. Loveita says the reason why I don't trust Cass is because Kelsey trusts her so much. I know what went on last week. Jared says that Kelsey and Cassandra kind of had a falling out. Cassandra was being very rude just because she was on the block. She was like Jared you have to keep Kelsey on a leash. He says if Cassandra goes it forces you guys (Kelsey & Loveita) bond to grow stronger. I don't necessarily want her to go but that's the game. Loveita says I don't even care if Christine is gunning for me. Jared asks you're just more comfortable without Cassandra in the house. Loveita says Cassandra was willing to get rid of Kelsey, so you can't be someone's friend and… Jared says she flip flops a lot. Loveita says I have nothing against Cassandra personally. I just can't trust her.
In the bedroom – Christine and Nikki are talking about life outside the house. Nikki says she wants to be a mom but doesn't think she would pass the criteria to adopt. Christine suggests she try fostering a child first. Nikki says I think I would be a fun mom.
All the house guests are lazing around waiting for the power of veto competition to start. Nikki comments on how they waited around all day last week and it didn't start till 12am. Tim says that in big brother Australia he nominated a girl because she pissed on a plant. Big Brother said they weren't going to show that but had to after he said that was his reason for nominating her. Tim says she pissed on his plants because she didn't like him. He says the plants died.
1:15pm In the bedroom – Cassandra says the only reason I'm up is because I made that comment. Christine says Loveita said its not personal. Cassandra asks well then what is it. Christine says I'm saying its okay Loveita, its a game. Meanwhile I'm thinking f**k you c**t!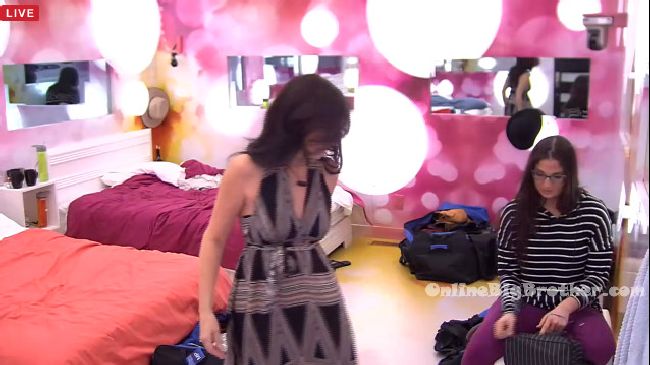 1:25pm HOH room – Nikki tells Loveita I think you made a good decision. Loveita says don't say anything but I just don't think I can trust Cassandra after what she said after I won HOH. Just because people voted for me to stay, it doesn't mean they like me. Some people think keeping me in the house would keep a bigger target in the house. People thought I would put up Jared & Kelsey. Loveita says I already know 2 people who said they wouldn't use the veto (Jared & Ramsey). When Cassandra said "That stupid b***h won again" to Kelsey, I was like wow she's not my friend. Loveita says I don't see Christine as competition. Nikki says Cassandra is sneaky and unpredictable. I think you made the right decision. Loveita says I feel like Tim is trying to help her. Is he? Nikki says Tim said if he won veto he would feel obliged to use it and I don't want to. I didn't do what everyone wanted me to do because I'm not dumb. I've watched every single season of this game. I'm playing my game, not the houses game.
Christine tells Maddy that everything about Loveita is fake. Her hair, her t!ts! Well her t!ts are real but she has a triple push up bra.
1:45pm In the bedroom – Dallas tells Cassandra if he wins the veto he is going to use it. If I do win it! I will use it!! Cassandra says thank you. Loveita said something pretty rude to me last night so I can't wait to go in there with the chain around my neck. Cassandra asks what did she say? Dallas explains how he went in there asking why she put you up and she ushered him out. After I win it, we're going to drill Loveita to put the brothers up there. You've got to stay loyal to me after this. Cassandra says I will. Cassandra leave. Dallas tells Maddy that if Me, Jared or Loveita win the veto the noms will stay the same.
1:50pm – 2pm In the havenot room – Cassandra and Joel are talking about what the veto competition might be. Joel says it could be a spelling one or a counting competition. Cassandra talks about the competition where BB made lots of noise building and when they went out to the backyard there was nothing there. And that Canada voted. Cassandra asks do you think Canada would like me over Christine? I'm nice, I'm funny. Unless you're Ramsey. Joel says he'll go talk to Loveita and say that Christine and Maddy were super pissed after nominations. Cassandra tells him to say how Christine said it was a spineless move. That's the difference between Cassandra and Christine. Cassandra is just mad at herself and Christine is after you. Just make it so evident that you can trust me. Go talk to her and save me a$$. Joel says If Christine is in this game I just don't feel safe. Cassandra says "Operation make everyone else look terrible and make me look like an angel."

Maddy and Dallas promise Cassandra that even if she is up next to the brothers they will vote them out over her. Maddy says people would be stupid to not do it. Dallas says we just have to wait until we have the veto to set the plan in motion to get Loveita to put up the brothers. Ramsey joins them and says that he'll take anyone off the block. I don't give a f**k what anyone says. Dallas tells Ramsey that Loveita cut a deal, that's why they're (Jared, Kelsey, Raul) aren't up there. Dallas says we need to stay together and work with Christine. Dallas says the brothers aren't in our plan. Ramsey says okay then lets cut them. Maddy says Phil is a piece of sh*t. I don't give a sh*t about Phil. I don't give a sh*t about anybody but you 3. Ramsey says there's only 2 of us. Maddy says the 2 of you. Dallas says lets win this POV and bring them to their knees. Dallas leaves. Maddy tells Ramsey I want to get these brothers out so bad.


Loveita asks Raul who he wants to stay? Raul says Cassandra. Loveita says HMMmm. Raul says and she won't come after you. Loveita says I want to work with you guys I just want to make sure we're on the same page. Raul says if Christine is still in the house she will come after you and that affects us because we're working with you. Cassandra won't come after you.

2:35pm Kitchen – Phil tells Nick that no one is your friend in here.. especially not that SL*T! We're playing a perfect game…. well I'm playing a perfect game. Phil says if she doesn't win the veto it will be very hard for her to stay in this house. I'll make sure Cass leaves. Phil says I don't give a f**k if I lie to Loveita. She's a f**king psychopath. I had to give her enough information for her to trust me.
2:40pm In the bathroom – Jared tells Tim I don't think she would put me up. She told me this morning she wouldn't. Tim says I wouldn't trust her. She told Cassandra literally before she went into the diary room to make her noms that she wasn't going to put her up and then she did.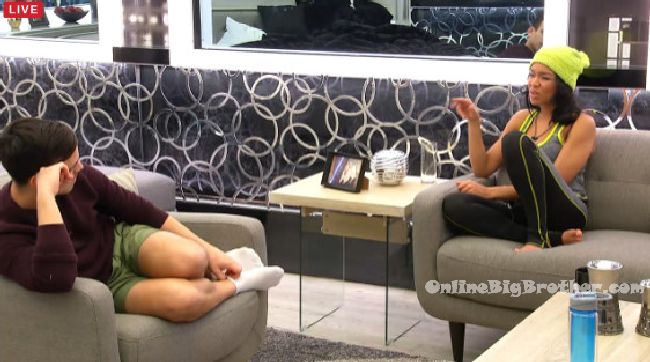 2:50pm HOH room – Loveita says I really trust Jared and me and Kelsey will need to work on it. I don't trust Cassandra. Number 1 when I saw what she said it was not a joke. Mitch says I've just heard her talking about master plans. I went into the bathroom and Tim was talking about your trustworthiness because he said you Cassandra wouldn't go up and then minutes later you put her up. Loveita says what a sneaky guy. He was the one that suggested that Cassandra would be a good one to go up. Tim is stirring the pot. Mitch says I would just be super careful. Loveita says they must have put a sociopath in here. Tim is a sh*t disturber. Mitch says take your conversations with him as a grain of salt and just know he could go tell others what you say. Loveita says We've got to be careful with him. Loveita wonders if Jared would use the veto to save Cassandra. He told me he wouldn't use it. Mitch says if Jared wins veto and takes Cassandra off .. then you know who you have to put up (Kelsey). Loveita says b***h you're so right!

3pm Big Brother tells the house guests to report to the head of household room. Tim asks Loveita if he can try on one of her wigs? Loveita says its not a wig its a weave.