POV Holder:
Corey
POV Competition
July 16th
POV Used
?
POV Ceremony
July 18th
HOH
Paulie
Next HOH
July 21st
Roadkill Competition Winner:
Tiffany
Original Nominations:
Tiffany, Natalie, Corey
After POV Nominations:
?, ?, ?
Have Nots
James and Natalie
CBS All Access: Live feeds are only $5.99 per month – Try it FREE for 1 WEEK!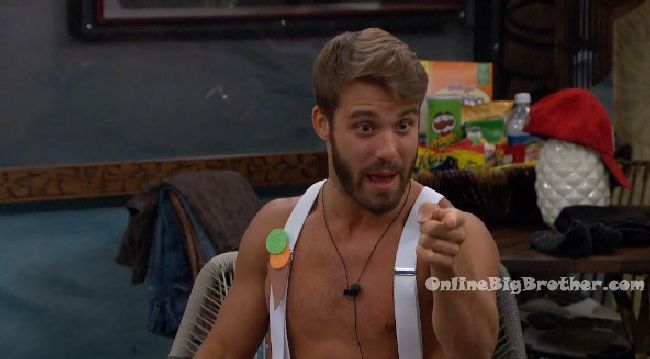 7pm – – 7:30pm Kitchen – Day asks James why am I a threat!? I haven't won one damn competition. James says I don't know. Davonne says she is going to go talk to Paulie. James tells Davonne to stay cool. She heads up to the HOH room. Paulie asks do you want to be a part of something epic?! Frank comes up here and says there's a bigger snake in the grass. I am thinking they're trying to pin everything on you. And make me think that Tiffany isn't the target. Paul says they think I'm in with them. Just before Frank came up here and sucked his (paulie) balls. Paulie says yeah .. the left one and then the right one. Pual says they told me everything. Paulie says proposition .. I go in front of everyone… f**k you, f**k you ..they tried to turn everything against Day. And now they showed all their f**king cards. So vote Tiffany out this week and then next week if its a team thing and I'm safe motherf**ker but after that I get to come after you and Bridgette.

Paulie says there's an alternative plan. It requires some acting. Who is going to be the one that informs her .. I think Corey should because Corey getting cornered … he doesn't like it. And they're feeding Corey .. you know if you pull yourself down Day is the next target. I say you f**king flip out on them. Type sh*t! I come in and f**king back it. Oh wait even better plan I back Day. Being like I'm trying to know what the f**king information is. And then he is like F**K you Day .. you trying to backdoor me and I'm on the outside of your alliance. They think that she (Z) is cool and will flip sides. And she goes and is like I don't know about Paulie. She can go to them and be like you know what I didn't want to believe it. But I don't feel safe with Paulie. He seems like he has a temper. Paulie says I'm not a good actor… I'll laugh. Honestly when Tiff comes up here to have a conversation with me I will be like Na .. I don't want you here. Paulie says its up to you .. we can be subtle about it. Day says na turn it up! Paulie says or I could wait until Tiffany comes up here and then I could go down and be like F**K YOU FRANK TIFFANY TOLD ME EVERYTHING!! NOW I'M COMING AFTER YOU!! Paulie says I think they think Corey is weak and that's why they're hammering him hard. At the end of the day we stay strong. Whoever gets paranoid in this situation.. Day says if you're paranoid about .. that makes me wonder if I can trust you. Frank says he was saying there's a bigger snake in the grass .. and I should have been like no you're the bigger snake!!!! He is trying to turn us against each other. Corey joins them. DaVonne says that Frank keeps saying its time to make a big move! B***K you make a big move!! Paul tells Corey about their plan to throw a fake show.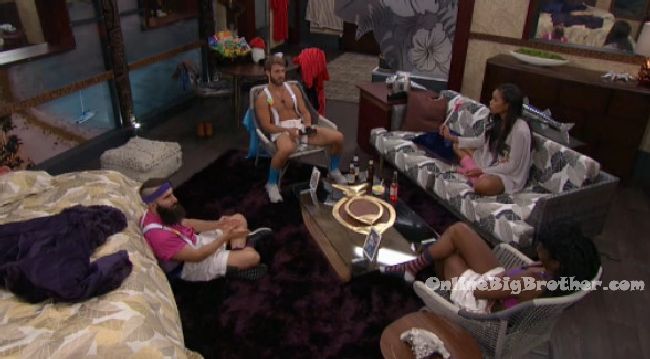 7:25pm – 7:40pm Bedroom – Frank, Corey Bridgette and Tiffany. Frank says she wants to play big and she wants to play dirty! Frank says its great that they're telling him not to use it. They're scared. Bridgette asks who? Frank says probably Day and Nicole. Paul joins them. Frank asks Paul if he is down with the clown? Paul says yeah I'm down! I'm PISSED! They've been playing me and lying to me.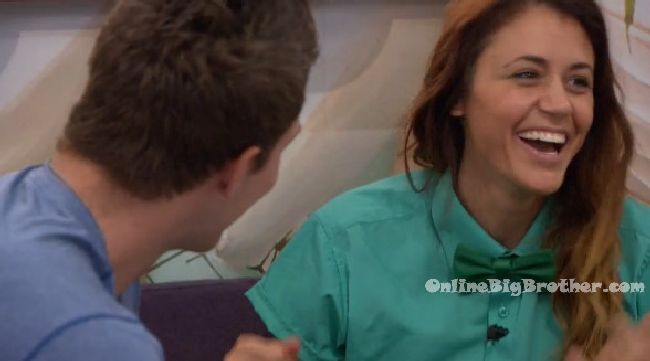 7:45pm Bathroom – Natalie say that Paul is a little spy. James says he plays both sides of the house. You have to watch out for that.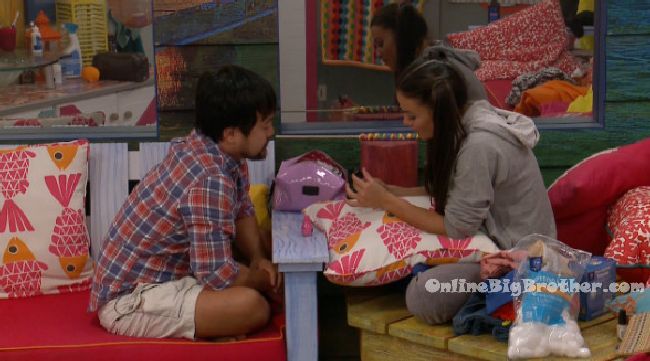 FLASHBACK and watch everything you missed: CBS All Access FREE Trial!
7:50pm – 8:05pm HOH room – DaVonne, Paulie, Zakiyah and Paul. Paulie says I'm going after Frank! I'm going after Frank! He trying to hurt too many of my peoples. I think they'll also try and corner Michelle. If they haven't already. Da asks is she stable enough? Paulie says she's stable. She likes relishing in it. Da says she is petrified of Frank. Paulie says just be like you know he (Frank) would have to go through an army to win out individual HOH comps. Da says that's my baby, I've had to comfort her many a nights. Paulie says I'm not saying I can beat everyone but I can beat you (Tiff). I'll says that to Frank too. I get into street fights. I get into fights with multiple attackers on me! I'm fine by myself! DaVonne says Tiff is not witty… That speech.. I helped her with that for an hour in the havenot room .. and she still messed it up. Paul joins them and tells them about the conversation he had with Frank and Tiffany. He was making fun of you. (Paulie) About you saying you were bred for this. Paulie says maybe I said I was bred for this but at least I don't do that fake a$$ wrestling sh*t that your daddy did!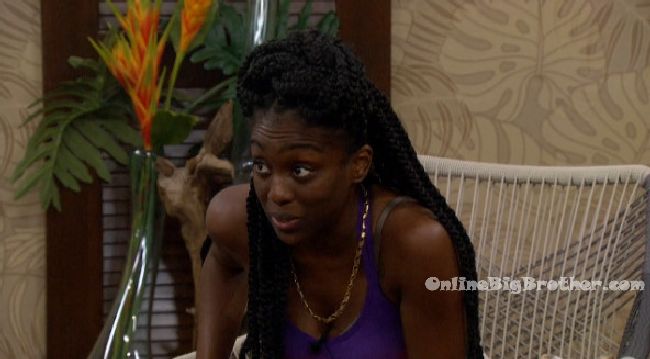 8:35pm Paulie tells Paul and Corey ..next week put me up next to Frank and I'll battle him. If he comes down put Bridgette up and she goes home. I'm not scared! I'll battle him mono e mono.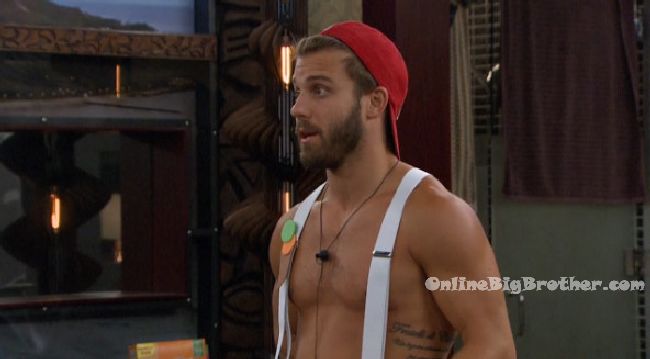 8:40pm Storage room – Paul and Frank. Paul tells Frank they're sacred. Is Corey going to use it. I want to say that Paulie trusts me but he doesn't tell me any big information. Frank asks did he mention anything about me? Paul says no not while I was up there but I don't think he really trusts me which is why he wouldn't say anything like that around me. Frank says I don't think he liked me coming at him like that. I'm a competition beast BRA! Paul says I haven't seen you win. Frank says I won two roadkills. Frank says going into next week we could do some work!
CBS All Access: Live feeds are only $5.99 per month – Try it FREE for 1 WEEK!
Paulie head to the bedrooms to look for James to see if he wanted some pizza. Frank tells him James is a havenot BRO!

9pm HOH room – Paulie and Corey are talking. Paulie sasy I know she doesn't like Frank but for game purposes she might need him. Corey says lets keep our cool with Frank. Paulie says yeah Paul wants me to blow up on Frank. Corey says Frank likes us. Paulie says right now I don't want to do that. Right now if he's in this game he can take out targets we want out like taking out Day. Paul joins them. Corey says so the only people that can't get HOH next week are Bridgette and Frank. Paulie says once Frank is gone we'll have a clear path to the finals. Paulie says I'll keep Z close. You (Corey) keep Nicole close and you (Paul). Paul says I'm trying to keep Michelle close ..trying. Paulie says throw a couple votes to Day and the rest to Tiffany. Corey asks why? Paul says because if all the votes go to Tiff then Frank won't trust any of us but if I vote for Day then I can tell him I was the other vote.
9:15pm Bedroom – Tiffany and Frank. Frank says I feel good not a 100% but we still have 5 days. We might not even try and talk game tomorrow .. like just let it sink in. The more they push him not to use it the more he will be pushed over to our side. Tiffany comments on how Corey hasn't been hanging out with Nicole all day. He keeps it up here. (Focused on the game)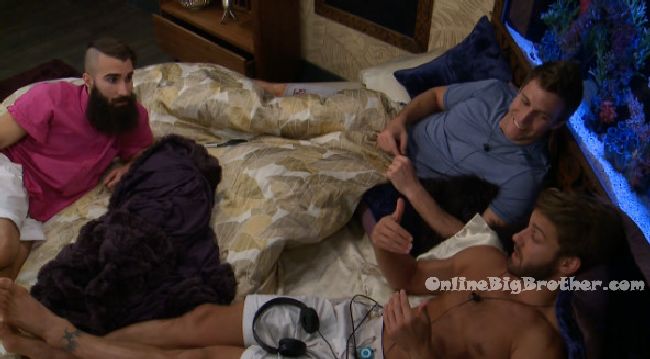 9:35pm Hammock – Nicole, Z and DaVonne are talking. Nicole is talking about how bad she feels . Nicole says you can just tell when someone looks at you different. I can't help but play with my heart with you guys. Michelle joins them. Nicole says I will try to talk to him. Tiffany is a little turd. Paulie & Corey join them. Michelle says I want to poke some jabs at Tiffany.
9:50pm Nicole asks Corey if they can talk. Nicole says I don't want you to be mad at me. Corey says I'm not mad at you. Nicole says I was just balling in the diary room. Corey says I'm not mad. Nicole says its not what I meant. (She said it would have been better if Paulie won the veto.) Corey says he heard something else from Frank too. He said on day two that you and him swore on a top two deal. Nicole says nope. It didn't happen. (She did make a final two deal with Frank.) Nicole tells Corey I have your back. I would never ever vote you out or say anything bad about you. Nicole says I know I hurt your feelings and I'm sorry. I was happy that you won. Nicole says best case scenario Day goes up. Corey says she is going up. Tiff won the roadkill.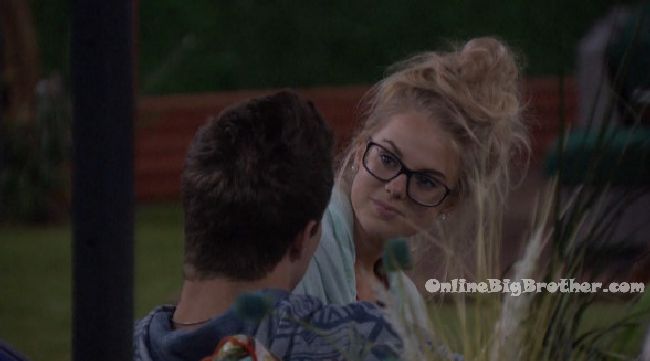 [polldaddy poll=9471428]