If you plan on buying anything from Amazon. Use this link Amazon home
Doesn't cost you anything and we get a small cut.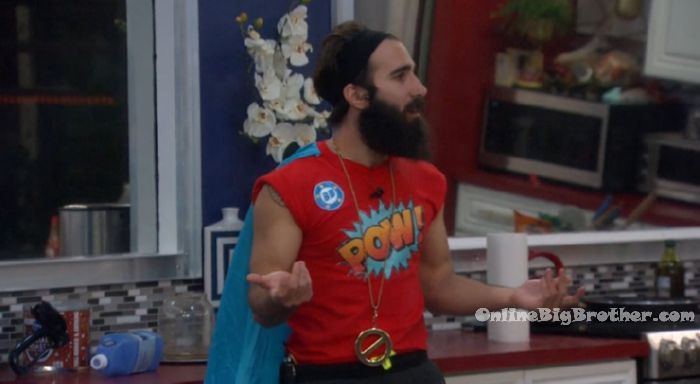 Power Of Veto WINNER: PAUL
2pm – 6:40pm Paul has the veto around his neck. The veto competition was the BB Comics comp. Paul – Potty mouth?! For sure my mom is pissed!! I feel like you guys cussed way more than me this year. Josh – I am pissed how I f**ked up on Mark's. Paul – you're stupid you should have done everything except for Mark and then hit the buzzer, switched it, hit the buzzer one after another. Josh – that's what I did at the end.

See what they can't show you on TV Try the live feeds for FREE!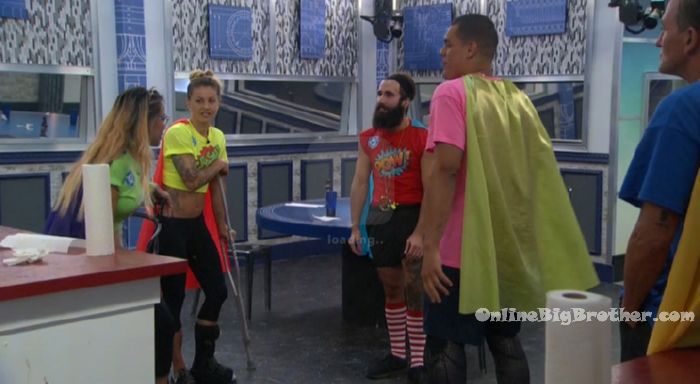 Gnome dance #bb19 @bigbspoilers pic.twitter.com/5rVAZ3aSgg

— Dawg (@DawgsBigBrother) September 10, 2017
Paul does a happy gnome dance in the bed room. He heads back to the kitchen. Paul – for sure I'm being portrayed as the villain. Alex – I liked mine. Josh – I didn't like mine. I'm not the meatball. Mark is the meat ball. Christmas – you weren't crying. Josh – Jess had a good one. Paul – the hex-appeal. Jason's suit was made out of nuts. It said Whistle-Nut and Ollie. Alex – Raven's didn't make sense. Paul – Arkan-sassy. Alex – her name made sense but the comic didn't. Her comic was way cooler than she actually was, it didn't look like her. Paul – she had claws dude! Her nails were long as sh*t and she popped pimples.
7:20pm Storage room. Paul and Alex.
Alex – are we taking him to the end? Paul – who? Alex – Kevin? Paul – f**k no! Alex – who are we picking then? Paul – I don't know fool. I have to reevaluate. Did he throw that or what? Paul – he 100% threw it. Alex – did you ask him to?
Paul – no he didn't throw that for us. He did that because he knew he would go home. I don't know what his plan was. I don't know why he did that. Alex leaves. Christmas joins Paul. Paul – I want to punch Kevin in the face! Christmas – what the f**k!?! I am equally sad and excited. Paul – I don't know what to say to Alex. Paul – she just came in here and asked, you're not going to f**k me are you? I was like no.. so I really don't know what to do. I am obviously not going to use it.
Christmas – we'll pow wow and come up with some options. Paul – its hard because she tired and he (Kevin) didn't. This sucks .. but for the greater good. They head out of the storage room.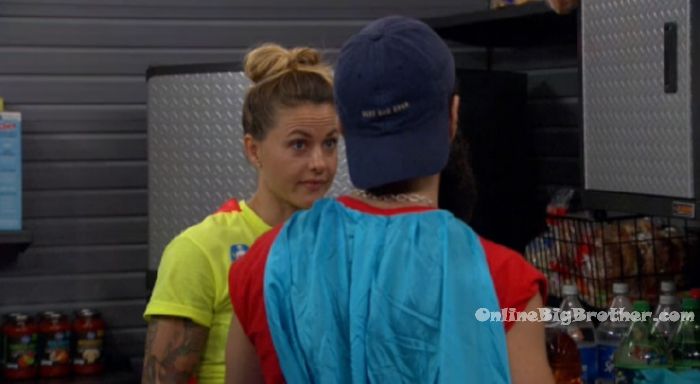 7:40pm – 8pm The house guests cooked dinner and are now eating it…
8:15pm – 8:20pm Bedroom – Christmas and Paul.
Christmas – it would be a lot more challenging …but you keep your promise and you use your veto on Alex. This is nothing but thinking through options. Then Josh has to put me up. You guys vote out Kevin and we battle it out for three. Paul – HHHmmmm .. I might lose to her. And then you guys aren't beating her in that veto and one of you gets clipped for sure. Paul – I am not saving her, that's not an option but there must be some way to distribute the blame so she doesn't hate me. Christmas – she understands game play. Paul – this is what I am thinking .. that I was in a position this week that if I didn't win the veto.. I was going. Now that I won it pretty much you three told me that if I use it I don't have your jury vote. None of you are going to vote for me so I would loose anyway. What do you think about that? Christmas – she needs to know why? Paul – I would say if I use this veto on you I forfeit me jury votes. Alex joins them and the conversation ends. Christmas – her attitude now is so different. It pisses me off. Paul – I tell her if I use it either Christmas goes on the block and I loose two or three jury votes. That's the only thing I can think of. And that I can't beat her in the end. Christmas – and if you don't use it.. you would be the next target. Paul – ya that's what I was thinking..
8:20pm Lounge room. Kevin tells the camera that he misses his family and that they better all be here next Wednesday.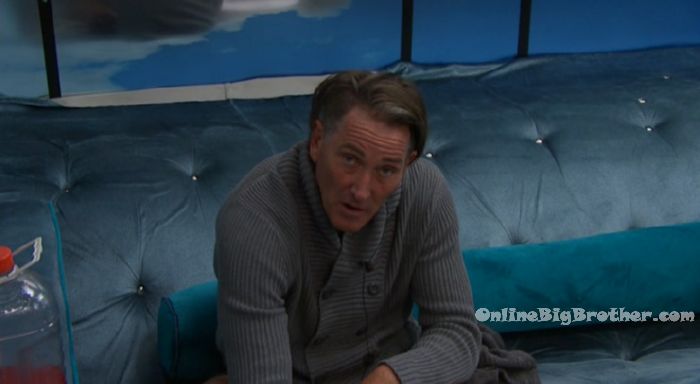 Paul – I mean she (Alex) is going to be mad either way but at least this way maybe a little less. Paul – I knew I had to beat her… Josh wasn't going to beat her and Kevin wasn't going to. If I didn't win it, then one of us gets clipped next week. When do I tell her? Christmas – Do you think we're going to have a Sunday afternoon eviction? Paul – I had another I idea… no that throws you and Josh under the bus. If I said that you and Josh have had my back since the beginning … just like she had Jason's back. Christmas – but why would that throw us under the bus if we agreed to it? She'll argue that you and I and her have worked together. Paul – we have but just like her and Jason worked together and I was in the picture. Same thing. Christmas – lets consider the backlash of that .. would she consider you played her the whole game? Paul – maybe. Then I guess I have to go with option A. Christmas – you could go the approach of how you were able to work along side her .. she had her crew and you and your crew. Paul – I don't know how she will take that or the other. Christmas – well she has a huge understanding of campaigning for jury votes so she might understand the game side of it. Paul – I won the veto and I'm not going to use it and I am going to tell her straight up I can't use it for my game. She's going to give me the argument of they're going to beat you. But I'll say I have a better chance of not protecting two people.



Josh joins them. Paul tells him he is going to have to tell Alex he is not using the veto on her. Paul tells Josh the plan of what he will say to her about losing Josh and Christmas's jury votes. And two – I forfeit my game to you (Alex) because I can't beat you. Even if I went to the end with you I would loose. Paul – you wouldn't mind saying I wouldn't have you vote if I used it? Josh – Do whatever you have to do to protect yourself. Paul – or I expose all of us and say that we've been working together so I can't use it. Would you tell her I would lose your vote if I used it? Josh – no I don't want to do that. Paul – then I have to expose all of us and tell her the truth. Josh – she'll blow up. Paul – she'll understand its a game move. Josh – why would we pull her off. Do whatever you feel comfortable with. Paul – then I have to explain why I am not using it. Josh – if he (Kevin) wins .. Paul – he won't .. but I need you to blow up on him. I will win the next HOH. Josh – at this point I've come to terms with not making everyone happy. The only people I've made a promise to is you two. Christmas – I think she is going to blow up. We have to be prepared for what she is going to do. I think Josh and I need to have a solid explanation for why we would retract our vote.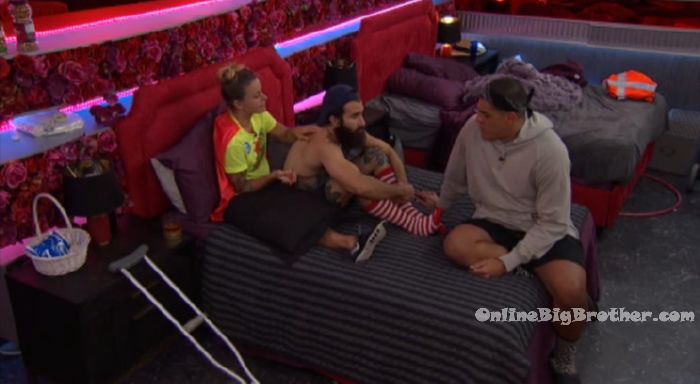 9pm Paul talks to Kevin about what he will say to Alex. If I do use it on her, you would go home. I could say that I'll loose Kevin's vote in the end. Kevin – yeah don't say it until it comes up. Don't bring it up tonight .. she would be f**king miserable. She'll kill you if you do. Tell her tomorrow.
9:05pm – 9:43pm Lounge room. Paul continues to rehearse what he is going to say to Alex as to why he can't use the veto on her. I have to say the jury vote thing for it to make sense. Christmas – are you okay with saying he will lose your jury vote if he uses it? Josh – no. Paul – Josh you said you were two times now?! Josh – I'm not okay with it but I will. Paul – I told her I was going to use the veto on her and now I'm not going to .. so I need a reason why. Christmas – you (Paul) should say that we forced our jury vote. Paul – do you know why she sits in the living room.. because she can hear our DR's. Josh – you think she's heard mine? Paul – absolutely and she's heard mine. Christmas – lets focus on this. Josh – I'm going to be straight forward and honest with her. Christmas comments on how her comic was her being a mass murderer on a scooter. Josh leaves.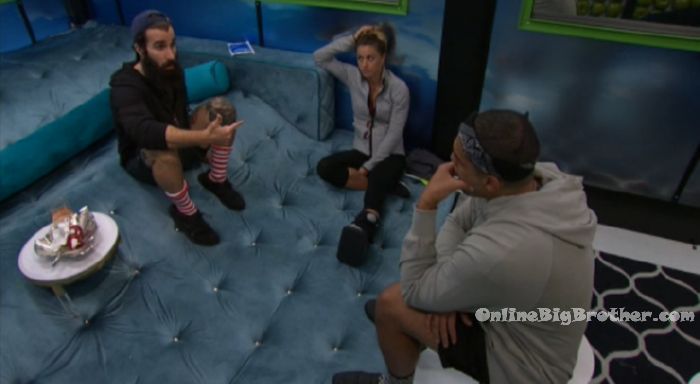 If you've enjoyed our live feed updates this season, please consider donating.
Simon and I work 24/7 all season long to keep you updated on everything that happens inside the house. Any amount is greatly appreciated! Your donations go directly to paying the fees required to run this site.
Links to the ranking system
Rank your house guests here
For those of you that like Statistics here are some expanded reports.