If you plan on buying anything from Amazon. Use this link Amazon home
Doesn't cost you anything and we get a small cut.

9:50pm HOH room. Josh talking to the live feeders.
Josh – for me to have Paul and Christmas's back this entire game and stand by them and never cross them… Paul is literally putting all the blood on me and Christmas so that each person that walks into jury .. he hasn't pissed anyone off. He has no blood, he hasn't done anything. For you to put it on somebody that has had your back and has been your ride or die in order to secure that you win this game and not to give a chance. I've been nothing but loyal, honest, truthful, direct, straight forward… even when I nominated people. Yeah I've told white lies here and there but who doesn't lie in this game. But for you to orchestrate all this in order for you to win, for you to put all this blood, all this heat on me so that you can secure your jury votes and Christmas is so naive where she is literally eating everything she says they don't even let me speak, they don't even let me get in a word. Now I can't take a shot, now I can't do anything. He won the veto. Now I have to go to final 3 with them but you know what he thinks that he is going to go out with his hands clean .. and I might just blow up this f**King house.

I've earned my f**king spot here. I've protected those two, I've had their back and now what do I do? They think that I'm stupid?! Do you not think, that I don't think that Paul went to Kevin to throw that f**king comp so that it looks like me, Kevin and Christmas are working together? Are you f**king kidding me?! Do I look like its f**king stupid written on my f**king forehead? And F**king Christmas thinks I don't know how to connect the f**King dots?!?! Such a smart person that she is.. she doesn't see things clear as day? What the f**k am I Jesus Christ? I'm not Jesus Christ. I don't have super powers. I'm not stupid! I am not naive. I don't buy bullsh*t! Don't feed me bullsh*t when all I give you is the dead honest truth. You know if I don't make it to three and I don't make it to two.. I don't give a flying f**k at this point because I have not turned on anybody. And he is forcing me to turn on him. He is forcing me to take him out. He is forcing me to take a shot at him!
FLASHBACK and watch everything you missed: Live Feed 7 day FREE Trial!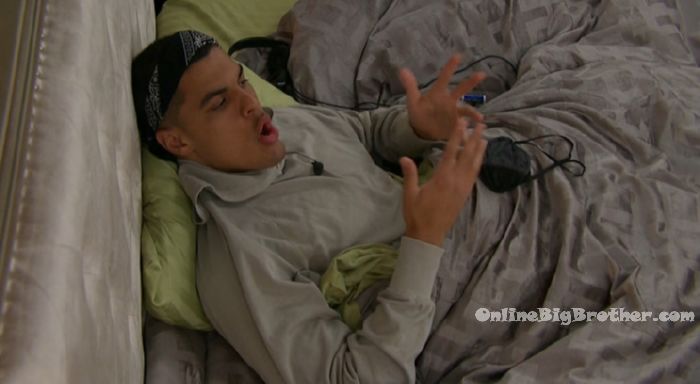 Josh – Not only won't I win against him but now he is trying to taint my game either further now. He thinks people in jury don't know we're in a final three but I am pretty sure Jason is spreading that like wild fire in jury. I've played a clean game and now I am going to have somebody that I've had their back, somebody that I've looked out for .. an alliance that I've stood by this entire game. An alliance that I've literally .. even when they didn't f**king trust me I stood by them. Now they're f**king up my game. If I win, I am in a house full of f**King snakes. I am not willing to throw sh*t on an ally for me to secure my.. I will sit there and let the best one win. I am not going to dirty you on my way to the top. And sh*t on you, on my way to the top to secure that I win. It's not my style. I would have played it out. Christmas is mad about a rogue vote but she is not mad about how Paul is protecting his game and looking out for his own game and F**KING SH*TING on us on the way to final 3 to secure his spot. He didn't play me, that's for sure. I've been on to his game for weeks. He's played the f**k out of Christmas. I stood by this kid the whole game. And for me not to be the one to taint my game but for an ally to taint my game and to f**k up the game that I've played my heart out all f**king season.. I've called people.. made enemies not only for myself but to protect you… I've fought with people over you two. This is f**king wrong dude! I don't give a f**k if I loose .. I won't change. I'll stick by him. I'm a be loyal. I'm a stick by her and be loyal..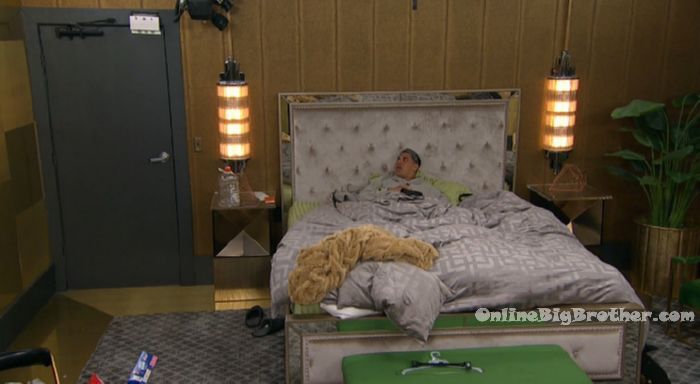 I'm going to go to the end and if I f**king get that scale .. I am taking Paul out. If I win that scale, I am taking him out. I am going to final 3 but they better beat me. And in my speech you better believe I am exposing the 3 of us. Nobody has to know the game that we've played until they watch it back (That's what Paul has said).. no f**k that everyone is going to know when I sit up there in final 2 that I've played a loyal game and I never turned on you because I gave you my word. And even in the midst of all the fire I never turned on you. And people never gave me that in return.. so either the jury respects my game play for being straight forward, fearless and loyal or f**k the jury too. I don't give three f**ks at this point. I didn't ruin my game, thank my allies for that. Josh heads downstairs.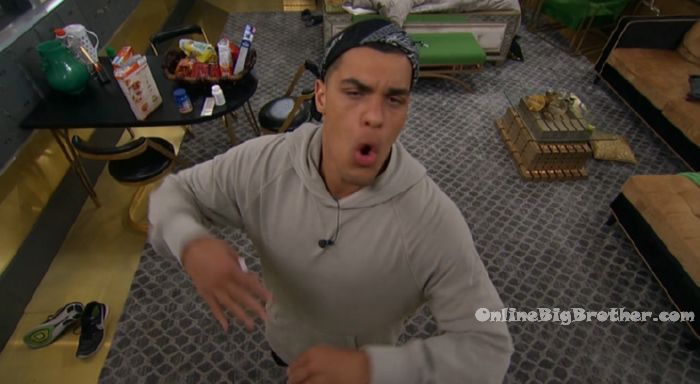 10pm – 11pm
Josh joins Paul and Christmas in the lounge room. They start studying the days / events of the season. Josh – he (Kevin) isn't going to survive this lock down. Paul – you need to say things that are going to unearth him. Josh – I'm going to pots and pans this motherf**ker. Paul – more than pots and pans you've got to attach his character and sh*t. Christmas – I am telling you, if I start this.. Josh – then you can finish it. Paul – you've got to add the cherry on top. Christmas – when you plug in, he will turn bright f**king red. Paul – and I'll be in the corner just doing pushups and he'll be like (staring at him). Christmas – what I have to say will strike a nerve faster and harder than you attacking him first. Paul – and since he is already on edge.. Paul – then you come in and.. Christmas – follow through. Does that make sense? He won't be able to retaliate against me and it will get him more pissed off. He won't get to say anything that he really wants to say. He will be boiling inside. Then you say something and he will blow his f**king cool.
I'll set him up and call him out for being the old man pervert.
Paul – we can do this guys … we're there. Its literally me, you, him and Kevin. This is what we've wanted fool and we got it. No skimping out now. Christmas – you have to put me up beside him so that his ego will shatter when I stay over him. Paul – okay. Josh – laughs. Who am I working with?! Paul – or do you (Christmas) want to be the one to put him up. Josh – what? Paul – because if I win, one of you have to go up. Christmas – yeah it will be me. Paul – but one person is the deciding vote. Josh – whatever. If I'm the deciding vote I'm going to say we've busted our a$$ to be here and you (kevin) literally did nothing but hide under people, float to get here and you played it safe. I just don't respect that.
This season people played with balls and you left yours the f**k home.
Christmas – "Kevin, the bank called and said they're collecting on some debts youre outstanding of your f**king di*kery, have fun with your 25k motherf**ker!"
Christmas – we swept the f**k out of this house. BB should put this in the play book .. the apple snatcher (Josh), miss boot girl (Christmas) and don't even know what to call you .. the grimelin (Paul). Christmas – I hope they do ask me to come back next year because I will be unleashed .. not quiet in the corner.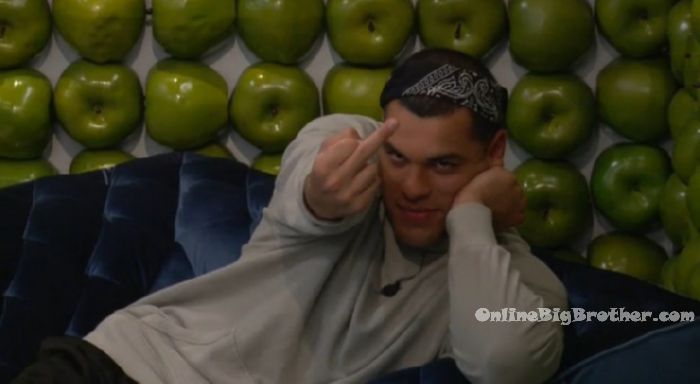 Kevin's losing it… @bigbspoilers #BB19 pic.twitter.com/MOaY8wPds5

— Dawg (@DawgsBigBrother) September 10, 2017
Kevin being Kevin @bigbspoilers #BB19 pic.twitter.com/GeTGzsjA4G

— Dawg (@DawgsBigBrother) September 10, 2017

11:32pm – 11:45pm Christmas and Alex leave the HOH. Josh talks to the camera again. Josh – Alex is a beast of a competitor but she has always protected me. She has played a straight forward, truthful game with me. Jason was her ride or die but Alex has never crossed me in the game. And Alex isn't trying to pull all this shaddy sh*t. Alex is trying to go to the end against good competitors and win, you get me? She wants to win and I know she will pull a shot. Oh god I am so mind f**ked! If I were to tell Alex everything she would wake up… it would click and then I would turn on these two (Paul & Christmas). I feel bad because I see Alex's heart and the woman she is and the type of friend she's been. In my nomination speech I've been straight forward with her but she thinks I'm crossing her when in reality its just a game move. The way that Paul wants to paint it, it looks really shaddy on me. She is a great person with a great heart. She's played a great game. She's played a straight forward game. Paul has played the f**k out of her.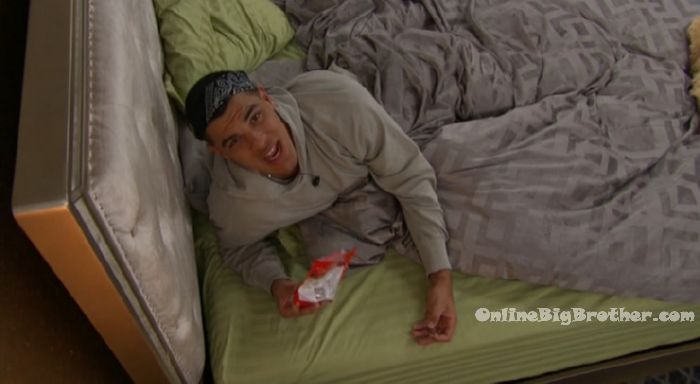 If you've enjoyed our live feed updates this season, please consider donating.
Simon and I work 24/7 all season long to keep you updated on everything that happens inside the house. Any amount is greatly appreciated! Your donations go directly to paying the fees required to run this site.
Links to the ranking system
Rank your house guests here
For those of you that like Statistics here are some expanded reports.