If you plan on buying anything from Amazon. Use this link Amazon home
Doesn't cost you anything and we get a small cut.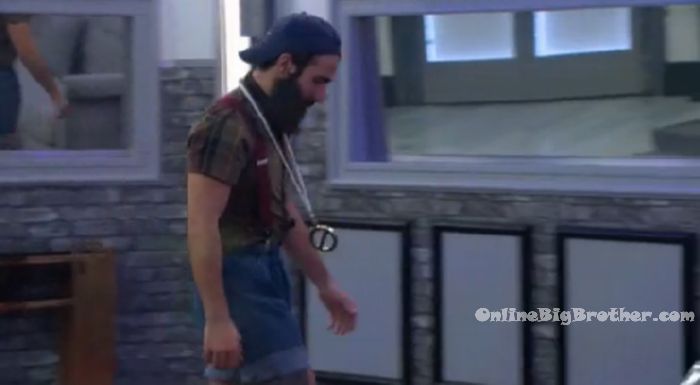 Power Of Veto Winner: PAUL
6pm – 8:55pm Big Brother blocked the live feeds for the Power of Veto Competition.

FLASHBACK and watch everything you missed: Live Feed 7 day FREE Trial!
When the live feeds return – Paul is wearing the veto around his neck. He heads to the storage room where Alex is dancing. Alex – safety! Paul comes in and says what the f**k I was trying. I was hot and overheating. I was like dude I can't do this anymore. Slap, punch, punch, punch. Alex – I looked at Jason and asked is he telling me to throw it or not throw it. Paul – No yeah. Alex – he told me to go for it. Paul – I don't know why he would say that. I'm going to pull you off. ALex – I don't care, I trust you guys. It's Kevin no matter what. Paul – I don't want Kevin yapping to Jason all week. If Jason is up there Kevin can't ask him to vote for him. Alex – dude I was trying so f**king hard!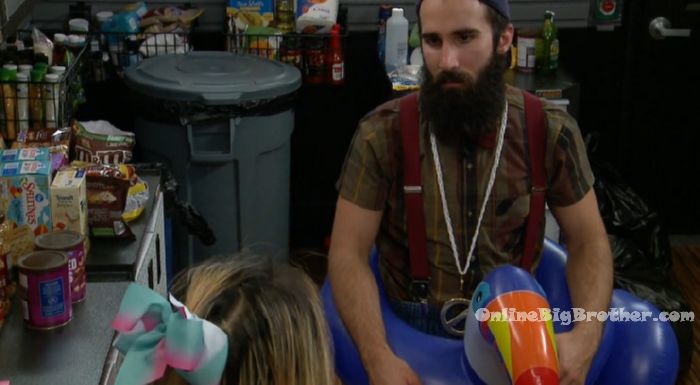 9:05pm Kitchen – Kevin – we were out there for two hours. We went out at 6:53pm. They're all hanging out in the kitchen chatting about the competition. Bobby Moynihan was the host of the competition. He is staring in a new CBS tv show. They comment on how he was a lot better than Derrick because Derrick was dry. Jason – he said this was his favorite season. Paul – but to be honest is he really going to say this season sucks? Jason – I asked him what his favorite season other than this one, and he said this one. Jason goes to the camera in the bedroom. Jason – arguably the best veto comp! Thanks Bobby! It would have been better if I had won but I am not going to beg. I'll just see what happens.
9:15pm – 9:33pm Paul and Josh sit down to finish their chess game. Josh – just three more weeks. Paul – we just can't f**k up.
9:50pm Bedroom. Kevin and Jason.
Kevin comments on how Bobby's new show premieres on September 25th. Jason – Alex and Paul get to go to the premiere of the show so we have to be done before them. Kevin – no not the premiere, they get to go to a show. The finale has to be on September 20th. Jason – that deal was b***hen and I stood up there and f**ked it up. I hate f**king losing especially when something like that is up for stakes. Kevin – he said he would help us all after the show. He mentioned your bull! Don't be down. Jason – I know. Kevin – You'll get on Saturday Night Live. Jason – I'm not down. I just should have won that thing.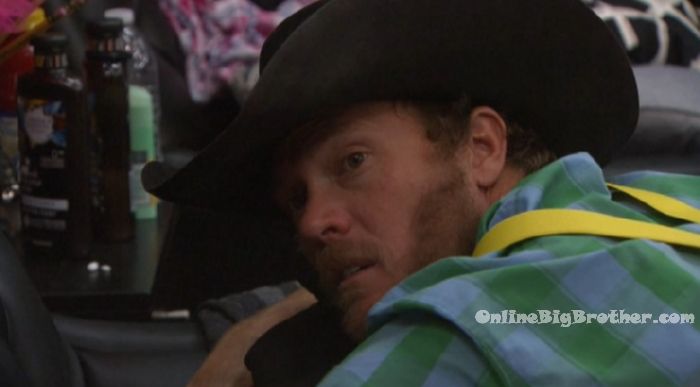 Kitchen. Jason – I was in Galena Illinois. Christmas – you were in Elena? Jason – no! Never would I ever been caught dead in Elena.

10:05pm Bedroom. Raven is alone in the bedroom. Raven – who's going home? Jason's going home! Who's going home? Jason's going home! Bye Jason! BYE BYE BYE! Gonna be a good week! Just happy! So happy! There is going to be a lot of carnage. So much carnage! Of epic proportions. You thought the veto with Matt and I was bad. Wait until this one! Heads are going to roll!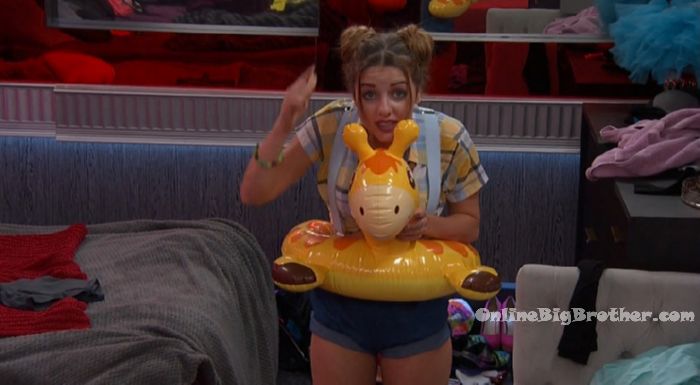 10:20pm Bathroom – Raven is upset about feeling like she hasn't done. Christmas – you have a great social game. Raven – yeah.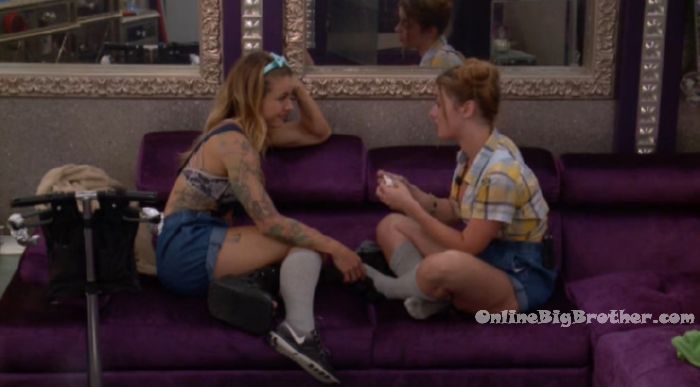 10:10pm Alex and Jason in the storage room.
Alex thinks Raven threw the comp. Jason – I don't understand why you think she throws stuff. Alex – she's a dance instructor, there's no way couldn't get that. That's her thing. Jason – what do you think Paul is going to do? Alex – He already asked me and if I wanted him to put me or Jason off. If he wigs out pull him off but think about it Kevin is going to freak the f**k out.. if we put you up there its just going to be hell for everyone else. Jason – ok, I don't care but I'm just nervous as sh*t. Isn't Christmas acting weird? Alex – she is super cool with me. Jason – so what is that plan. Alex whispers Kevin. Jason – so did you know I was going up? Alex – no, I swear to god. Jason – that's fine I trust you. Alex – he (Kevin) thinks the nominations are staying the same. He is going to freak out on Paul. We have to wait and then we can blow up on him after the power of veto. He thinks I am going home. He is going to melt down with Paul slaps him up there. Jason – should I ask Paul… I don't want to talk about it.. you guys just do what you're going to at the ceremony. Alex – at this point we should just assume I am getting pulled off .. I will let you know what is going on.
But I think the less you know the better. You won't slip up and you won't wig out on Kevin. Jason – yeah. Alex – if he (Paul) is going to do some power move .. I don't think he should tell you. I trust Chrsitmas. Jason – I only trust you and Paul. And I am worried about being on the block for a vote. Alex – yeah but it will be me and Josh and Christmas will break the tie. Jason – that's why it would have been better if you had won this one and then we alternate. Alex – we can't risk it. Josh has to win to take out Raven. Do you want Matt pissed off at you. Alex – after this we're not going on the block anymore. Paul owes me one. Jason – I don't want to question Paul. I was like are they going to try and send Alex home or me home? Alex – do you know something I don't know? Jason – absolutely not. Alex – I need you to pump me up before competitions. I didn't know most of these questions. The last one I knew for sure. Jason – I don't know why you would ever throw them ever! Alex – if there is a case were we need to protect Paul. We need to make sure we're covered… so that's two votes for you. That's a safety for you. If she did want to make a big move and throw up Paul then we are screwed. Do you see that. If I had won and pulled you off then he goes up against me. There was no way I was going to let you sit on the block because I was 100% going to pull you off. (WTF?) Jason – and I thought I was going to win and I was going to pull you off. Alex – I know. Thats why I was getting paranoid that you were throwing it. Jason – I never want to throw it. Alex – we have to throw the next one for Josh to win it.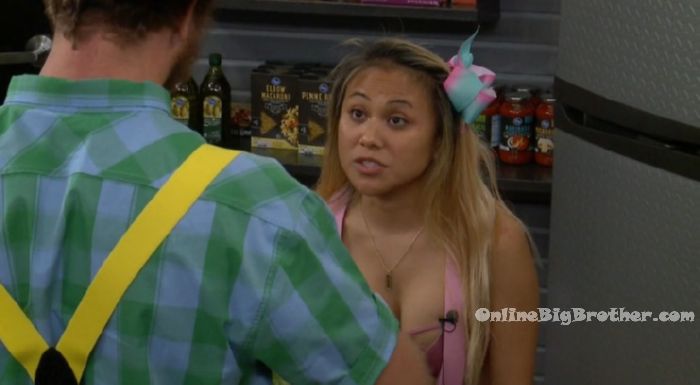 10:30pm Alex and Jason discuss when they think the finale would be. Alex – Raven was messing me up with the date. Jason – don't listen to her. She is weird, she is weird all the way around. What's her story? Alex – she said her pacemaker isn't FDA approved… why does that matter? Jason – it means that its not government tested and its not covered by insurance. Alex – but the FDA is for the Food and Drug Administration. It approved for drinking and eating. Its not for drinking or eating. It might not be for that but its approved for this (your heart) so what is the difference .. its approved for the same thing. Alex – anyways .. lets meet with Paul and talk everything out. Jason – just don't tell Paul you threw it, okay!? Please! Alex – he knows I threw it. Jason – how? Alex – I told him after. Jason – oh okay. Alex – he said "gumpy" .. thats his cue to throw it. But we had to though because we're the only ones we trust. As long as we have Josh and two of us. This was the safest option. This is for sure I am not going home. You're not going home. We're only f**ked if he doesn't pull one of us off. But I don't think he would do that. Josh joins them. Josh – he is going to pull one of you guys off. Jason – its not that I don't trust Paul. I trust you guys first. Alex – where is Kevin? Josh – kissing a$$. Alex – if one of us is up there we are good. Josh – Kevin gets to you (Jason). Jason – he doesn't talk about you. Alex – don't f**king talk to him. Jason – he is a f**king idiot. Josh – wait until he sits on the block. Alex – yeah you can sit back with popcorn. They head out of the storage room.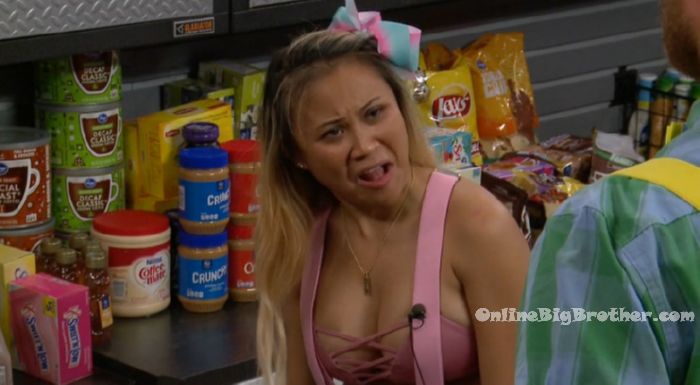 11pm Bedroom – Josh and Raven.
Josh tells Raven – you did so good. You've busted yourself in every comp. Raven – you think Matt and I went off. Those two (Alex and Jason) are so co*ky. Josh – they're real co*ky and just their ego. Its just so hard. I've gotten attached to all of you guys. Raven agrees. I was talking to Christmas in the bathroom. Josh – I couldn't wait for Jess, Mark, Cody, Elena to go. Raven – I'm not a selfish person or a greedy person. I would rather go home than be like that. They both talk about when I make it to the end. Josh – they talk about they've already made it to top two. Raven – I know that me making it to final 2 is not going to happen. Everyone knows that I need money. I need money for a new pacemaker. So I know the chances of someone taking me …its not going to happen. I would rather play a loyal game than be co*ky. Josh – I always said that you and Matt were awesome people. Raven – literally Matt threw away his entire game for me. Josh – he's a stud for that. Raven – I just want to make it worth while. Josh – we have to win the next one. Raven – we got this. Josh – I love you. Raven leaves.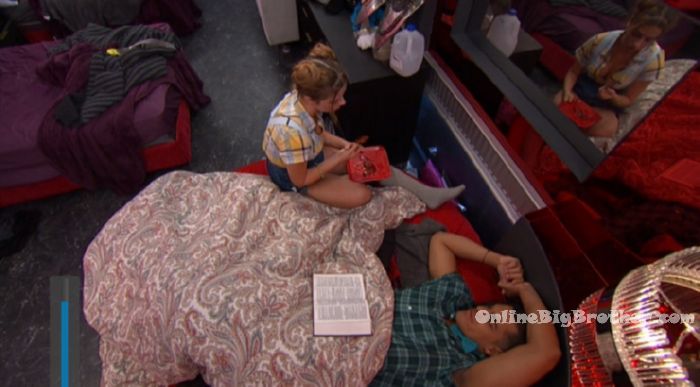 11:30pm
Paul working out in the living room.
11:10pm Josh to the camera – this isn't going to be easy. Josh – my loyalty lies with Paul and Christmas. Jason and Alex are going to lose their sh*t. All the heat is going to be on me. Kevin joins Josh. Kevin – hows things going in the game. Josh – good, I think. Kevin leaves. Josh – I don't see myself winning this game because if those two go. The way that Paul wants the votes to go .. he is playing to his benefit. He's not thinking about me and Christmas's game. He's thinking jury votes. And its like I'll take all the heat. I've taken all the head all season. Raven joins him again. Josh – you miss him (Matt) uh? Raven – yeah. Josh – there could be a double on Thursday. We have to win. Just go for it. Double on Thursday – she (Alex) goes. Double he (Jason) goes.. then win the HOH. Then Kevin goes. That would be awesome. Raven agrees. Josh – Matt is going to be happy. Paul joins them. Paul – Jason isn't that good of a competitor. But at this point forward its all mental. But at this point Kevin sucks too. Without Alex, Jason will freak out. Alex is great at both, mental and physical. Alex joins them. Paul tells Alex – he (Kevin) told me not to use the veto. So either one of you choose. Alex – pull me off, Jason understands. Alex – if you leave Jason up there its going to be better. I'm going to call him out (Kevin). He was copying my answers (in the veto). Alex leaves. Josh – they grilled me in the storage room. Paul – about what? Josh – votes. Jason said he doesn't feel good. I said wait to see how it plays out, he is going to use it. Paul is going to pull one of you guys off. Josh – I am telling you right now no one is going to get heat in this house but me. Paul – but we can protect you. We'll talk about it. Don't worry.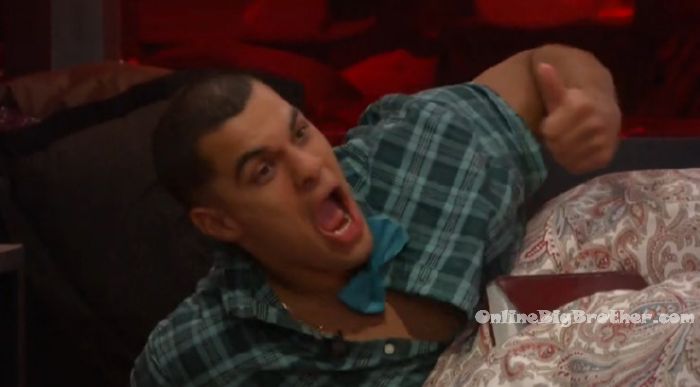 11:45pm – 12am HOH room. Paul, Christmas and Alex.
Paul – I'm being super blunt to him. (Kevin) Alex – he obviously doesn't know that if you use it you're safe too. Paul – I am just highly annoyed at this point and its taking every inch of my body not to blow up on him. Alex – Josh too. The only person that can stand him is Jason. Josh joins them. Raven joins them right after. They talk about the backyard being closed again. Paul wants to go outside when it opens. Alex – I can't I'll fight him. I have to stay as far way from him (Kevin) until the pov is announced. Paul leaves. Raven – after the POV its going to get messy. Christmas – Jason is erratic and unpredictable. He doesn't do well under pressure. Josh – guess who he's going to go after. Christmas – me. Josh – both of us. Raven – I don't think he (Paul) is going to use it. Christmas – did he tell you that? Raven – no, its just a feeling. We tell Jason all week he is going home and then Thursday we vote out Alex. Josh – he would be out of it for the HOH.
If you've enjoyed our live feed updates this season, please consider donating.
Simon and I work 24/7 all season long to keep you updated on everything that happens inside the house. Any amount is greatly appreciated! Your donations go directly to paying the fees required to run this site.
Links to the ranking system
Rank your house guests here
For those of you that like Statistics here are some expanded reports.