If you plan on buying anything from Amazon. Use this link Amazon home
Doesn't cost you anything and we get a small cut.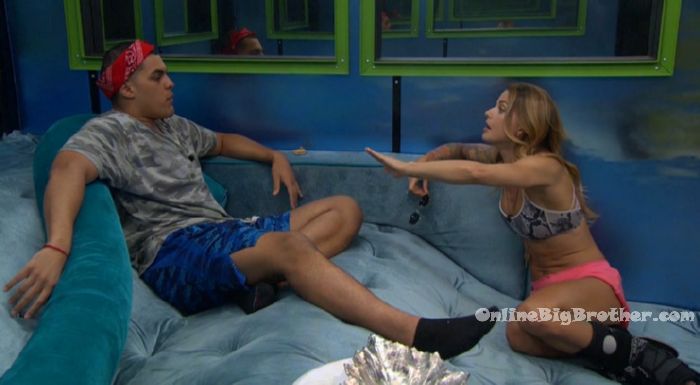 2pm Lounge room – Christmas and Josh.
Christmas – eventually someone is going to have to take a shot at Raven. During your HOH, my HOH or your HOH. We're going to have to put her up and vote her out. So that all three of us end up getting blood on our hands in that position. Josh – I am voicing my concerns with you because I have to get it out. Christmas – its good. We're a team, the only time it becomes individual is when we get down to the final 3. We all have to be on the same page. We can't have an Alex and Jason situation. Josh – we'll play veto and god willing Raven wins. If not then we'll have to take a shot at one of them. Christmas – we can't split to the vote either. Josh – it has to be unanimous. Me knowing Paul, he is going to split the vote. Christmas – if it isn't unanimous then we have a major problem. I don't mind making the decision to vote out Jason.

Josh – I can't blindside them. Christmas – why? You're willingly exposing yourself and your cards. Josh – I'm just going to say its because he's a strong physical competitor. Josh – that whole you're (Paul) trying to lock in to jury votes before they leave is not really working for me. Christmas – Think about it, lets talk tonight about it. We need to assess it fast. Josh – we talk about it after the veto. Christmas – I think it should be your idea that you present to Alex to pull her in (voting out Jason and pulling Alex in to work with them). Christmas – its funny that Alex has never asked me for a jury vote even though she's asked so many other people. Josh – because she thinks she has it. Christmas – I think he (Jason) can respect a game play. Josh – no he can't, she (Alex) can. Josh – he doesn't know the game. Josh continues to talk about how he isn't okay with Paul being on Jason's good side with Jason gets voted out and Christmas / Josh looking like the bad guys. Christmas – he's locking in jury votes and we should too. Josh – We all as a team get blood on our hands. He is a smart f**k! Christmas – I know. Josh – when we get out I am going to tell him he earned it. He f**king worked it like no other vet could have. I'm glad he's on our side.

See what they can't show you on TV Try the live feeds for FREE!
2:25pm Kitchen. Alex and Raven with her dirty feet on the counter are chatting in the kitchen about finding out about being on big brother and how they had to prepare to leave and about past house guests / events of the season.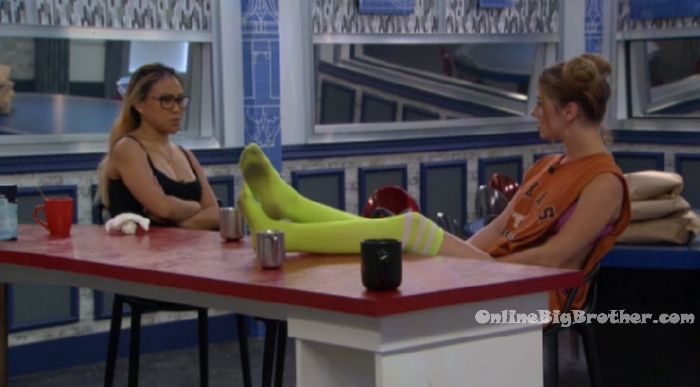 2:40pm – 3:05pm Bedroom – Kevin laying in bed staring off into the distance.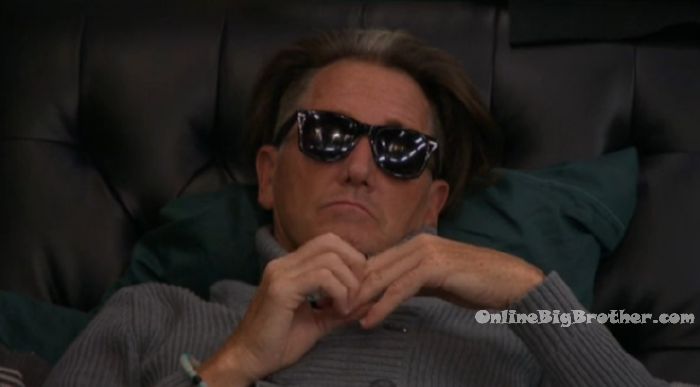 3:10pm Paul and Josh are talking in the storage room. Josh – if he thinks that next week if Alex stays she is going to link me and Christmas to that vote and she will put us up. Paul – if I win the veto and use it on Alex then she is going think her and I are tight. Josh – we have to clip her the following week. Paul – no sh*t. Josh – she better not win. Paul – she won't. I will make it like a me and you. They're coming after me and you. They're getting rid of strong players. Kevin joins them and the conversation ends. Kevin grabs the MM's and leaves. Paul fingers him after Kevin leaves.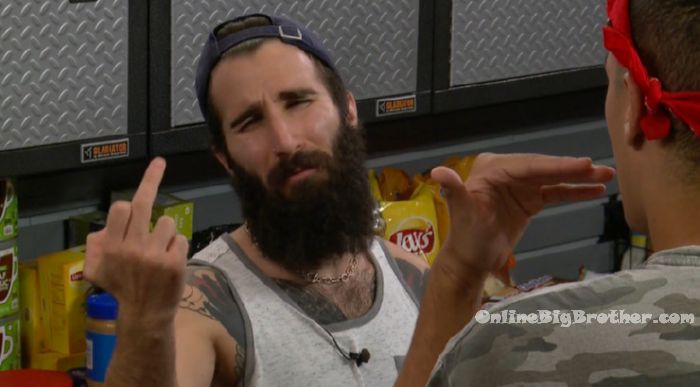 4pm – 4:55pm Paul and Raven cooking dinner. Josh joins them and start cooking. Christmas talks about going to Iraq.
5pm – 5:20pm Josh and Paul playing poo. Alex and Christmas watch. Alex comments on how they're (production) still building out there. (Building the POV competition.) Meanwhile in the lounge – Kevin asks Jason about "rodeo-ing". Jason then ditches Kevin to join the others outside the HOH room.
6pm Big Brother blocks the feeds for the Power of Veto competition..
8:27pm Still nothing…
If you've enjoyed our live feed updates this season, please consider donating.
Simon and I work 24/7 all season long to keep you updated on everything that happens inside the house. Any amount is greatly appreciated! Your donations go directly to paying the fees required to run this site.
Links to the ranking system
Rank your house guests here
For those of you that like Statistics here are some expanded reports.