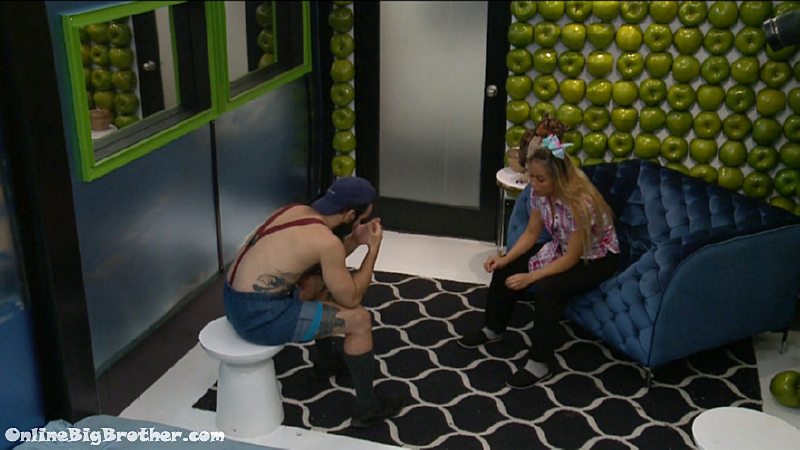 12:01 Alex and Paul
Paul – he thinks I'm not pulling one of you off
Alex – it was a split second sorta thing
paul – is he a idiot
Alex – yes
Paul – I'm so close to blowing up on her (raveN) everything I say she mimics, do you see that..
Alex tells him it's safest if he pulls her off over Jason
Paul – at the end of the day I have loyalty for you over anything
Alex – yeah
Paul – if some crazy sh1t is going down I would rather keep your a$$ safe
Alex – yeah
They go over the jury votes if it's the 2 of them.
Alex says they take out Kevin this week, Next week raven , "then it's xmas and Josh that's it"
Paul claims that Xmas is giving him weird vibes. Alex says Jason told her the same thing which is strange because xmas is being really nice to Alex.
Paul – when I won she wasn't happy.
alex – I'll make sure I'll see, I don't think she wants to make a final 2 deal with me but she's been really nice to me
Alex – I thought you guys were closer
Paul – we talk about marketing..
Alex – we only talk about game
paul says he never talks game with Xmas.
Alex – I thought Josh was close to her too
Paul claims he thought he was getting backdoored this week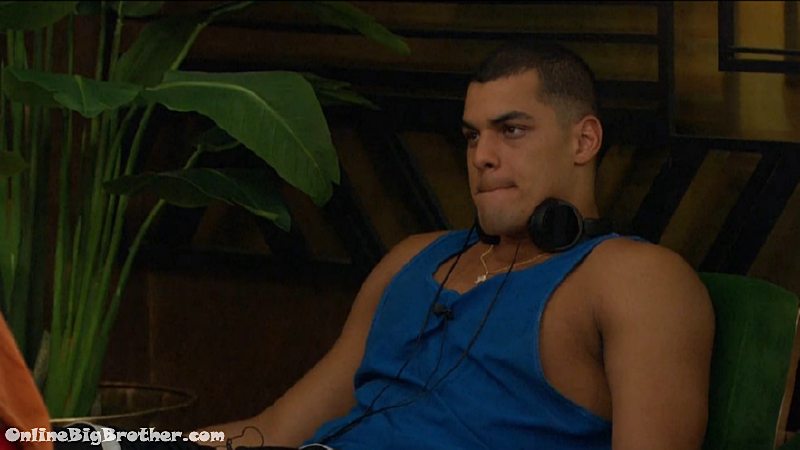 12:01am Josh and Xmas
JOsh – they grilled me in the storage room.. Alex and Jason
Josh – they go t with you vote to evict me..
Josh – I said do you not trust Paul do you not trust he going to pull one of you off and put Kevin up .. do you not trust this is what we are going to do
Josh – they said they are going through scenarios
Xmas – where are they getting this from
Josh – going through scenarios just the case he doesn't use the veto.. They were checking if they had me
JOsh – I never told them I was going to vote him out I told them I wasn't going to vote her out
JOsh – they grilled me.. They said they know they have you (Josh) that's a vote they know they have Paul that's a vote,
Josh – they're like Xmas doesn't have a vote .. they're like we can grab raven so we can evict Kevin
Josh says Jason is getting this from Kevin, "Kevin is feeding him sh1t"
Xmas asks him what is wrong with him right now.
Josh – I know I'm going to catch all the heat.. THey are not going to Address Paul they are not going to Address Xmas
JOsh – Paul is protecting his game from all angles
JOsh – they're not going to give you heat because you are giving it to them straightforward
JOsh – the only one that is shady in this position is me with my vote
Josh – everybody is protected in a sense but me
JOsh – do you know Paul gave MAtt a friendship bracelet right before he walked out the door.. I don't know why she brought that up Alex.
Josh says Kevin is making Alex and Jason paranoid.
Josh tells her when it's all said and done.. "Who put them up and who voted them out"
JOsh – we got to work in an angle that works for us
Xmas – I will push hard for him not to use the veto
Xmas – I put them up I was straight forward.. They chose to believe something else.. They never asked
Josh – if we want to go his route his game plan I'll mentally prepare myself because I know what's coming my way
JOsh – the heat's coming my way
Xmas – what do you think about the Alex idea.. Getting rid of Alex instead
Josh – I don't think that's smart, HE knows that JAson is going to turn up on me like a f*ing hawk and Jason if going to gun for you because you took his girl out, Paul knows that
Josh – Paul knows that he can Control Alex and he can control Jason because Jason is naive and gullible
Xmas – you know how it sounds what you're saying right now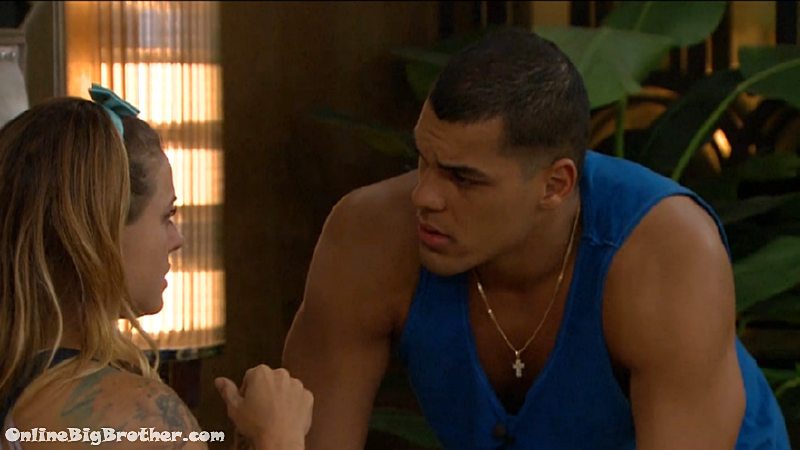 12:07am
Josh – I don't care what it f*ing sounds like it's the truth
Xmas – Alright let's go clear the air.. Lemme go chat with im first..
JOsh – what does it sounds like
Xmas – I don't want to say it.
JOsh – say it
Xmas – I'm very uncomfortable about it
Josh – say it
Xmas – no..
Josh – tell me
Xmas – are you saying you don't trust Paul (MY god Xmas is so misted even negative words towards paul can't be utterered by her)
Josh – I do trust Paul 110%, I've had nothing but Paul's best interest in this f*ing game but now this move has Paul's best interest
Xmas – I know but as a team and as a team player are you saying you don't trust Paul
JOsah – I'm saying i'm not trusting this move.. I'm trusting either unanimous or don't use the veto
Josh – the heat's going to be on you and me xmas..
Josh – that secure 2 jury votes (For Paul)
Xmas – I want to listen to what he has to say (Paul)
Xmas – we cannot start shooting at each other
Josh – Xmas, I won't start shooting at each other
JOsh – we are analyzing the situation and I am analysing how is it best for the three of us
JOsh – we have HOH and Veto how do we work this out so none of us get the direct heat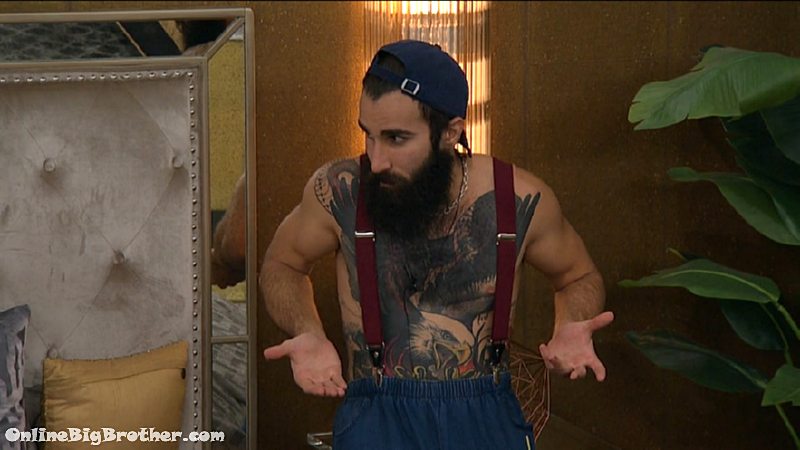 12:10am Paul Xmas and Josh
Paul – real quick you see what we did this week, one of us win HOH one win POV we control it from both Angles.
Paul – we keep doing this until the end of this game and we're done.
Xmas – no shit
Paul – this is a perfect example of what we need to do for the next 2 or 3 weeks
Simon – no shit win all the competitions
Paul – I swear to god if raven comes up here I'm going to punch her
Xmas – keep going ..
Paul – ok, Jason or Alex?
Paul – Alex is a great competitor bit at the same time Jason is f*ing wigging out already.
Paul – she's telling me he's wigging the f* out
Josh – he has to go
Paul – Jason is the most paranoid mother f*er on this planet and what does that feeds off Kevin
Paul – if we swap Kevin in there he's going to get paranoid to and they are going to feed off each other their paranoia and start doing crazy sh1t..
Paul – and now I've thought it over .. the original plan was the right plan (Take Alex down put Kevin up)
Paul – for a minute there since she was trailing me (Alex trailing Paul in competitions)
Paul – she's (Alex) is a great mental and physical competitor he's just good physical
Paul is saying he's not perfect eventually Alex is going to beat him in a competition, "I don't know how much more until I slip up and she wins, Like I'm here for you guys to protect you I'm not perfect" (You lie)
Paul – I will bust my ass off but like I don't want to ever be in a position where I let you guys down
JOsh – I need to win 6 (the 6th HOH)
Paul – as confident as I am, Yeah I'm a good player but if I slip up I don't want to f*ing kill myself.. I would feel more confident against Jason if it ever came down to a nitty gritty
Paul – I can still beat Alex but she nips at my tail
Paul is proposing he pulls Alex even closer "hey something is going on I say we need to band together"
Raven comes in to use the shower.
Paul tells Xmas the best bet is Jason to go then they can't pair up with Kevin.
Paul says if he doesn't use the veto he's got a enemy with Alex and they are butting heads next week.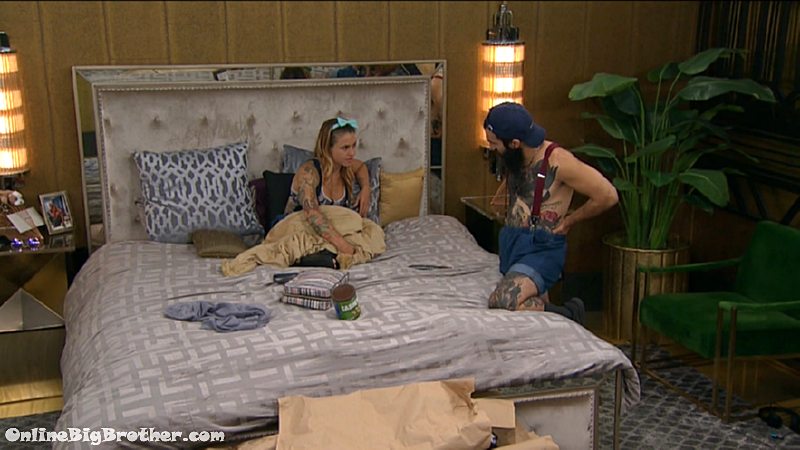 12:19am Paul and Xmas
Paul – it was only fair you took the heat with HOH I balanced it out with Veto..
Paul – I wasn't going to let you take all the heat and I wasn't going to let them dictate what will happen
Xmas – Alex will go paranoid rogue next week no matter what
Xmas – I think she feels comfortable with me
Xmas saying that Raven threw that POV competition
AS raven is in the shower they talk about how annoying Raven is.
Xmas – Matt is a saint.. imagine having to deal with that
Xmas – that is why he took her under his wing to get further in the game because he knew she would drive everyone f*ing insane
Xmas – it would have been a mass suicide
Paul says he's close to telling raven "Shut the f* up"
Paul says Kevin told him not to use it, "F* you Kevin you sack of sh1t, you should have won"
Xmas – the only reason he got the points that he did is because he cheated off Alex (during the POV)
Paul – if I use the Veto and Kevin says something to me I am going to say, Kevin I am no longer working with you because you suck at this game
Paul – if you talk to me one more time..
Paul – fool, you are literally the worst player in this game if you say one more word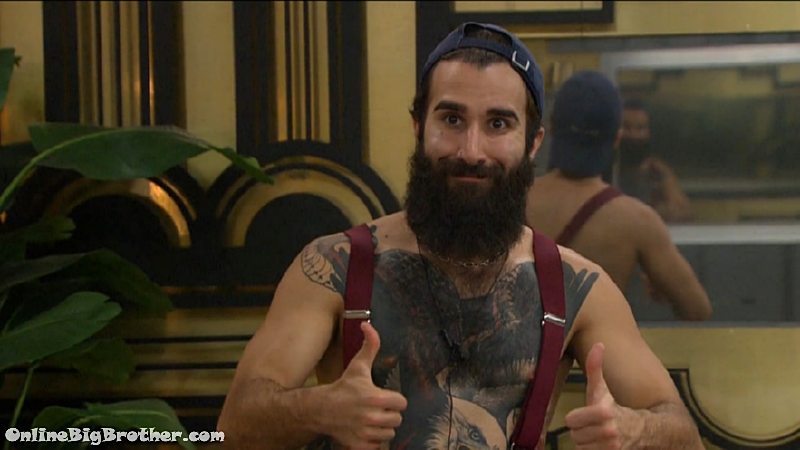 12:24am Paul – he just keeps going.. every chance (see image above)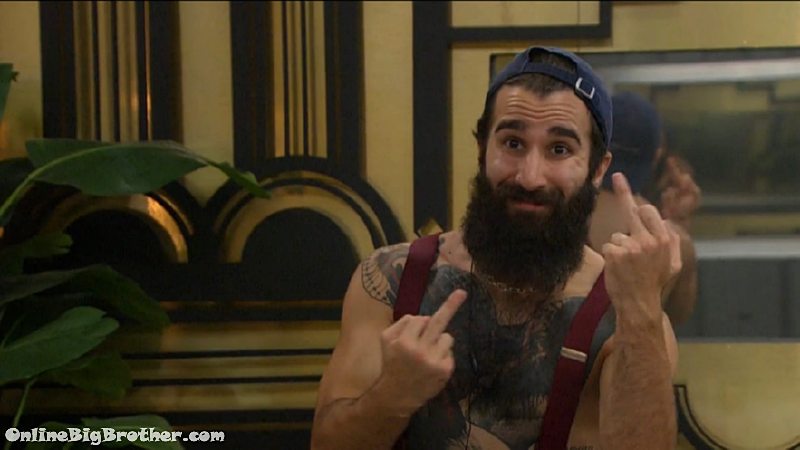 Paul – I'm going to go.. shut the f* up
Paul if we hit and miss with her we're kinda f*ed
Raven – yeah we are..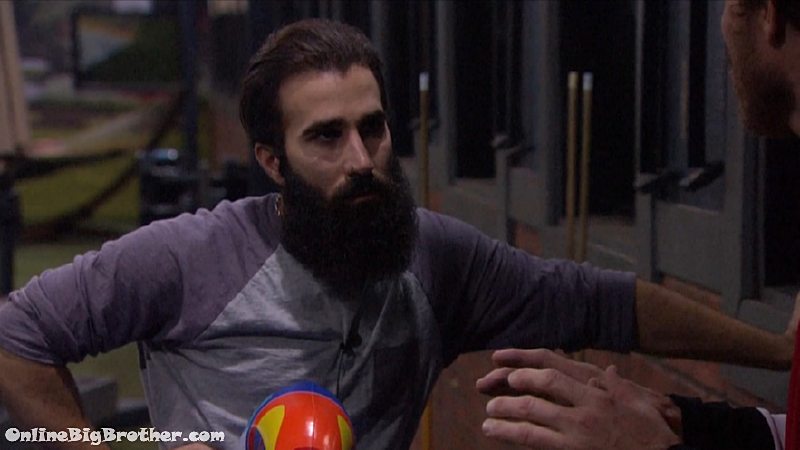 1:25am Paul and Jason
Paul – why are you freaking out mother f*er
Jason – no it's ok
Paul – you think i'm stupid
Paul says Alex was supposed to throw the veto to him why was she tailing him for 8 rounds
Paul – f*ing give it to me so we're both safe..
Paul – dude I don't know what is going on I'm pretty sure it's fine
Paul says kevin has twice come to him telling him not to use the veto they are coming after him
Jason – he's so full of sh1t Paul.. he's like I love you I got your and Paul's back
Paul – oh my god
Jason – I had a talk with Alex.. I was like Alex I am not freaking out I am not paranoid.
Paul – who am I using it on.. you or her..
Jason – use it on us one of us that's 2 of us two vote
Paul – but if you are going to be up there freaking out
Jason – I am not freaking out Paul, the reason I was freaking out is because you didn't know what was going on paul
Paul – I still don't know what is going on you two going up is f*ing weird
Jason – that's what I told Alex this morning.. we have go to figure out what is going on..
Paul says hey have the best case scenario 2 of them are safe
Jason – I said (to Alex ) I don't know what's going on, you don't know what going on and Paul doesn't know what's going on
Jason – I said I can tell by his face
Jason – everyone wants Paul in on some of their plan because he understand everything (You're a idiot)
Jason – He's really good at strategizing so if he doesn't know (what the plan is) we have a HUGE f*ing problem
Jason – you just have to use it I don't care who
Paul – Alex said to use it on her
1:27am Jason – yes then use it on her
Paul – are you positive
Jason – I trust you 2 f*ers.. If I can't trust you two I'll go walk infron of f*ing traffic .. than I have no idea what the f* is going on
Jason says Alex is on straight turns with ZXmas.
Paul – i'm not worried about Alex, she said (xmas) male competitor, I'm worried about me
Jason – you don't have to worry you have the f*ing veto
Jason says paul winning he veto is the best case scenario because then there's no way paul could get Backdoored.
Jason – Josh isn't voting against me and you aren't voting against me and Alex sin't..
Paul – why would I use the veto pull one of you off and vote against you
Jason – pull Alex off that's the smart move I can handle it.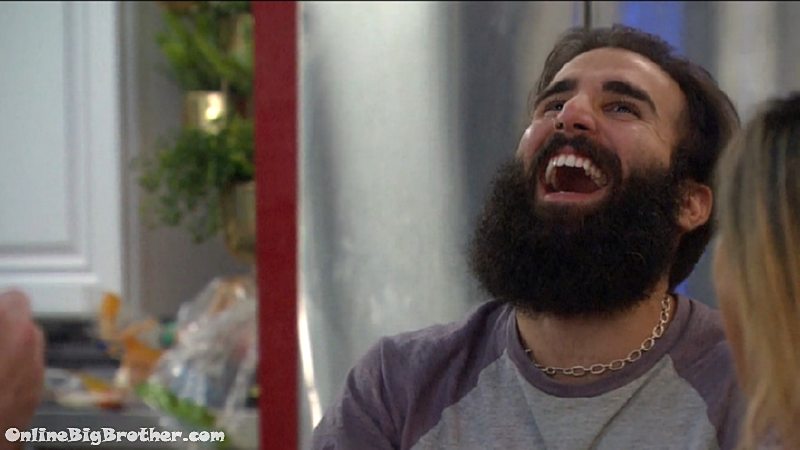 2:01pm Paul, JAson and Alex
Talking about Raven.
Alex says raven has stopped doing her eye thing, "She looks at you now"
Paul – she said upstairs she had a relative that was in the titanic
Jason – remember when she was rubbing cream on her legs because her skin was going to fall off
Alex – it's a numbing lotion it's a prescription
Jason – how come she quit using it
Alex – it was expensive
Paul – she said her mom was struck by lightning
Paul – she said she has a inverted spine.. I don't know what that means..
jason – it's upside down..
Paul – she might be the most interesting human on this planet .. you're an olympic athlete
JAson – she's had 48 surgeries
They bring up something about Raven's knee caps being "rough"
paul – is that even a thing
Jaon – her nerves are dying.. all the nerves in her body are dying
Paul – that might be true with her disease
Paul says he can't discredit her medical things because he has no idea but here's a few things he can discredit
Paul – inverted Spine
Jason laughs..
Jason – i've been wanting to say this for 3 f*ing months
Paul – what does that mean
Paul – and the titanic thing when does it end.. when does all this end..
Paul – if I had a family member on the titanic I would know everything about them
Alex – didn't the titanic sink in 1940
Jason – she said she's got to get a hysterectomy when she gets out
Paul – that might be real
Jason – how do you really know what is true
Pual – she has a inverted spine.. means your spine is either upside down, your pancreas is where your neck it or it's inside out
Jason – it's impossible
Paul – means you are bent this way. so explain to me exactly how is your spine inverted ..
Paul – is your spine bent back like the exorcist
Jason – or you can bend your body any way possible eat everything under the sun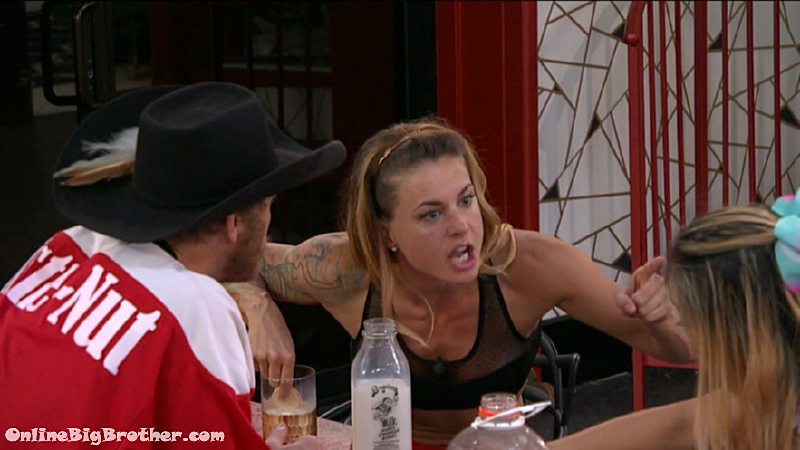 Xmas joins them
Alex – her eyes don't twitch anymore
Xmas – guess what Matt packed.. her accent
Xmas – I am not an olympic athletes I was never in try outs.. you are just an athlete until you perform in the olympics
Xmas- I have friends that have gone to the olympics, I know the process. it's pretty intense.. what is she an olympian in
Jason – gymnastics
Xmas – did she go tot the olympics
Jason – no
Xmas – then she's not a f*ing olympian
Xmas – if you're coming in here saying you are a goddamn olympian than bring your goddamn medals here (see gif below)
Xmas – or shut the f* up or get out
Xmas – do the work and go into the olympics..
Xmas says it's the same thing as city slickers saying they are cowboys
Jason starts questioning Raven's medical "Stuff" and how she says she's had 15 surgeries
Xmas – I'm not knocking her medical stuff
Turn the feeds on.. Xmas talking.. #BB19 pic.twitter.com/aoSeMu371w

— OnlineBigBrother.com (@bigbspoilers) September 3, 2017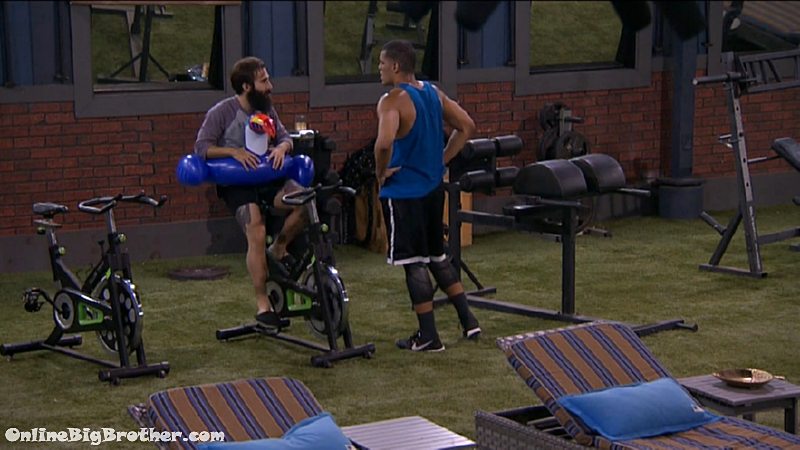 2:13am PAul and Josh
Paul saying they need to stage a fight. "We need to pull this off one more week than we're done we've made it"
paul – raven still doesn't want to win sh1t and if she does win.. this is the plan
Paul – you know how we've been playing these mother f8ers for the last 3 weeks and they've been playing themselves.. we have 1 more week of that
Paul – this is the easiest week you know why Alex has no other choice
Paul says at the end of the day as long as Alex thinks her game is fine she doesn't care.
Josh – I'm down with the plan but..
Paul – let me finish .. then she's going to be alone..
Paul says he'll overreact and start a fake fight with Josh
paul – be like josh what the f* bro.. I hear you are coming after strong competitors
Josh – ok..
Paul – fake the funk .. this way I can convince Alex to throw it to me. (HOH)
Josh says Alex is claiming that she threw the POV.
JOsh says Alex and JAson are freaking out
Paul says he guarantees if Alex wins the next HOH she'll put up Kevin as one of the nominees.
Paul – if I win 6 you have to win 5 otherwise I'm f*ed (6th HOH 5th HOH)
Paul – you have to get us from 5 to 4 and I have to beat Kevin at 4
Paul – if you win I will sh1t my mouth bro you have to take that shot (at Alex)
Josh – I will man
Paul – I'm excited we all are getting each other there
JOsh – Paul, I'm excited to, I'm not questioning us getting us there..
Josh – the only thing I'm concerned about is the heat
Paul – you think the heat from them will worst than the heat you've gotten.. Mark/Elena, Cody/Jessica
Paul C'mon pro, you are peppered up for this sh1t or I don't use the veto and I take all the heat
PAul – If alex wins (HOH) who's she putting up Me, and you or me and raven.. you feel me
Josh – yeah
Pau – I can convince her not to put you and Xmas up
Paul – we need to play er like we played the two couples .. you played yourself high five bye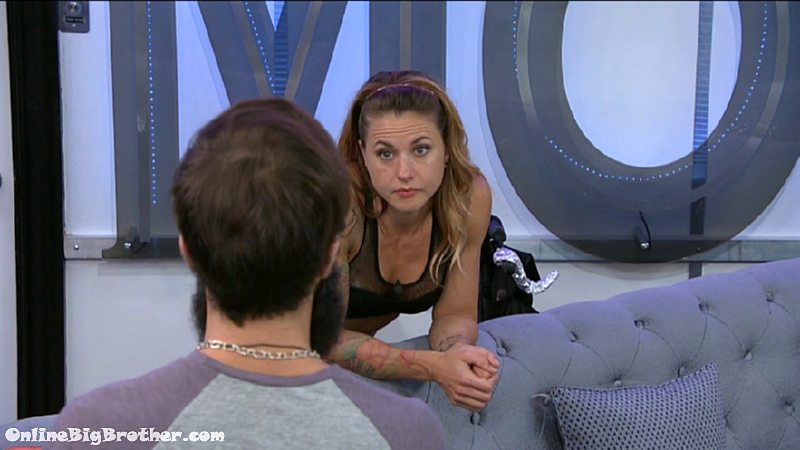 2:36am Paul and Xmas
Paul – I can't wait until he goes on the block so he stops looking at us like that.. F* you Kevin..
PAul says Josh is a little bit nervous because after the POV meeting he's going to take some heat.
Paul – I told him I would draw the line during the veto ceremony but he said No that's stupid you're the bigger target and that would be dumb
Paul – I said yeah but I need you two just as much as you two need me
Xmas – three weeks left
Paul – it;s just swindling 1 person for 1 day then I will nominate them
Paul says he's going to have a fake fight with Josh about the things Alex will be pissed about already..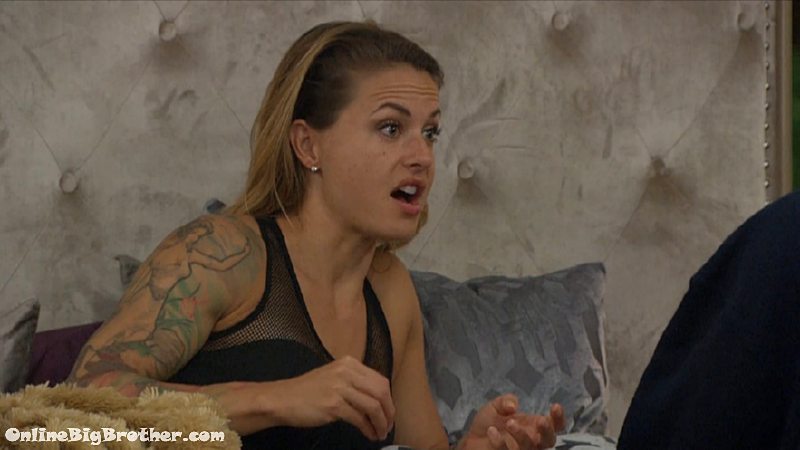 3:36am Xmas and Josh
Josh says it's smart great gameplay for Paul
Josh says he doesn't like the plan and doesn't like Paul securing his jury votes and protecting his game.
JOsh – you are going to turn me against Whistle and turn me against Alex
Xmas – you dont think it'll turn you against Alex..
Xmas – lets say he doesn't use the veto..
3:40am
Xmas – I'm onboard with changing the plan and doing what we need to do.. I want to make sure what we do we are all onboard and agreeance.. we have 4 targets we have to get out
Xmas- there is no way we can get our those 4 targets and all three of us come out squeaky f*ing clean..
Xmas – it's a beautiful plan and this week it does protect him
Xmas – Raven is a f*ing number, Kevin will do whatever the f* we tell him to because he knows he can't compete
Xmas – our only competitor right now is Alex person
Xmas says with Jason gone Alex will see Paul as a person to steam roll with they will still be in a good position with Alex
Xmas – she won't take this personally against you.. we've been straight up with how we are going to vote
Xmas – I've never f*ing lied to her .. if he's able to tie into her worst case scenario.. we know Kevin isn't going to win, raven isn't she threw that sh1t tonight
JOsh – I don't know what her strategy is
Xmas- she doesn't want to do sh1t, she wants to be America's f*ing sweetheart.. and win without winning sh1t because she doesn't want to hurt anyones feelings (LOL)
Xmas – worst case next week Alex wins, At least if Alex thinks that Paul had no idea what was going on this week..
JOsh – we'll get Clipped, you don't think she'll put us straight up yo and me
Xmas – she won't put me up, I'm a number for her
Xmas thinks both Raven and Kevin will "Clip" Alex
Xmas says she's pulling Alex in as close as possible.
Xmas is certain the best thing for them is Paul to use the veto on Jason.
Josh – fine
Xmas – it's the most effective for us winning Alex's trust.. she's going to put up Kevin..
Xmas – we are going to poke him like a bear
Xmas – especially if he goes up on the block
Josh – poke him all week
Xmas – he is going to make her life a living f*ing hell .. and yo think she's going to take one of us out..
Xmas says Alex thinks she has xmas and josh in her pocket and now Paul will be her ride or die with Jason gone.
Xmas says if Paul wins HOH next week he'll take the shot at Alex
Josh – I doubt he'll win it
Xmas – why
Josh – I'll win.. I'll f*ing win it
Xmas – raven will throw it, Kevin is a hot mess.. it's down to three competing, you, Paul and Alex
Xmas says they have to cycle through winning comps from now on.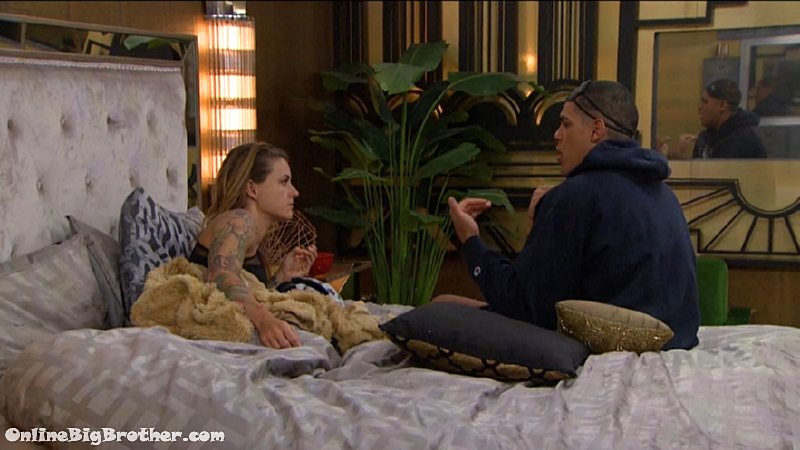 3:52am
Josh wants what is best for "us" not just Paul
JOsh – I get that he's the bigger targets.. but I'm thinking jury vote.s. we've pissed off Whistle nut he's going to be an emotional voter.. he's voting for Paul.
JOsh – you got him out I did the bad deed..
Xmas – do you want to play to secure Jury votes or do you want to play to win
Josh – I don't want to that is what he's doing
Xmas- he's going to burn Alex next week do you think that's not going to get around in Jury ..
Xmas – ANswer me
Josh – yeah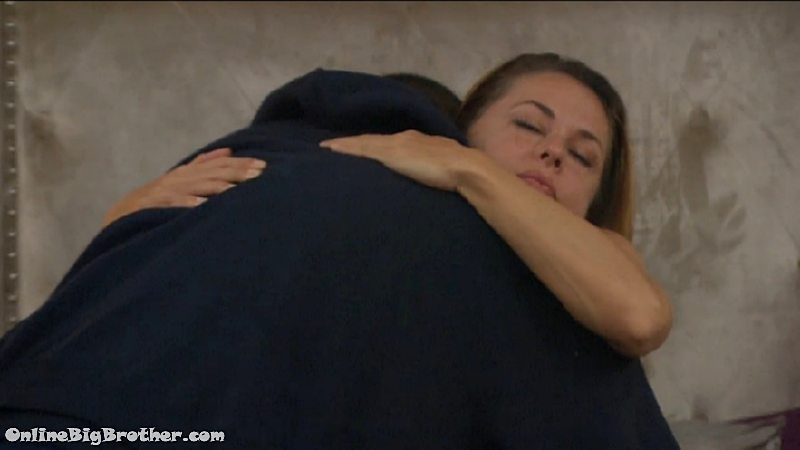 4:10am
Josh – thank you for that talk I feel better..
They hug
Xmas – you are doing amazing
Josh – you are too.. two weeks
Xmas – we have a double and a single.. it's happening..
Xmas – love you
Josh – love you to
Josh asks not to tell Paul anything
9:45am Sleeping
If you've enjoyed our live feed updates this season, please consider donating.
Simon and I work 24/7 all season long to keep you updated on everything that happens inside the house. Any amount is greatly appreciated! Your donations go directly to paying the fees required to run this site.
Links to the ranking system
Rank your house guests here
For those of you that like Statistics here are some expanded reports.