| | | | |
| --- | --- | --- | --- |
| POV Holder: | Cody | POV Used | No |
| HOH Winner | Caleb | Nominations: | Frankie and Victoria |
Big Brother 16 Live Feed FREE TRIAL – Use the FLASHBACK feature to watch everything you've missed!
11:10am – 11:40am
Big Brother blocks the live feeds for the power of veto ceremony. When the live feeds return we learn that as expected Cody did not use the veto on either Frankie or Victoria.
Power of Veto Ceremony Results:
Cody did not use the veto
Frankie & Victoria remain on the block
11:50am Frankie says I thought it was good. Caleb says there for a minute I thought you messed up. Frankie says that's because I'm a good actor. Frankie hugs Cody and then Victoria hugs him. The house guests are talking about how while they were out in the backyard someone yelled BEAST MODE! Caleb says they're going to keep us locked down because of that! Derrick says yeah thanks you just had to be a celebrity! Frankie asks if Caleb was mast*rb@ting again? Frankie says a good way to get up your activity tracker up. Caleb says I think me and Derrick are the only ones that haven't done that. Cody says I haven't either. Frankie says I've never done that in my life. Caleb says I've cleaned it but never to the point that it went off. I haven't done what others have done. Derrick says I just hope it works when we get out of here. Derrick tells Frankie that he was just waiting for the bomb to drop in his speech. That was amazing. Frankie says it was acting.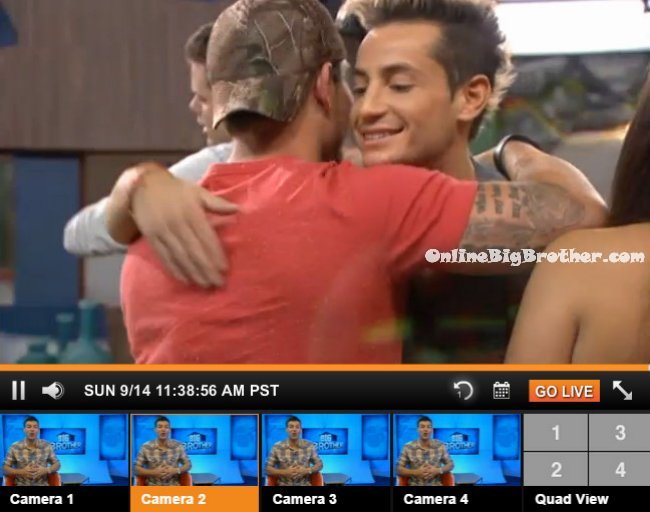 12:15pm – 12:25pm Frankie and Victoria talk about their eviction speeches. Frankie says he is working on getting it faster so its under 30 seconds. He says I have 8 seconds of shout outs with a 20 second speech and 2 seconds for a buffer. Victoria says I need help with mine. Frankie asks if hers is going to have an surprises like last week? Victoria says no. Frankie tells Derrick that last week he helped her with the first part of her speech but not the second part. They start remembering and reciting Zach's speech.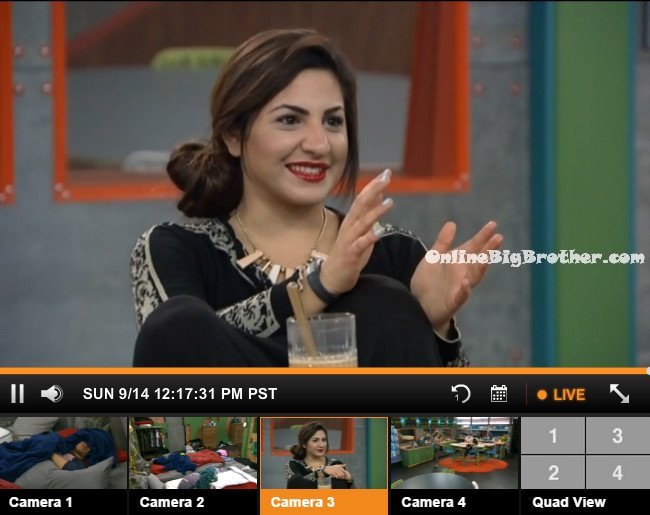 12:35pm – 1:10pm Caleb comes out of the diary room and comments to Derrick the he had to make sure they didn't put his step mom's name in is letter. Big Brother blocks the feeds. Caleb talks about when he gets out he's going to go out and buy a $1000 worth of jeans. Derrick heads up to the HOH to listen to Caleb's music. Caleb joins him and Derrick says Dude, no ones beating you when it comes to America's Favorite. That's like the fourth person I've heard call Beast Mode over the wall. Big Brother blocks the feeds. When the feeds come back Caleb is talking about Frankie. Do you think I am dumb enough to believe you would choose me over Derrick?! Victoria joins them. Derrick says what it comes down to is we'll have a talk with him by the end of the week. Caleb says I was honest with him and said I would choose you over him. Him coming up to me and touching my butt I am over it! I want to go home! I am tired of playing this game. I want to get back to my life. Caleb says Frankie said he couldn't understand why I put him up after all he's done for me. Caleb says he said Derrick has never even thought about putting me up. Caleb says I told him I respect him as a player and he will know if he is going home this week. Derrick tells Victoria .. I know that we aren't on the best terms right now but I am telling you .. you have my vote this week. He is going home. Just don't stir up anything with him. Victoria says thank you. Derrick says everything Frankie does if for theatrics. He probably already has his final 2 speech planned. Frankie joins them.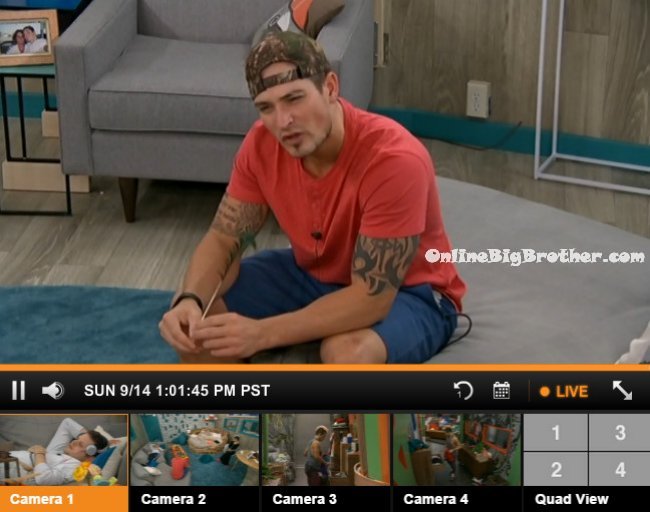 1:30pm – 1:40pm In the fire room – Derrick tells Victoria that they aren't going to tell Frankie yet but we will. Victoria asks why not now. Derrick says because he will run his mouth. You've played an excellent social game so do f**k it up in the last 7 days. Just relax. I might go up there because I don't like them 2 (Caleb & Frankie) being alone. Don't f**k it up by going up there and telling him (Caleb) he needs to take you. Derrick heads up to the HOH room.
1:30pm – 1:55pm Up in the HOH room – Frankie tells Caleb and Cody I talked today and they are 100% on board with me staying.. for now. I still want to sit down and have the 4 talk about it. I don't want to be surprised on Wednesday. Frankie says I would respect the I'm a big competitor so get me out but not while Victoria's still here. We made a pact and all promised to get to the final 4. Caleb says if I was asked to do this again I don't think I would .. this is hard. Derrick joins them and they chat about random things.
If you're enjoying the live feed updates this season, please consider donating.
Simon and I work 24/7 all season long to keep you updated on everything that happens inside the BB16 house. Any amount is greatly appreciated! Your donations go directly to paying the server and bandwidth fees required to run this site.