| | | | |
| --- | --- | --- | --- |
| POV Holder: | Cody | POV Used | No |
| HOH Winner | Caleb | Nominations: | Frankie and Victoria |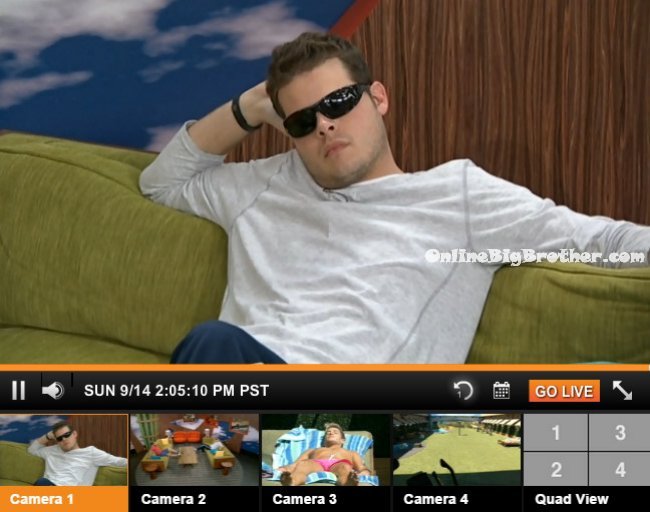 See what they can't show you on TV! -Try the Big Brother 16 live feeds for FREE!
2pm – 2:20pm Caleb and Derrick are out in the backyard setting up a pool game but realize its too hot. Derrick says you know he (Frankie) is just trying to give you reasons to keep him over me and Cody. Caleb says I know it ain't happening. Derrick says watch he's going to come out here in a minute. Derrick says I know he's going to say I can't beat you in the end. And I'll be like then I'll get 50K. Frankie joins them. Derrick and Caleb head inside. Derrick says it boils my blood! Caleb says it does me too. Distrust and disloyalty! We should just blind side him and send him out in his shorts. Cody already wants to blind side him any ways. Let him sit there in his shorts and a t-shirt with Julie. Caleb says he said to me that me putting my on the block was not trust and loyalty. Derrick says he said that to you .. a US soldier! You must have wanted to crack him in the face. Caleb says and I said to him it wasn't when he put me on the block either. I just want you, me and Cody in the finale. I can bank on getting America's Player. Derrick says he is going to look like a clown on TV for bashing me .. talking about me being a good friend and father. I haven't been on the block because I don't play the game he plays. He is going to say everything he can about me and Cody. He is setting himself up for final 2 or 3 but he ain't going to be there. He has nothing bad to say about me that's why he's saying good stuff. If I get smoked in the end by you I would be okay with it. Caleb says my biggest fear is him going to jury and getting America's Fave. Derrick says I promise you we are sending him home. We made a deal keep us off the block and we'll win veto and send him home. We're not breaking that. Caleb says Frankie want's to sit down with the four of us. Derrick says if he's throwing Cody under the bus we won't tell him. If you don't give respect you don't get respect. Caleb says I would rather not send him out like that. Derrick says we'll talk to Cody but if he's talking sh*t about us I don't want to give him the opportunity to throw you or me under the bus to each other.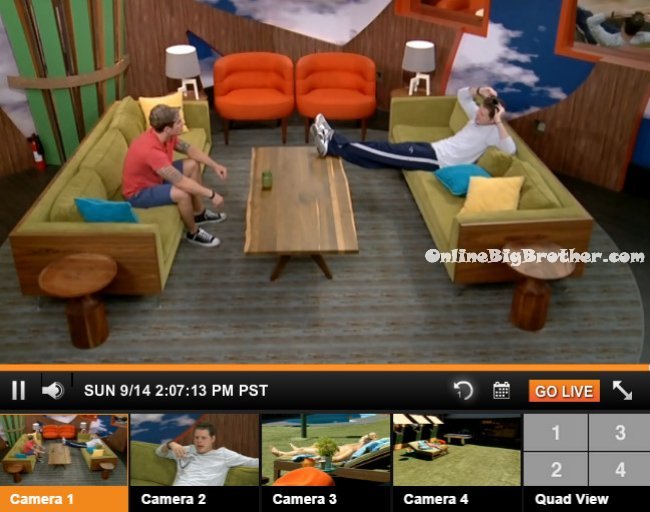 2:40pm – 2:50pm Caleb and Victoria are talking about how the final week will play out. After their talk Victoria goes and tells Derrick that he thinks he has Caleb's vote in the end because he was just saying how you have never talked bad about him. Caleb joins them and the conversation ends. Caleb tells Derrick we just need to win HOH because I don't know what Cody would do. Derrick says careful he's in the next room. Derrick says we just have to get to Wednesday. Frankie scares the sh*t out of me .. he isn't going to be respectful. But I don't care he doesn't have my vote and I know I don't have his vote. Caleb says we just need to win the HOH & veto next week to decide.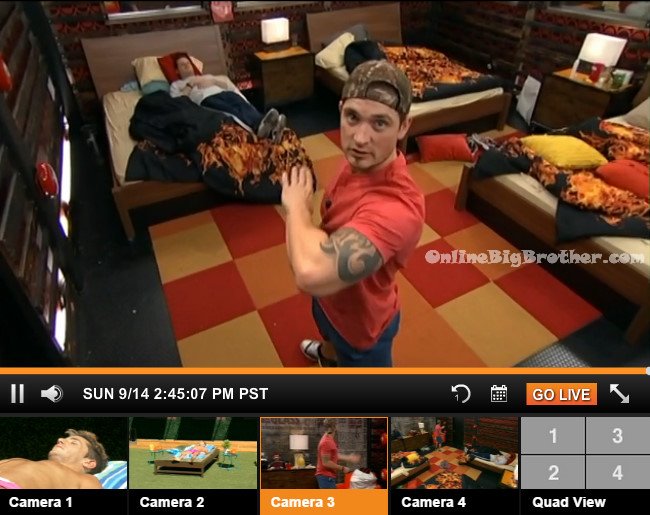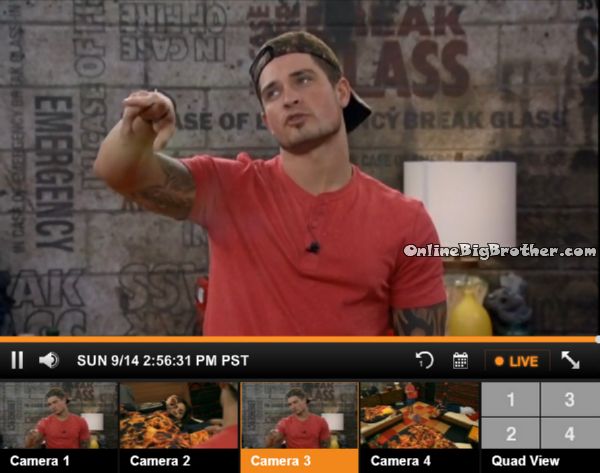 2:55pm FIREROOM Caleb, Derrick, Victoria and Frankie
HAving a mind numbing conversation about french dressing and japanese dressing.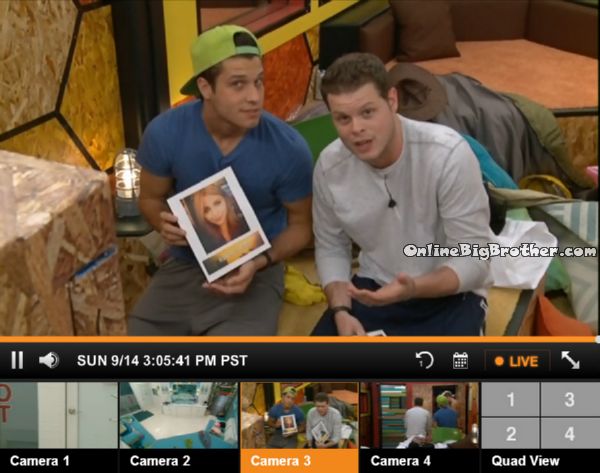 3:01pm Photobooth time
Beast-mode says he can't wait to get "Sleeved up"
Frankie says he's posted 1 thousand images and got 5 million likes on instagram. Caleb has posted 2K images.
Cody and Derrick checking out the girls on the #BBSelfie photos (See image) . Cody likes the brunette Beast Mode likes the blonde, 'She's a country Girl;"
(Simon here.. I'm convinced the first attractive girl that grabs onto Beast mode when he gets out of the house will have a engagement ring by the end of the week.)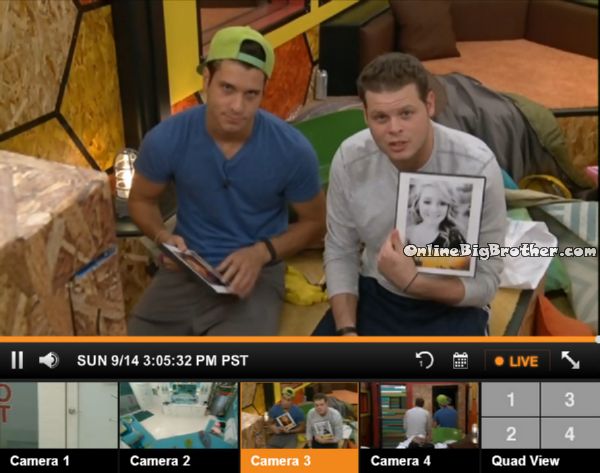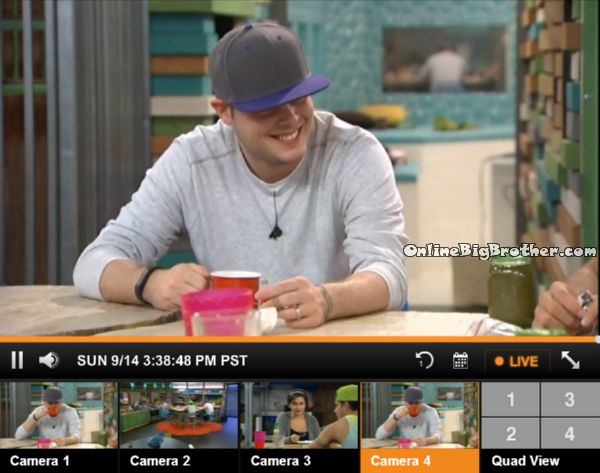 3:40pm Kitchen Derrick and Cody teasing each other. Derick doesn't drink Coffee says it's bad for you. "You become dependent, It's a drug"
Cody – "Who told you that..
Derrick – A book .. it's a scientific fact
Cody – A book told you that.
If you're enjoying the live feed updates this season, please consider donating.
Simon and I work 24/7 all season long to keep you updated on everything that happens inside the BB16 house. Any amount is greatly appreciated! Your donations go directly to paying the fees required to run this site.