Head of Household Winner – ENZO YO!
Have nots – Dani, Tyler, Da'Vonne
Nominations – Kaysar & Kevin
Power of Veto Players are – Enzo, Kevin, Kaysar, Tyler, Bay, David
POV Host: Memphis
Power of Veto holder – Kevin
Power of Veto Ceremony – Kevin used the veto on himself. Enzo nominates Christmas in his place.
Live feeds —-> Grab your Live feeds here. Try it free.
Rank the houseguests —-> Big Brother 22 Ranking
1:28 pm Christmas and Enzo
Christmas says Dani, Cody, and Nicole will throw the HOH to her. Adds that the entire house will throw next week's HOH to her except for David
Enzo – he wants to win
Christmas thinks David will go after her or Memphis.
Enzo – I haven't heard anything bad about you
Christmas – Da came to me said I was playing a good game and she never heard my name.. I said the same thing to her I never hear her name.
Christmas – Whoever puts my name in your mouth I will guillotine their heads
Enzo – I f***ing love you..
Christmas – I tickle with cattle prongs
Enzo – I'm loyal to the end with you.. If I win HOH I'll go after anybody I don't care
Christmas – yes yes
Enzo – look we're friendly with a lot of people we have to think who to take out so that we don't get this side too upset you know what I mean..
Christmas says she sees two major options with a really good third option. "So I don't f**Ing care.. put two up win one put another"
Enzo – we lay low this week take it easy we don't have to do sh1t .
Christmas thinks that being on the block will mean other people who don't want to win HOH will throw it to her "Even more" (Zomg)
Enzo – this is your HOH .. and if Tyler wins it we're good.. he's going after people. that might be good for me and you,.
They talk about Tyler will be the one to take out Dani.
Enzo – ain't no more pawns after this week it's done we're going after f***ing people now
Christmas – do you think Kevin will make a move.
Enzo – he loves day bay
Christmas – Dani?
Enzo – he keeps telling me Enzo if I win HOh you have to help me I don't know what's going oe.. that's were me and you come in
they think they can talk Kevin into putting up Dani.
Christmas – he has the support of Bay/Day he has me and you.. and Tyler
Enzo – I f**ing love you ..
they hug
Enzo – alright thanks you lets just chill that's it..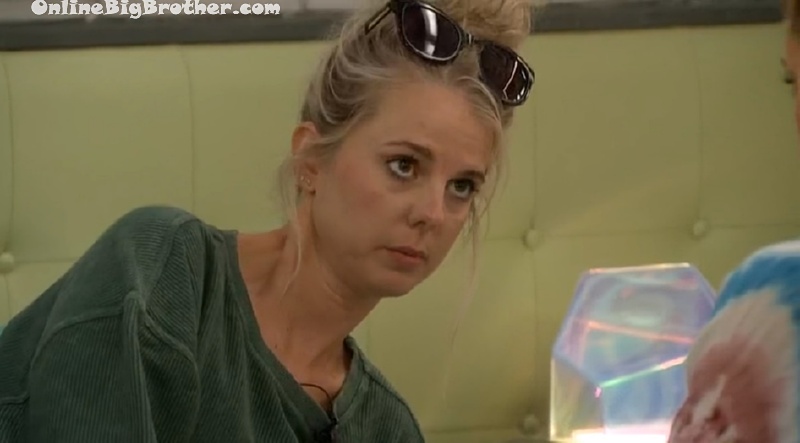 1:40 pm Christmas and Nicole
Christmas – will you let me know if anyone is attempting to flip
N – absolutely
Nicole says this is the best time to be on the block, 'I'm not worried"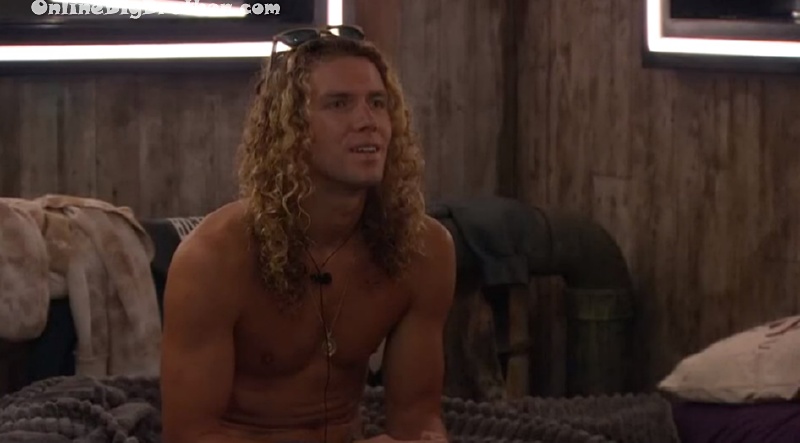 1:40 pm Da'Vonne and Tyler
Tyler – in my two seasons I've never I caught someone playing every single houseguests except for her.
They talk about Dani spreading stories.
Da'Vonne – she's next..
Da'Vonne says she's a firm believer that what's done in the dark will come to light. She can just go on the block and we'll vote her out
Tyler says if it's one of the slick6 she'll blow it up.
Da'Vonne – it'll have to be someone on the outside.
Tyler – I don't think it'll be too hard.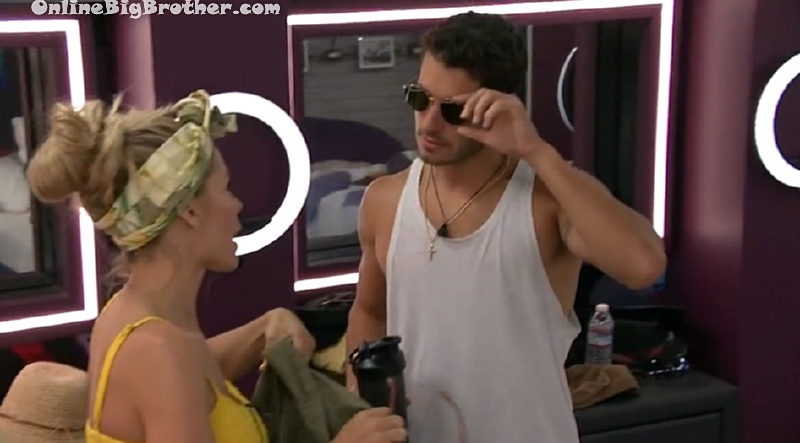 1:41 pm Cody and Dani
Planning next week's HOH. Dani says if the options is not to have Christmas or Ian win they should try and win it.
Cody – yeah 100%
Dani says the one person that cannot win is Bayleigh.
Cody thinks that Bayleigh winning won't mean two people go up that will force them to draw a line.
1:45 pm Dani and Enzo
Dani – Did Bayleigh and Da'Vonne know you were putting up Christmas
Enzo – yeah …
Dani – I didn't want to be like ohh didn't you know.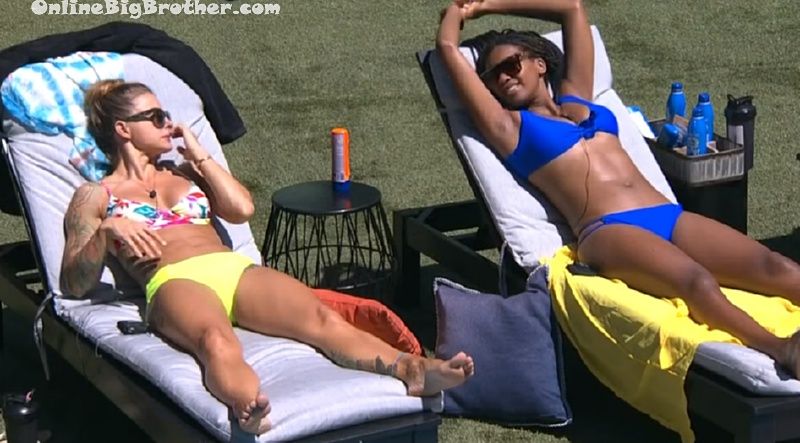 1:47 pm sun time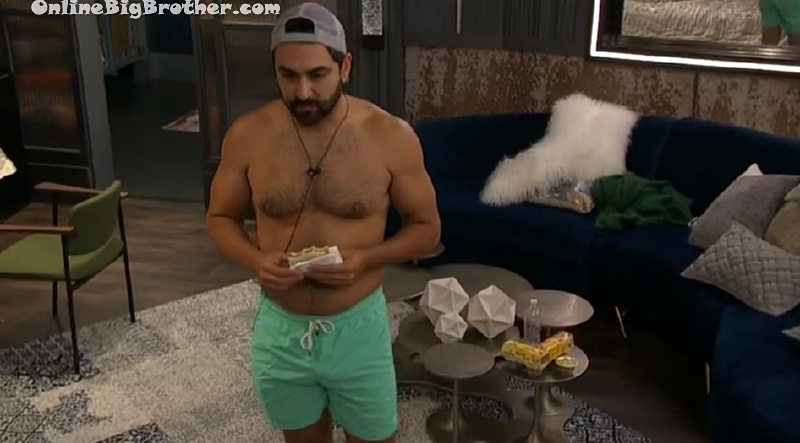 1:52 pm Enzo and Kaysar
Enzo – you didn't like that nom
Kaysar – no, did you even consider it?
Enzo – I did bro, trust me
Kaysar – why didn't you go for it.
Enzo – I got a good relationship with Dani .. there's a lot that's going on in this f**ing house. I thought of every f**ing thing
Kaysar – Okay, well I tried.
Enzo – I know bro I could be out next week
Kaysar – you're in a good spot who knows what will happen
Enzo – we got a couple f**ing days..
Kaysar – I was going to have an impossible time competing against David.. now Christmas I don't have the vote s
Enzo – you're making me feel bad bro
Enzo – I was good with dave I didn't want to f** that up..
Enzo says if Kaysar and Janelle could have stuck in the house 2 more weeks they would have worked together
Kaysar says the relationships Enzo already had de-railed that from happening.
Enzo – with the codys now he's with whatever the f**
Kaysar – yeah that got messy and confusing
Enzo – now with the backyard to with Cody and this other one on teh fog horn
Feeds cut
2:07 pm when we're back Da'Vonne and David are fact-checking about the drama he was involved in last week… it's on all feeds..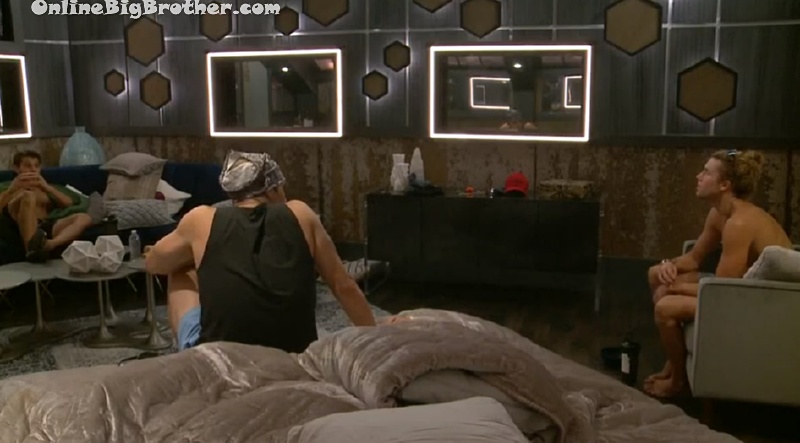 2:25 pm Cody, Tyler and Enzo
Enzo – we're all in a good spot right now.. we don't want them to make the move first
Enzo says they extended an olive branch to David and he "F***ed us"
Cody is backtracking from wanting Dani out. Going on about them not letting their numbers implode.
Enzo – I want f***ing Dani out
Cody – there's a way to do it there are so many weeks
Tyler says he'll be the one that takes out Dani.
Enzo asks if Nicole or Ian win HOH who will go up?
Tyler doesn't thin it will be Dani or Da'Vonne
Cody says Nicole will put up Bayleigh
Tyler and Enzo don't want Bayleigh to go
Enzo – I don't feel bad getting rid of Dani and Day
Enzo – these girls are going to try to make a big move YO because they know they can't win sh1t
Tyle r- we need to get Dani before she gets us
Enzo – they don't believe in the alliance they don't trust it.. if it's not this week it's the week after that. Dani and Da'Vonne have to go. Dani cannot be trusted YO sdhe cannot get trusted.. She knows too much about our game.. Nicole knows and Ian.. she told Ian
Cody doesn't think it's gone that far.
Enzo – in the next weeks a BIG move has to be made 9If only you had a chance this week)
Enzo – we're in the three strongest in this house yo
Tyler – we can't make that move too soon, Dani doesn't make it (big move) next week or the wone after neither will Day
Tyle r- I will be the warrior to go to the front lines I don't care.
Enzo says he's bothered that the girls know about their game but they have no idea about the girl's game. "Nicole's with Ian"
Cody – F** it we're riding through it anyways
Enzo keeps repeated that Kaysar has to go because he's targeting Tyler and Cody.
Tyler says Ian will do what Nicole wants and Nicole won't want Da'Vonne nominated.
Cody – F** that
Cody says all they got for winning the HOH and keeping the girls off the block is Paranoia ..
Cody complains that he tried to pray last night but his mind kept drifting off to gameplay
Cody says he's going after Ian if he wins HOH..
Enzo munching into the microphone.
Enzo brings up Kaysar coming up and he told him "I hope you know what you're doing"
Enzo – "You don't know what the f*** is going on"
Cody laughs
Enzo's idea is to get Kasyar to blow up Dani's game on his way out..
Tyler leaves..
Cody going back to telling him he doesn't want to get rid of Dani too early.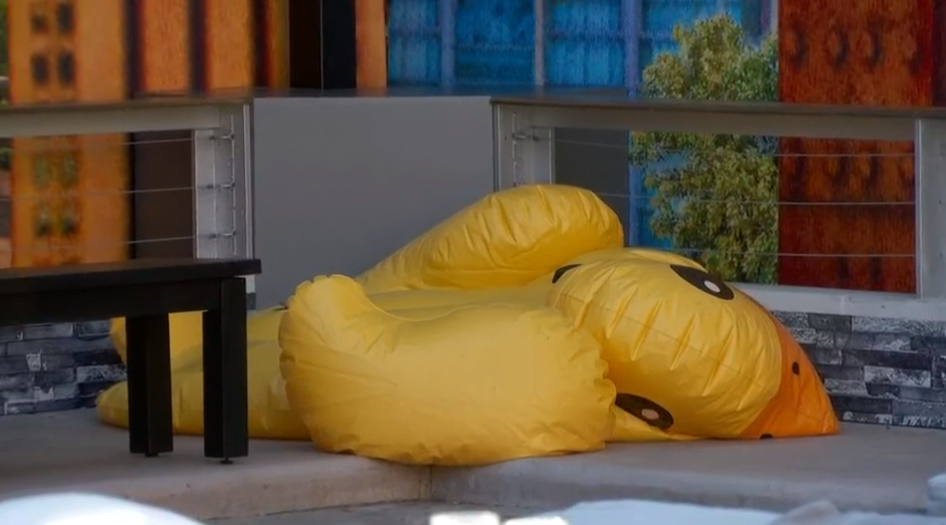 3:52 pm The duck has died (and so did the computer I use to make these posts)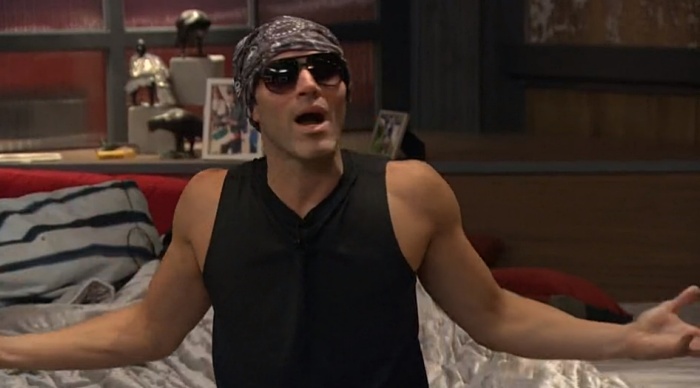 4:42 pm Enzo and Da'Vonne
Enzo – I said yo.. it's over yo.. he was trying to force me put Dave up ..
Da'Vonne – yeah he's done
Enzo – it is what it is whatever
Da'Vonne – yeah .. he's a mess.
Enzo – I told him straight up it's a wrap.. I wasn't trying to be nasty .. he was like I know this sin't your HOH I know they're running the house
Da'Vonne – he was calling you a puppet.. yeah.. terrible
Enzo – he went against Tyler and Cody .. that's it you're outta here
Enzo – I got you .. that's all I have the slick 6 ..
Da'Vonne says she heard that Dani is coming after her.
Enzo – I"m fed the f** up yo.. if the time is right yo.. I've had it yo.. I love you I love Bayleigh. Yo.. we're killing each other already.. like yo.. yo all we have to do is stay strong that's it. Yo .. .Yo
Da'Vonne – how did you find out that she was saying she's coming after me
Enzo – Tyler yo .. Tyler said something yeah.. he said Yo bro this f***ing sh1t I went here we go yo here we f***ing go
Enzo – what the f*** is going on yo
Da'Vonne – it makes no sense..
Da'Vonne – they could be telling her a$$ i'm com,ing for her.
Enzo – I think if Dani wins HOH .. If she comes after you she knows the whole slick six is done it's a wrap
Da'Vonne says she likes Cody but she's losing trust.
Bayleigh joins them. They talk about what to do about Dani. Enzo continues to rile them up.
Enzo – be fake..
Da'Vonne asks for clarity did Tyler say Dani was coming for her and Bay or just her. Enzo says it was just Da'Vonne
Bayleigh says they should have picked Janelle instead of Dani but everyone else didn't want
Enzo goes on about Kaysar telling him that Dani is running the entire house.
Bayleigh – she's running everything (LOL, these two are totally falling for Enzo)
Enzo says Dani wants Kaysar out "So bad" because Kaysar knows some dirt about her.
Da'Vonne tells him that Kasyar gave her a complete run down of "all our sh1t" she thinks this is because Dani is telling him everything (AHHAHAHA)
Enzo says they have enough votes next week.
Bayleigh – if she messes up our shit (Slick 6) i'll be pissed
They go on about how much they like their slick 6
Bayleigh says dani is "running up to Christmas' leg" adds she's got a thing with Nicole and Ian.
Da'Vonne says Dani is talking to Kevin now.
Enzo tells them that Dani went to J/K to start an alliance but they denied her.
Enzo – lets say Christmas wins HOH yo we bum rush her yo
Da'Vonne – she's gotta be backdoored
5:30 pm Kaysar and Da'Vonne
Kaysar – one thing I know for certain unless I got it all wrong is that there is a core four, Dani, Nicole, Cody, and Tyler
Kaysar – I think they were using Enzo.. unless Enzo is a incredible actor.. they are using him for this week
Da'Vonne – exactly
Kaysar brings up how Enzo is now good with David 'When did this happen"
Da'Vonne – over night
Kaysar – he goes David never did anything to me
Da'Vonne – literally over night.. that would have been the golden ticket..
Kaysar said David going up was his only move.
Da'Vonne says this week David had rubbed a lot of people the wrong way "the fire was lite under everybody"
Kaysar – Memphis still doesn't believe there's no alliances.
Da'Vonne – you think he's just playing dumb
Kaysar – no, the thought had crossed my mind. he just has no clue.
They talk about Nicole's melt down.
Da'Vonne – it was too much
Kaysar – it was a disaster
Kaysar says David walked around the house with his chest puffed out trying to defend Nicole and yelling at Janelle "You wronged her"
Kaysar – what are you doing Bro you don't even know what's going on
Kaysar brings up how they went to Nicole first to work with then Bayleigh and Da'Vonne, "These are teh people we can trust"
Da'Vonne – she was going to have a house meeting
Kaysar – about what
Da'Vonne – about y'all .. she said she had a whole bunch of sh1t built up ..
feeds cut
When we're back they are talking about NicoleA wasn't ready to come back into the house. Kaysar thinks David as well.
Kaysar – I hope someone does something about this Cody/Tyler nonsense.
Da'Vonne- – the next could weeks. I mean how many friends can you have in this house. It's going to get ugly because everyone is playing I'm your friend.
Kaysar – they use that whole ti's what the house wanted it's not me. You know what Enzo told me.. yo it's not me these guys they're cutthroat
Kaysar says the reason they all thought he was coming in hot this season is because he saw what was happening "noone was willign to taek a stand.. saving NicoleA wasn't about saving NicoleA"
Da'Vonne – it was more about numbers
Kaysar – even if it gave us a 11% edge we needed it.
Kaysar says had they got one HOH this would have been a different story.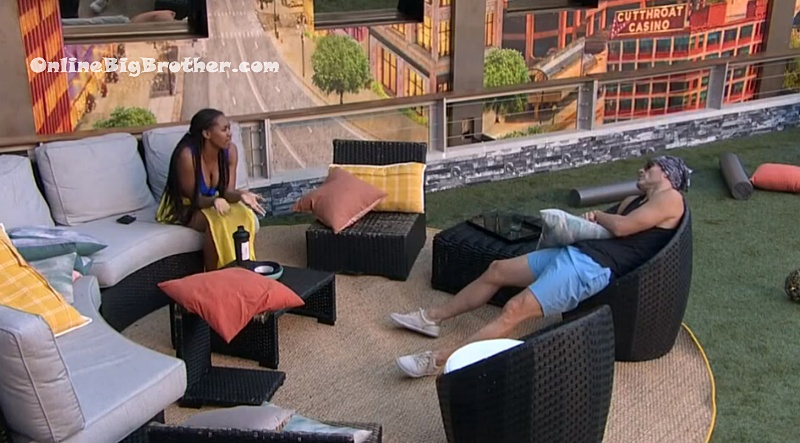 6:17 pm Bayleigh and Enzo
Bayleigh says when she gets home her and swags will have a conversations and if he's down they'll start "popping them out"
Bayleigh says swagz wants 3 babies but she only wanted 2. Adds that she's down with having 3.
Bayleigh – If he wants baby's now he can have them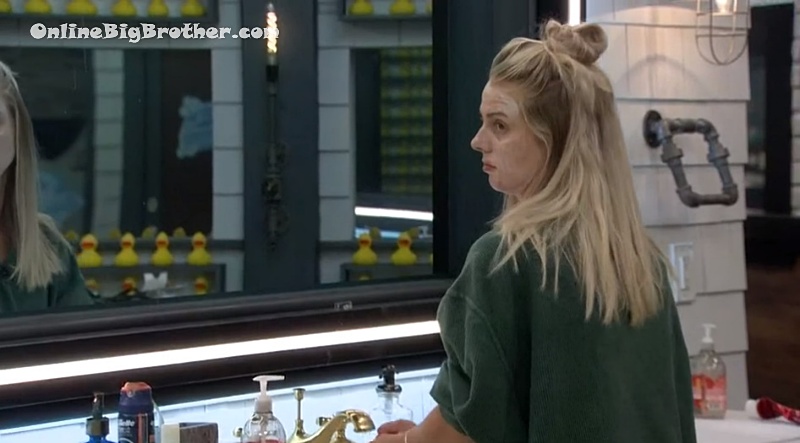 6:34 pm Nicole and Christmas
Nicole going on about makeup brands she endorses on Instagram.. She says she never sells it people are just naturally drawn to it.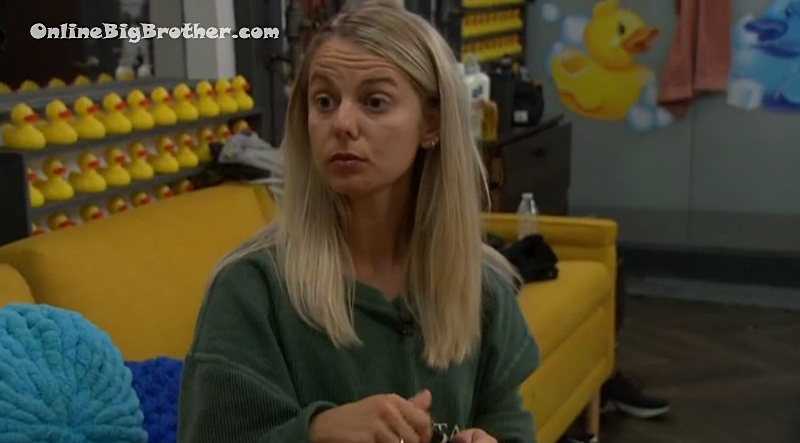 6:46 pm All the life has been drained from this show.. .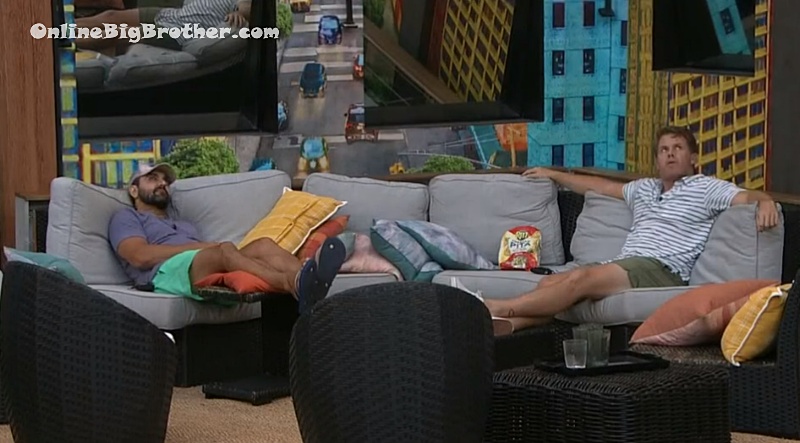 6:53 pm Kaysar and Memphis
Chit chat. A plan flies over head. ASks Memphis how full does he think it is. Memphis says he hopes there full.
Memphis – there's now way ..
Feeds cut.