Big Brother Canada Spoilers – Dane used the Power of Veto on himself. Cory nominated Sam in her place. Sam is the target this week. No real surprise.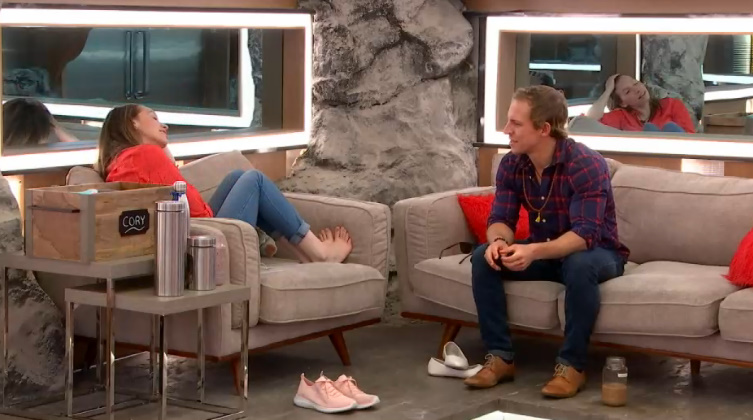 1:15pm Dane and Cory
Dane is saying that Kyra and Sam are scrambling ..
Dane – Pikes came in here said they (Kyra) want to sewer me to Cory
Cory asks him what was his conversation with Adam.
Dane – I said.. right now you are not a target. If you keep huffing and puffing about this you better win next week because you'll be a target.
Dane – he's like OK .. you and 'me' don't need to talk right now. Sam still hates me.
Cory tells him to sit down with Adam "be like this is what we're saying Sam did this didn't happen" (BD plan for Cory last week. you know the one plan that never came to light )
Dane – We discussed everybody in this house, not just COry not just Anthony, EVERYBODY
Cory says Sam is going around saying she's had one on one conversations with her during the HOH.
Dane says Liars attract Liars, Kyra, Chelsea, and Sam have all stuck together.
Dane – they all lie.
Dane – I was saying Adam why are you focusing all your negative attention on me. I can take it I'm off the block.
Dane – this backdoor will be the greatest executed plan in Big Brother Canada History and I'm so happy to be part of it.
Cory 0 the reason why it's gone so well is it's stayed between the three of us the entire time. we didn't share .. it stayed loyal between us. We're Running it.
Dane – after this week it's perfect it's all good.. and they say you made a bad move. you are on nobodies radar.
Cory says if Anthony can pull out a win this week.
Dane – I don't want to win this one. (HOH)
Cory says she's good with Damien, "he's my boy"
Dane says Este told him her target this coming week if Sam leaves will be Kyra. "shes like Adam too but she doesn't want Adam gone"
Cory – as soon as Kyra and Adam drop (from the HOH throw the HOH to Anthony). I feel good about Mark
Cory again mentions that Kyra's and Sam's story about the backdoor plan last week does not add up that is why Sam is on the block.
Cory – it's not because they are liars there's whole all over the place.
Dane – we're trying to set us up for the triple you Anthony and I and it's looking good
Cory – it's looking good
Cory – THey think you have me wrapped around your little finger
Dane – people are saying Dane is just controlling everything. I'm like you guys have no f*ing clue…
Dane says he's been a hockey Captain for 5 years he can stand in front of his team and take the heat.
Cory – I'm trying to see if Sam is going to come up with a campaign go come after me or you
Dane – probably me she wants Anthony's vote
Dane – she knows she doesn't have me and she doesn't have Damien.
Dane – maybe Mark
Cory – she doesn't have Mark.. how should I approach Adam
Dane – he'll be ok
Dane – this episode for Wednesday is going to be one for the ages
Cory – I hope this speech comes off… I was kinda nervous
Dane – I was kinda nervous
Cory – you didn't seem nervous
Dane – April 10th episode can't wait
Cory – and the build up.. you can tell…
Dane – "they (production) were asking me sh1t … Just see what happens
Cory – iF people start asking you if we're tight .. just be like honestly, I want to see what's it like for ESTE
Cory – everyone knows Anthony and I are tight but they don't know about the three of us
Dane says he's going to tell Adam how much Sam is lying to Cory trying to get her to target him.
Cory – I hope Canada is just so behind this
Dane – As a fan of the show if I was watching this best week yet.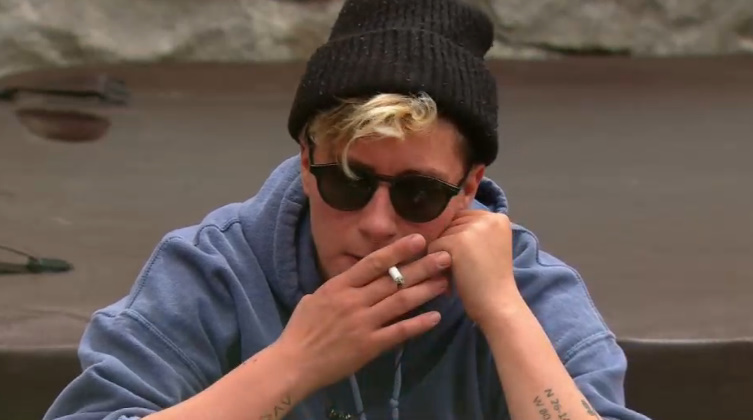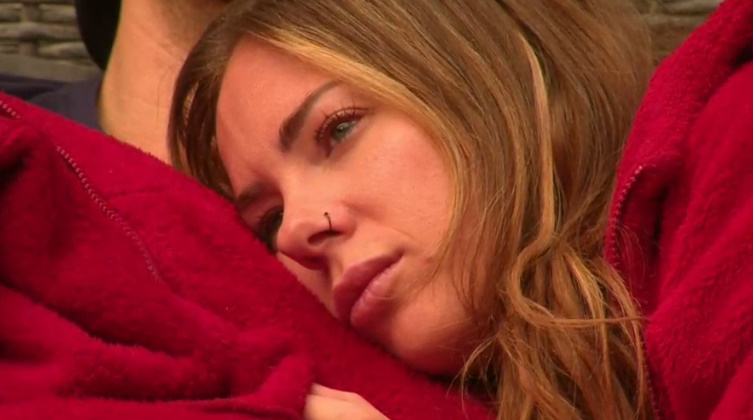 3:50pm Adam and Sam
Adam – Who knows, Dane might keep you
Sam – you think he will
Adam – he said in the bathroom… If I stay (on the block) I have your vote right. We both said we have him.
Adam – we had your f*ing back when you are up there. I would have been the deciding vote we those boys.
Adam – he'll probably just say oh if you can convince Cory.
Sam wants to pace her campaigning, "Anthony wants to talk later"
Sam – I think I can get Mark.
Sam – people need to understand if I'm here I will go up before them
Adam – I know everyone thinks Adam will go up next week. Adam and Kyra.
Adam – wish we could go back in time
Sam – I don't. I would probably be gone
Sam – I'm not going to get Damien am I
Adam – I don't think so. I mean you can try .. have a talk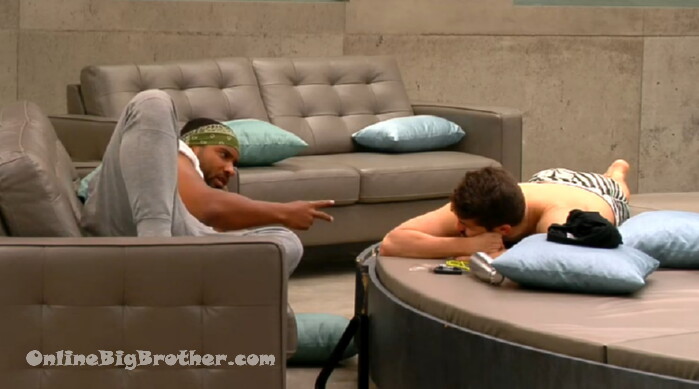 7:14pm Mark and Anthony
Mark is worried Adam is going to go guns blazing after SAm goes. Anthony says Adam is going to cry when Sam leaves and then he'll be done.
Anthony – we got her to jury you (adam) got your vote.. that's what you're crying for the whole time bringing Sam along after she put Mark on the block and almost put Dane and told everybody she was going to put me on the block.
Anthony tells him that Sam originally wanted Mark to go home.
Anthony – that's the first name she said when we got into the room..
Anthony says SAm called MArk a floater, Says she never talks game with him. She told him "We need strong players out of this game"
Anthony- shut the f* up now you (Sam) need my vote .. Shut up
Anthony – you can't get heated around Adam or he'll just cry
Anthony – this is what I do this is why I'm here.. do you think I am going allow people to breath air about getting mark out of here. You're out of your frigging mind..
Anthony – we have two guys that are very emotional.. very very prideful and they are both attached to girls in this house
Anthony – I heard about the backdoor plan right after the POV. between me and you I know it was Dane and Adam.. and I know Sam was there to.