Help support OBB by making your Amazon purchases through our link below. It doesn't cost you anything and we get a percentage of what you buy.
Amazon Canada
Amazon USA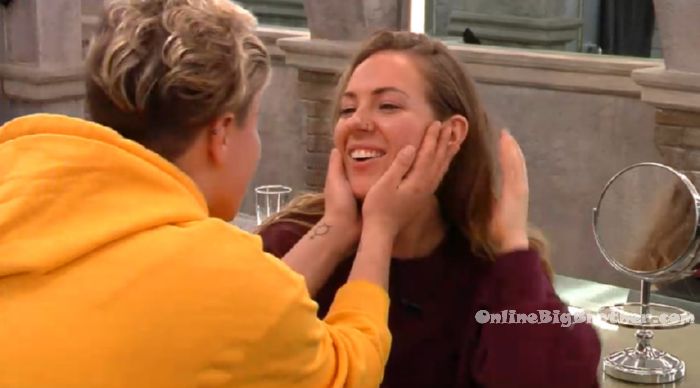 11:30pm Bathroom. Sam and Kyra. Kyra gives Sam a hug. Adam joins them. Adam – did I tell you, you're beautiful today? Sam – no. Adam – did I tell you that Kyra and I love you. Kyra – yeah, so much. Sam – what? Adam – did I tell you that Kyra and I love you. Kyra – we would actually do anything for you. Sam – I am really trying. Kyra – I am so proud of how you're holding it together. You're doing a phenomenal job. I can see the look in your eyes, you want to cry. Sam – when I came and asked if I could chat .. Anthony was like I'll go and I said no, no both of you (Cory & Anthony). I said that I know that Dane has been running in here after every conversation. First of all if that doesn't speak volumes to you .. I don't know what does. I said that I am just here to speak truth.. because I know that its truth against lies at this point. So I never really felt like I was under the gun until right now. And I feel like I have to keep working to remind you of what's true. I brought him (Anthony) up to speed of the conversation between Dane and I and where the backdoor originated.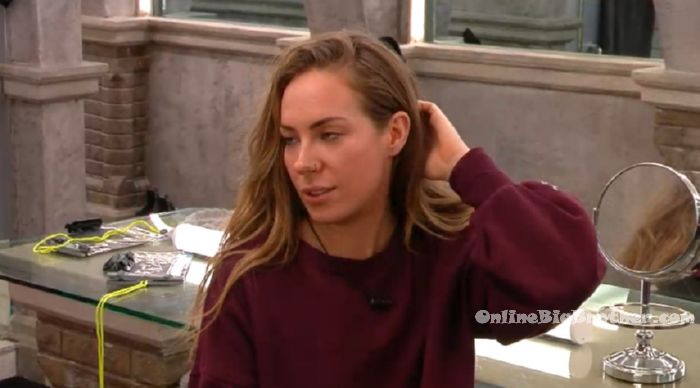 I said I know that you're going to trust your gut and that you're a smart, smart woman. You need to pay attention to not only now but the weeks leading up to this sh*t storm and things that are going to happen after. If I go, the next person they're going to come after is you. Kyra – he would put up me and Cory. Sam – yeah. Kyra – now I've talked to her and opened up the idea. You've talked to her. Sam – I said that me and Adam will keep you guys safe. I speak truth in this game. I am loyal. I don't run to power. And I've been honest with you guys. Kyra – and now the bow on top will be Adam confirming that Dane would put up me and Cory. And you're (Adam) going to sit on that until tomorrow.. because that has to be one of the last things that she (Cory) hears before the nomination ceremony. I am close to Dane and I'm aware that Dane wants Sam out. At the end of the day I want to be loyal to my buddy but the fact that he is spreading lies about Sam is not just. And you finish off with … and I have to be honest with you. He (Dane) would put up you and Kyra. Kyra goes to the washroom. Sam tells Adam – you do what you want to do. Just know that what I say is actually true. Adam – I know. I'll talk to her.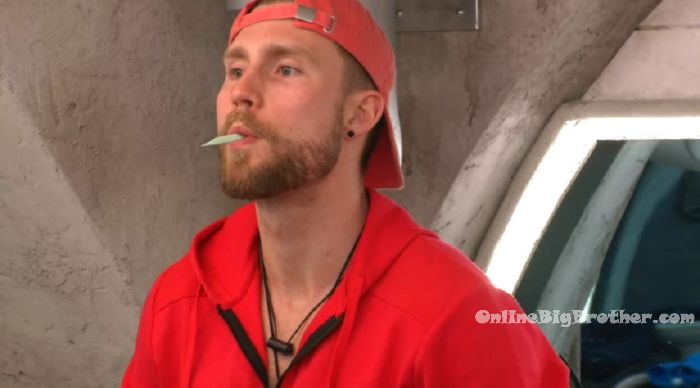 12:10pm Dane and Esti in the file room..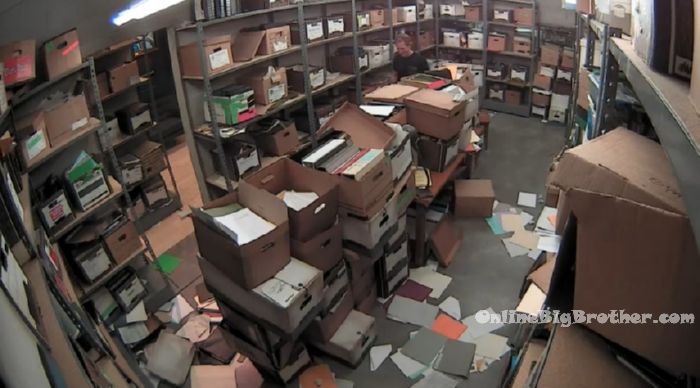 1am Backyard. Sam, Kyra, Adam, Mark, Esti chatting.