POV Holder:
James
Next POV
Aug 1st
POV Used
No
POV Ceremony
Aug 3rd
HOH
James
Next HOH
Aug 6th
Original Nominations:
Shelli and Clay
After POV Nominations:
Shelli and Clay
Have Nots
Austin, Liz, Julia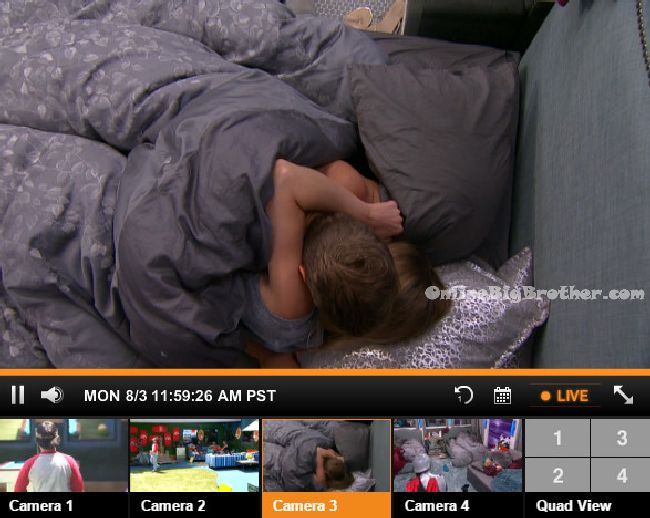 TRY the Big Brother 17 Live Feeds FREE for 1 WEEK:
Click here to ensure your live feed subscription supports OnlineBigBrother.com at no extra cost to you.
Power Of Veto Meeting results:
As veto holder James did NOT use the veto.
The original nominations remain: Shelli and Clay
11:20am – 11:55am Big Brother blocks the live feeds for the veto ceremony to take place. During the veto ceremony James chose not to use the veto and as a result Shelli and Clay remain on the block for eviction.
Bedroom – Clay and Shelli are in bed. Clay says my speech was so lame. I didn't know what to say. I almost froze up. Shelli starts crying and says we have 4 days left so lets just make them good. Clay says I don't really care to talk to anyone in the house. Shelli crying says I'm going to miss you so much. Shelli asks how am I going to last 2 months with out you. Shelli says I feel like such an idiot. Clay says don't. Everything happens for a reason. Shelli says that didn't need to happen (Them campaigning last night throwing Austin under the bus.)
Meanwhile in the backyard – James, Liz, Austin, Becky Johnny Mac and Julia. Liz says a lot of guys aren't like that. Johnny says its tough. James agrees.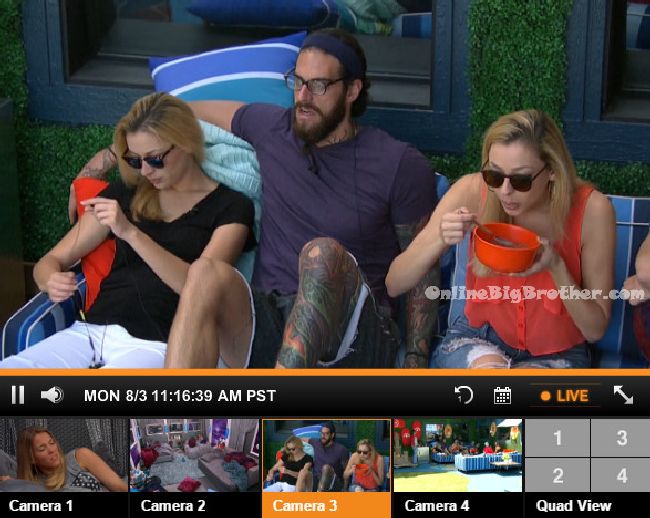 12:05pm
James goes to the comic bedroom. He asks if Steve is good. James says yeah its tough. Steve says well you did exactly what you said you were going to do. Steve says your job is done too because you're not breaking a tie. Its an odd number of votes. James says it was so intense in there I don't even remember what I said. Steve says you said you were left in the dark last week and and plans were set in motion. Steve says I think we're jury now. I can't imagine we aren't. James asks do you know who was talking about possibly trying to get me up on the block? Steve says you hit the nail on the head. James asks was it Clay or Shelli. Steve says to be honest I don't differentiate them a part. I don't know that it was them… I'm just picking up bits and pieces.
12:10pm Austin says that Vanessa is really gungho about keeping Shelli but I don't think its a good idea. Austin says but look how Clay is acting, its dangerous to keep him in this game like that. Austin says I feel bad and don't want either of them to go. Julia says but they were throwing you and all of us under the bus. Austin says we need to talk to Vanessa and fill her in on what happened last night. Julia says I want to know which one of them was leading the conversation last night because that will dictate who I want to vote out. Austin says I think they were trying to pin it on me to get me to go up. Liz says I don't care which one goes at this point. Austin says that Johnny Mac was crying over them (Clay and Shelli) after the veto. He has the weirdest loyalties. They don't even care about him.
12:15pm Becky and Johnny Mac talk in the cabana room. Becky says if Shelli went home Clay would actually stay and play a few more weeks. They're doing what love wants. Johnny says we have Clay, he'll be with us. Becky says Clay wants us to vote him out. Johnny says I'll vote him out. I've already told James that. Then we'll tell Clay if you want to stay we'll vote Shelli out.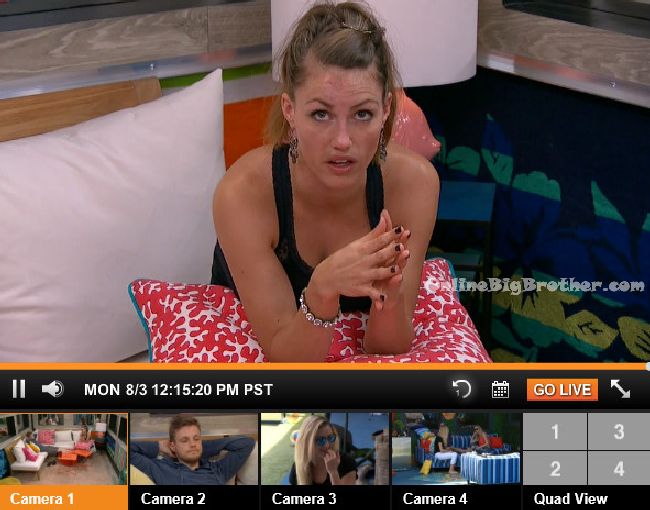 Try the Live Feeds FREE for 7 DAYS! Click here for your: Big Brother 17 FREE Trial
12:20pm Austin talks to Vanessa about his conversation with James this morning. Vanessa says they woke me up at 5am out of a dead coma .. they were basically both crying. They said we just did something and wanted to to you because we think we made a huge mistake. They told me they said stuff. Austin asks what stuff? Vanessa says they didn't tell me any specifics (Lie). They said they're going to have to talk to us today because they didn't think it worked. They basically implied that it wasn't bad stuff about you or me. But if it was bad about me and they outed my alliance .. let me tell you about how bad I would take that. Like no f**King fools!! My recommendation this morning was what a shame for James to try and pull us a part. Of all things Austin may be .. he is a forgiving man. He would understand that you're position was a difficult one. My advice is for them to just come clean to you, the twins and me. They know too much. Austin says I want to know what they said. Vanessa says that was before I knew they outed our alliance .. so our only other option might be to work with James. Liz says I know they outed our alliance. Austin tells Becky that James implied that they tried to throw me under the bus last night for not helping them more. Becky says you gave a very convincing argument. Becky says they're in a tough spot. When they look back at the week they're (James, Meg, Jackie) not going to be pissed at you. No one takes them (Shelli & Clay) seriously as I'm sure you know.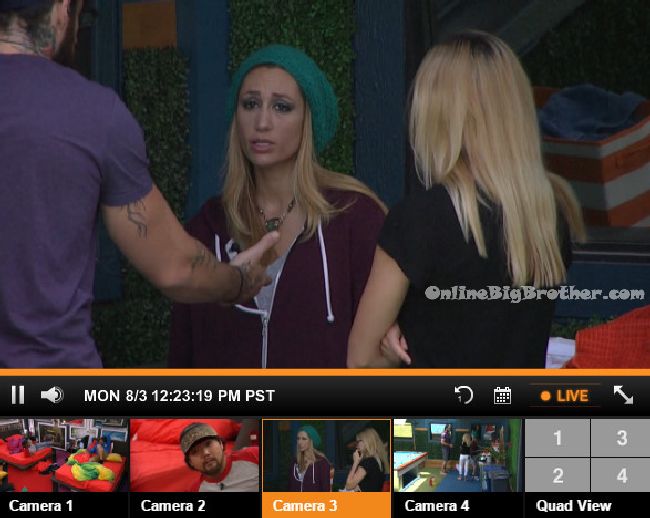 12:35pm – 12:40pm Bathroom – Vanessa tells Austin I am so f**king mad! Vanessa says if they beg for us to keep Shelli. There is no need for him to stay. We just have to ask him. Vanessa says it doesn't make any sense because one of them has to stay and work with us. Austin says so they were trying to get me backdoored. Vanessa says it sounds like it. That's 4 votes in jury .. do they not get that?! We need to make some re-assessments. I need to know what was said last night. Austin says they're going to say whatever they're going to say. They're scratching and clawing anything. We could just deny deny deny to the grave. Vanessa says we need to find out what was said. Austin leaves. Vanessa tells Liz I am so f**King mad. Liz asks did they throw you under the bus? Vanessa says of course.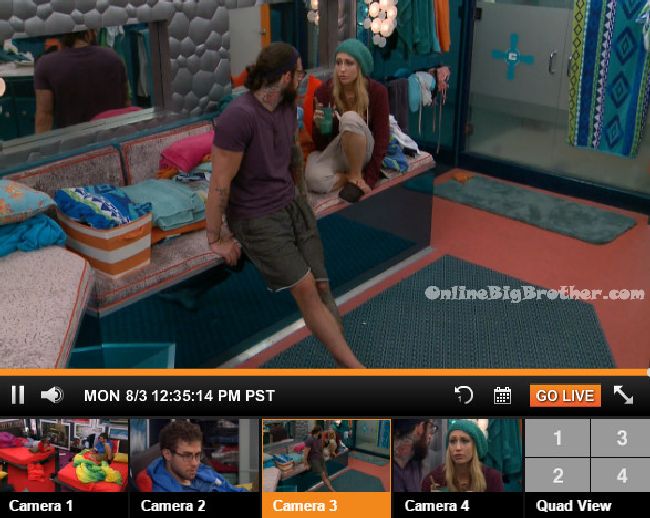 [polldaddy poll=9004995]