POV Holder:
James
Next POV
Aug 1st
POV Used
No
POV Ceremony
Aug 3rd
HOH
James
Next HOH
Aug 6th
Original Nominations:
Shelli and Clay
After POV Nominations:
Shelli and Clay
Have Nots
Austin, Liz, Julia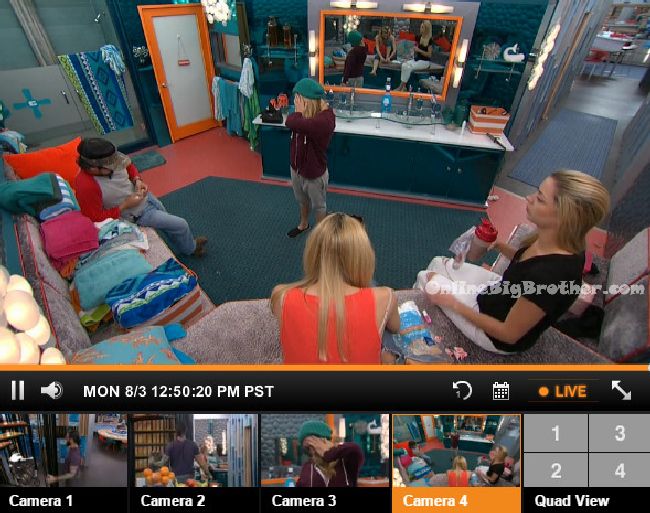 TRY the Big Brother 17 Live Feeds FREE for 1 WEEK:
Click here to ensure your live feed subscription supports OnlineBigBrother.com at no extra cost to you.
12:45pm Vanessa tells James that she was in his position last week so she knows exactly how it feels. At the end of the day its a game. I'm here for my girlfriend and you're here for your daughter. Vanessa says that makes me think about how now it will be another 7 weeks before I see my girlfriend. Vanessa says we should let things settle and then figure out a plan going into double eviction. We should have one so we don't have all this happening.

Everyone leaves but Liz and Julia. Liz says that James told Austin that there were some things said last night but just to let you know I'm not taking it personally. They definitely threw Austin's name under the bus. They threw my name under the bus. Julia asks me? Liz says no, just me because I was HOH and put up James. Basically I'm just really mad at them. I have no sympathy any more .. They're f**king idiots and all they want to do is save themselves. Like yeah I get that but if it was me and you up on the block I would never do that you know. Have some f**king dignity! You know! You know that you're a dead horse and this guy didn't take the 5K and took the veto .. why would you keep trying. I would have done what they did in a desperate last case if the veto meant nothing but the veto meant 5k and an Ireland vacation. So you guys just did all that for no reason. I want both gone to be honest! Julia says me too. Julia says it would be in our best interest to vote Clay out. I don't want him in jury. He's never gotten to know me. Liz says he's an idiot. In 5 years they won't even still be together. Julia says I feel like he's the one masterminding it .. but I don't know. Julia says so they tried to backdoor Austin. Liz says yeah everything they say it to their benefit. After that guys (Clay) speech today was pathetic. Liz says whatever they're America's sweethearts so we should stop talking about them or America will hate us. Julia asks so is Austin pissed. Liz says he's not happy about it. Julia says poor Austin. Austin joins them and says he's not pissed. Even if they did go up and throw us under the bus .. next week James can't win so he'll want to work with us. Clay and Shelli doing this just makes them the number 1 target. So we should all just get them out. At this point I have no alliance to them if they're going to do that.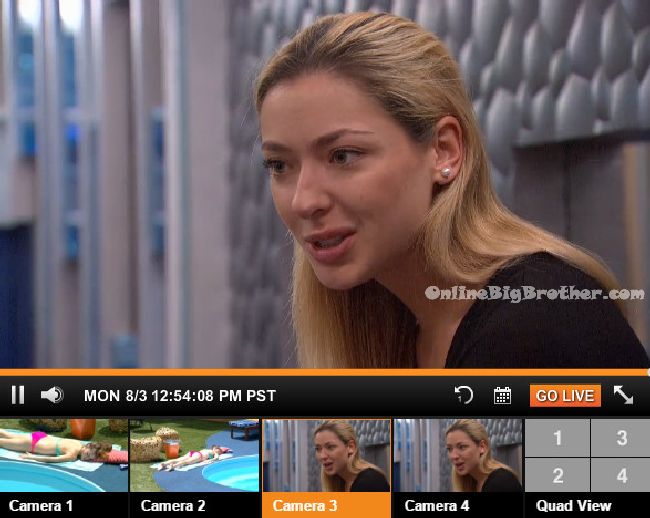 1:10pm – 1:35pm Vanessa pulls Shelli into the havenot room. Vanessa says they don't know what was said they just know that you came to them with information but they don't know specifics. Vanessa says James said you told him about the alliance. Shelli says no I did not. James is lying to get Austin on his side. They don't know specifically what was said. They came to me and I said I didn't know what was said. Shelli asks is Austin really pissed right now? Vanessa says not even. Shelli says that is smart of James to say that to pit us against each other. Shelli says James has been telling us that you have been lying to us. Vanessa says you're going to have to go with your gut on that one. Shelli says my gut has always been right and I believe you. Vanessa says that Austin is an understanding person. Before James came to Austin he was going to go against James and vote Clay out because he believes you have a better connection with the twins. Shelli says I never ever ever said there was an alliance. He is using that against us. People already know. I am going after James more than ever now if I stay. Vanessa says Clay asked us to vote him out and we were all going to until all this happened. Vanessa says that Steve will do what we say 100%. We will pull Steve in as a 6th (Member of their alliance). Vanessa says you don't need to campaign .. I'll do it for you. Just f**king listen to me for f**ks sake! I could kill you after last night. Shelli says I know I felt terrible after I did it. Do you think they will forgive me for being such an a$$! Vanessa says you're going to have to eat sh*t and be in the dog house. Vanessa says next week we only need 4 votes .. if one of us is HOH we could put up one of us a pawn and still have the votes. You and Austin could use each other like that.. No matter which one of you stays we still will be okay. Johnny Mac was crying. You never said anything bad about him did you. Shelli says no. Vanessa says that Austin should tell the whole house about the Judas thing in a big wrestling joke. I'm pretty sure you can stay and would be shocked if you don't. James has a lot more game than we give him credit for. Shelli says James throws things to look weak and then wins when it matters. This just gives me ammunition to play this game so much harder! Vanessa says this will give you a chance to blend in. There will be other showmances and the twins as bigger targets. Vanessa says it will be Me, Liztin, Austin and Steve will be the swing vote.
1:40pm – 1:50pm Backyard – Liz tells Austin it just goes to show you that they would do anything to throw us under the bus. Vanessa comes out and says that Shelli swears up and down she did not tell James about the alliance thing. She is ready to eat sh*t! She did tell them about the Judas thing. Austin asks do you think she would go up there and admit she lied about all of it? Vanessa says I think she would. I think you could come out with Judas in a funny way. Austin says that name is actually copyrighted by the WWE and I'm not supposed to even talk about it so I could go that route. Vanessa says please tell me know you understand that it is better for Shelli to stay. Liz says I want to hear it out of her mouth what she said. Austin asks why did she do it?! Vanessa says people are first and foremost going to do what is best in their self interest and you can't blame her for that. Vanessa says the 5 of us plus Steve control what happens next week. She is willing to be a pawn next week. That way we hide we're working with her and we can get out who we want to get out. Today's play is squash sh*t with Shelli. She is going to apologize and grovel. Do you think Steve will vote the way we want? Austin says yes, 100% I have no question about him. Julia says all Clay has ever done is make me a turkey burger. That's it. They complain about how Clay has never done the dishes and cooks the most.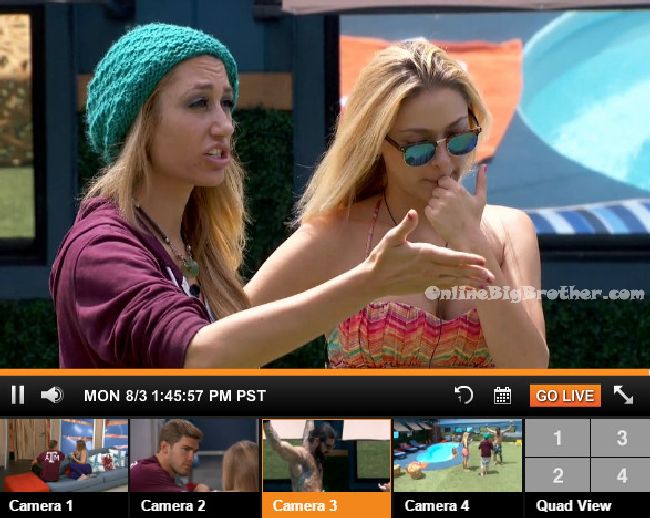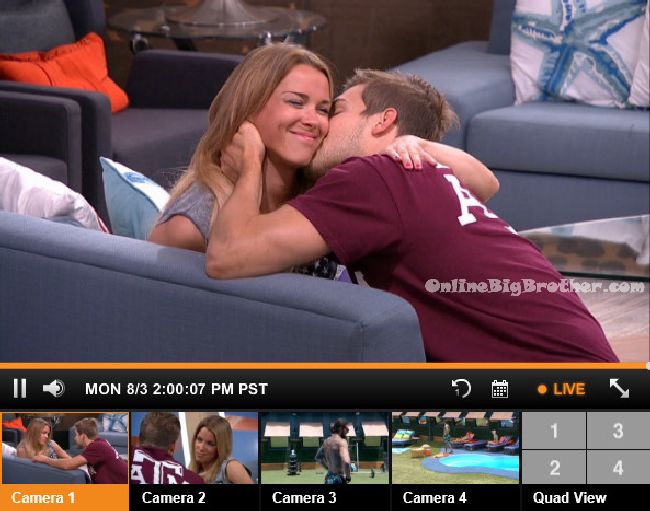 2pm – 2:20pm Backyard – Shelli comes outside to talk to the twins and Austin. Liz says obviously we've heard stuff that's been said. Shelli says that James is totally flipping what we said. We went up there and said that people are telling us they're going to help us and then when they go upstairs they say something totally different. I just felt like everything I did for ya'll last week wasn't being reciprocated. James said this is your shot right now to say anything. Liz asks but you knew you had 3 numbers on your side why would you jeopardize that. Shelli says Vanessa came to me and said that James told you I outed the alliance. I never did that. Austin says he said it in a round about way. Austin says so now I have to do damage control about the Judas thing and the Audrey vote. Shelli asks why do you have to do damage control for it. Austin says I'm just going to say I'm not allowed to talk about the Judas thing and tell him now he knows who I'm gunning for. So he'll think I'm gunning for you. Shelli says for 4 weeks we were doing so good and then now this. Vanessa says its okay we can make mistakes but lets just not make any more. Vanessa comments on how Shelli came down and wanted confess right away because she felt so bad. Liz tells Shelli I trust you 100% over James. Vanessa tells Austin she has a lot of respect for the way he handles things. Austin says I just hate the way I always get caught up in things. Vanessa and Austin talk about making a deal with James. Vanessa tells Austin I will make you a deal that I will not make a deal with James without you. Liz and Julia tell Shelli we forgive you, and we want you to stay over Clay.. unfortunately. Vanessa tells Shelli its best if you and Austin pretend you still hate each other. Austin tells Shelli he isn't mad at her. They discuss what Austin can tell James as to why he has to vote out Clay. Shelli says we have 4 days ..I can't turn on Clay or say things as to why we should vote him out. I'm not going to be put in a position to say anything bad about him… he's my guy you know.
Austin tells Vanessa that its Shelli's job to full force against them (James, Jackie, Meg) next week. Vanessa says I don't think that will be hard to do. Austin says I want to deny the Audrey vote. And I think she (Shelli) should be on board with that. Austin tells Shelli he needs her to say that was a lie. You just combined that with the Judas thing. Shelli says I'll just say I thought that you were the vote.
2:30pm – 2:45pm Vanessa talks to Steve in the bathroom. She tells him she wants to talk to him in the hammock. Vanessa says basically freaks and geeks controls what happens. Me, You, Austin and the twins. No one can know that though. Vanessa heads back outside. Vanessa tells Austin its impressive that 3 out of the 7 people in our alliance haven't been on the block. Steve joins Vanessa on the hammock. Vanessa says that James and Clay have had a thing since the beginning and that's why he wants to keep Clay. That is the exact reason why we should do the opposite. Shelli is completely isolated from that side of the house and will be loyal to our side. Vanessa says so I'd be happy to hear your opinion. Steve says that Shelli is more of an all around threat. And I like to keep threats around as a shield. Vanessa asks do you agree with what I've said about keeping Shelli? Steve says you've had a lot of really good points. Vanessa asks do you agree to vote out Clay? Steve says can I think about it? Vanessa says yes. Vanessa says that Becky, Jackie, Meg, and Johnny Mac will probably vote out Shelli. Steve asks why Johnny Mac. Vanessa says because he is closer to Clay. Vanessa says that vote is going to be 5-4 (to evict Clay). Vanessa says that Shelli is offering to be a pawn for us. Steve says I hate that they say we can't use the name freaks and geeks .. they (production) yell at me for saying that .. big brother blocks the feeds. Vanessa says they think you're a floarter. Steve says I absolutely have taken a side. I am not a floater at all. Vanessa says you need to win HOH. I'm f**king serious. Its getting hairy.. I can't do any more. Steve says and I kind of do owe you. Vanessa asks Austin do people think Steve is the floater? Austin and the twins say yes! Steve says people think the super fan is the floater?! WHat?!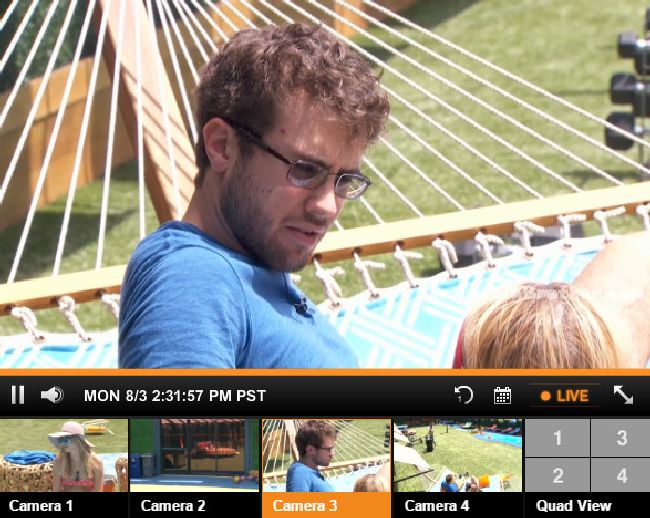 [polldaddy poll=9004995]