Head of Household Winner – Memphis
Have nots – Cody, Christmas
Nominations – Kevin & DaVonne
Power of Veto Players are – Kevin, Tyler, Dani, Da'Vonne, Memphis, Nicole
POV Host: – Cody
Power of Veto holder – Tyler
Power of Veto Ceremony – Tyler did not use the Veto Nominations hold.
Powers – Christmas, Dani, David
Live feeds —-> Grab your Live feeds here. Try it free.
Rank the houseguests —-> Big Brother 22 Ranking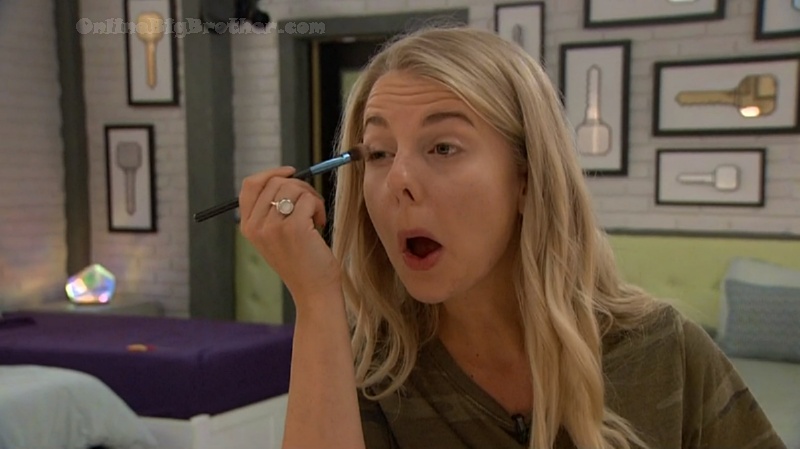 10:47 am Nicole and Dani
Da'Vonne comes in says she just asked Tyler if he would use he veto and he said no.
Dani – after this you me and Christmas we need to start being best friends again
Dani – I feel like she really liked me.. you know how she is she likes the camaraderie and stuff.
Dani – I'm sick of hanging out with so many people.
Nicole – the last season I played I didn't want to hang out with Victor and now that I'm here that's all I want to do
Dani – you didn't like him at all?
Nicole – yeah.. just give me one day to hang out with him in here.
Dani – you always liked hanging out didn't you?
Nicole – I did. I liked hanging out with him. Corey was really weird about it so I had to be really careful
Dani – he was weird with you hanging out with VIC?
Nicole – ohh yeah. Even after the show he was like..
Dani – ohh because Vic liked you
Nicole – after the show I wasn't allowed to talk to him
Dani – that's really weird..
Dani whispers something that is hard to hear.. "I'll be honest with you… doesn't have a shot" (Think she was talking about Da'vonne)
Nicole – without making us look desperate
Dani – not just that without us going against people I am not willing to do that. People being Cody and Stuff.
Nicole – COdy wanted her out but he let Bayleigh go. If we push it again.
Dani – he's wanted her out for a really long time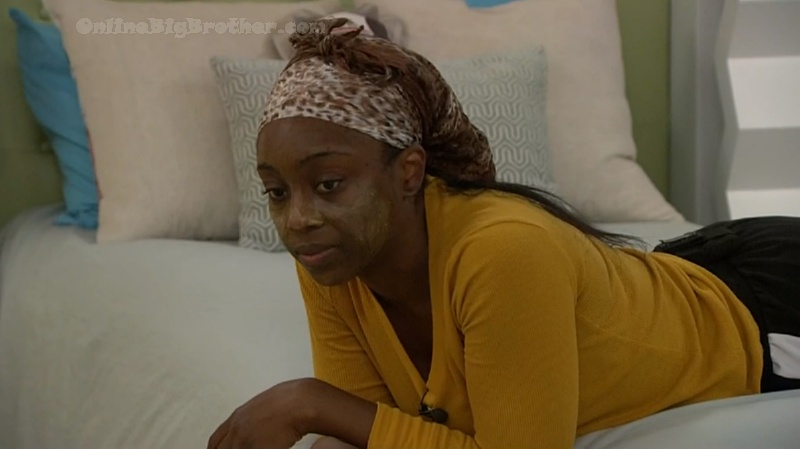 11:05 am Nicole and Da'Vonne
Da'Vonne – these boys want me out
Nicole – why though
Da'Vonne – there's something with David and Tyler. these boys want me out
N – doesn't make sense to me at all.. like.. I would think they want Kevin out and not you. I'm going to talk to them and i'll let you know.
N – ohh my gosh.. so stressful. We'll have fun this week regardless..
Da'Vonne – I'm going to have lotsa lotsa fun ..
11:18 am Christmas tells Tyler and Cody that Memphis may have told Kevin he's safe this week.
12:04 pm Feeds go to pound puppies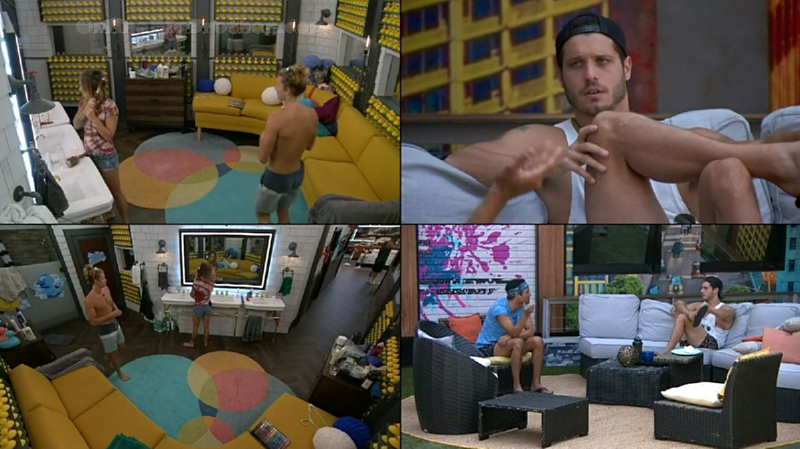 1:04 pm Feeds back..
Tyler didn't use the veto Christmas didn't use her power and now it is expired.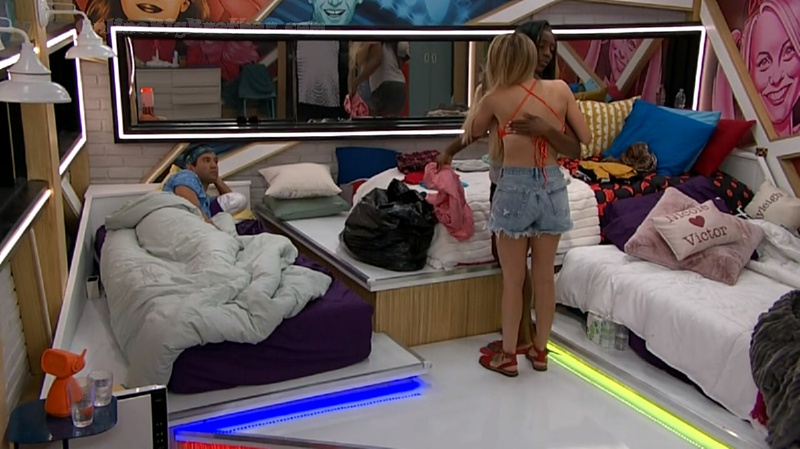 1:38 pm Da'Vonne and Kevin
Da'Vonne – I know people that are watching this supporting me are like Da'Vonne don't give up fight ..
Sigh
Da'Vonne – I'm not just going to roll over and die.. but I'm not kissing a$$.. I'm not..
Dani joins them.
Da'Vonne – you look pretty in this orange.
Kevin complains about sucking and not being a good Representative of LGBTQIAZ+
Dani says Kaycee is if not the best one of the best female players to play this game
Kevin – she won against a DUDE.. finals it's hard to beat..
They talk about Cody playing two sides of the house Nicole/Dani/Enzo/Tyler
Da'Vonne says things are going to get ugly.
Kevin – I hope Nicole doesn't get burnt twice she's going to get roasted.
Da'Vonne – On my previous seasons people feel in love with me because of how real and raw I was.. how I was unapologetic Da'Vonne and relatable.
Da'Vonne – I had people writing me letters saying Da'Vonne you helped me find my voice. you encouraged me to stand up to my bullies. you encouraged me to find my inner strength
Kevin – one of those letters came from me..
they laugh
Da'Vonne – I come in this season and I do the complete opposite and it's draining.. draining me.. How can I stand up and preach don't be afraid to have a voice.. and I come in her and put a muzzle on mine.
Da'Vonne – I'm drained acting like I'm part of the peasantry while the royal kingdom.. like I'm sick (we all are)
Da'Vonne – me with this mask it was only a matter of time before it falls off.. what really pissed me off is Memphis with this whole plan.
Kevin – It's so insulating
Da'Vonne – this was a terrible plan
Kevin – and I get it you guys have to play along but it's all insulating
Kevin – ohh thank you oh my god you're saying there's a chance .. oh my god (impersonating)
Da'Vonne – I had made a vow I am not talking to him no more.. I'm not campaigning i'm not talking to any of y'all because all you guys do is take that and make it a joke.
Da'Vonne- I saw how you guys made fun of Keesha, how you guys make fun of him (Kevin), I saw how you guys made fun of Janelle, Kaysar.. how they made fun of everybody.. they shitted on Ian for playing the game. I watched it. they're not doing that to me.. F*** them.
Da'Vonne – they are going to look really bad.
Kevin – it's not a good look you guys are in power and you shit on people.. It's not a good look.. it's like laughing in the storage room at people just trying to get by.
Da'Vonne – if when I'm out. You're probably going in the double (Kevin) and I think you are right behind (Dani). David has surpassed you on the scale.
Da'Vonne says Kevin needs to win HOH and protect Dani and Nicole
Da'Vonne – Enzo is going to be Enzo'd because Hayden and Lane will be sitting in the final 2 if y'all let them.
Da'Vonne says last week should have gone smooth. She asks maybe her and Tyler are working together and that is why.
Da'Vonne – that's how it looks.. either you are okay with Ian being sacrificed because you are working with Tyler or your allies f**ed you
Ian – I was not okay with either one of them. (Kevin, Ian going)
Dani – Tyler, Screwed you and me for no reason
Da'Vonne goes on about not giving Enzo/Tyler/Cody the satisfaction of her campaigning.
Da'Vonne – I might not even talk to David.
Da'Vonne says if by Wednesday night she feels she's going she'll download a lot of information to Dani. "get prepared"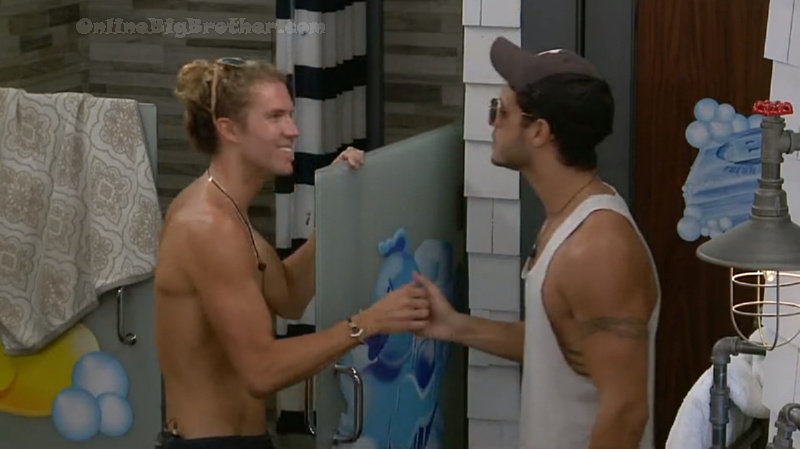 2:05 pm Tyler and Cody
BRO BRO .. BRO.. YO YO.. That's why you needed to win the veto it allowed me to have those conversations.. yo
Tyler – if I used the veto Day would be Dani and Nicole's warrior.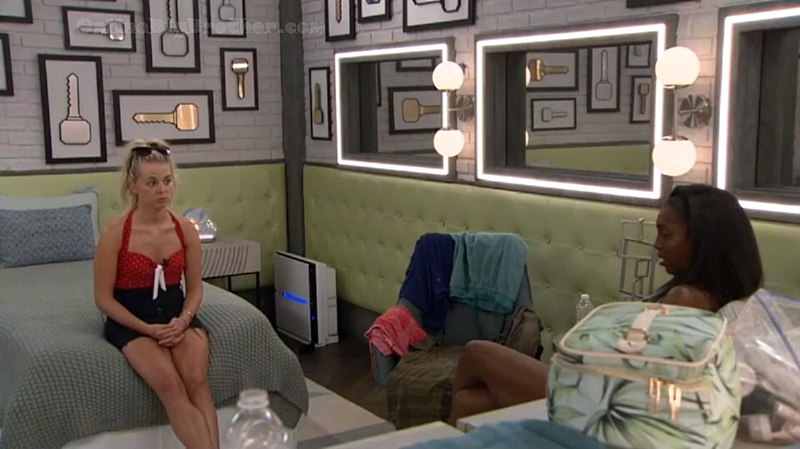 2:11 pm Da'Vonne and Nicole
Da'Vonne – I know i'm out the door but I want to ask you one final time and I want you to be honest with me Nicole.
Da'Vonne – this vote.
Nicole – I did what I told you
Da'Vonne – you voted to keep Ian
N – yeah
Da'Vonne – Okay.. i'm only asking.. take the game out of it just me and Nicole talking I don't want to look like sh1t for bashing David.. I'm talking about the outside world we have to worry about our community as well. I don't want to be bashing him and be wrong
N – yeah I know.. I definitely kept Ian. I'm sure what David's thins was .. whatever.. I'm going to talk to him
Da'Vonne – about it
N – yeah
They talk about Da'Vonnes speech apparently it got Cody offended. Da'Vonne goes on about how campaigning explains her reasons typed out above.
After Da'Vonne leaves..
Nicole alone – I'm going to tell her just have to find the right time..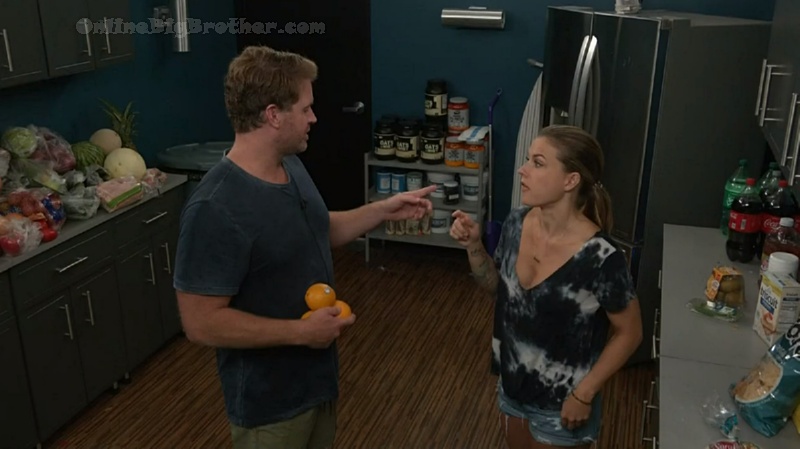 3:01 pm Christmas and Memphis
Christmas – her speech confirmed COdy and Dani are the two she didn't call out
They talk about who Da'Vonne called out.. Memphis – she said three people
Christmas – I'm telling your 100% i'm certain the three girls had an alliance since day one maybe even pre
Memphis – maybe.. I mean we're about to nip it in the bud
Christmas – Enzo sees it too
Memphis – we don't have to convince Enxzo of sh1t
Memphis says they have to talk with Enzo to be on the same page going into the double
Christmas – he's open to suggestions .. Nicole is going to GUN for the first HOH in the double. It's going to be quesitons so we need to be studying

2:12 pm Enzo and Christmas
Christmas – Nicole has been in the Dr so many times.. she's not winning anything. Have you been studying?
Enzo says he does pretty good on his season..
Christmas – Nicole is sharp, Dani is sharp.. Da'Vonne thank god she's leaving. I don't know how Kevin is.. I've been studying I think I'm okay
Enzo – Cody is good with questions
Christmas – I feel safe with him this week
Enzo – you're not going anywhere f** that.. I need you in this house end to end..
Christmas – now that we have Memphis we're MONSTERS having a three person alliance
Enzo – we have to protect Memphis
Christmas – he's the biggest target in the house right now
Enzo – I love running finding sh1t and coming back
Christmas – we have comics coming back
Enzo – there's only 6 of us in the POV's, we're strong you, me and Memphis one of us is winning the POV.
Christmas says Da'Vonne still doesn't know Nicole flipped that vote.
Christmas – what can happen is.. we let her know that Da'Vonne knows.
Enzo – Nicole?
Christmas – Da'Vonne thinks Nicole voted ian to stay which is why Da'Vonne doesn't trust David
Christmas – If we let Nicole know or in the next day or to she found out that Nicole was lying about it she would be shook before the competition
Enzo – ohh .. that's a good idea too .
they talk about how close Dani was to winning the Veto because she wanted it to use it on Da'Vonne.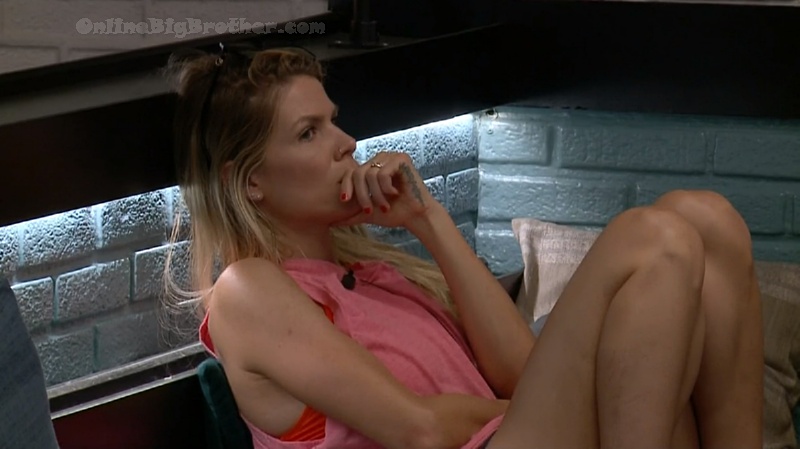 3:19 pm Dani and Nicole
They're talking about the seasons schedule. will there be 2 doubles or a double and a shortened week.
Nicole – all I was trying to do was cover my fault
Dani – it was a great game move what we did great.. then it turned into something else
Nicole – nobody will see it as a game move.. it's personal at this point
Dani – when you say nobody who are you saying? Da'Vonne, Kevin, and David?
Nicole thinks everyone in the world "in here and out there"
Nicole – why didn't we think about this it didn't even come to mind
Dani says Da'Vonne tried to get David evicted "TWICE TWICE"
Nicole – I thought it was already broke.
Nicole – whats the plan
Dani – she's going there's no way around it.. I haven't talked to anyone .. She's going home
Dani – Christmas is pissed at her to.. she's like feeling that she called her out .. I'm not think that she did
Nicole agrees says what she got from it is "Christmas got out of it because she was manipulated by the boys"
Nicole – we got to make sure Day doesn't call him out on Thursday
Dani – that's the goal
Dani – maybe I can talk to Tyler and have him sit down with Day and be like.. at the last minute be like I just want you to know David and I have had a final 2 or something.. I feel like he would do it.
Nicole – then she'll call him (David) out
Dani – I don't freaking know man
Nicole – that will make her mad
Dani – you can't get mad at people for playing the game.
Nicole says they have to make sure it's unanimous.
Dani – it will be
Nicole – I just can't have her asking me this every day (Da'Vonne about the Ian vote)
Nicole – she doesn't trust me that's fine..
Dani – he's adamant about it and also she doesn't want to look stupid saying things that aren't true. I've said it a million times one of everyone's biggest fear is looking freaking stupid on this show.. nobody wants to look stupid
Nicole – She's not going to look stupid
Nicole – she did make me feel like they weren't close (David and Day) I never thought she would feel betrayed
Dani says they will say their peace on their goodbye messages. If they get to jury house they will talk to Da'Vonne about it in private (she's going to be PISSED)
Dani – it got way out of hand
Dani – I think she's going to blow up a lot of people's games she doesn't care anymore. She's already accepted in her mind. She's literally going to destroy everybody
Dani – she said the only people she cares about is you, me, Kevin. thats it
Nicole – great, today?
Dani – mmmhmmm
Dani – I have fought my butt this whole season to protect her.. I know I have.
Dani goes on about how she protected Da'Vonne all season even COdy would put out she's getting to close.
Dani – it was never malicious we know that everyone knows that… every one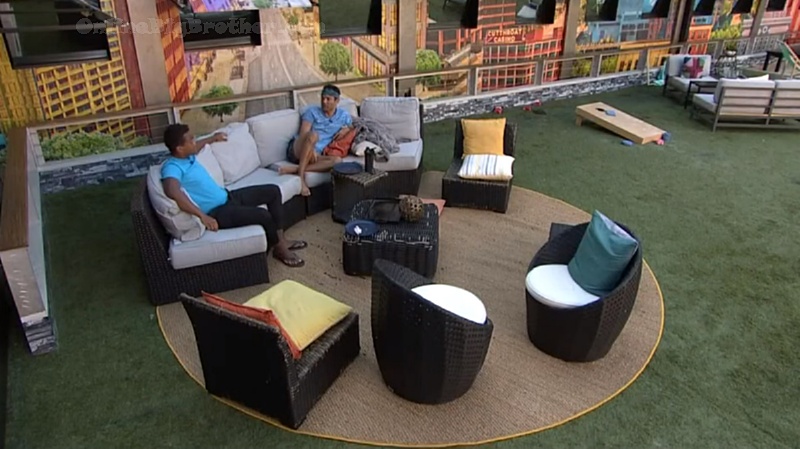 4:11 pm David and Kevin
Talking about the veto player picks
Kevin – did you talk to her why she didn't chose you?
David – it's obvious
Kevin – Okay
David – think of all the conversations we had.. her perspective of my game who I am working with and..
Feeds cut..
When we're back.
David – in my eyes she trusted someone that flipped the vote. what I'm seeing is she chose someone that flipped and is maneuvering and manipulated this game to this point.
David – that's why people are yelling at this house they were looking like what the f*** (there was another wall yeller today)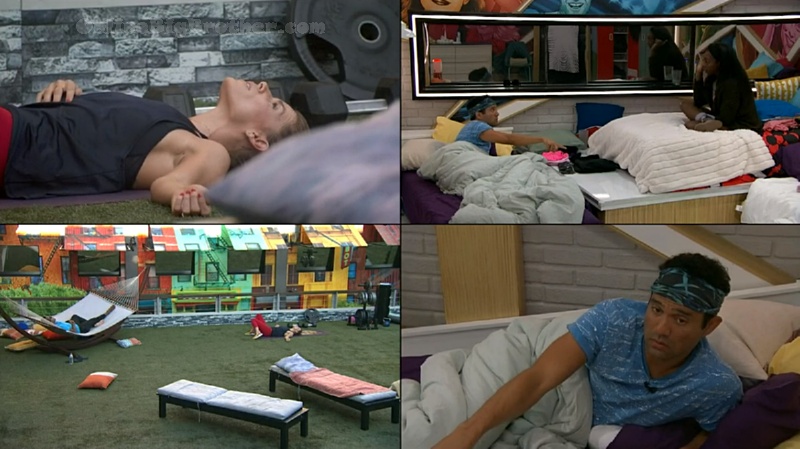 5:00 pm Workouts and Kevin's bad reads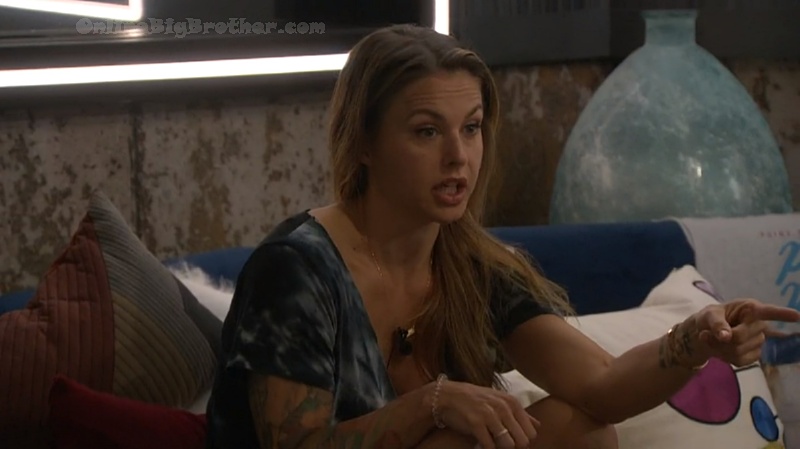 5:30 pm Memphis and Christmas
Memphis – I'm good enough with Kevin that I don't have to promise him sh1t
Christmas – Kevin?
Memphis – David
Christmas says she's trying to line it up that David takes the shot at the people they want him to take a shot at, "Over a Cody and Enzo"
Christmas goes on about how after Da'Vonnes speech she said to David "welcome to your first call out"
Memphis adds that Da'Vonne buried herself with that speech.
Memphis points out that Da'vonne had a chance but not after that speech, 'Why do people do that?"
Memphis tells her to feed David the "Dani, Nicole Day thing"
Memphis says they need to keep Enzo off Davids list. says the one person that is on the list id Cody.
Memphis – feed him some information about Dani and he might bite.
Memphis says Enzo did mention putting up Kevin and DAvid but he also mentioned Nicole and Dani.
Christmas says if Kevin goes Enzo will go after the girls. "that's really good for us"
Memphis – how is Cody feeling. I can't help to think that he was somehow a part of that.. he's not loyal to it. I do find it hard to believe he wasn't. He was just playing it out to see how it rolled out.
Memphis wonders if after Kevin leaves who does COdy put up on the second half of the double.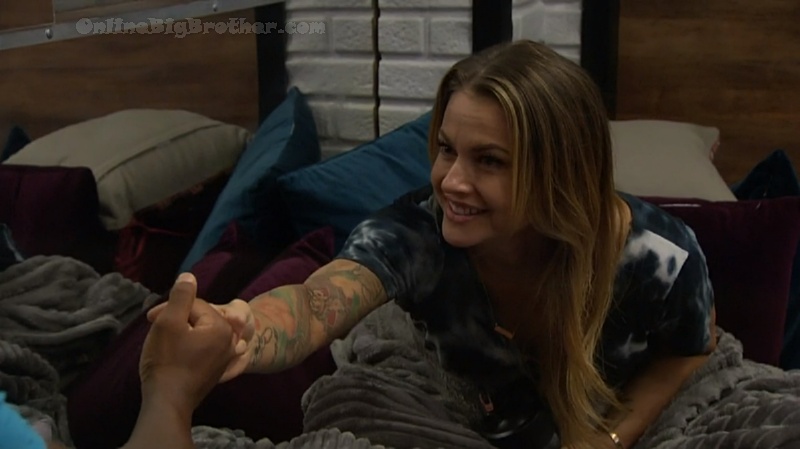 5:46 pm Christmas and David
Christmas – so how did your first roast feel
Christmas – don't think i'm here to entrap you I'm here because theirs some information that will benefit both of us. With that I kinda want to extend an olive branch like we saw. I think that if we play this right we can be final 8 if we play it right.
Christmas – I want to take a leap of faith
Christmas – theirs a double coming up and those are stressful.. I love chaos..
Christmas – I don't know how you feel but I want to be top 8
Christmas – she called out Cody, Memphis, me and you.
David – she didn't call out Dani Nicole.
Christmas asks who he will put up during the double.
David – Dani took a shot at me and her whole thing got messed up..
Christmas – this week Dani's plan to win the veto and save Da'Vonne.. it backfired..
They pinky swear to not talk about this to other people..
Feeds cut.. when we're back..
Christmas – these girls are pissed.. they're pissed.
David thinks Memphis is leaning to wanting Da'Vonne out. Christmas agrees.
They talk about David not being picked to play in the veto. Christmas says both Dani and Nicole gunned for the veto"you know they were told to throw it"
Feeds cut.. when we're back.
Christmas says she's willing to set Da'Vonne straight about Nicole's Ian vote in her goodbye message.
David – you know the moment I knew I was set up.. we were playing backgammon .. as I was winning she gave me advice.. the advice that she gave I took it but she came back and almost won. It almost led to her beating me.
Christmas says she doesn't want to be known "as the girl that takes girls out".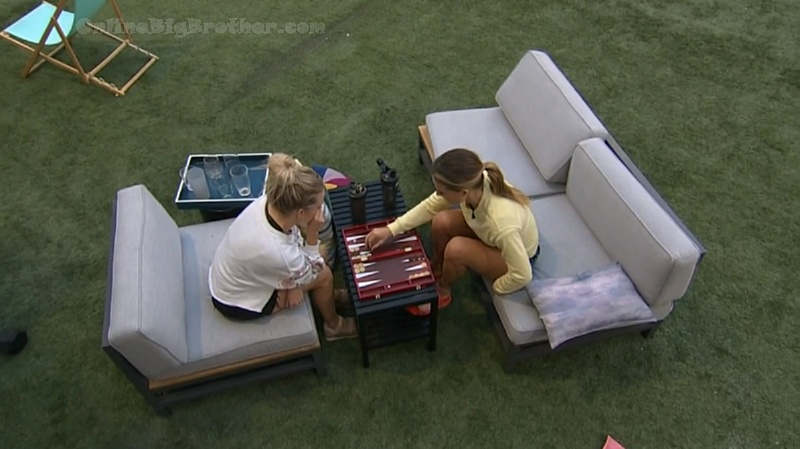 6:20 pm Nicole and Sh1tmas playing backgammon
Nicole – I feel like i'm going to start bleeding.. I totally missed my period.. But maybe it's coming now..
chit chat about candies. Nicole tells Tyler to try the red ones.
Nicole – they taste just like Swedish fish I feel like I have to poop now.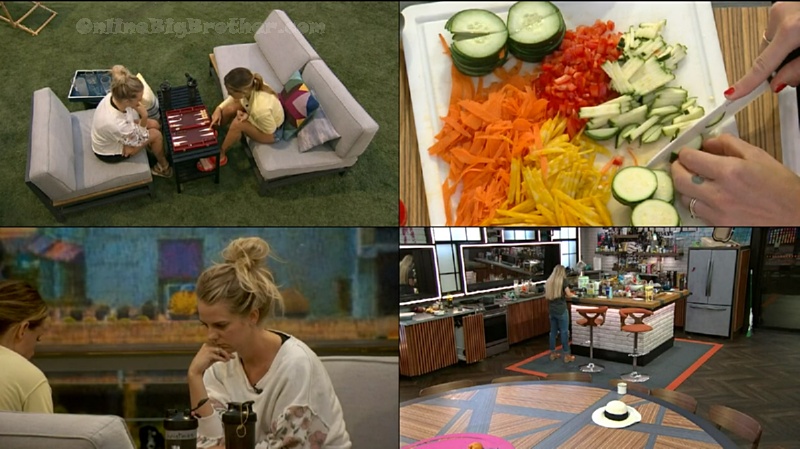 6:50 pm Feeds yo